Karen Bryant
ActivePipe is a breath of fresh air! We no longer have to rely on our Reps to communicate regularly with their database. Once switched on, it is almost set and forget. ActivePipe automatically welcomes their new clients the moment they are entered into our CRM and then goes to work behind the scenes to gather their preferences and keep them up to date based on what they are interested in. Clients that engage or are active are categorised and highlighted on the Dashboard for our Reps to connect with. ActivePipe is one of the best real estate platforms I have seen in a long time. Very clever indeed. Thank you!
30 Day Plan to Slingshot Into Spring
All across Australia, the real estate market has either been shut down completely (Victoria) or is deprived of listings.

That may sound bleak, but there is a huge opportunity here…

The start of spring traditionally sees a significant increase in listings and activity for buyers and sellers. When you combine that with the pent up stock from lockdown coming to market and the record low-interest rates, spring is predicted to be massive.
As well as this, data from from Mike DelPrete shows the rebound effect that took place in New Zealand after the initial lockdown, with new listings spiking once lockdown lifted. It's more critical than ever to be engaging your audience right now!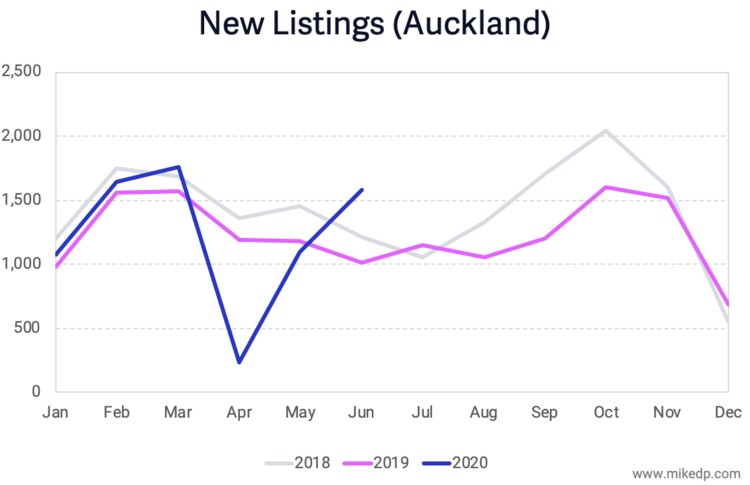 Over the next 30 business days, we will be sharing actionable strategies you can implement now so that when the market is back in full swing, you're the first point-of-contact for the barrage of buyers and sellers in your area.
We're kicking off a four-part webinar series next Wednesday starting with 'Insights from New Zealand with Gower Buchanan' where we'll gain insight into how New Zealand's market rebounded and how Gower is preparing for Spring.
Jonathon Bowker
"The convenience of the ActivePipe monthly newsletter service, along with the relevant finance specific content, provides great value to our business and ensures a regular touch to our client base with minimal effort."
"Possibly the most beneficial feature of the platform is that it provides us with the analytics to monitor who in our database has shown interest and maybe an opportunity for a conversation. We highly recommend ActivePipe to anyone in the SFG network"

Matt Punter
"We're really pleased with the progress we're making with our database nurturing and business development program to our existing client base and greater contact database."
"The only tool we're currently using for this exercise is Activepipe. We're delighted that not only are we overperforming (by some 250%+) on the key metrics measured (open rate and interaction rate) for this type of communication, but more importantly, we're also writing and settling more loans as a result and building a really strong pipeline of prospective deals. We believe this is simply due the ease of and the increase in frequency of us communicating with our list."
"We expect to settle record volumes right through to xmas based on today's pipeline, WIP and improved conversion rates as a result of this approach to business development. I've included some stats below to support our performance."
"A big thanks to the Finsure team and Paul Smith and his team at Activepipe for being so responsive which is greatly assisting us to meet our revenue and growth targets for all businesses within our group."
Zarko Jokic
Having the capability to deliver a relevant message to your database is paramount. This is where ActivePipe excels.
Lee Banh
Chris Brown
Mark Laaksonen
The one weakness I always felt existed was my lack of regular contact with my client base, but over the past year this has changed dramatically with the support of the team at ActivePipe, in particular with their personalised newsletters. This could not of come at a more important time with the impact of COVID-19 and the assistance I have been able to provide my client base during these challenging times, being proactive rather than reactive has proved invaluable.
Take your property matching powers to the next level!
You already know targeted messages get the best results. But, who has time to keep up with each contact's changing preferences, and create tailored emails for each one?

With one click, ActivePipe's newest innovation, SmartMatch, will make each of your emails as unique as your clients.
Use the power of data to match people with properties
SmartMatch analyses all of your contact's interactions, ranking the most relevant properties for each contact. It will still take into account the buying criteria of a contact, but you no longer have to rely solely on your clients sharing that information. SmartMatch will always find and prioritise the most relevant properties.
Each email you send generates more engagement, gathers more data, and continually improves the precision of future matches. The more you use it, the smarter it gets! How do I enable SmartMatch in Property Panels?
SmartMatch gives you the ability to match contacts with properties that they've yet to discover, positioning you as a local expert. From the contact profile you can see their recommended property matches making it easy to help your contacts find properties they might have otherwise missed. How do I view a contact's matched properties?
Feel free to reach out to success@activepipe.com if you have any questions.

SmartMatch Webinar
ActivePipe's Head of Product, Nathan Mackinnon will be running a webinar to explain SmartMatch in more detail and how to use it to its full potential. He'll also be happy to answer any questions.
Join us on Monday the 27th July at 1pm AEST.

SmartMatch in the News
LEAD GENERATION – ActivePipe launches new property matching service, Inman
ActivePipe releases property match software for real estate agents – HousingWire
ActivePipe Debuts Tool to Help Real Estate Teams Email Property Matches MediaPost
7 Types of Information to Share with Sellers
Segmenting your database into sellers and buyers is one of the most powerful ways to make content marketing work for you. It will help you identify the right information that will resonate with your audience.
Relevancy is key in content marketing so prioritising your audiences will ensure you get the biggest bang for your buck.
Below are some suggestions of articles – all available from Real Content – that you can share to encourage prospects to sell through your agency:
How to Choose an Agent This article will position you as a thought leader, rather than an agent focused on the hard sell, which so many property owners dislike. If you walk your own talk, then you'll be top-of-mind when it comes to choosing an agent.
Pricing Trends Sellers want to be confident of the value of their property before deciding whether to put it on the market. Articles on price trends, especially those locally focused, are a great way to get on their radar and be seen as an expert.
How to Set Your Price Most property owners do not appreciate the art of setting a realistic price that will deliver the best return without pricing the property out of the market. Explaining the process is a powerful message to potential sellers seeking an expert agent.
Sell, or Knockdown and Rebuild A thought-provoking approach that demonstrates you understand both local property types and the value and work that is involved in updating them. 
Buyer Hot Buttons Every vendor wants to know what they have to do to get the most money for their property and sell it quickly. As a local agent, you are best placed to share this information about what ticks the boxes for buyers right now. 
How to Prepare for Sale Too little consideration is given to this aspect of selling. Most of your clients will need coaching and encouragement to present their home in the best possible light. Articles on this topic are high-value and will impress your audience.
Tips to De-Clutter There are lots of tips and tricks to improve the presentation of a property when it goes up for sale. Sometimes, your clients will not be able to see the problems because they've lived with them for so long. You advice will be gratefully received and will position you as an agent who helps and cares.
9 Ways Content Marketing Builds Your Brand as an Agent
Content marketing is the art and science of telling stories to increase engagement with a target audience that will help you grow your business.
The question is, how can this style of marketing help you sell a house or apartment, or find the next rental to add to your rent roll?
Purchasing property is the biggest acquisition most of us ever make. As agents – because we work in the field every day – we forget what a high risk and scary transaction selling and buying can be. Sellers and buyers feel vulnerable and want the information to help them avoid mistakes and make good decisions.
Data from CoreLogic about the changing expectations of property sellers and buyers shows that now more than ever before, clients are looking to have a relationship with a real estate agent that they can trust. That trust is created by understanding the value an agent delivers. Without that trust, sellers will focus on price and seek to haggle you down on commission.
As an agent, you have a lot of information to share that can alleviate the stress around buying, selling, and renting a property. You probably just find writing it hard or don't have time to do it consistently. That's why with RealEstate Content we've produced hundreds of articles for you to share with clients and prospects.
Here are 9 benefits that Content Marketing can deliver to real estate agents:
Increase engagement Informative articles increase the time people will spend on your website, and increase click-throughs on social. This is what you want as an attraction agent because it means clients are coming to you and are 'warm' to the idea of being contacted by you. Marketing industry surveys show content marketing can deliver up to four times the engagement of traditional marketing approaches.
Demonstrate thought leadership Content marketing demonstrates your expertise and knowledge about concerns and questions your potential clients have right now. Helping clients solve problems proactively creates a sense of trust and can be the start of great relationships.
Improve brand perception With content marketing, you're demonstrating your expertise rather than telling people you're an expert. It allows your clients to see for themselves how much you know, and again, that's much more believable than you telling them how great you are. The attitude of helpfulness demonstrates that you run a pretty good real estate agency.
Raise brand awareness Delivering great content to prospects will highlight the services you offer and the expertise you wrap around them. Even if you've only captured their emails from an open house, the articles you share are a great way to build awareness and let it develop into a fully-fledged relationship.
Generate leads The natural result of creating awareness and increasing engagement is an opportunity. Marketing industry surveys show this works better than brand-based ads, or those offering discounts. Your leads will be warmer than from any letterbox drop, cold calling or door knocking.
Nurture leads Let's face it. The decision to sell can be months in the making – years in some cases. Articles that you post are a great way of staying front-of-mind with your clients and prospects until such a time as they're ready to use you, all the while building their trust in you and increasing their understanding of the decisions they'll need to make.
Warm-up cold calls Use content you have shared as a great conversation starter. How much more powerful is it to ask "Just wondering if you found the article on (appropriate topic) useful?" if you're trying to start a relationship than it is to say "Would you like me to sell your house?" straight off the bat.
Increase traffic to your web site As an agent, you want to direct traffic to your own website rather than the portals. Posting regularly improves your ranking with search engines such as Google, and this has follow-on benefits both when sellers begin their search for an agent, or when buyers are looking for listings.
Build your team Sharing helpful information doesn't just attract sellers and buyers. It also signals to your staff and other agents in the area what you stand for, encouraging like-minded staff to gravitate towards you.
Call Lists: Now Delivering!
Feature Update
Our newest feature delivers an instant call list straight to your inbox after every scheduled email campaign! The Campaign Report Notification automatically notify ActivePipe's users with details about who is interacting with content so agents can follow up at the right time for maximum impact, increasing their chances of converting contacts into clients.

The Campaign Report Notification email will help focus your daily calls and grow your business faster. Research shows that agents who respond to leads in under 100 mins see the best results. This feature adds to the suite of Notifications we've recently added to help you follow up hot leads with speed and purpose.

Campaign Report Notifications also uncovers specific details about interactions like how many times a particular property was clicked in an email, and by who. They'll also highlight your most popular properties, helping to guide your future property campaigns.

You can adjust your notification preferences in your settings menu.
Let us know what you think!
10 Ways Agents Can Use Content Marketing
Content marketing is a longer-term marketing strategy that seeks to build relationships by delivering helpful and useful content to your clients and potential clients.
Its primary focus is to provide information that is relevant and insightful that helps your client solve problems and answer common questions. This builds trust making them more likely to choose you, while at the same time, providing you with useful insights into their motivation and readiness to act.
Content marketing differentiates you as an agent by providing opportunities to share your expertise, advice, and ideas that property sellers and buyers will appreciate.
You have countless stories to tell and advice to give, so here are a few topics from RealEstate Content to get you started:
Great reasons to sell or buy Opportunity always exists is the property market, regardless of whether it's going up or down. Share your thoughts on smart buying and you'll develop trust with your audience. You may inspire them to rethink their perceptions.
How to choose a real estate agent Educate your readers on the questions to ask prospective agents and how to sort the wheat from the chaff. If you walk your talk, then articles on this topic will put you on top of their list.
How to prepare your home for sale We all know sellers need help with this. There's more to preparing a home than simply putting the kids' toys away and stacking the dishwasher. Build trust with prospective sellers by guiding them through this important process.
Hot buyer buttons Show sellers your knowledge of what buyers love in today's market. Is the trend for un-renovated properties, carpets or floorboards, new or old properties? Show how your knowledge about buyer preferences will achieve top prices for sellers.
Popular rental styles Deliver valuable information to landlords and tenants or potential investors. Impress with your knowledge of how to prepare a property for rental, how to identify a good tenant, and many other rental-focused tips and hints.
Local architecture Articles about local building styles and architecture, and how they affect property prices and deliver a return on investment are always popular and you're bound to have some great photos to go with them.
Off-the-plan tips If you're representing a developer, articles that help prospective buyers understand how to buy off-the-plan and avoid key risks can be extremely powerful.
Financing and lending The Royal Commission into banking has changed lending which is changing the time it takes to get finance and the time it takes to achieve a sale. Providing helpful advice in this area builds your credibility.
Popular interior design styles Design is a great topic to share with sellers, buyers, and even longer-term past clients that you just want to stay in touch with.
Difference between a conveyancer and solicitor The subtleties of buying property is often lost on buyers. What is conveyancing exactly, and who does it? Don't assume your clients and prospects know, or have retained the information from their last purchase. Demonstrating that you understand the buying process from top to tail is a winning strategy.
ActivePipe's RealEstate Content has produced over a hundred articles focused on the property market to help you deliver these messages – and many more. They're written in the voice of a real estate agent or mortgage broker and can be edited to suit your needs.
If you're an ActivePipe user and would like to access over 230 articles as well as 15 new ones each month, speak with your Customer Success Manager.


We're Improving Our Integrations
At ActivePipe our principal pillar is innovation. Our clients should continue to expect new and innovative solutions because we understand the solutions for today are not enough for tomorrow. We also believe in the approach – 'do what you do well and surround yourself with others who are like-minded'. For that reason, we've always strived to integrate with best-in-class tools, including some of the world's top CRMs.
See our full list of contact integrations here and property integrations here.

New Feature
To that end, we've recently completed the first of a three-part feature release that will make our integrations transparent and seamless for our users. In the first part, ActivePipe users will now be able to see which integrations are currently connected with their ActivePipe account and when they last synced. 

This update is live in your ActivePipe account now! Here's how to check when your integrations last synced.
Coming soon, users will be able to independently set up and manage their contact integrations from the settings panel and connect and disconnect integrations with the click of a button.
Stay tuned for more news on integrations.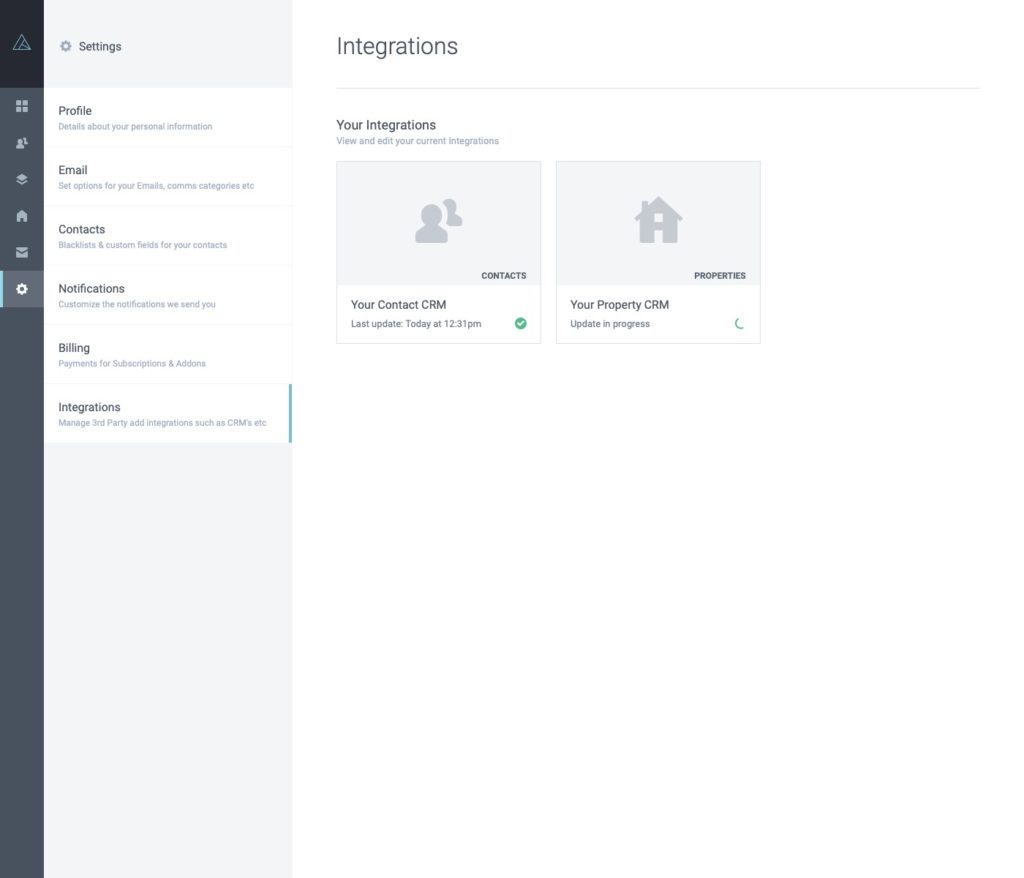 What top performing sales offices do, that most others don't
The annual REB (Real Estate Business) Top 50 Sales Office Rankings reveals much more than just the top performers.
Back for its eighth year, the renowned REB report has been released, ranking the 50 top performing sales offices that list and sell the most, in the most efficient manner. While every real estate office wants to be in this top 50, the report itself has a lot more to offer agents than a list of worthy competitors.

Packed with trends and statistics about the Australian real estate market, the REB report holds some powerful insights which every agent should be reading.
If this topic is of interest, join our webcast with REB & Josh Phegan, an internationally renowned speaker and coach for high-performance real estate agents. We'll share practical advice and tactics that agents can use to create a key point of difference.
The Big Picture
In this year's report, sales were down. The average number of sales across the top 50 came in at 313; which is on average 19 sales less than last year. What this could indicate is that the Australian real estate market is becoming more competitive, with more agents stepping up to take a piece of the industry. Supporting this, the report highlights that the average number of salespeople in top-performing offices has increased to 11, up from 10 in the previous year.

What's remarkable is that when comparing the top 10, the sales average skyrockets up to 420 sales. The average for the top 10 is more than 100 sales above the overall. Suggesting that these leaders are not just leading by a little, they're in a completely different league.

Sales values are also down on previous years, coming in at $218 million in the latest report. The average sales price follows a similar trend, at $740,931 the price has dropped more than $40,000 when compared to last year's figures.

More data to suggest that the market is becoming extra challenging is the average number of days a property sits on the market. The 2020 ranking reports the average days on the market at 56 days, up from 50 days in 2019, 45 days in 2018 and 40 days in 2017.

Top Performing Sales Offices Use Technology
While all of the report findings indicate that the Australian real estate market is becoming more competitive and more challenging to navigate, it's interesting to observe that top-performing offices are growing in staff, and their sales are well ahead of the top 50 average.

Top-performing offices are proving that they have been able to adapt to fit the challenges of the market, which tells us that they are using all the tools available to them.

A report from OpenAgent looks at data from top performing agents and found that:

"Top performers win more than twice the number of listings that go to market compared to average performers because they do three things just a little bit better. Top performers contact all their leads (not just most of them), contact their leads faster and then dominate during appraisals."


Zoe Pointon, OpenAgent CEO

In a tight market where the number of sales and the value of sales are down, customer and prospect engagement technology allows agents to maximise their lead conversion and amplify reach.

Knowing who to call, when to call, and why, lets agents optimise their time; prioritising customers that are ready to close, while at the same time maintaining active contact with their entire database to build relationships and ensure no opportunity is able to slip through the cracks.

Agencies that support their agents by giving them the tools to sell more efficiently are getting ahead. But it's not just about purchasing the right tools. Equally, agents must fully commit to learning how to use new tools and integrate them into their daily routine if they are to see measurable results.
In the words of Albert Einstein,
"The definition of insanity is doing the same thing over and over again, but expecting different results."
Book a demo to see how top performers use ActivePipe to get ahead.

Andy Jolls
This case study was originally written by Keith Loria and published in RISMedia.
When Andy Jolls, COO at Vista Sotheby's International Realty, which has eight offices throughout California, first learned about ActivePipe, he was impressed that there was an email marketing solution for real estate professionals that provided the important customer insights that agents, REALTORS® and brokers were looking for.
"As a Sotheby's affiliate, we were previously using a different supplier, their recommended email marketing platform at the time, but it had its limitations on how to develop email campaigns," explains Jolls.
"We were also having trouble with the actual campaign falling into junk or spam filters, so we were on the lookout for a different product, and we were looking for a different CRM solution for our agents. The people we were talking to at the time recommended ActivePipe."
The difference was noticed straight away, says Jolls. "ActivePipe has been really progressive about avoiding that type of situation. They look at why it happened, in addition to things they can change on both the domain and email level to prevent it from happening again."
Within the first few minutes of the ActivePipe demonstration, Jolls notes that it was the best real estate marketing platform he had ever seen.
"From an administration standpoint, the ease of putting together an email that looked sharp and would get attention from the reader was a big factor," says Jolls. "Some of the other solutions are a little more difficult in terms of putting an email together, and in real estate, it's all about ease of use."
Additionally, Jolls was impressed with ActivePipe's ability to connect to the brokerage so that they could quickly and easily get announcements about listings or open houses out from the broker level.
"The reporting that ActivePipe provides on viewership and readership statistics was presented in an active format, which we weren't getting before," says Jolls. "There's some sort of artificial intelligence where they rate the contact and whether they're a likely consumer going forward."
Vista Sotheby's International Realty launched with ActivePipe in the beginning of August, and the company provided group and online-based training for the firm's agents.
ActivePipe's David Greenbaum has been the lead account manager, working closely with the firm to rectify any problems and help with training. Available whenever needed, this has created a very strong partnership that Jolls believes will continue well into the future.
"Not only are they helping us get going on the platform, but they're very supportive on an ongoing basis in order to get the highest readership possible on all the emails going out," adds Jolls.
In its first month with ActivePipe, the firm sent more than 1 million emails, and that number is expected to be similar in the months ahead.
One way the platform has already been used successfully? Any new listing acquired by the firm is sent out to a database of nearly 60,000 real estate agents in California. Previously, the firm was seeing a less than desirable readership rate, but by using ActivePipe, that number has improved by 400 percent.
"It's a similar story with the open house emails we send out as a brokerage for anything scheduled for the upcoming weekend," adds Jolls.
There's also a monthly newsletter that Vista Sotheby's International Realty provides for each agent's client base, and those readership numbers are well above what they were before.
"We're getting the most eyeballs as possible on these properties, which is helping everyone," concludes Jolls.
Nick Thring
We recently caught up with Nick to ask him a few questions about how ActivePipe is helping his business and his future outlook for the year to come.
"With some great technology out there including the likes of ActivePipe it enables us to really concentrate on who our prospects are and then behind the scenes it discovers more people that we maybe didn't know were going to be interacting with us, but are ready to do something."
Check out the full video below:
Tom Flanagan
This case study was originally written by Zoe Eisenberg and published in RISMedia.
Tom Flanagan is the chief technology officer for Colorado-based brokerage The Group Inc., where he oversees marketing, technology and relocation. With over 15 years of experience in real estate innovation, Flanagan understands the vitality of smart email solutions.
"Email is a tried-and-true marketing tool, even for this day and age," says Flanagan, noting that the majority of adults in the U.S. check their email at least once a day.
While there are many email automation services to choose from, Flanagan stresses that most of these platforms can be laborious for agents to manually load their property feeds and open houses into.
To combat this, Flanagan and his team began using ActivePipe, an email marketing solution built specifically for real estate, that focuses on easy, customizable automation, as well as access to the customer insights that agents and brokers can utilize to get ahead.
"ActivePipe marries email technology with property listings," explains Flanagan. "They're specialized; they've taken email automation to the next level."
While Flanagan and his team began working with ActivePipe a year ago, they were immediately impressed with the user experience. "Everything is drag-and-drop, so it's easy for any user to create these really beautiful, mobile-friendly email pieces that also come with sophisticated analytics, metrics and automation."
Another area that impressed Flanagan? ActivePipe's easy onboarding process.
"The company completely understands how important adoption is in real estate tech, and so onboarding was really easy," he says. "Their team was quick to integrate the product into our tech stack, and they're always willing to do different training sessions, both for our agents and our corporate services."
In addition to live support, Flanagan and team also utilize ActivePipe's training webinars, called ActivePipe Quick Starts, which allow users to access training info on-demand.
ActivePipe currently offers three product suites, all of which have property feed integration and can be integrated with a CRM. SEND allows users to easily build and send professional, mobile-responsive emails, while AUTO gives you the same functionality, but lets users build automated drip campaigns, send personalized reminders to contacts and receive intuitive data analytics to identify active buyers and sellers. Their largest suite, ENTERPRISE, automates the customer's journey with triggered and scheduled recurring emails, while using sophisticated behavior-driven profiling to help predict the client's next move.
Flanagan's team is enjoying using the system and even contemplating upgrading to a higher tier. "I love the ability to easily create a rich, dynamic monthly newsletter, all drag-and-drop, that includes videos, open houses and listings."
Another smart ActivePipe feature, according to Flanagan, is their location-based, geo-targeted technology. "Their system has the ability to cross-reference the locations of clients in an agent's CRM, then deliver properties to them based on their location. That's really intelligent."
It's this sort of intelligence that initially drew Flanagan into the world of real estate innovation. "What I love about real estate technology is that it's so vast. Every day is different and exciting. If you're a programmer at a tech company, you write code for 50 hours a week, and it's nearly all the same. With real estate technology, I get to work in both art and science. It's always fresh and new."
Rishi Bakshi
This case study was originally written by Paige Tepping and published in RISMedia.
"Email marketing is important for any company," says Intero Real Estate Services – East Bay Broker and General Manager Rishi Bakshi, who spent the past year creating a whole new set of technology for the firm's technology stack from scratch.
"After changing our CRM, it was recommended that we take a look at ActivePipe's email marketing system, as this was an area in which we were lacking," explains Bakshi. "As soon as I saw the demo and understood just how clean, sleek and easy it was for an agent, admin or staff member to create any number of email marketing pieces, it was a no brainer," he adds.
Built specifically for the real estate industry, one of the biggest benefits in working with ActivePipe is the fact that it's connected to the MLS. Therefore, it already showcases each and every listing the firm has.
Better yet? There's no cap on the number of emails that can be sent in any given month. Having sent upwards of 250,000 emails last month (at press time), Bakshi notes that this would translate to an exorbitant amount of money with any other vendor.
Simplifying the entire process, ActivePipe makes it easy to create great looking property alerts, open house announcements and newsletters. "You can create whatever you want on the spot by simply dragging and dropping listings, blog content, YouTube videos—or anything else—into any number of templates and then blast it out to a specific database," says Bakshi.
"It simplifies everything," adds Bakshi, who points to ActivePipe's back-end as yet another key piece of the puzzle. While agents love the back-end because it provides a glimpse into how a particular email is performing, it goes much further than that.
In fact, in addition to open rates and interactions, the back-end also shows what part of the email the recipient is responding to. "Since most of the emails we're sending are made up of a variety of components, we can see exactly how our customers are interacting with the content we're sharing," explains Bakshi. This further differentiates the firm's agents, as they can candidly discuss the results of their email marking campaigns with buyers and sellers alike.
"If you're looking for something that's sleek and easy to use, consider ActivePipe," concludes Bakshi, who has nothing but good things to say about their experience thus far.
Whether it's basic onboarding to launch the partnership, webinars or one-on-one meetings to discuss problem areas, the team at ActivePipe consistently goes above and beyond. "David Greenbaum, ActivePipe's director of operations, is constantly checking in and making sure we're doing okay. The touches they make are incredible," concludes Bakshi.
Vincent Socci
Vincent is the Chief Operating Officer of William Pitt Sotheby's International Realty.
What are your thoughts on ActivePipe so far?
In a sea of marketing automation platforms, ActivePipe stands out above the rest not just simply by enabling our brokerage to create centralised, high quality content, but by easily allowing our agents to curate bespoke content.
We are committed to equipping our agents with the most innovative technologies so they can do business more intelligently.
Shelly Joy
Shelly is the executive manager at Carvill Sotheby's International Realty
How has your experience with ActivePipe been so far?
From start to finish the ActivePipe Team did not disappoint. They were professional and knowledgable and one step ahead on every aspect of getting us started.
Their drive to always help and keep their clients happy really showed throughout the entire process. We have been looking for a product that is user friendly and high quality and we are excited that we finally found it.

Risa Auger
Risa is the marketing director at Vista Sotheby's International Realty.

How has your experience with ActivePipe been so far?

Transitioning to ActivePipe as our email distribution platform has been made much easier thanks to all the time and patience from the ActivePipe team. We are not an easy bunch to train, but they did it with a laugh in their voice.

So far, we are loving the slick look and feel along with the many automated features that are already built-in—I know it will keep getting better and better as we move forward with it.

We look forward to seeing what surprises and features are ahead.

Tim Heavyside
"ActivePipe's been really good for us, we're able to identify buyers and sellers, we love the way the email communication works and it's really easy."

Whilst celebrating 100 years of Fletchers Harley Toyle (Property Consultant), Tim Heavyside (Director & Auctioneer) and Beth Oleyar (Communications Manager) were kind enough to share some of their thoughts on how ActivePipe has become a key instrument in their businesses success.

Stavros Ambatzidis
Stavros owns and operates three offices whilst also being a Corporate Director at O'brien Real Estate. ActivePipe has become an essential component of each of his offices day-to-day operations and has even been widely adopted by much of the brand.
How has ActivePipe changed your business?
ActivePipe has allowed our Sales team to engage with relevant targeted clients that are actively browsing, or interacting with content delivered via ActivePipe.
It has enabled the team to identify clients that we may not have had direct contact with for over 5 years, who are actively back in the marketplace, looking to downsize/upsize & more importantly sell their existing property to take on their next move.
What feedback are you receiving from your team?
Great feedback from the team so far. We have been selective in setting up a structured roll out of email campaigns to ensure that we are not just mass marketing for the sake of it.
What would you say to other business owners looking to invest in ActivePipe?
GO FOR IT! Take control of your client database and make it work for you, instead of putting your clients in "witness protection".
ActivePipe provides automated & relevant client contact points.
In terms of ROI, where are you seeing the most value for money in the product?
At the moment, we are seeing value for money in increased buyer interaction & increased OFI attendance.
In particular, having a Feature Property at the top of the Weekly Listings email, creates an immediate increase in enquiry & OFI attendance.
We have just added in "Auctions this Weekend" as features at the top of our OFI list as well.
Real time OFI feedback from buyers is gaining traction & is valuable whenproviding vendors feedback.
Significantly, ActivePipe has resulted in a database cleanse program, allowing us to focus on clients that want to hear from us, instead of those that don't.
In addition, the team are using "Up & Coming" contacts for targeted call sessions.
Are O'Brien agents using ActivePipe in their sales pitches to prospective vendors? If not, have you thought about introducing this as best practice across the network?
Agents are using case studies of some of our properties to demonstrate the reach, and interaction rates, to both prospective & current vendors for their own campaigns.
Ideally yes, this could easily be incorporated as best practice and a very handy listing tool.
How important is our intent data in giving agents a competitive edge?
Intent data is intuitive – it provides an advantage by prompting client contact before the client calls in a competitor.
From an efficiency point of view we know that AP saves time and improves team capacity. How much of an impact will AP have in reducing costs for your business?
ActivePipe allows the business to generate additional revenue by automatically extending our reach to past purchasers, prospective vendors & current buyers that we may not be in close contact with.
Instead of time being allocated to build email campaigns/manual property alerts, the task is automated for them. This then frees them up to concentrate on their core tasks of List, Sell, Negotiate which of course are income producing activities.

Face it, You're Piling Leads into a Leaking Sales Funnel and That's Not Okay
Everyone knows how important it is to get leads, but all of the hard work and investment involved can be for nothing if you've got a leak in your sales funnel.

To fix this problem we need to understand what exactly your sales funnel is, how to spot a leak and then we can learn how to plug up that leak so that you can rescue leads and help them on their path to close.

Define Your Funnel
The most basic funnel breaks the customer journey into three segments:
Awareness: all the people who know about you
Consideration: the people who are thinking of using you as their realtor
Conversion: the people who buy or list with you
At this stage, it's important to understand that not all your leads will make it to the conversion stage.

What you want to identify are the lost leads you can prevent. These are the leaks.

Find the leak
You can't plug a hole if you don't know where the leak is coming from.

If you find you're spending money on marketing but people aren't calling to make inquiries, it means your leaking at the awareness stage. If a lot of people you know are signing with other realtors, that means you have a leak in the conversion stage
Identify the leak, then you can fix it.

Clean your Database
At the minimum, you should have a name and email address for every contact. You may have had a great conversation before, but without a way to get in touch with them, they will be stuck in the awareness stage. Remember, if you can't get in contact, that person is not a contact.

Thankfully, you can use software to go through your database and eliminate contacts with incorrect, absent or out-of-date information.

Use Smart Marketing
The shift from outdoor and print advertising to email and social gives realtors wider and more targeted reach and also gives them better insight into which ads are working.

Email marketing is particularly effective because it is cheap, everyone has an email address, and smart software lets agents see exactly who is engaging with their emails. By using AI driven analytics, this new breed of software lets realtors identify people at the consideration stage and act before any of their competition. The key to effective marketing is hitting the right person with the right messaging at the right time.

Make the Right Calls
Cold calling is going out of fashion, and for good reason.
The problem is, cold-calls target people at the awareness stage of the funnel, long before they're ready to convert. If you call people too early, you risk annoying them and putting them off.

Instead, you could look at technology like email marketing, search and social to generate leads nurture your contacts to the conversion stage, where you can use your metrics to make warm calls.
This article was originally written for and published in RISMedia.