Let me guess. The main thing you want to achieve with your real estate marketing is to win new listings and business. Am I right?
But with so many channels available to us now in real estate marketing, if we just asked people to give us their listings on every single one, we'd become repetitive, boring, boorish and we'd lose more contacts than we gained. The end result would be that it becomes harder to win listings – the complete opposite of what we want!
So let's break it down into a little more detail. If we look specifically at what we want to achieve with our real estate marketing and the best ways to do it, the end result will be that we win more listings. Happy days!
Here are the 7 goals of real estate marketing:
Create awareness
You want people who live in your local area or who are looking to buy in your local area to know who you are and where they can find you. A range of marketing styles can achieve this – from making sure you own your Google My Business profile, through to your website, and even your Agent Profile on the major real estate portals.
Build a reputation
You want your potential clients to know they can trust you and that they are in safe hands should they choose you as their agents. Demonstrating your knowledge of the local property market is a great way to do this – either as a video or by sharing a market report. You can make these available via your website, post links on social media, or send them out via email.
Show how you can help
Next, you want your audience to understand how you can help them. The best way to demonstrate that is not by telling them how great you are – that's just bragging. Instead, look at ways you can show how you've helped others in the past. Posting articles on your website that answer common questions about buying, selling and renting can be really useful to potential clients. Sharing testimonials can also be great here, as can case studies.
Convert contacts into clients
One of the key roles of your real estate marketing activity is to turn people you've just met into contacts in your database, and to turn your contacts into clients. You need a two step process in place to achieve this goal. The first step is to ensure that every name, phone number and email that you receive goes into your database. The second is to ensure that you have a good email marketing structure in place that will communicate regularly, backed up by a good phone call connection strategy.
Deliver better service to more people
No one can deny that one-to-one connection is the best way to deliver an amazing service. But if you personally try to always deliver all elements of that service yourself – either over the phone or in person – you'll run yourself ragged and limit how much business you can do. Instead, you need to look at ways you can deliver what feels like a personalised service at scale and to as many people as possible. Email marketing is awesome at this type of marketing. By creating specific audiences, you can provide information that resonates specifically with different types of people and meet their needs more accurately.
Make your life easier with automation
Automation is one of the most powerful trends currently occurring in real estate. It's powerful because it provides better experiences for clients and contacts, but it also makes your life as an agent a lot easier by doing the heavy lifting of your marketing. Understanding that the majority of clients are looking for similar types of information means you can create processes and structures to deliver this information either on demand in the form of chatbots on your website or social media, or at key periods through email marketing. Automations can be as simple as "if contact is identified as a buyer, tag in CRM with 'buyer', send weekly hot new property listings email, through to extensive automations that deliver entire client journeys.
Remain in touch with past clients and keep them in the loop
It costs five times more to win a new client than it costs to keep an existing one and this is just as true in real estate as it is anywhere else, even though the time between transactions can be long. Stay connected with past clients through regular emails that share information about the property market that they'll find useful, and you'll probably find they are not only more willing to do business with you again, but will refer friends and family to you in the meantime.
Once you've set your goals, now it's time to start implementing your marketing strategy. Check out our step by step guide for tips & templates to help you on your way!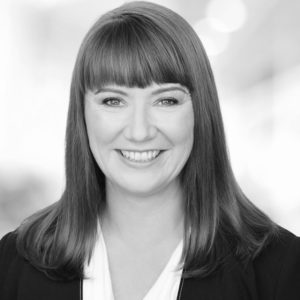 Kylie Davis
As the founder of Real Content and cofounder of HomePrezzo, Kylie has extensive knowledge of digital marketing and content creation and how it can help property professionals to grow their businesses. When she's not presenting on the Inman stage or industry conferences, Kylie hosts the Proptech Podcast and chairs the Proptech Association of Australia.