There are so many different types of real estate marketing available to agents. But how do they all fit together? Every real estate marketing avenue must align with your customer's unique property journey.
Before breaking down customer journeys, let's define two fundamentals of real estate marketing – channels, and content.
Real Estate Marketing Channels
Channels are the vehicles that deliver your marketing messages to an audience. These include:
Website
Email marketing like ActivePipe
Social media platform such as Facebook and Instagram
Real estate portals such as realestate.com and Domain
Messaging apps like WhatsApp, Messenger or even just a plain old SMS.
They are where you put/post/upload/share your content. That's where your content comes in.
For more information on channels check out our real estate marketing ebook.
Real Estate Content.
Content is the message you're sharing. Agents create countless amounts of content. Here are some examples:
Images and descriptions of the properties you're selling
Blogs and articles – either evergreen advice or market updates.
Market reports
Memes
Videos. These can be market performance, property walk throughs or even interviews with local personalities.
Testimonials and reviews
Your agent profile
Events you're hosting
Community activities and fundraisers that you support
Real Estate Customer Journeys
The big no no is sharing all your content on all your channels with everyone. Instead think about how your message will resonate with your audience. Messages that resonate with your chosen audience will achieve higher engagement rates.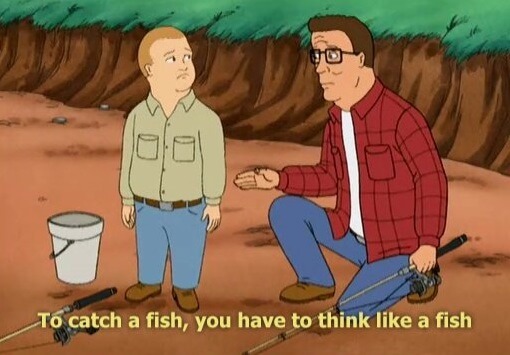 Now, we're not trying to catch our prospects, but we are trying to catch their attention, and it certainly helps to try to think like your audience. Think about how a typical buyer or seller flows through a funnel to do business with you. They first start out never having heard of you, or only vaguely aware of your. Then with good marketing campaigns in place, they work their way down the funnel until they are raving fans
Here's a visual example of a real estate customer journey to help you see where your marketing can fit in.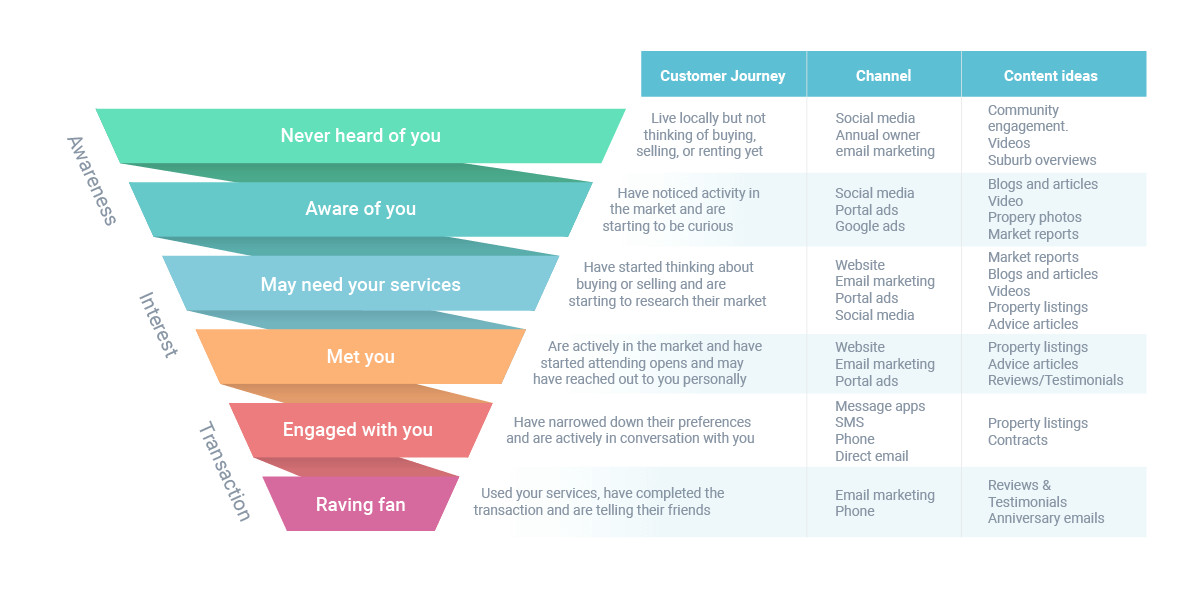 You need to use content that will resonate with your audience the most at every level of the funnel. At the top end of the funnel, you want to be using channels and content that will cater to large audience with board appeal. At the bottom end of the funnel, you are heading to one-on-one communication that is hyper personalised.
Our model above is just a suggestion – you can mix and match your channels and content to something that feels right for you.
Download our ebook to get free customer journey templates!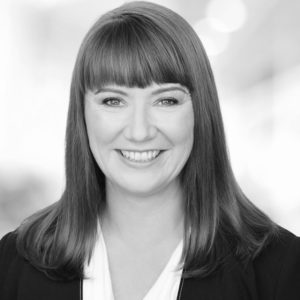 Kylie Davis
As the founder of Real Content and cofounder of HomePrezzo, Kylie has extensive knowledge of digital marketing and content creation and how it can help property professionals to grow their businesses. When she's not presenting on the Inman stage or industry conferences, Kylie hosts the Proptech Podcast and chairs the Proptech Association of Australia.