We're Improving Our Integrations
At ActivePipe our principal pillar is innovation. Our clients should continue to expect new and innovative solutions because we understand the solutions for today are not enough for tomorrow. We also believe in the approach – 'do what you do well and surround yourself with others who are like-minded'. For that reason, we've always strived to integrate with best-in-class tools, including some of the world's top CRMs.
See our full list of contact integrations here and property integrations here.

New Feature
To that end, we've recently completed the first of a three-part feature release that will make our integrations transparent and seamless for our users. In the first part, ActivePipe users will now be able to see which integrations are currently connected with their ActivePipe account and when they last synced. 

This update is live in your ActivePipe account now! Here's how to check when your integrations last synced.
Coming soon, users will be able to independently set up and manage their contact integrations from the settings panel and connect and disconnect integrations with the click of a button.
Stay tuned for more news on integrations.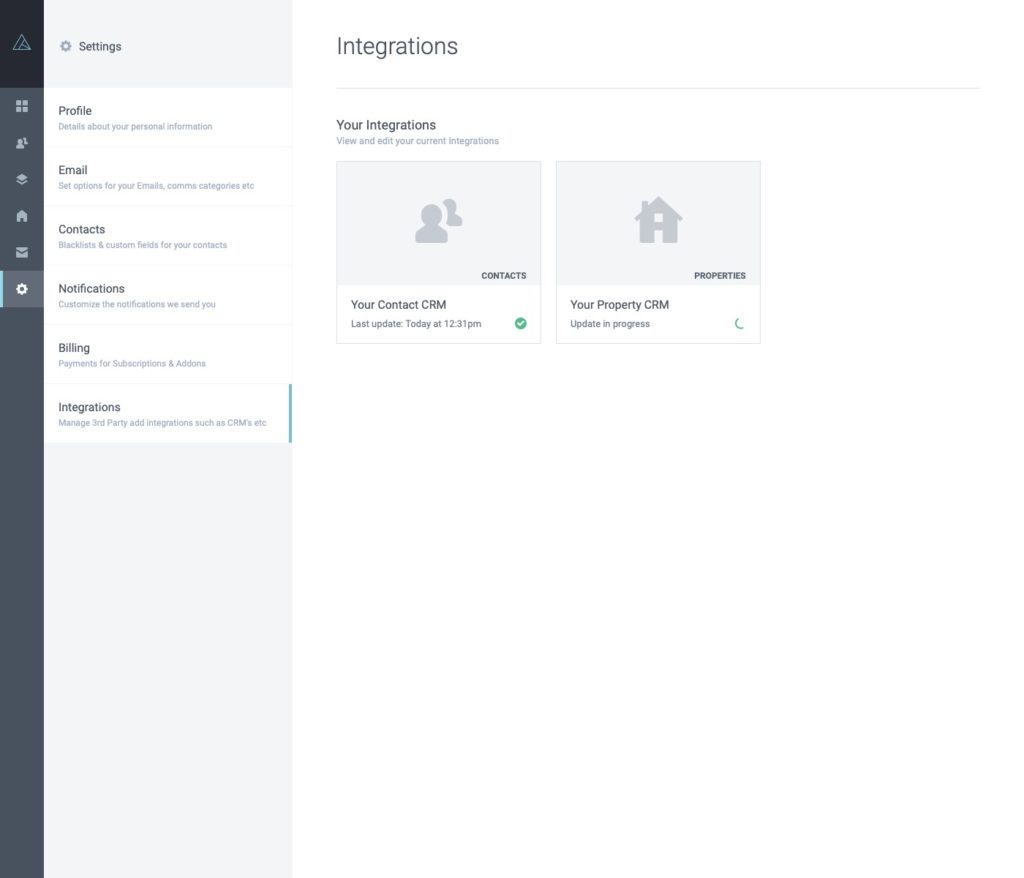 How to give every client the perfect property journey
Successful real estate agents turn contacts into clients by maintaining and building many relationships simultaneously. Building trust requires hours of calls and emails to guide prospects along their property journey. What if you could make your client's property journey easy, and your job even easier?

The perfect property journey
With ActivePipe you're able to automatically send intelligently targeted campaigns. Following an interaction with a particular property, ActivePipe guides a contact on a journey tailored to their interests. This client-led approach means once a contact clicks on a property they like, they receive an open house invite, a notification of any price changes, and ultimately a 'sold property' announcement. This interaction will also help to refine the matching functionality for future property emails that you send, so you get better and better at delivering the perfect property.

See what the perfect property journey looks like.

Reluctant to use the old spray and pray email techniques? We agree! Sending based on the client's interests increases engagement, keeps you front of mind, and positions you as the expert. By doing this at scale across your entire database, you can quickly cultivate a community of engaged prospects that look to you for property advice.
Watch our webinar on how to send targeted property emails
Generate seller leads with hyperlocal marketing
Hyperlocal marketing is a game-changer for Real Estate agents competing for organic leads in a web-focused world. Many general searches start on large Real Estate portals, but when it comes to selling a home, most sellers want an agent that is an expert in their specific neighborhood. Who has time to do focused marketing on dozens of neighborhoods?

ActivePipe positions you as an expert in every one of your contacts' neighborhoods in minutes. Hyperlocal email marketing makes it easy to send personally tailored, automated emails to thousands of contacts using the property filter and our integrated property feed.

For example, you can create a weekly listings email for all your contacts that only contains listings within a mile radius of their home. By using ActivePipe's automated email system, integrated property feed, and advanced property filtering, simply create and activate one email to send custom neighborhood listings to all your contacts.

Here's How:

All you need is to have a home address for the contacts in your ActivePipe system. Addresses can be uploaded in a list, manually updated, or synced through your CRM. Create your hyperlocal campaign in 3 easy steps:

Create an email with an integrated grid or list Property Panel.
Click the "Define Properties" button and under "Basic" choose the number of properties, listing type (sale, lease), listing status, and the order by which you want them to appear.
Tailor the listings based on the contact's address, under the contact tab and check "located near-contact" and select the miles radius. Click update.
You've done it! In three simple steps, you've created a custom hyperlocal email for all your contacts!

To send your email once you can simply use Quick Send or AUTO users can create a campaign and set the email to recur as often as they'd like.

Now you stay front of mind by sending customized content related to each contact in just a few clicks. Saving you hundreds of hours and making you the local property expert!
Tune into our webinar all about using property feed filters to send intelligently targeted property emails!



Are your leads going cold?
Real estate agencies spend big money on lead generation, but if you don't have the facilities in place to effectively follow up those leads, very few will actually turn into real buyers and sellers. This is a huge problem in the real estate industry.
The cost of leads lost
Spending on online marketing and lead generation is worth the $17+ billion dollars we spend on it every year in Australia – if you don't let your leads go cold. By missing the opportunities you have with the leads you're currently generating, you're effectively throwing money away. The costs of online marketing are increasingly competitive and consumers no longer respond to non-personalised advertising. Unsurprisingly, the most used site in Australia is Google with 19.2 million of us using it to search the internet. However, 86% of Australians scroll past the advertised links at the top of their Google search in favour of the first organic search result.

In real estate, and specifically here in Australia, there are two obvious online platforms outside of Google and social media that pocket the majority of your marketing dollars – the major property portals REA and Domain. An impressive $874.9 million is spent on REA advertising and $335.6 million on Domain. With so much being spent on lead generation, you can't afford to let the buyer and seller leads you generate go cold.

How many leads actually get followed up?
A research study by InsideSales.com analysed more than three years of data and found that shockingly, more than 30% of leads in the study were never contacted at all. According to MarketingSherpa, 79% of marketing leads never convert into sales. Lack of lead nurturing is identified as the common cause of this poor performance. If we take the more conservative 30% figure, this suggests that more than $363 million worth of leads from the property portals are squandered in Australia alone. And what's the best way to follow up a lead? A phone call made within 20 minutes of receiving the lead, followed by an email has been proven to be the most effective. Research published by Neil Patel also shows that 25-50% of sales go to the agent who responds first. While all leads are not the same, all leads need to be nurtured.
Why is lead nurturing important?
Nurtured leads make 47% larger purchases than non-nurtured leads, but 80% of leads that are generated by businesses aren't followed up. Lead nurturing is the process of developing relationships with potential buyers and sellers at every stage of their sales journey. It combines both marketing and communication to provide the information and answers your potential clients need. By focusing on the leads you already have, you can achieve more effective results, at a lower cost.

Based on our research, 42% of your current contacts will engage with your content over 12 months, giving you an entire year to nurture them through. Making the nurturing process personal, informative and specific to their buying and selling needs requires more time and thought than lead generation. However, nurturing leads through a combination of effective content marketing – creating relevant and valuable content to share with them – and marketing automation – a technology solution to streamline and automate your marketing efforts across various channels – you can provide them with solutions throughout their journey. In turn, you become an agent they can trust.

Focusing on nurturing your existing leads is more beneficial and affordable than lead generation. As sales journeys lengthen, your potential clients become more independent and if you're not nurturing a potential buyer or seller, your competitors probably are. What percentage of your leads get converted into revenue? 
ActivePipe acquires content automation platform HomePrezzo
ActivePipe has acquired property content platform HomePrezzo in a deal that strengthens our leadership within real estate digital marketing.

The acquisition combines ActivePipe's strengths as an email delivery platform with HomePrezzo's content automation capabilities. ActivePipe clients will now benefit from the ability to quickly create highly engaging content in the form of dynamic videos, infographics, articles and interactive market reports.

To see how HomePrezzo works, book a demo here.

ActivePipe CEO and co-founder Ashley Farrugia said:

"HomePrezzo's strength is its ability to turn property data into great content that agents and mortgage brokers can use to connect and share with their audiences."

"That combination of content together with ActivePipe's delivery and analytics creates an extremely powerful tool that will supercharge the ability of agents to build relationships and target their prospects at every part of the sales and marketing funnel."

HomePrezzo co-founders Nathan Krisanski and Kylie Davis will join the ActivePipe team and help drive the content marketing capability within the business.

The deal also includes the transfer of the Real Content content library featuring hundreds of evergreen articles written for agents to share and nurture relationships with sellers, buyers, investors and renters.

"Both Kylie and I are super excited to be joining the ActivePipe team," said Nathan. "The combination of easy to create content plus easy to target delivery is going to be so powerful for agents. We feel like we're on the cusp of something game-changing.

"I've known both Nathan and Kylie for many years and really admired their vision to empower agents and lift the bar on agent communications through content. They will be tremendous assets to our team," said Ash.

"The HomePrezzo products of Journo-AI and LocalLinks support ActivePipe's goal to automate the end-to-end process of email creation and accurate targeting."

"Our vision is to be able to automatically generate email campaigns based on the sentiment of the data so that we can drive better results with less effort by agents or mortgage brokers".

"The more a seller or buyer engages with the content inside the emails created by our platform, the greater the number of signals we're getting and that helps us determine intention and prioritise leads for clients."

The Homeprezzo content will be integrated into the ActivePipe offering, and will be available to Real Estate and Mortgage Broker clients in ANZ, with the US to follow in coming months.
If you haven't seen HomePrezzo yet, we recommend booking a demo to see how it works!
Targeting contacts is now easier than ever!
The product team here at ActivePipe has been working overtime so you don't have to. Our latest innovation simplifies the way you manage your Tags and Audiences to make it even easier to get the right content to the right people at the right time.

Browse your Audiences and Tags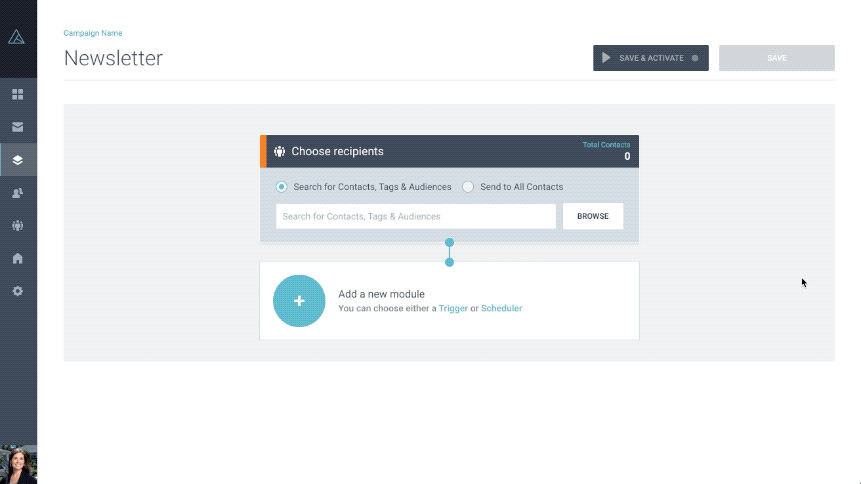 Browse your audiences and tags easily with the new selection tool. You can quickly see all the different segments in your database and send the right content to the right people. Not sure why you need to segment your database? Read this article.

🚨 Why have some of my audiences disappeared? 🚨
We've improved the way you can see and use your contact tags and audiences, which makes selecting campaign recipients a lot clearer.
This change means that some groups may no longer appear in your Audience list, but you can still easily target these contacts using Tags. If you just want to see who's in your Audiences or Tags, you can do that by filtering your contacts by tags and audiences. You can read more about the change in this article.
Empowering Admins
The streamlined enhancement allows admins to quickly & easily send targeted mass email campaigns on behalf of their agents. Admins can now select tags & audiences for the entire office instead of adding them one user at a time.
Here's how the process of selecting campaign recipients has changed for admins.
Got questions?
What's the difference between Tags and Audiences?
Why have some of my audiences disappeared?
How can I see who's in my tags and audiences?
Why is audience segmentation important?
How do I send emails to tags and audiences?
If you have any other questions or want to learn more, please contact your account manager or email success@activepipe.com.
How agents can save money with off-market listings
The world as we know it has shifted, with it the real estate industry's technological evolution has been fast-tracked.

The societal shutdown has placed significant economic strain on a large portion of the population as well as many real estate businesses. It is safe to assume that cash is, and will continue to be tight – for the next 6 to 12 months.
How does off-market alleviate this?
Innovative agents have adopted an off-market listings strategy to present to their potential vendors and as a means of attracting buyers.

There are many benefits to listing a property off-market, but the greatest by far is the reduction in the overall cost of marketing the property. In a time where liquidity is low and uncertainty is high, many vendors and agents may prefer to hold onto those precious dollars.

The biggest of these is clearly the cost of advertising on portals. Whether an agent elects to market without signboards and/or flyers remain individual choices. According to Canstar Blue, Domain's advertising rates are $660 for an eight week listing and $770 for 12 weeks.

Agents and agencies that can point to the strength and breadth of their databases, as well as having intent data across these databases to show vendors the number of profiled buyers they have for their property, will be more likely to secure listings.
Prepare now and be positioned for success
The psychological effect of social distancing is also likely to linger well beyond C-19. Rather than visit 10-20 homes during the 'discovery and filtering' phase, buyers will expect digital marketing and tailored email marketing regarding the properties they are interested in. It is reasonable to expect that buyers will use these mediums to do their filtering, and only seek inspections of their shortlisted properties.

The one caveat to all of this though, is that without a well maintained and segmented database, you'll struggle to move these properties and be forced to list it on the public market.

This current lull in the market is a perfect opportunity to expand your database and get your existing data in order, so that when everything picks back up again you're primed and ready with segmented lists of buyers.

Also consider how across your network you can leverage your combined databases to market the right properties to the right people.
Insights From Real Estate Veteran Gary Keller
Gary Keller, co-founder and CEO of Keller Williams Realty recently published a letter to agents in Inman News. It addressed the rising uncertainty among real estate agents given the current global crisis and how best to approach their work given the shifting market. 

Doubling down on leads

What Keller says here, is that without a doubt it is going to take a greater number of total leads to achieve your goals and also take much more effort to find those leads. This is the current reality for most agents, however there is another aspect to this other than lead generation.

Not every lead you find will be willing to transact this instant, however in 2-3 months time when this all hopefully blows over, they'll likely be active in the property market again. It's essential for agents to ensure that in this current period they maintain continuous contact with past, present & future leads, nurturing and building a pipeline of opportunities that will grow or maintain their business.

Leading into the market of the moment

The key to success is understanding the market of the day.

"The market will show you where you need to pivot. Every shift leaves an opening. A reason to stay in the market. Every problem eventually presents a solution. A way to help someone when they need it most. Today isn't yesterday, and tomorrow isn't determined. When the desire to do more comes from a place that's bigger than ourselves, anything is possible. Potential can become reality. When we pivot, we help others pivot, and together we all have the opportunity to achieve more." – Gary Keller

Up until this moment the real estate industry was slowly but steadily adopting technology that would enable agent success long into the future. What we've seen in just a couple of weeks is a sharp increase in that adoption, arising from the need to adjust to the requirements of social distancing and new government regulations.
The majority (49.97%) of agents are looking for innovative tech solutions to best serve their clients in this remote working environment.

So what does this all mean?

With millions already out of work, and millions more likely to follow, NO sector of our economy and/or community is unaffected by this pandemic. But it WILL pass, and life will progressively get back to normal. Our collective responsibility to our families and ourselves is to ensure that we get through this together and are fit and ready for the recovery.

To put some light at the end of the tunnel, the following is a graph showing the rebound of China's property market post lockdown.

There is no doubt that listings will surge once we get back to normal however, the lingering doubts brought upon by social distancing are likely to manifest in a much stronger desire from consumers for digital communications before any physical interactions with people or properties.

Agents should use this period to implement the digital tools that will be demanded both during and once this situation passes. Implement now, and use the time to fully understand the power of these tools and the amplification of reach as well as productivity that they can help drive across your business – there will be so much demand post-recovery that without these tools agents will struggle to maximise opportunities.

In response to the changes happening across the real estate industry due to COVID-19 we've also put together an agent response plan. Read it here.

We also recently published a white paper, aimed at guiding you on choosing the right digital marketing tools that will generate the greatest ROI for your business. Download it here.
COVID-19: Real Estate Response Plan
This post serves to give real estate agents a response plan to navigate the changes in the market caused by the COVID-19 pandemic. The key areas that we believe to be most affected are:
Communication strategies for buyers & sellers
Managing inspections with private buyer appointments or virtual tours
Maintaining and improving listing visibility
Below are our recommendations in navigating these key areas of the real estate business using ActivePipe and other innovative tools.
Communication Strategies

Potential Sellers
There will be people in your network that you know are/were planning to sell their property this year. These should be your first priority, so monitor them closely and use your time to personalise your communications. Send an email or make a call checking in to reassure anxious minds.
Keep in mind these people will be hungry for information, be the one to offer helpful advice and you may just cement a relationship that will endure for years. We remember those who help us through the tough times.
They may have questions like:
How do I keep my family safe?
Let them know what protocols your company has in place. For example, perhaps you are only introducing qualified buyers to relevant properties via private inspection.

How do I secure my financial future?
While concern about financial security is completely understandable, remind your clients that people will always need somewhere to live. The truth is, it is better to sell in a market with less competition, and there will always be a demand for accommodation.

How is the property market reacting in the COVID-19 landscape?
Providing regular updates on just solds and new listings will go a long way in fostering realistic consumer sentiment in the property market.
ActivePipe can help you reach out to your entire database with personalised messages. Automate things like market activity reports to provide a sense of regularity and confidence in the market and you, as their agent.
Potential Buyers
Buyers that are in real estate mode still need somewhere to live, so a key part of your response plan will be to maintain contact with your buyer database. There is actually a great opportunity for buyers with the first home buyer incentives and historically low interest rates.

Something as simple as a brief survey can give you a great deal of information on the intentions of contacts in your database. ActivePipe clients use this intent data to deliver automated and intelligently matched properties to potential buyers in their database.

With detailed contact profiles, you can even see on a map where a contact has been interacting with properties, and identify hot spots of interest. ActivePipe's latest feature, Notifications, delivers contacts that are in property mode directly to your inbox, along with the property that best matches their needs. Agents can then use that information to set them up with private buyer appointments. Ultimately, technology should make it easier to deliver better value to your clients.
Managing Inspections & Open Houses
Private Buyer Appointments
For many people interested in buying property, seeing it in person is a necessity. Currently, the only safe way to do a physical inspection is to hold private buyer appointments. Restricting the number of people entering a property significantly limits the potential spread of COVID-19. However, it is also less time effective than an open inspection.

As a result, it's critical to qualify buyers early to make the best use of your time and the vendor's time. Before setting up appointments look to get an understanding of their intentions (occupy or invest), their requirements, and whether they have financing in place.

We recommend using a template email with qualification questions, important property information and answers to frequently asked questions. You may also want to utilise a tool that will allow buyers to easily book available time in your calendar. With something like Calendly all you need to do is paste a link in your follow up email.

Virtual Tours & Auctions
We are seeing more and more real estate offices take advantage of the vast array of innovative solutions available. Virtual tours are a great example of that, and are ideal for enabling inspections without the risk of spreading COVID-19.

Virtual tours have typically been used for pricier homes and properties that might be appealing to overseas buyers, however they are now seeing a rise in popularity across the market. They are unlikely to permanently replace in-person viewings but they do give potential buyers a better feel of the property than standard portal ads alone.

Agents and vendors looking to host live or recorded virtual tours have a few options. There are purpose built solutions such as Scann3d or HomeLive, or they can use general video communication tools such as FaceTime, Hangouts or Skype to get the job done quickly.

There are also online auction streaming services and apps, such as Gavl, that allow buyers and vendors to watch and bid on homes without the need to be there in person. COVID-19 is altering the way businesses see remote working arrangements and generating a positive shift in the way businesses adapt to flexible workforces using the benefits of rapidly emerging technologies.

Listing Visibility
There are a number of things that agents can do to increase their listing visibility. Simple things include moving sign placements to main roads, taking more videos and photos of homes, and using digital tools to get more eyeballs on your properties.

ActivePipe users often see around a 30% increase in web traffic in the first 3 months after subscribing. One of the driving factors for this is the ability to send automated emails highlighting your just listed properties. Users can send these properties to their entire buyer database, or they can take a more targeted approach using location data from their CRM to deliver a really personalised offering.

We're now seeing many of our clients using an intelligent off-market strategy. Users automatically pull in their off-market properties from their CRM and send a 'featured property' email to their contact database. Whether agents sell the property off-market or later go on to advertise on property portals, their properties typically spend significantly less time racking up expensive advertising costs. For more information on getting the best ROI from digital marketing download our free whitepaper.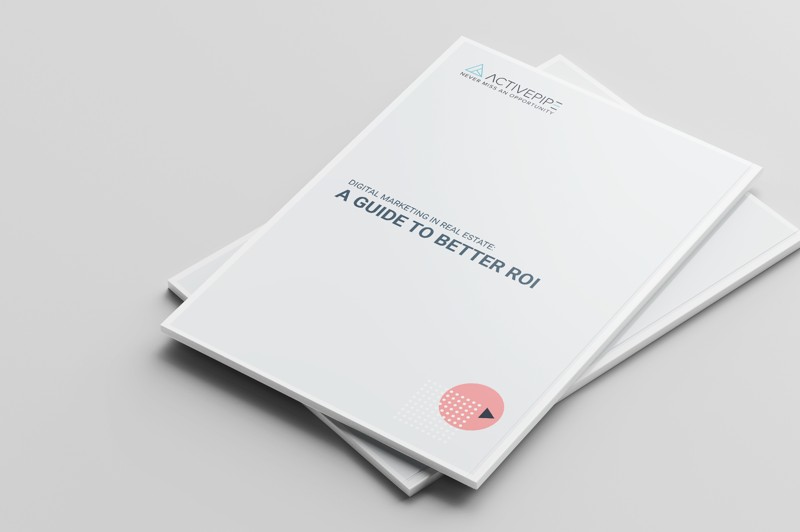 There are also innovative tools on the market that use automated content creation that agents can use to boost listing visibility. Tools like HomePrezzo use your latest photos and listing information from your CRM to automatically create property listing videos you can share on social media, via email or on your website. ActivePipe customers have access to a 30 day free trial with HomePrezzo.

Conclusion
Inconclusive. We have seen first hand how quickly things are shifting due to the coronavirus and the resulting restrictions being implemented to slow it down. For that reason, we are going to continue adding to this post as the market changes and new strategies are required.

A good response plan must evolve with the conditions. Bookmark this page so you can revisit and stay across any changes as they happen.


How Coronavirus is Impacting Real Estate Businesses
We surveyed over 560 real estate professionals on how coronavirus was impacting their business. Responses to our survey came from real estate professionals including agents, principals and marketing staff.

The results demonstrated an attitude of resilience and a recognition of the importance of digital outreach to their clients.
We are now looking to expand the survey even further. How has COVID-19 impacted your business? Take the survey here.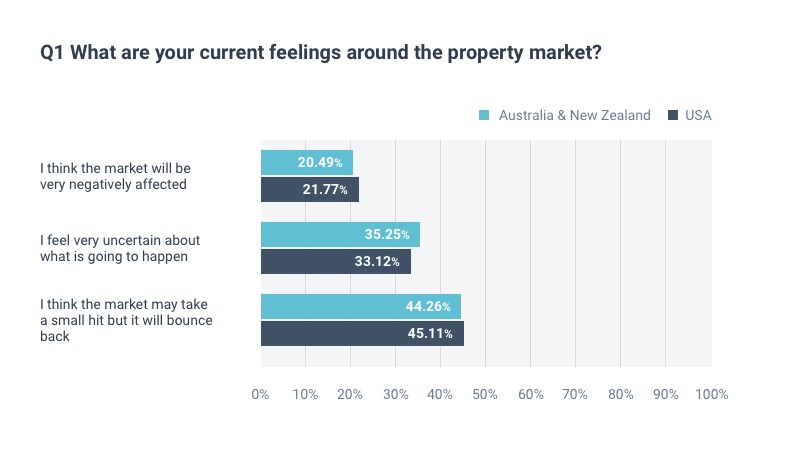 Despite the US being reported as two weeks ahead of ANZ regarding the spread of coronavirus, agents in both regions share an almost identical sentiment towards the state of their respective markets. Though there is a substantial amount of uncertainty, the majority of agents, approximately 45% across both geographies, feel as though the market will take a small hit but bounce back.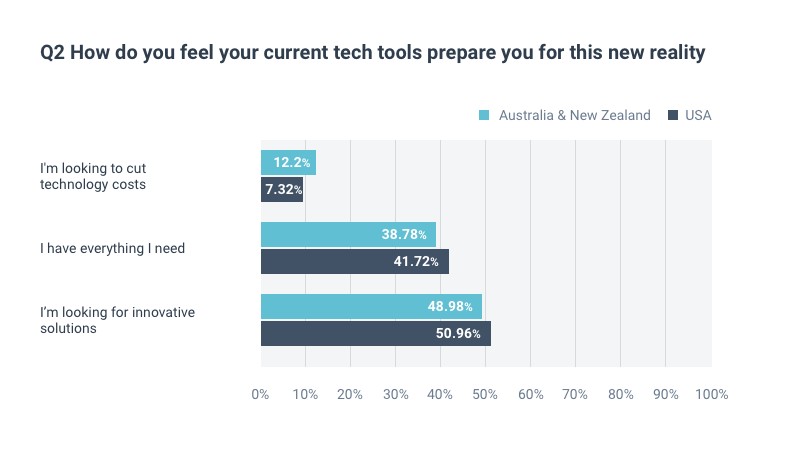 The majority (49.97%) of agents are looking for innovative tech solutions to best serve their clients in this remote working environment. A well-prepared 40.23% of agents believe they have the right systems in place already. US agents are less likely to cut technology spending compared to ANZ agents with a 5% variance.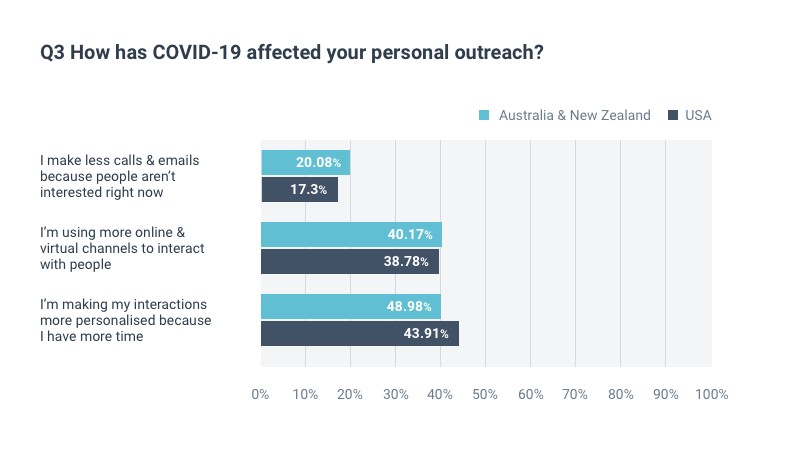 By far, the majority of agents are taking this opportunity to personally reach out to their contacts during this time. 81.33% of respondents are adapting to the new circumstances with either a shift to more online & virtual channels to interact with clients (39.32%) or by making their interactions more personalised (42.01%). The minority (18.75%) across both regions are making less calls and emails.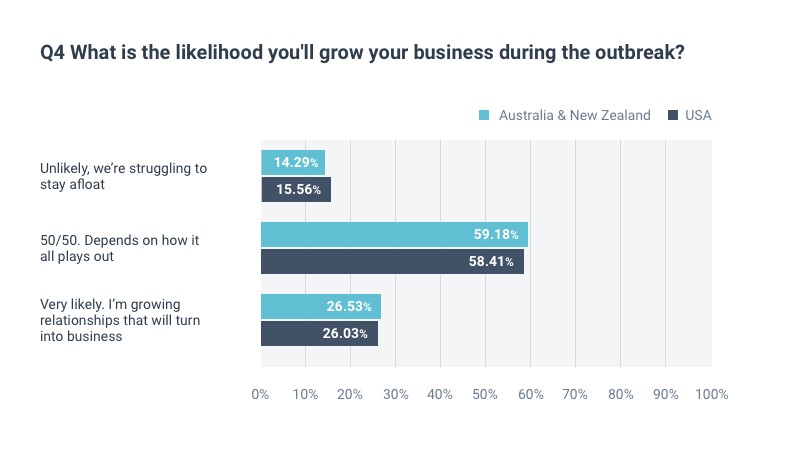 Unsurprisingly we see that there is significant uncertainty around how businesses will perform throughout the pandemic. Given we are at the beginning of a difficult period that looks like it will extend for several months, it is heartening to see that over 26% of agents from both regions are positive and continuing to grow their business.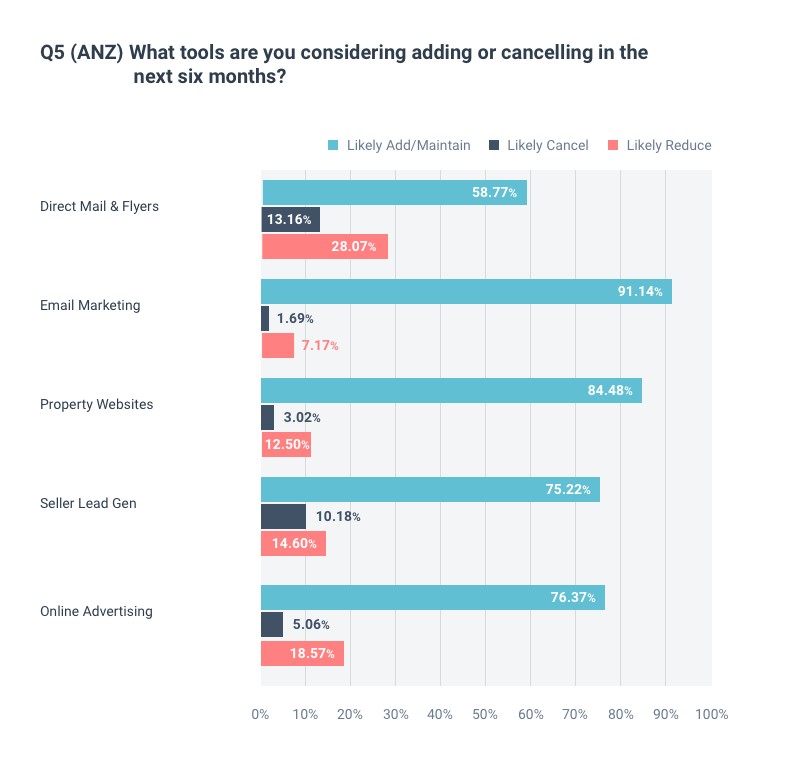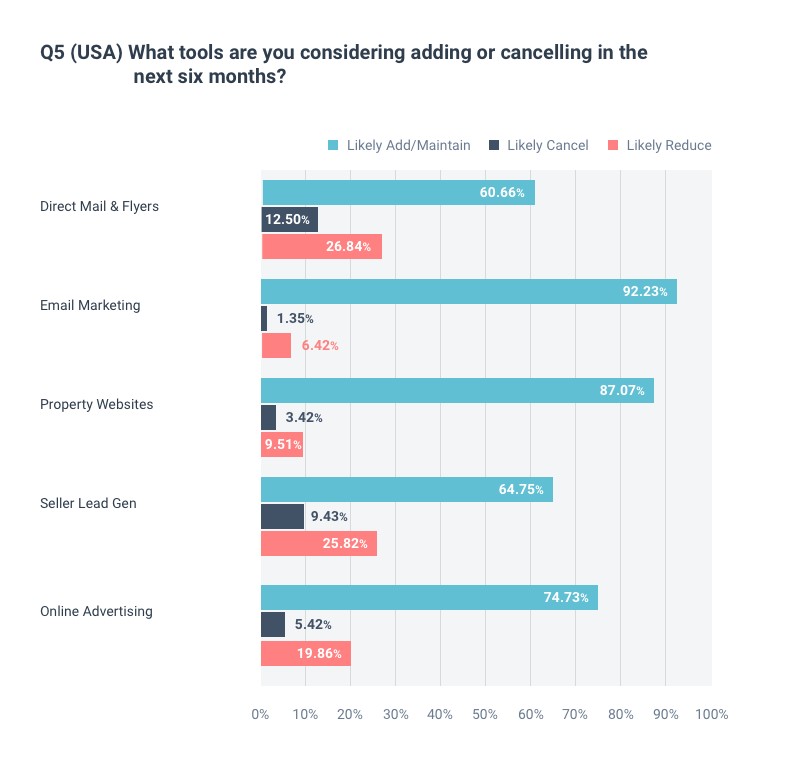 Email marketing remains the most popular option with an average of 91.68% of agents voting that they will likely maintain or add this to their toolkits in the next six months. The whitepaper Digital Marketing in Real Estate: A guide to better ROI highlights why this might be the case, with email generating $42 per $1 spent.

Direct mail & flyers are at the highest risk of being reduced or cancelled, with an average of 40.25% of respondents indicating they will be looking to do so.

There is little variance in the results between ANZ & USA (between 1-3%) regarding direct mail, email & property website results. However, the US agents are approximately 10% more likely to reduce seller lead generation compared to that of the ANZ agents.

Mentions: In Crisis Mode: Real Estate Pros Seek Tech And Are Using Email During COVID-19 Outbreak, Mediapost.com
White Paper: Digital Marketing in Real Estate
Real Estate shifts to digital
As the real estate industry grapples with the need to rely less on face-to-face interactions to limit the spread of COVID-19, the shift towards digital channels has been accelerated.
Digital marketing will be essential for agents to drive revenue and value for clients, even while maintaining social distancing. To this end, we're excited to publish our new white paper Digital Marketing in Real Estate: A guide to better ROI.
The industry-first paper showcases how digital marketing is playing a pivotal role in transforming the real estate industry, and guides real estate offices on how to optimise their digital strategies to achieve a better ROI and an improved customer experience.
Clarifying digital marketing in real estate
We created this white paper to analyse and compare the pros and cons of different digital marketing channels, but more than that, we wanted to put into context how marketing strategies align with the behaviours of the top-performing agents. What are the best agents doing to win more listings? By capturing those insights in a single report, we hope to simplify what can be a very complex topic for real estate decision makers.
There are a lot of options for agents in regards to building their brand and winning more business, but we believe there's a level of confusion as to what delivers the best outcome. I spoke at List, Sell, Negotiate last year where we polled the audience, asking what they think delivers a greater ROI, social or email? Staggeringly, 81% answered social. The truth is, email has an ROI of 42x that of social.

With this report we offer real estate agents a proven approach to generating more revenue, including how to unlock the hidden value in an agents most powerful asset — their database.
Real estate offices looking to drive revenue and better value for clients can download the whitepaper here.
In the news
Pros and cons of digital marketing channels revealed
A new white paper has offered insight into how agents can reap the benefits of digital marketing channels — and what they should be wary of.
Study Tells Real Estate Agents: Use Email, It Works
Email produces the best ROI — $42 for every dollar spent, according to Digital Marketing In Real Estate—A Guide to Better ROI.
Digital marketing will prove essential for real estate agents
As the real estate industry grapples with the need to rely less on face-to-face interactions due to the spread of COVID-19, the shift towards digital marketing has accelerated.
The secret to converting at scale: Segmentation
Despite the steep rise in social media marketing, email marketing still has the highest ROI with an average of $42 return for every $1 spent according to Oberlo.

Successful marketers reach those numbers by cutting through the noise and by sending a high number of personalized emails. They know contacts expect customized content catered to their needs and interest. It's about creating a relationship.

Good relationships are built on providing value
A first-time-buyer doesn't value email blasts about how to stage their home for sale. However, content like the newest listings in their target area and a blog about the best mortgage rates not only positions you as an expert but as someone who knows their needs and is willing to invest time to deliver it directly to their inbox.

What is segmentation?
Simply defined, list segmentation is dividing your database up by particular criterias. This could be separating buyers from sellers but can be made even more precise through geo-targeting, sale cycle stages, buyer preferences and more.

The more segmented a list, the more likely a contact is to receive customized information related directly to their wants and needs, leading to a higher ROI. Why? Because the more personal an email is, the more opens and interactions you'll get, ultimately providing powerful reporting data that predicts their next move.
List segmentation allows real estate agents to achieve a high ROI quickly. Segmented campaigns have on average 14.31% higher open rates and 100.95% higher click rates than non-segmented campaigns (source).

How is it done?
Adding tags, addresses, and buyer preferences are all great ways to segment a real estate database. It can feel overwhelming to get all this information into a large database. Adding it to the contacts on your daily call list is an easy way to overcome this problem. At five calls a day, five days a week, you can easily tag over 100 contacts a month.

ActivePipe allows users to target custom audiences with automated open house, 'just listed', and property emails that fit a contact's exact interests. ActivePipe's CRM integrations make this even easier, only requiring one source of information to be updated.

Put ActivePipe to work growing your business while you keep busy selling Real Estate. Book a demo to see how it works.

Why Unsubscribes Are an Agent's Best Friend
Those who manage an email list will be all too aware that email unsubscribes are an unavoidable part of having said list. People change their mind, they may not like your content, or their situation may simply change. All are fair reasons to opt-out. But all is not lost.

Email unsubscribes are a fantastic opportunity to check-in with prospects. If something has changed, you want to know what. Every person moving away from your business is an opportunity to learn how to keep people close to your business.

You should call your unsubscribes.

The specific motivations of unsubscribers are many, but they usually fit into one of these three categories: 
They are no longer looking to do something in real estate (great, clean the database)
What you're sending isn't meeting their requirements (excellent opportunity to learn what is relevant)
They've just bought a property (meaning that they're probably ready to sell!). 
Let's dive deeper into each of these motivations to explore what can be learnt to improve your business, as well as where they may be potential to bring them back for other services. 

They're No Longer Looking to Do Something in Real Estate
A typical agent database has thousands of contacts. When you aren't engaging them, you have no way to tell who is a good target and who is not. Finding out that someone is not actually worth marketing to is hugely valuable. This cleanses your database so that you focus on warmer prospects with a real opportunity to convert.

There's no point having an unwieldy database with thousands of contacts if half of those people are not relevant targets for your engagement. Goodbye, unresponsive contacts. Hello, clean, quality database. 

What You're Sending Isn't Meeting Their Requirements
If what you're sending isn't meeting the requirements of your contacts, you need to know about it. After all, your content is meant to add value to your contacts and to make sure it achieves this goal, you need to know what it is that they require from you.

Speaking to one of these customers is extremely valuable. This opportunity allows you to ask for feedback, which can build a relationship and may get them interested to re-subscribe.

ActivePipe's Data Discovery Survey also helps you to learn from your database what their requirements are and what information is relevant to them.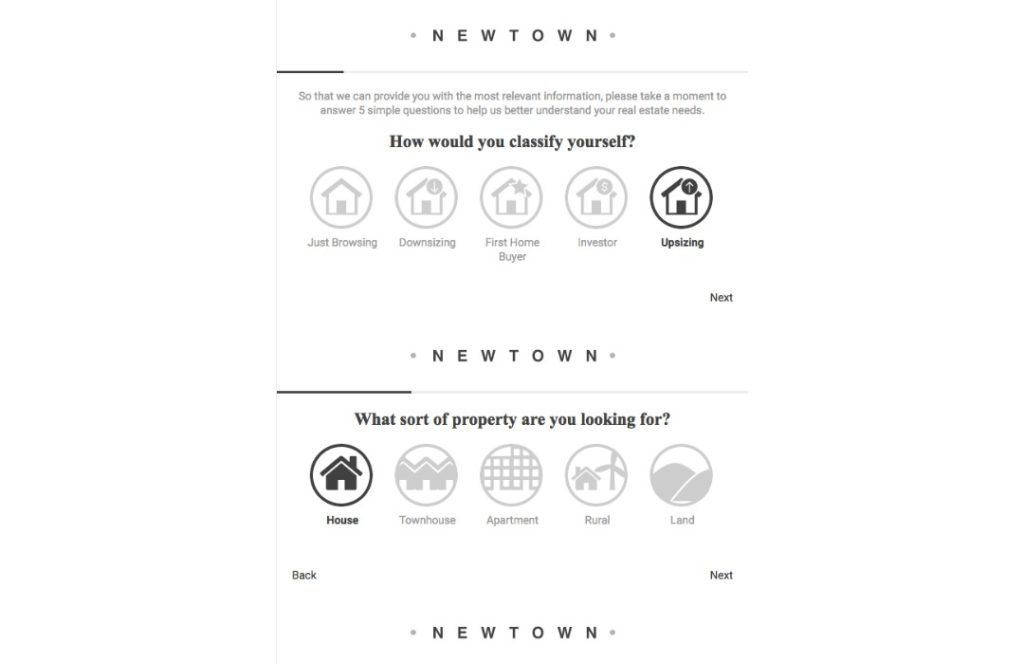 Email marketing needs to be personalised to the goals of those it is reaching, and it needs to be based on accurate data.

They've Just Bought a Property
This one is absolute dynamite. If they've just bought, chances are they are a future seller or may even be looking to sell immediately. If you had previously been marketing to them about buying, they might not realise you can also help them sell.

Don't miss your opportunity to pick up the phone and offer a human touch. Our techniques for an effective warm call covers all you need to consider when calling newly unsubscribed contacts. 

Unsubscribes Are Your Friend
Unsubscribes are unavoidable, but training your team to recognise their value is a smart strategy to boost results; keeping the database high-quality and relevant, gathering insight to improve your marketing, and snapping up opportunities to lock down sellers.

Book an ActivePipe demo to see how you can start engaging with your database in a smarter way.

What top performing sales offices do, that most others don't
The annual REB (Real Estate Business) Top 50 Sales Office Rankings reveals much more than just the top performers.
Back for its eighth year, the renowned REB report has been released, ranking the 50 top performing sales offices that list and sell the most, in the most efficient manner. While every real estate office wants to be in this top 50, the report itself has a lot more to offer agents than a list of worthy competitors.

Packed with trends and statistics about the Australian real estate market, the REB report holds some powerful insights which every agent should be reading.
If this topic is of interest, join our webcast with REB & Josh Phegan, an internationally renowned speaker and coach for high-performance real estate agents. We'll share practical advice and tactics that agents can use to create a key point of difference.
The Big Picture
In this year's report, sales were down. The average number of sales across the top 50 came in at 313; which is on average 19 sales less than last year. What this could indicate is that the Australian real estate market is becoming more competitive, with more agents stepping up to take a piece of the industry. Supporting this, the report highlights that the average number of salespeople in top-performing offices has increased to 11, up from 10 in the previous year.

What's remarkable is that when comparing the top 10, the sales average skyrockets up to 420 sales. The average for the top 10 is more than 100 sales above the overall. Suggesting that these leaders are not just leading by a little, they're in a completely different league.

Sales values are also down on previous years, coming in at $218 million in the latest report. The average sales price follows a similar trend, at $740,931 the price has dropped more than $40,000 when compared to last year's figures.

More data to suggest that the market is becoming extra challenging is the average number of days a property sits on the market. The 2020 ranking reports the average days on the market at 56 days, up from 50 days in 2019, 45 days in 2018 and 40 days in 2017.

Top Performing Sales Offices Use Technology
While all of the report findings indicate that the Australian real estate market is becoming more competitive and more challenging to navigate, it's interesting to observe that top-performing offices are growing in staff, and their sales are well ahead of the top 50 average.

Top-performing offices are proving that they have been able to adapt to fit the challenges of the market, which tells us that they are using all the tools available to them.

A report from OpenAgent looks at data from top performing agents and found that:

"Top performers win more than twice the number of listings that go to market compared to average performers because they do three things just a little bit better. Top performers contact all their leads (not just most of them), contact their leads faster and then dominate during appraisals."


Zoe Pointon, OpenAgent CEO

In a tight market where the number of sales and the value of sales are down, customer and prospect engagement technology allows agents to maximise their lead conversion and amplify reach.

Knowing who to call, when to call, and why, lets agents optimise their time; prioritising customers that are ready to close, while at the same time maintaining active contact with their entire database to build relationships and ensure no opportunity is able to slip through the cracks.

Agencies that support their agents by giving them the tools to sell more efficiently are getting ahead. But it's not just about purchasing the right tools. Equally, agents must fully commit to learning how to use new tools and integrate them into their daily routine if they are to see measurable results.
In the words of Albert Einstein,
"The definition of insanity is doing the same thing over and over again, but expecting different results."
Book a demo to see how top performers use ActivePipe to get ahead.

How to Capitalise on Strong Selling Conditions
In just one year the overall net happiness of Australian sellers has doubled, up from 20% in December 2018 to 41% in December 2019 according to RateMyAgent.

This is likely due to the resurgence of the property market in late 2019 and consistent price growth across the nation since.

How long will it last though? Price growth is already starting to taper off in some capital cities and pundits expect the market to plateau around-mid year.

As we leave the festive season lull there's likely to be an increase in seller activity given the current positive selling conditions, are you ready to act?

Although this specific situation is related to Australia, how to get the most out of these conditions can be translated across all geographical markets.
Here's how to capitalise:

1. Is your database segmented by buying and selling intentions?

Yes – move to the next step

No – get in touch with us today to find out how we can help you segment your database

2. Put together email content aimed at sellers, for example:
Property price growth in your area
How to prepare your home to be sold
Local market trends or forecasts
Send this to your list of potential sellers encouraging them to enquire about a free appraisal.

3. If you haven't already, make sure you're sending monthly automated sold property reports tailored to a contact's local area. This encourages self-appraisal which you can track through ActivePipe interactions.

4. 'Just Sold' campaigns are a great way to keep all of your contacts informed about current market activity, whilst also encouraging them to request an appraisal through interactive CTAs. Automate this so that anytime a listing is sold your contacts know.

Don't have these campaigns running? Speak to your account manager today and get them set up.

Segmenting your audience and sending targeted campaigns is a great way to promote yourself, your agency and generate leads… but it won't secure you the listing.

Getting on the phones and using the information found within ActivePipe to drive your conversations will be what does.
Who to call, when to call and why?
In the real estate industry, for most agents, the greatest daily challenge is knowing who to call, when to call and why. In most cases, having people to call is not a problem. The majority of agents these days have large databases, plenty of people available to contact.

But how can you know, out of all of those contacts, who will be ready to talk to you and what you should call them about?

Every person is different, their situation will be different and what they expect from you will be ever-changing, depending on when you talk to them.

You can't call a contact and talk to them about selling when they are currently in the market for a rental.

So, how on Earth do you know?

Use the power of data
We pose this question, of course, with an answer in mind. While the database may seem to be a cause of all the calamity, it is the best tool agents have on hand to learn the intent of their prospects.

"One of your most important skills as an agent is to know how to use data in a powerful way."
Josh Phegan, Real Estate Sales Trainer

Josh Phegan is an internationally renowned speaker, trainer and coach for high-performance real estate agents and agencies. He has made a career out of guiding agents toward better performance, and his message is consistent: You need to become skilled at using your data.

So what does this mean?

Essentially, every agent has in their possession an insight gathering machine, which, when connected with the right tools and techniques can tell you who to call, when to call and why.

This is done through learning behavioural intent.

Learning Behavioural Intent
With tools like ActivePipe's behavioural intent engine, agents can use their database to learn about their prospects, segment them into categories and gather insights as to where they may be in the buying or selling journey.

This is done either through an online survey or by identifying trends in their behaviour (how they interact with your brand online). With ActivePipe, this insight is then captured and analysed against typical behaviours in the real estate industry, to give us an indication of where your prospect may be in their journey, based on predictive analytics. Thus giving you:

Who to Call
When your database is optimised with ActivePipe, your team can start their day with a clear view of who is ready to talk to you. These contacts will be those that are seriously engaging with your information, whether it be a property or an article about how to prepare your home for a sale. Segment your contacts into buyers, potential sellers, landlords and past clients each with their own communication strategy. See how we segment your contacts for you based on their interaction with your content.

When to Call
Segmentation can now be so advanced that contacts can be ranked as a matter of priority. Those who are most likely to convert, and those who look like they will soon be ready. This allows your team to focus on the immediate opportunities while tailoring communication to the others that may help to nudge them closer to the warmest leads.
For example, you can make your potential buyers' life easy by tailoring alerts just to them about relevant properties listed in the areas they have shown interest in. Once you've seen they've opened your email, that's the perfect time to pick up the phone and add a human touch.
Why
Analysing the content that your prospect interacts with, you can learn a lot about what their current interests may be. For example, if they're opening that property page numerous times, that's a good indicator that they're interested in that property. If they're reading about how to sell a property, you can assume that they may be considering selling.

Imagine stepping into your office, opening your computer and having a clear view of who wants you to call and what to talk to them about. Other prospects can move through the funnel via email communications and you, and your sales team can get to work closing those who are ready to close.
Book a demo and see it in action.
Better Experiences Will Drive Business Success in 2020
At the end of 2019, Salesforce released their third edition of the State of the Connected Customer. One of their key findings was that extraordinary experiences are becoming the driving force for better customer engagement.

The report found that:

73% of customers expect companies to understand their needs & expectations
62% of customers expect companies to adapt based on their actions & behaviour
So what does this mean for real estate?

The experiences you deliver are the driving force for business success in 2020, fees no longer drive consumer decisions, the value you provide does.

How well do you understand your customers? Your ability to create an outstanding connected experience lies in your ability to utilise your knowledge of a customer to deliver them relevant information.

I'm not the best story teller, but here's an analogy…

If you make a routine of regularly going to your local coffee shop, you'll notice that pretty soon all the staff will know your name, your order and you'll likely start chatting about more than your order… This is a great experience for most customers!

There are many parallels between this situation and how a customer feels when they receive personalised property content from an agent. If the coffee shop attendant simply stood there and tried to guess what a customer would like to order, they'd have very little success. Similarly if you begin sending any listing to anyone regardless of their buying criteria, then it is an equally lacklustre customer experience.

What makes the relationship flourish between the shop attendant and the customer, is the growing understanding of one another. That understanding creates a more seamless and relevant customer experience, drawing the customer back for more rather than going to a competing coffee shop and having to endure a connectionless encounter.

Through their interaction the attendant may learn that the customer is interested in reusable coffee cups, so they decide to start selling a range of reusable cups whilst running promotions that drive engagement with their new offering.

This is no different to an agent learning and understanding the needs of their prospects (such as through ActivePipe's behavioural intent engine), taking them into consideration and starting the relevant dialogue that drives action.

The reusable coffee cups are properties an agent knows a particular person will be interested in, based on the data. Such things as open house reminders, feature property updates or off-market listing updates are your personalised promotions that create real interest.

If an agent doesn't consistently communicate with and engage their contacts with relevant property content, they'll suffer the same fate as a coffee shop who doesn't understand their customers – watching their prospects go elsewhere and transactions diminish.

Use the data, let it guide the experience you deliver.
Are you a modern agent?
The market is changing and continuously presenting new challenges for agents to face, as the market changes so do buyers and sellers, creating even greater challenges.

The richness of information in the online world is driving consumer expectations, with more accurate data readily available, buyers and seller intelligence is at an all time high. What needs to rise with it, is agent intelligence and the one surefire way to get there is through adopting the right pieces of technology.

With new technologies providing such things as automation, data gathering and enhanced administrative capabilities, all at your fingertips, it's inevitable that those who effectively implement these tools into their work processes will have a distinct advantage.

Technology is reshaping the way properties are bought, sold and marketed, thereby changing the fundamental day-to-day processes that agents undertake in their daily work routines.

At the heart of that, is a myriad of proptech solutions. Some would say the sheer amount of tech options on the market is overwhelming and confusing, they're probably right. That's why identifying the most essential tools, which enable agents, is the key to remaining at the forefront of the real estate game.

Not all technologies are bad as some would have you think. Most are 'enabling', providing the means to dramatically enhance or even transform a user's capabilities. To an astute and brave user, early adoption of enabling technologies can deliver a competitive advantage. As a real estate agent, it is easy to get caught up in the tangible world of bricks and mortar and be oblivious to the gradual and inevitable digitisation of the industry and your business. The risk you face by not connecting to this new digital paradigm is that you will be left behind. Embrace the new however and the impact to your business can be profound.

If you, as an agent, can't live up to the new, expectation-ladened customer, you will be left behind.

Will you be able to join the new breed of buyers and sellers on their journey and deliver the results they will expect?

Follow us as we help guide you through the clutter and noise….
Content Without Strategy is Noise
Content as a marketing tool has experienced a meteoric rise in popularity in recent years, and while many may have initially fobbed it off as just another marketing buzzword, it's safe to say that when used correctly, it can deliver exceptional results.
Real estate agencies and agents alike are more active than ever before on social media and email, websites are looking sharper, and the information on all of these channels has transformed from a basic few pages or posts to a glossary of information to guide and inform any renter, buyer or seller along their journey while positioning the agent as the person to go to when they're ready to engage.
When designed well, content helps to move prospects from being someone unfamiliar with your brand, all the way through to a seller looking to engage or a buyer or investor wanting to work exclusively with you.
Done poorly, it's just noise.
Real Estate Content Strategy Done Right
Strategy is essential simply because it ensures that you get the most out of your efforts. What you share, when you share it, who you're trying to talk to, and what tools you use are all critical details which, when given attention, can transform your results.
What You Share
Strategising on the "what" ensures that you take a client-first approach to your content creation; sitting back and really questioning whether or not this is something that will add value to the customers you want to work with. You need to consider how these communications will move them through the process of buying or selling a property.
When You Share
Sending emails, posting to social and publishing blog posts at any old time is an easy way to miss engagement opportunities. With social media, website analytics and email analytics, you should know the best times to share content with your audience.
Be guided by what you learn and optimise to achieve greater results.
Who You Talk To
Without a strategy, it's easy to default into a one size fits all approach. In the world of real estate, there are too many stages in the property journey for all of your prospects to resonate with communications that speak to all levels.
Identifying and using property personas you can craft content that speaks to prospects at each stage of their journey – those considering selling and beginning to research what's involved, all the way through to those who are ready to dive in.
What Technology You Use
Market segmentation, which is done through ActivePipe, then allows you to identify which prospects fit which buyer persona. ActivePipe also enables you to automate and send tailored communication which feels explicitly crafted for them, thus increasing their loyalty and more accurately moving them through the sales funnel.
Aussie home buying interest is on the rise, don't be caught out by the Christmas break
We're coming into the inevitable property market Christmas lull…or are we?

The new year comes with it new start, new buyers are eager to get into the market early and sellers who missed out on the Spring time boom are looking to capitalise on an undersupplied market.

New CBA research indicates that home buying intentions have sharply risen and are nearing the record highs of 2017. This is likely to continue into the new year but how long will it last?

Other data backing up the assumption of the lull not being as pronounced as many believe, is that property portal traffic on average sees a sharp spike on New Years Day and continues to steadily grow in the weeks that follow.

What can you do to take advantage?

Clean your data in the lead up to the holidays and identify hot prospects in your existing database – ActivePipe continuously freshens your data after each send but our data discovery surveys get real answers straight from your prospects


Segment interested prospects based on their intentions – ActivePipe does this for you


Pick up the phone, get out in the field and do what you do best, have conversations that are backed by data and build relationships that feed your pipeline for early 2020
Don't forget to follow each of them up in the new year and plan your marketing/nurture communications appropriately
Why It's Important to Use Buyer Personas to Segment Your Prospects
Every person is different — each with their own impulses, interests and inclinations. As an individual, you know this. No one likes to think that they are just the same as everyone else. Yet, when business people approach marketing, it can be all too easy to forget.

Marketing can be confusing, and a one size fits all solution sounds amazing. But it doesn't work.

There is no point sending the same message to people who are looking for different things, or who are at different stages of the buying cycle. Identifying each customer by persona enables specific and far more relevant messaging.

Too many agencies adopt only marketing basics and then miss the next steps where the real impacts can be seen. Sure, if you go from nothing to periodically sending prospects some one-size-fits-all communications, you're going to see an increase in engagement and sales. Some contact is better than none. However, if you take that a step further and market to people based on what they actually want at that moment, the results are going to amplify drastically.

What Are Buyer Personas
If you've never heard of a buyer persona before, or aren't too sure of exactly what it means, a buyer persona is essentially a semi-fictional representation of the prospects in your buyer categories. For real estate, those buyer personas could be prospects likely to be upsizing, downsizing, investors or first home buyers.

Each of these personas will have unique characteristics. It is obvious to state that they will not respond to the same communications. Those looking to downsize, aren't going to respond to your marketing communications about upsizing. First home buyers are likely not going to understand when you're talking at an investor level.

Defining the different buyer personas that buy from you makes it easier to identify which prospects fit these personas, and therefore, what communications are going to motivate them to purchase.

Segmenting Your Prospects
As most agents will have an existing CRM, customer segmentation is easier than you may think. With your buyer personas in hand, analysis can be conducted on your CRM to segment your prospects and allocate them to their appropriate persona category.

With these segmented lists and a communication strategy based on the unique drivers of each persona, as well as their stage in the buying cycle, marketers can craft content that speaks to them. Building stronger relationships and moving them more effectively through the customer journey to positive action.

Buyer personas and customer segmentation can drastically increase the efficiency of real estate agents. As in the case of O'Brien Real Estate, adopting personas and segmentation allowed their marketing to play a more impactful role in warming up prospects and maintaining relationships, while sales agents could spend more time with personas that were ready to buy.

ActivePipe is instrumental in achieving these results. Our solution works by segmenting the customers in your CRM, by either an online survey or by identifying trends in their behaviour, and taking each user on their own journey through to the sale.

But don't just take our word for it, see what estate agents across the world have to say about our solutions.

5 Pieces of Wisdom Real Estate Must Learn from Uber
Every two years the Property Council of Australia and EY publishes a study on women in real estate. These studies take the pulse on women's status in real estate and are an opportunity for women's voices to be heard.
Is there an Uber of real estate coming to disrupt the entire industry?

The answer is yes, but disruption in real estate is going to start at the grassroots level with agents who embrace change.

Uber disrupts because they listen to customers, adopt the right technology and adapt with genius long-term strategies. Read on to find out how you can disrupt like Uber for long-term success in real estate.

How to Create Seamless Customer Experiences with Technology
The cab companies had a massive efficiency problem and Uber knew they could disrupt their industry with technology.

By focusing on software, Uber saved on overheads to gain an advantage over cab companies which had to pay for vehicle repairs, employee benefits and wages, and call centre staff.

Agents can use technology to disrupt in the same way.

Think about it like this: you can spend 15 minutes setting up a personalised email to go out to your database of 500 contacts. The leads you generate from that email give you an idea of who is in the market right now and lets you know who to speak to.

Best of all, it saves you hours cold calling. If you had to spend 5 minutes cold call everyone in your database, contacting the 500 contacts would take over 40 hours.

That's a full week!

Technology allows you to work smarter, not harder. The tricky part is knowing what the right technology for real estate is.

Why you Need to Embrace the Right Technology
The trick to being disruptive is choosing the right technology for your customer base and business case.

For Uber, this meant the smartphone because the technology is popular, it lets people connect to the internet and people always have them on hand. Unlike cabs, an Uber customer never has to hold the line, like they might if they called a cab company at a busy time.
Uber used the right technology to make it easier for people to become customers.

The right technology for agents is tablets and email.

Email, for example, allows agents to show properties to large groups of people. Everyone has email, so you are casting a wide net that will catch more customers.

Tablets are easier than laptops for a busy agent to use on the go. They are also perfect for gathering data at open homes because they are easy to pass around to multiple prospective buyers
How to Listen to Your Customers
One of the things that made it so easy for Uber to steal business was that people hated taxis. Consumer frustration is a powerful force for disruption and brand loyalty is a powerful thing.

The internet provides the best agents with a powerful opportunity to disrupt agents who are being slack on customer service.

AI makes it possible to automate communications and stay front of mind with buyers and vendors. Online services like ratemyagent.com.au make it possible to develop a good reputation and find new contacts outside your database.

You might be wondering how you can stay ahead of other disruptors who use this technology. Uber has a lesson for expert disruptors here too.

How to Adapt and be Original
Uber isn't a taxi company any more. They deliver food. You can rent an Uber bicycle. In 2020 Uber will deliver UberAIR, which will offer short flights.

When Uber launched they were the rideshare company, which gave them a head start over everyone who came after them. When other competitors like Lyft, DiDi and Ola came along, they didn't just stand still. They diversified.

There are a lot of agents in the world, so it's crucial for you to stand out to your contacts. After all, only one agent can sell a person's house so you need to make sure it's you.
Originality in real estate used to be video blogs, or gifts at an OFI.

What's original in 2019? Well, if we told you that it wouldn't be original anymore (you'll have to come up with the idea yourself!).

When you come up with your million-dollar idea for marketing your properties remember that you can't depend on a gimmick.

What's Important about Thinking Long-term
Uber is trying to build self-driving cars. Why? Because they don't want someone else to invent it first and disrupt them like they disrupted the taxi companies.

To think about long-term technological prospects is to prepare for and guarantee long-term success.

If the taxi companies had invested more resources into an app before Uber, they might not have lost so much business to them. As it stands, they failed to understand what their customers wanted and had a lack of imagination about what kind of disruption technology could bring.

Like the Uber of real estate, the best agent in the future is the agent who listens to their customers and adapts to disruption by implementing the right technology.
Want to Disrupt Like Uber?
Make sure you're a disruptive agent. Get in touch to embrace the best email marketing tech and make sure you remain the ahead of the competition.
Leader of Leaders: The Rise of Leanne Pilkington
Leanne Pilkington has been in real estate for a long time. In that time, she has accumulated prestigious awards, setup organisations and established herself as a leader and role model. She is the president of REINSW, Managing Director of Laing+Simmons, and Founder of Real Women in Real Estate (RWIRE).

For someone so accomplished, Leanne Pilkington is down-to-earth and candid. As a woman I look up to, I was honoured to sit down with her to discuss how she got to where she is today, and the bright future she's continuing to forge for herself and all women in the real estate industry.

Origins of a Real Estate Icon
A twelve-year old Leanne started out answering the phones at her dad's real estate agency and would go on to become one of the most influential people in Australian real estate.

"It was never a burning passion," Leanne says, talking about how she fell into real estate after graduating.

"Honestly, I went to Schoolies like everybody does, and I ran out of money. Dad said, "Yeah, all right, I'll send you some money, so long as you work for me until you go to uni.'"

Leanne would work for her dad for eight years, learning her way around the industry.

"Working for dad wasn't really ideal for me because I would give him too much of a hard time. I wouldn't take directions from him. Typical teenage girl," she jokes. "I recognised that I needed to get out of that environment if I really wanted to grow and develop a career."

This knack for pushing herself out of her comfort zone is something that has defined Pilkington's career. For a period, she even made a move into other industries before returning to real estate in the 90s, when she would join Laing+Simmons.

Leanne has been there ever since. In 2015 when she was named Managing Director, she was the only female managing director in NSW, and one of the few across the country. From there, she has gone on to become the president of REINSW, where she wields tremendous influence in NSW residential property, an industry which turns over $107 billion annually.

Leanne Pilkington: Advocate for Technology
Pilkington says that in all her time as an agent, the biggest changes to real estate have come from technology.

"I think that in my first 25 years of real estate, nothing has really changed," she told us, "the only thing that would change would be the market conditions. But now there is so much money being poured into technology, and although I don't think we've really seen a disruption yet, it's coming."

Leanne is working to turn Laing+Simmons into the real estate brand of the future.
"We're working on a lot of really exciting technology at the moment. I'm really pumped to see how that makes a difference in helping agents better personalise their communication, better manage their databases, have better information about what's going on in their market."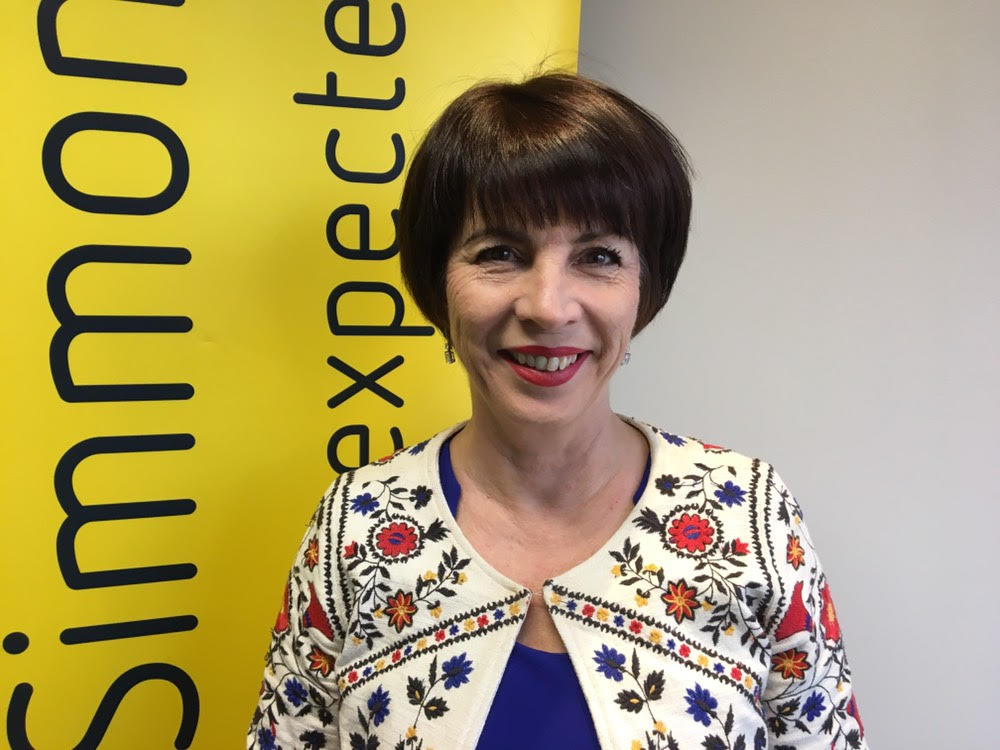 At the core of Laing+Simmons new platform is a CRM that is empowered with robust business intelligence, artificial intelligence, and virtual agents. Leanne says that this is a strategic move, with "much better information for our agents about what's going on in the market and just better consumer insights."

Already Laing+Simmons is seeing results. The virtual assistant alone has improved conversions off enquiries by 13 per cent.

"All of our marketing will be automated so that we can have a much better brand compliance," she said. She emphasised that this would make it "much easier for agents to roll out the campaigns that we develop for them, across all of their different platforms."

Far from being pessimistic about the disruption that technology will bring, Pilkington is eager to embrace it. She does not imagine a dystopian future where the robots take over. In fact, it's quite the opposite.

"I don't believe for a minute that it's going to be the end of real estate agents. I think that the relationships are still really important. But agents need to get smart about how they utilise the technology."

Leanne says that agents should get smart by thinking about how they can serve the customer.

"The reality is that consumers have changed as a result of technology. Their expectations have changed. The way they research things has changed. The way they want to buy things has changed. And so we're going to have to change with it."

Leader of Leaders
As the founder of Real Women in Real Estate (RWIRE) and nominee for three REB Women in Real Estate Awards, it might surprise you to learn that Leanne Pilkington was initially a reluctant hero for women in real estate.

It all started in 2015, when some of her colleagues were urging her to throw an event for women in the industry. Leanne resisted.

"I didn't personally need something like that, so I didn't understand that there was even a need."

Leanne eventually caved in and the event blew up.

She got triple the number of attendees she expected and women were flying in from out of state. Leanne realised that there was a need for this kind of event and threw herself into the project that would eventually become RWIRE. Now, RWIRE has spread to 11 locations across Australia, to New Zealand and even LA. In June it will host its 50th event.

"It's been much more successful than I ever expected. I didn't understand it to start with, but I do now."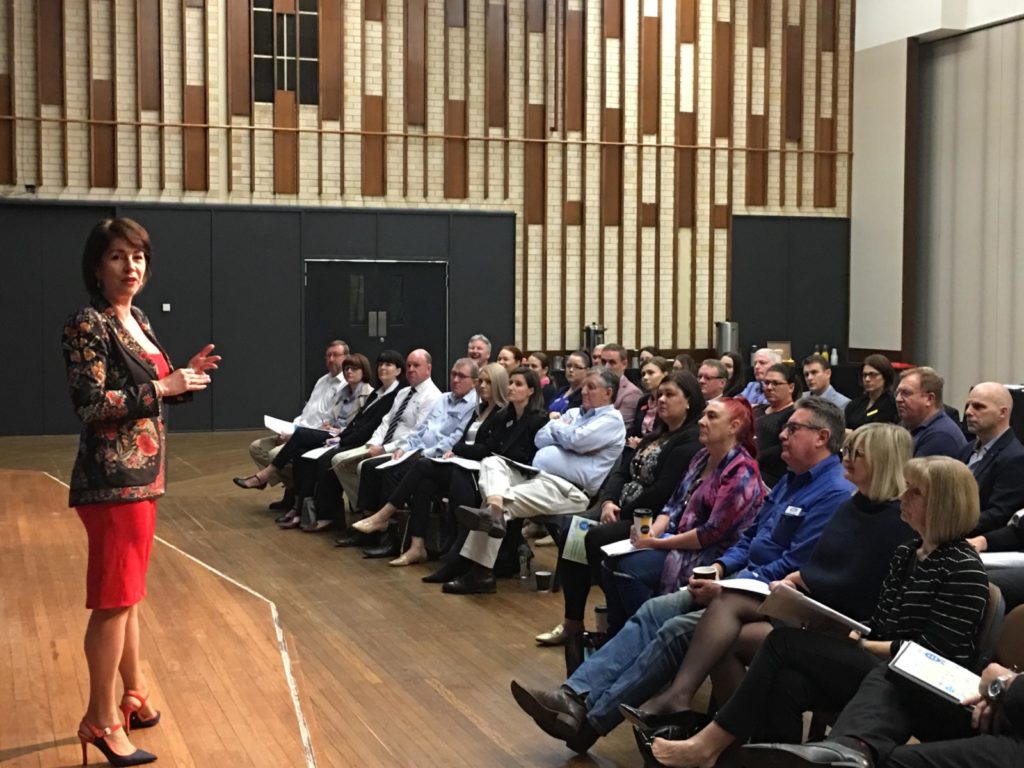 Part of the popularity, Leanne thinks, stems from an absence of women in leadership positions and on stages at conferences and events. To combat this, RWIRE has a focus on outreach and education, including a new podcast, Courageous Conversation, which launches on the first of June.

"It's about the conversations that we all have, not just women. But it's really to encourage women that don't like those difficult conversations around leadership, to be game enough to approach it and realise that good things happen on the other side.
When asked about all of the different advocacy projects she's working on, she stops for a moment.
"I sound really busy when I'm talking about it like this, don't I?" she remarks.
I acknowledge that she must get up early in the morning
"I do, yeah," she laughs. "You're quite right."

For a person to become a multi-award winning Managing Director of an acclaimed agency, President of powerful industry institution and founder of a global organisation, I imagine Leanne Pilkington must get up very early indeed.
Face it, You're Piling Leads into a Leaking Sales Funnel and That's Not Okay
Everyone knows how important it is to get leads, but all of the hard work and investment involved can be for nothing if you've got a leak in your sales funnel.

To fix this problem we need to understand what exactly your sales funnel is, how to spot a leak and then we can learn how to plug up that leak so that you can rescue leads and help them on their path to close.

Define Your Funnel
The most basic funnel breaks the customer journey into three segments:
Awareness: all the people who know about you
Consideration: the people who are thinking of using you as their realtor
Conversion: the people who buy or list with you
At this stage, it's important to understand that not all your leads will make it to the conversion stage.

What you want to identify are the lost leads you can prevent. These are the leaks.

Find the leak
You can't plug a hole if you don't know where the leak is coming from.

If you find you're spending money on marketing but people aren't calling to make inquiries, it means your leaking at the awareness stage. If a lot of people you know are signing with other realtors, that means you have a leak in the conversion stage
Identify the leak, then you can fix it.

Clean your Database
At the minimum, you should have a name and email address for every contact. You may have had a great conversation before, but without a way to get in touch with them, they will be stuck in the awareness stage. Remember, if you can't get in contact, that person is not a contact.

Thankfully, you can use software to go through your database and eliminate contacts with incorrect, absent or out-of-date information.

Use Smart Marketing
The shift from outdoor and print advertising to email and social gives realtors wider and more targeted reach and also gives them better insight into which ads are working.

Email marketing is particularly effective because it is cheap, everyone has an email address, and smart software lets agents see exactly who is engaging with their emails. By using AI driven analytics, this new breed of software lets realtors identify people at the consideration stage and act before any of their competition. The key to effective marketing is hitting the right person with the right messaging at the right time.

Make the Right Calls
Cold calling is going out of fashion, and for good reason.
The problem is, cold-calls target people at the awareness stage of the funnel, long before they're ready to convert. If you call people too early, you risk annoying them and putting them off.

Instead, you could look at technology like email marketing, search and social to generate leads nurture your contacts to the conversion stage, where you can use your metrics to make warm calls.
This article was originally written for and published in RISMedia.
What Women Want (from Real Estate)
Every two years the Property Council of Australia and EY publishes a study on women in real estate. These studies take the pulse on women's status in real estate and are an opportunity for women's voices to be heard.
As part of our Women in Real Estate Week we wanted to get the latest research on where women stand in the industry. We found the Grow the Talent Pool, 2018 report, which surveyed thousands of agents, men and women, from across Australia, about their perceptions of how real estate is changing.
The report showed that diversity in real estate is constantly improving. More women are now being attracted to the industry because of flexible working hours that accommodate carers. It also found that more men have an increased understanding of the issues women face in the workforce.

This is largely thanks to the hungry women of real estate who know what they want and are acting as a disruptive force to get it.

This article looks at four of the learnings from the Grow the Talent Pool, 2018 report that show what comes next for women in real estate.

Women on the Rise
The good news is that more women are being attracted to real estate from other professional backgrounds.

The numbers show that more women are coming to real estate because it offers working hours that suit their needs. This is good news for the industry because it means that real estate is stealing talent from other industries which aren't as accommodating.

The improvement is partly thanks to attitude shifts from leaders who recognise the importance of flexibility for parents, as well as new technology that is disrupting the traditional working weeks by making agents' schedules more flexible.

Attitudes to Inappropriate Behaviour
Unfortunately, a number of people who responded to the survey reported that inappropriate behaviour was sometimes an issue in real estate.

Men and women in real estate both experienced inappropriate behaviour in the workplace, such as sexist jokes or offensive comments, and role stereotyping, though women experienced this at higher rates to men.

However, the report also notes that things are improving.

"There is clear evidence that attitudes to everyday sexism are changing as awareness grows," the report noted. It went on to say that the majority of the respondents to the survey left additional comments regarding everyday sexism, "indicating their keen interest in this issue."

Talking About Money
The report found that women were very interested in discussions of salary, and showed that both men and women in real estate are thinking about issues relating to salary.

The report notes that improvements are very positive but says that there is still room for improvement.

As Andrea Brown, Partner at Knight Frank puts it, "I have had all the usual battles that females unfortunately still expect – salary being number one. But if you do not ask, you don't get."

Women in Leadership
The report indicated that 79 per cent of women in real estate desire career progress, which includes moving into leadership positions.

The report also showed that out of all women who are leaders, most of them were reaching leadership positions at younger ages.

This may partly be because women are less often promoted into the most senior levels, and because women spend less time in the industry (a result of women's experience from other industries and decisions to have children).

These findings could indicate that starting a family is a barrier to women's attainment of higher leadership positions. As the report notes, "The next challenge is to expand the support for women returning to the workforce after having children."

"We lose a lot of women after they go on parental leave," according to one of the respondents. "This is something I have noticed over the years, which is why it took me a long time to make the decision to start a family."

However, the higher proportion of young female leaders may mean that the positive changes that real estate has made are starting to be felt. Things are continuing to improve and, as women in real estate make their voices heard, we might see many of these young women in real estate's most powerful positions in the future.

What the Future Holds
The face of real estate is changing in more ways than one.

ActivePipe can automate your email marketing to give you an advantage over the competition. If you'd like to discover how we can help you get ahead, get in touch. Let ActivePipe turn you into a leader.