3 ways to enhance property listings when the property is not accessible
1. Download the Google Street View app The google street view app can embody the flow of the property giving the clients a comprehensive picture of the property. Agents can take this a step further with BoxBrownie. The platform can edit 360-degree images. If you attended a webinar on how to take advantage of the off-market campaigns, sending your off-market clients exclusive 360 virtual tours is a powerful way to showcase your off-market clients' exclusive virtual tours
Hot top: Stand in the middle of the room with all lights.
2. Make use of the pre photography checklist
BoxBrownie has many insightful resources on their website to help you and your client get to market quicker! Forward your clients BoxBrownie's Pre Photography Checklist homeowners take professional-quality property photos with only a smartphone!

3.Utilise image enhancement feature to edit images taken by a smartphone Real Estate agents in Victoria under strict Stage 4 restrictions are not able to get photographers into properties, therefore making listing properties on the market especially difficult. This feature enables agents to enhance amateur images to look polished and professional.
BoxBrownie.com is giving a generous coupon code to all our ActivePipe users! The coupon code will entitle any new user to $40AUD credit plus 3 free image enhancements and 1 free twilight conversion.https://www.boxbrownie.com/au/sign-up
USE CODE: REIMAGINED

Peter from BoxBrownie.com joined us in a webinar to offer our agents some tips and tricks on how to best make use of technology during the Stage 4 restriction. Watch the webinar here
Mailchimp or ActivePipe? 6 things to consider
Mailchimp is a hugely successful all-in-one marketing platform that specialises in helping small businesses grow by making it super easy to create email campaigns. The US business was started in 2001 and is now worth $US 700m servicing millions of businesses globally.

They are the go-to brand for email marketing generally. ActivePipe on the other hand, is an email marketing and lead generation platform designed specifically for the real estate and mortgage broking industry.

While we recognise that Mailchimp is absolutely awesome, here are 6 ways ActivePipe is a better fit if you are a real estate agent, mortgage broker or work in the property industry.

1. ActivePipe is designed specifically for the property industry. Mailchimp is a general email marketing platform.
Mailchimp has some awesome functionality – especially its drag and drop email builder – that makes email marketing significantly easier than doing it all manually. At ActivePipe, we also have a lot of that functionality PLUS features that are specifically designed for those in the property industry. This includes feeds to your property listings so they too can be dragged and dropped in, an array of property-specific content to share, and automations set up for you so that your email campaigns start winning business for you from day one.
2. ActivePipe actively identifies leads within your database and nurtures those leads to win business.
The purpose of your email marketing is to win you new leads and connect you to your clients. The first thing ActivePipe does, is clean up your CRM and identify contacts who may be ready to act. ActivePipe then engages those leads with a targeted email sequence and sends you an alert when leads are ready for a phone call. We then refine the process with every email you send resulting in sophisticated email nurturing campaigns that keep you top of mind.

ActivePipe also uses intelligent features like SmartMatch which identifies the most relevant properties for each contact in your database based on their interactions and preferences. This allows you to deliver ideal properties that your contacts haven't seen yet. This is proven to significantly improve engagement levels.
3. The ActivePipe team will help you set up your email automations. Mailchimp requires you to teach yourself through tutorials online.

Learning new things can be hard – and time-consuming. As a real estate agent, you want to be out listing and selling property, not watching email marketing tutorials and then trying to apply that knowledge to a platform. One of the great strengths of ActivePipe is that our customer success team works with you to help you get set up, so that your automations are working as they should without a lot of stress from your side.

4. ActivePipe integrates with your CRM and feeds information back to it. Mailchimp requires you to connect a compliant database, set up a feed, or use their data management features
ActivePipe was designed for the real estate industry, so all the major CRMs – and most others that agents often use – are known to us and can be easily integrated with our platform. Again, we will help you with getting that set up. You don't have to work it out yourself. ActivePipe is also designed so that any information we discover about a contact – updated phone details etc – is shared back to your CRM. It means your CRM remains your central source of t ruth. ActivePipe becomes one of the tools that helps you keep your CRM up to date so that it plays even nicer with other applications you may have.
5. ActivePipe pulls your current listings and recently sold properties automatically into emails – and tells you who's clicking. Mailchimp requires you to add each property manually.
As a real estate agent, there's a 99% chance you're going to include property of some kind in most of your emails. You want that process to be as streamlined and easy as possible. With ActivePipe, you can see all the properties in your property feed inside your email builder, and can drag and drop the properties you want to include quickly and easily.

In addition, any automations set up for you can also grab the properties that best match the preferences of the email recipient. You'll then be able to see in your dashboard which properties got the most clicks and who has clicked on what properties – and this information feeds back to you as an email notification.

Mailchimp is a lot more manual for real estate agents in this space. You'll need to upload the photo of every property you want to include in your email and then manually link it to its listing on your website.

6. ActivePipe offers a library of valuable content to share with your database with agent branded landing pages to encourage engagement. Mailchimp also offers landing pages, but you'll need to provide your own content.
What are you going to say in your emails? It's one of the biggest problems most agents have especially when you are prospecting to many different audiences. ActivePipe's RealEstate Content solves the issue of writer's block by providing you with a stream of professionally written content by our property journalists covering every element of property buying, selling, renting, investing and financing.

These articles can be dragged and dropped into email manually, and are tagged so they can also be automatically inserted into nurturing campaigns. Each article also has its own landing page customised with your branding by default. With Mailchimp, you'll need to not only write or source your own content, but manually build landing pages for each piece of content you create.

When it comes to marketing and lead generation for real estate and mortgage broking, making the right software choice will have a huge impact on your time investment, and the results you can generate. ActivePipe takes marketing off your to-do list, so you can focus on listing and selling real estate.

4 tips for writing an email to check in with your clients
As we progress through the 30-day challenge it's important to be agile enough to handle new developments as they arise, such as the extended stage 4 lockdowns in Victoria. Now is the time to check in with your clients, but how do you know what to write?

1. Sympathise with your clients
With uncertainty over when restrictions will lift, your clients are likely feeling discouraged and anxious right now. Remind them that you understand what they are feeling.

2. Outline the situation
Example: With the Covid-19 lockdowns for Victoria now extended, this is an extremely difficult period for many of us. Covid has put a wrinkle in the plans for many who were going to sell, or buy a new home this year.

3. Offer support and resources
Example: While I am not a counsellor, I do understand the local real estate market. And the most important part of my job has always been to provide good advice to people about what to do about their property, regardless of market conditions.

4. Provide reassurance and next steps
Example: Although the real estate industry is currently locked down, this cannot continue forever. Having a plan for how you are going to navigate your next step on the property ladder will come in handy when restrictions finally ease. If you would like to discuss your options – or even just have a rant, please feel free to give me a call at any time.

We hope this helps, and as always feel free to reach out to success@activepipe.com if you need any assistance setting a campaign like this up.
Mastering The 'Off-Market Campaign'
Mastering Off-Market sales are important now more than ever. In this current economic climate, it is safe to assume that cash is and will continue to be tight for the next 6 to 12 months. Sellers are reluctant to spend big on marketing so providing an off-market strategy should be essential in every agent's toolkit.
Why is off-market important for agents?
Off-market properties are perfect for apprehensive clients to dip their toes in the water. Nervous buyers and sellers may pause their entire process or pull their property from the market. This is where the off-market campaign comes in. This strategy is perfect to offset any nervousness clients might feel during these uncertain times. The off-Market campaign can help with creating for creating loyal customers who come to you for exclusive opportunities.
What do you need to begin selling off-market?
There are three tools you will need to sell off-market. A website to host properties on, a well maintained and segmented database, and your communication tool.
Hot Tip: Many agencies hide their off-market properties behind a sign form. This is a great way to collect contacts to build your database with prospects.
We recently did a deep dive into what kind of content you can send to your off-market clients. Watch the recording here


30 Day Plan to Slingshot Into Spring
All across Australia, the real estate market has either been shut down completely (Victoria) or is deprived of listings.

That may sound bleak, but there is a huge opportunity here…

The start of spring traditionally sees a significant increase in listings and activity for buyers and sellers. When you combine that with the pent up stock from lockdown coming to market and the record low-interest rates, spring is predicted to be massive.
As well as this, data from from Mike DelPrete shows the rebound effect that took place in New Zealand after the initial lockdown, with new listings spiking once lockdown lifted. It's more critical than ever to be engaging your audience right now!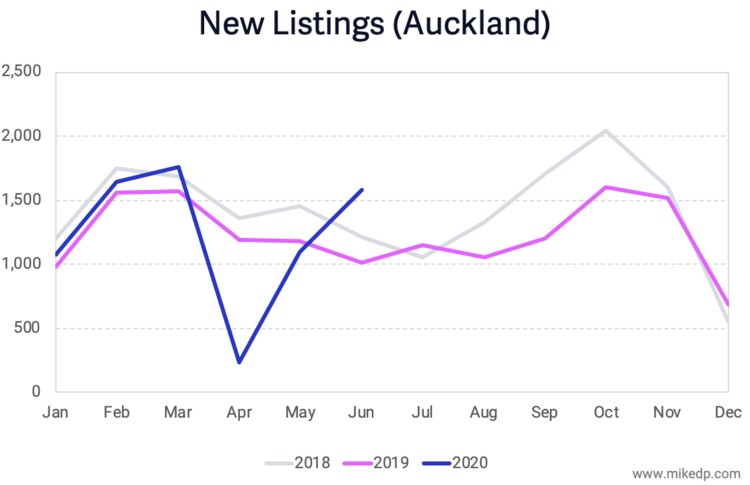 Over the next 30 business days, we will be sharing actionable strategies you can implement now so that when the market is back in full swing, you're the first point-of-contact for the barrage of buyers and sellers in your area.
We're kicking off a four-part webinar series next Wednesday starting with 'Insights from New Zealand with Gower Buchanan' where we'll gain insight into how New Zealand's market rebounded and how Gower is preparing for Spring.
Don't be an agent AND a writer
Sending each of your clients targeted content might seem like a daunting task. Creating content can be time-consuming, and let's face it… No one can be expected to be an expert agent, whilst also being an expert author.

But without content, you're missing out on a big opportunity to engage your audience and build your brand as the trusted voice in your community.

Content marketing is 6x more effective than traditional marketing (Content Marketing Institute). The reason for this is that it transforms your communications from being purely promotional and instead showcases you as a genuine source of valuable information.

So with this in mind, we developed a fully-integrated content solution, that takes care of content marketing for you.

New Feature: RealEstate Content
Our latest premium feature, RealEstate Content, gives you instant access to a library of expertly written, persona-based articles that are tailor-made for the Upsizers, Downsizers, Investors, First Time Buyers, and Potential Sellers in your database.

The persona-based content means you're now able to target the ActivePipe identified intent personas, taking your lead nurturing capabilities to a whole new level!

RealEstate Content is an add-on to your existing ActivePipe account. Register your interest below and a customer success manager will get in touch to discuss how to upgrade your account today.
Got Questions?
Take your property matching powers to the next level!
You already know targeted messages get the best results. But, who has time to keep up with each contact's changing preferences, and create tailored emails for each one?

With one click, ActivePipe's newest innovation, SmartMatch, will make each of your emails as unique as your clients.
Use the power of data to match people with properties
SmartMatch analyses all of your contact's interactions, ranking the most relevant properties for each contact. It will still take into account the buying criteria of a contact, but you no longer have to rely solely on your clients sharing that information. SmartMatch will always find and prioritise the most relevant properties.
Each email you send generates more engagement, gathers more data, and continually improves the precision of future matches. The more you use it, the smarter it gets! How do I enable SmartMatch in Property Panels?
SmartMatch gives you the ability to match contacts with properties that they've yet to discover, positioning you as a local expert. From the contact profile you can see their recommended property matches making it easy to help your contacts find properties they might have otherwise missed. How do I view a contact's matched properties?
Feel free to reach out to success@activepipe.com if you have any questions.

SmartMatch Webinar
ActivePipe's Head of Product, Nathan Mackinnon will be running a webinar to explain SmartMatch in more detail and how to use it to its full potential. He'll also be happy to answer any questions.
Join us on Monday the 27th July at 1pm AEST.

SmartMatch in the News
LEAD GENERATION – ActivePipe launches new property matching service, Inman
ActivePipe releases property match software for real estate agents – HousingWire
ActivePipe Debuts Tool to Help Real Estate Teams Email Property Matches MediaPost
7 Types of Information to Share with Sellers
Segmenting your database into sellers and buyers is one of the most powerful ways to make content marketing work for you. It will help you identify the right information that will resonate with your audience.
Relevancy is key in content marketing so prioritising your audiences will ensure you get the biggest bang for your buck.
Below are some suggestions of articles – all available from Real Content – that you can share to encourage prospects to sell through your agency:
How to Choose an Agent This article will position you as a thought leader, rather than an agent focused on the hard sell, which so many property owners dislike. If you walk your own talk, then you'll be top-of-mind when it comes to choosing an agent.
Pricing Trends Sellers want to be confident of the value of their property before deciding whether to put it on the market. Articles on price trends, especially those locally focused, are a great way to get on their radar and be seen as an expert.
How to Set Your Price Most property owners do not appreciate the art of setting a realistic price that will deliver the best return without pricing the property out of the market. Explaining the process is a powerful message to potential sellers seeking an expert agent.
Sell, or Knockdown and Rebuild A thought-provoking approach that demonstrates you understand both local property types and the value and work that is involved in updating them. 
Buyer Hot Buttons Every vendor wants to know what they have to do to get the most money for their property and sell it quickly. As a local agent, you are best placed to share this information about what ticks the boxes for buyers right now. 
How to Prepare for Sale Too little consideration is given to this aspect of selling. Most of your clients will need coaching and encouragement to present their home in the best possible light. Articles on this topic are high-value and will impress your audience.
Tips to De-Clutter There are lots of tips and tricks to improve the presentation of a property when it goes up for sale. Sometimes, your clients will not be able to see the problems because they've lived with them for so long. You advice will be gratefully received and will position you as an agent who helps and cares.
9 Ways Content Marketing Builds Your Brand as an Agent
Content marketing is the art and science of telling stories to increase engagement with a target audience that will help you grow your business.
The question is, how can this style of marketing help you sell a house or apartment, or find the next rental to add to your rent roll?
Purchasing property is the biggest acquisition most of us ever make. As agents – because we work in the field every day – we forget what a high risk and scary transaction selling and buying can be. Sellers and buyers feel vulnerable and want the information to help them avoid mistakes and make good decisions.
Data from CoreLogic about the changing expectations of property sellers and buyers shows that now more than ever before, clients are looking to have a relationship with a real estate agent that they can trust. That trust is created by understanding the value an agent delivers. Without that trust, sellers will focus on price and seek to haggle you down on commission.
As an agent, you have a lot of information to share that can alleviate the stress around buying, selling, and renting a property. You probably just find writing it hard or don't have time to do it consistently. That's why with RealEstate Content we've produced hundreds of articles for you to share with clients and prospects.
Here are 9 benefits that Content Marketing can deliver to real estate agents:
Increase engagement Informative articles increase the time people will spend on your website, and increase click-throughs on social. This is what you want as an attraction agent because it means clients are coming to you and are 'warm' to the idea of being contacted by you. Marketing industry surveys show content marketing can deliver up to four times the engagement of traditional marketing approaches.
Demonstrate thought leadership Content marketing demonstrates your expertise and knowledge about concerns and questions your potential clients have right now. Helping clients solve problems proactively creates a sense of trust and can be the start of great relationships.
Improve brand perception With content marketing, you're demonstrating your expertise rather than telling people you're an expert. It allows your clients to see for themselves how much you know, and again, that's much more believable than you telling them how great you are. The attitude of helpfulness demonstrates that you run a pretty good real estate agency.
Raise brand awareness Delivering great content to prospects will highlight the services you offer and the expertise you wrap around them. Even if you've only captured their emails from an open house, the articles you share are a great way to build awareness and let it develop into a fully-fledged relationship.
Generate leads The natural result of creating awareness and increasing engagement is an opportunity. Marketing industry surveys show this works better than brand-based ads, or those offering discounts. Your leads will be warmer than from any letterbox drop, cold calling or door knocking.
Nurture leads Let's face it. The decision to sell can be months in the making – years in some cases. Articles that you post are a great way of staying front-of-mind with your clients and prospects until such a time as they're ready to use you, all the while building their trust in you and increasing their understanding of the decisions they'll need to make.
Warm-up cold calls Use content you have shared as a great conversation starter. How much more powerful is it to ask "Just wondering if you found the article on (appropriate topic) useful?" if you're trying to start a relationship than it is to say "Would you like me to sell your house?" straight off the bat.
Increase traffic to your web site As an agent, you want to direct traffic to your own website rather than the portals. Posting regularly improves your ranking with search engines such as Google, and this has follow-on benefits both when sellers begin their search for an agent, or when buyers are looking for listings.
Build your team Sharing helpful information doesn't just attract sellers and buyers. It also signals to your staff and other agents in the area what you stand for, encouraging like-minded staff to gravitate towards you.
Call Lists: Now Delivering!
Feature Update
Our newest feature delivers an instant call list straight to your inbox after every scheduled email campaign! The Campaign Report Notification automatically notify ActivePipe's users with details about who is interacting with content so agents can follow up at the right time for maximum impact, increasing their chances of converting contacts into clients.

The Campaign Report Notification email will help focus your daily calls and grow your business faster. Research shows that agents who respond to leads in under 100 mins see the best results. This feature adds to the suite of Notifications we've recently added to help you follow up hot leads with speed and purpose.

Campaign Report Notifications also uncovers specific details about interactions like how many times a particular property was clicked in an email, and by who. They'll also highlight your most popular properties, helping to guide your future property campaigns.

You can adjust your notification preferences in your settings menu.
Let us know what you think!
10 Ways Agents Can Use Content Marketing
Content marketing is a longer-term marketing strategy that seeks to build relationships by delivering helpful and useful content to your clients and potential clients.
Its primary focus is to provide information that is relevant and insightful that helps your client solve problems and answer common questions. This builds trust making them more likely to choose you, while at the same time, providing you with useful insights into their motivation and readiness to act.
Content marketing differentiates you as an agent by providing opportunities to share your expertise, advice, and ideas that property sellers and buyers will appreciate.
You have countless stories to tell and advice to give, so here are a few topics from RealEstate Content to get you started:
Great reasons to sell or buy Opportunity always exists is the property market, regardless of whether it's going up or down. Share your thoughts on smart buying and you'll develop trust with your audience. You may inspire them to rethink their perceptions.
How to choose a real estate agent Educate your readers on the questions to ask prospective agents and how to sort the wheat from the chaff. If you walk your talk, then articles on this topic will put you on top of their list.
How to prepare your home for sale We all know sellers need help with this. There's more to preparing a home than simply putting the kids' toys away and stacking the dishwasher. Build trust with prospective sellers by guiding them through this important process.
Hot buyer buttons Show sellers your knowledge of what buyers love in today's market. Is the trend for un-renovated properties, carpets or floorboards, new or old properties? Show how your knowledge about buyer preferences will achieve top prices for sellers.
Popular rental styles Deliver valuable information to landlords and tenants or potential investors. Impress with your knowledge of how to prepare a property for rental, how to identify a good tenant, and many other rental-focused tips and hints.
Local architecture Articles about local building styles and architecture, and how they affect property prices and deliver a return on investment are always popular and you're bound to have some great photos to go with them.
Off-the-plan tips If you're representing a developer, articles that help prospective buyers understand how to buy off-the-plan and avoid key risks can be extremely powerful.
Financing and lending The Royal Commission into banking has changed lending which is changing the time it takes to get finance and the time it takes to achieve a sale. Providing helpful advice in this area builds your credibility.
Popular interior design styles Design is a great topic to share with sellers, buyers, and even longer-term past clients that you just want to stay in touch with.
Difference between a conveyancer and solicitor The subtleties of buying property is often lost on buyers. What is conveyancing exactly, and who does it? Don't assume your clients and prospects know, or have retained the information from their last purchase. Demonstrating that you understand the buying process from top to tail is a winning strategy.
ActivePipe's RealEstate Content has produced over a hundred articles focused on the property market to help you deliver these messages – and many more. They're written in the voice of a real estate agent or mortgage broker and can be edited to suit your needs.
If you're an ActivePipe user and would like to access over 230 articles as well as 15 new ones each month, speak with your Customer Success Manager.


We're Improving Our Integrations
At ActivePipe our principal pillar is innovation. Our clients should continue to expect new and innovative solutions because we understand the solutions for today are not enough for tomorrow. We also believe in the approach – 'do what you do well and surround yourself with others who are like-minded'. For that reason, we've always strived to integrate with best-in-class tools, including some of the world's top CRMs.
See our full list of contact integrations here and property integrations here.

New Feature
To that end, we've recently completed the first of a three-part feature release that will make our integrations transparent and seamless for our users. In the first part, ActivePipe users will now be able to see which integrations are currently connected with their ActivePipe account and when they last synced. 

This update is live in your ActivePipe account now! Here's how to check when your integrations last synced.
Coming soon, users will be able to independently set up and manage their contact integrations from the settings panel and connect and disconnect integrations with the click of a button.
Stay tuned for more news on integrations.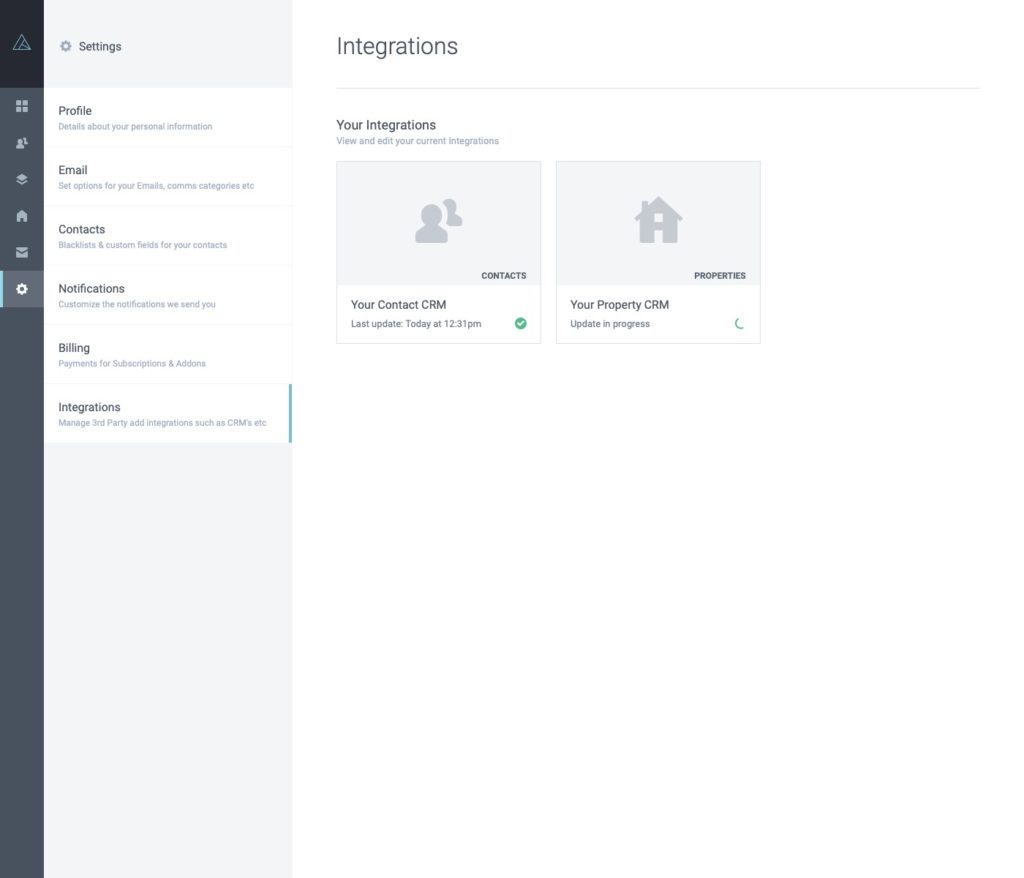 How to give every client the perfect property journey
Successful real estate agents turn contacts into clients by maintaining and building many relationships simultaneously. Building trust requires hours of calls and emails to guide prospects along their property journey. What if you could make your client's property journey easy, and your job even easier?

The perfect property journey
With ActivePipe you're able to automatically send intelligently targeted campaigns. Following an interaction with a particular property, ActivePipe guides a contact on a journey tailored to their interests. This client-led approach means once a contact clicks on a property they like, they receive an open house invite, a notification of any price changes, and ultimately a 'sold property' announcement. This interaction will also help to refine the matching functionality for future property emails that you send, so you get better and better at delivering the perfect property.

See what the perfect property journey looks like.

Reluctant to use the old spray and pray email techniques? We agree! Sending based on the client's interests increases engagement, keeps you front of mind, and positions you as the expert. By doing this at scale across your entire database, you can quickly cultivate a community of engaged prospects that look to you for property advice.
Watch our webinar on how to send targeted property emails
Generate seller leads with hyperlocal marketing
Hyperlocal marketing is a game-changer for Real Estate agents competing for organic leads in a web-focused world. Many general searches start on large Real Estate portals, but when it comes to selling a home, most sellers want an agent that is an expert in their specific neighborhood. Who has time to do focused marketing on dozens of neighborhoods?

ActivePipe positions you as an expert in every one of your contacts' neighborhoods in minutes. Hyperlocal email marketing makes it easy to send personally tailored, automated emails to thousands of contacts using the property filter and our integrated property feed.

For example, you can create a weekly listings email for all your contacts that only contains listings within a mile radius of their home. By using ActivePipe's automated email system, integrated property feed, and advanced property filtering, simply create and activate one email to send custom neighborhood listings to all your contacts.

Here's How:

All you need is to have a home address for the contacts in your ActivePipe system. Addresses can be uploaded in a list, manually updated, or synced through your CRM. Create your hyperlocal campaign in 3 easy steps:

Create an email with an integrated grid or list Property Panel.
Click the "Define Properties" button and under "Basic" choose the number of properties, listing type (sale, lease), listing status, and the order by which you want them to appear.
Tailor the listings based on the contact's address, under the contact tab and check "located near-contact" and select the miles radius. Click update.
You've done it! In three simple steps, you've created a custom hyperlocal email for all your contacts!

To send your email once you can simply use Quick Send or AUTO users can create a campaign and set the email to recur as often as they'd like.

Now you stay front of mind by sending customized content related to each contact in just a few clicks. Saving you hundreds of hours and making you the local property expert!
Tune into our webinar all about using property feed filters to send intelligently targeted property emails!



Are your leads going cold?
Real estate agencies spend big money on lead generation, but if you don't have the facilities in place to effectively follow up those leads, very few will actually turn into real buyers and sellers. This is a huge problem in the real estate industry.
The cost of leads lost
Spending on online marketing and lead generation is worth the $17+ billion dollars we spend on it every year in Australia – if you don't let your leads go cold. By missing the opportunities you have with the leads you're currently generating, you're effectively throwing money away. The costs of online marketing are increasingly competitive and consumers no longer respond to non-personalised advertising. Unsurprisingly, the most used site in Australia is Google with 19.2 million of us using it to search the internet. However, 86% of Australians scroll past the advertised links at the top of their Google search in favour of the first organic search result.

In real estate, and specifically here in Australia, there are two obvious online platforms outside of Google and social media that pocket the majority of your marketing dollars – the major property portals REA and Domain. An impressive $874.9 million is spent on REA advertising and $335.6 million on Domain. With so much being spent on lead generation, you can't afford to let the buyer and seller leads you generate go cold.

How many leads actually get followed up?
A research study by InsideSales.com analysed more than three years of data and found that shockingly, more than 30% of leads in the study were never contacted at all. According to MarketingSherpa, 79% of marketing leads never convert into sales. Lack of lead nurturing is identified as the common cause of this poor performance. If we take the more conservative 30% figure, this suggests that more than $363 million worth of leads from the property portals are squandered in Australia alone. And what's the best way to follow up a lead? A phone call made within 20 minutes of receiving the lead, followed by an email has been proven to be the most effective. Research published by Neil Patel also shows that 25-50% of sales go to the agent who responds first. While all leads are not the same, all leads need to be nurtured.
Why is lead nurturing important?
Nurtured leads make 47% larger purchases than non-nurtured leads, but 80% of leads that are generated by businesses aren't followed up. Lead nurturing is the process of developing relationships with potential buyers and sellers at every stage of their sales journey. It combines both marketing and communication to provide the information and answers your potential clients need. By focusing on the leads you already have, you can achieve more effective results, at a lower cost.

Based on our research, 42% of your current contacts will engage with your content over 12 months, giving you an entire year to nurture them through. Making the nurturing process personal, informative and specific to their buying and selling needs requires more time and thought than lead generation. However, nurturing leads through a combination of effective content marketing – creating relevant and valuable content to share with them – and marketing automation – a technology solution to streamline and automate your marketing efforts across various channels – you can provide them with solutions throughout their journey. In turn, you become an agent they can trust.

Focusing on nurturing your existing leads is more beneficial and affordable than lead generation. As sales journeys lengthen, your potential clients become more independent and if you're not nurturing a potential buyer or seller, your competitors probably are. What percentage of your leads get converted into revenue? 
ActivePipe acquires content automation platform HomePrezzo
ActivePipe has acquired property content platform HomePrezzo in a deal that strengthens our leadership within real estate digital marketing.

The acquisition combines ActivePipe's strengths as an email delivery platform with HomePrezzo's content automation capabilities. ActivePipe clients will now benefit from the ability to quickly create highly engaging content in the form of dynamic videos, infographics, articles and interactive market reports.

To see how HomePrezzo works, book a demo here.

ActivePipe CEO and co-founder Ashley Farrugia said:

"HomePrezzo's strength is its ability to turn property data into great content that agents and mortgage brokers can use to connect and share with their audiences."

"That combination of content together with ActivePipe's delivery and analytics creates an extremely powerful tool that will supercharge the ability of agents to build relationships and target their prospects at every part of the sales and marketing funnel."

HomePrezzo co-founders Nathan Krisanski and Kylie Davis will join the ActivePipe team and help drive the content marketing capability within the business.

The deal also includes the transfer of the Real Content content library featuring hundreds of evergreen articles written for agents to share and nurture relationships with sellers, buyers, investors and renters.

"Both Kylie and I are super excited to be joining the ActivePipe team," said Nathan. "The combination of easy to create content plus easy to target delivery is going to be so powerful for agents. We feel like we're on the cusp of something game-changing.

"I've known both Nathan and Kylie for many years and really admired their vision to empower agents and lift the bar on agent communications through content. They will be tremendous assets to our team," said Ash.

"The HomePrezzo products of Journo-AI and LocalLinks support ActivePipe's goal to automate the end-to-end process of email creation and accurate targeting."

"Our vision is to be able to automatically generate email campaigns based on the sentiment of the data so that we can drive better results with less effort by agents or mortgage brokers".

"The more a seller or buyer engages with the content inside the emails created by our platform, the greater the number of signals we're getting and that helps us determine intention and prioritise leads for clients."

The Homeprezzo content will be integrated into the ActivePipe offering, and will be available to Real Estate and Mortgage Broker clients in ANZ, with the US to follow in coming months.
If you haven't seen HomePrezzo yet, we recommend booking a demo to see how it works!
Targeting contacts is now easier than ever!
The product team here at ActivePipe has been working overtime so you don't have to. Our latest innovation simplifies the way you manage your Tags and Audiences to make it even easier to get the right content to the right people at the right time.

Browse your Audiences and Tags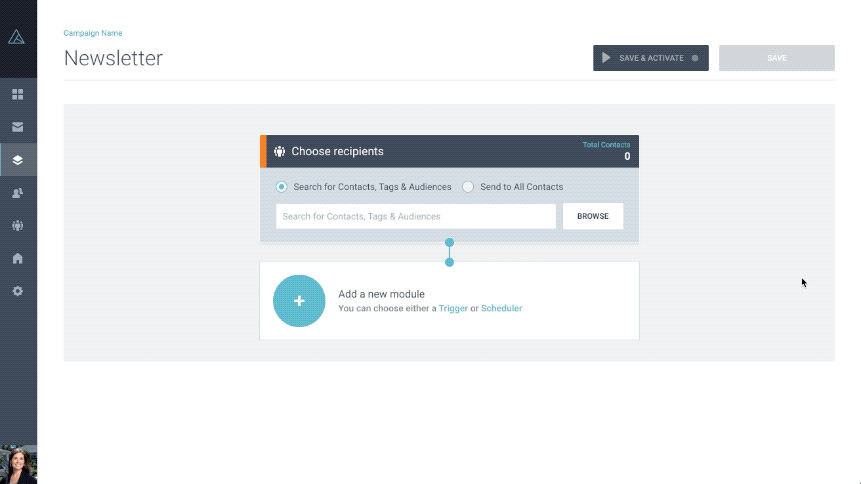 Browse your audiences and tags easily with the new selection tool. You can quickly see all the different segments in your database and send the right content to the right people. Not sure why you need to segment your database? Read this article.

🚨 Why have some of my audiences disappeared? 🚨
We've improved the way you can see and use your contact tags and audiences, which makes selecting campaign recipients a lot clearer.
This change means that some groups may no longer appear in your Audience list, but you can still easily target these contacts using Tags. If you just want to see who's in your Audiences or Tags, you can do that by filtering your contacts by tags and audiences. You can read more about the change in this article.
Empowering Admins
The streamlined enhancement allows admins to quickly & easily send targeted mass email campaigns on behalf of their agents. Admins can now select tags & audiences for the entire office instead of adding them one user at a time.
Here's how the process of selecting campaign recipients has changed for admins.
Got questions?
What's the difference between Tags and Audiences?
Why have some of my audiences disappeared?
How can I see who's in my tags and audiences?
Why is audience segmentation important?
How do I send emails to tags and audiences?
If you have any other questions or want to learn more, please contact your account manager or email success@activepipe.com.
How agents can save money with off-market listings
The world as we know it has shifted, with it the real estate industry's technological evolution has been fast-tracked.

The societal shutdown has placed significant economic strain on a large portion of the population as well as many real estate businesses. It is safe to assume that cash is, and will continue to be tight – for the next 6 to 12 months.
How does off-market alleviate this?
Innovative agents have adopted an off-market listings strategy to present to their potential vendors and as a means of attracting buyers.

There are many benefits to listing a property off-market, but the greatest by far is the reduction in the overall cost of marketing the property. In a time where liquidity is low and uncertainty is high, many vendors and agents may prefer to hold onto those precious dollars.

The biggest of these is clearly the cost of advertising on portals. Whether an agent elects to market without signboards and/or flyers remain individual choices. According to Canstar Blue, Domain's advertising rates are $660 for an eight week listing and $770 for 12 weeks.

Agents and agencies that can point to the strength and breadth of their databases, as well as having intent data across these databases to show vendors the number of profiled buyers they have for their property, will be more likely to secure listings.
Prepare now and be positioned for success
The psychological effect of social distancing is also likely to linger well beyond C-19. Rather than visit 10-20 homes during the 'discovery and filtering' phase, buyers will expect digital marketing and tailored email marketing regarding the properties they are interested in. It is reasonable to expect that buyers will use these mediums to do their filtering, and only seek inspections of their shortlisted properties.

The one caveat to all of this though, is that without a well maintained and segmented database, you'll struggle to move these properties and be forced to list it on the public market.

This current lull in the market is a perfect opportunity to expand your database and get your existing data in order, so that when everything picks back up again you're primed and ready with segmented lists of buyers.

Also consider how across your network you can leverage your combined databases to market the right properties to the right people.
Insights From Real Estate Veteran Gary Keller
Gary Keller, co-founder and CEO of Keller Williams Realty recently published a letter to agents in Inman News. It addressed the rising uncertainty among real estate agents given the current global crisis and how best to approach their work given the shifting market.

Doubling down on leads

What Keller says here, is that without a doubt it is going to take a greater number of total leads to achieve your goals and also take much more effort to find those leads. This is the current reality for most agents, however there is another aspect to this other than lead generation.

Not every lead you find will be willing to transact this instant, however in 2-3 months time when this all hopefully blows over, they'll likely be active in the property market again. It's essential for agents to ensure that in this current period they maintain continuous contact with past, present & future leads, nurturing and building a pipeline of opportunities that will grow or maintain their business.

Leading into the market of the moment

The key to success is understanding the market of the day.

"The market will show you where you need to pivot. Every shift leaves an opening. A reason to stay in the market. Every problem eventually presents a solution. A way to help someone when they need it most. Today isn't yesterday, and tomorrow isn't determined. When the desire to do more comes from a place that's bigger than ourselves, anything is possible. Potential can become reality. When we pivot, we help others pivot, and together we all have the opportunity to achieve more." – Gary Keller

Up until this moment the real estate industry was slowly but steadily adopting technology that would enable agent success long into the future. What we've seen in just a couple of weeks is a sharp increase in that adoption, arising from the need to adjust to the requirements of social distancing and new government regulations.
The majority (49.97%) of agents are looking for innovative tech solutions to best serve their clients in this remote working environment.

So what does this all mean?

With millions already out of work, and millions more likely to follow, NO sector of our economy and/or community is unaffected by this pandemic. But it WILL pass, and life will progressively get back to normal. Our collective responsibility to our families and ourselves is to ensure that we get through this together and are fit and ready for the recovery.

To put some light at the end of the tunnel, the following is a graph showing the rebound of China's property market post lockdown.

There is no doubt that listings will surge once we get back to normal however, the lingering doubts brought upon by social distancing are likely to manifest in a much stronger desire from consumers for digital communications before any physical interactions with people or properties.

Agents should use this period to implement the digital tools that will be demanded both during and once this situation passes. Implement now, and use the time to fully understand the power of these tools and the amplification of reach as well as productivity that they can help drive across your business – there will be so much demand post-recovery that without these tools agents will struggle to maximise opportunities.

In response to the changes happening across the real estate industry due to COVID-19 we've also put together an agent response plan. Read it here.

We also recently published a white paper, aimed at guiding you on choosing the right digital marketing tools that will generate the greatest ROI for your business. Download it here.
COVID-19: Real Estate Response Plan
This post serves to give real estate agents a response plan to navigate the changes in the market caused by the COVID-19 pandemic. The key areas that we believe to be most affected are:
Communication strategies for buyers & sellers
Managing inspections with private buyer appointments or virtual tours
Maintaining and improving listing visibility
Below are our recommendations in navigating these key areas of the real estate business using ActivePipe and other innovative tools.
Communication Strategies

Potential Sellers
There will be people in your network that you know are/were planning to sell their property this year. These should be your first priority, so monitor them closely and use your time to personalise your communications. Send an email or make a call checking in to reassure anxious minds.
Keep in mind these people will be hungry for information, be the one to offer helpful advice and you may just cement a relationship that will endure for years. We remember those who help us through the tough times.
They may have questions like:
How do I keep my family safe?
Let them know what protocols your company has in place. For example, perhaps you are only introducing qualified buyers to relevant properties via private inspection.

How do I secure my financial future?
While concern about financial security is completely understandable, remind your clients that people will always need somewhere to live. The truth is, it is better to sell in a market with less competition, and there will always be a demand for accommodation.

How is the property market reacting in the COVID-19 landscape?
Providing regular updates on just solds and new listings will go a long way in fostering realistic consumer sentiment in the property market.
ActivePipe can help you reach out to your entire database with personalised messages. Automate things like market activity reports to provide a sense of regularity and confidence in the market and you, as their agent.
Potential Buyers
Buyers that are in real estate mode still need somewhere to live, so a key part of your response plan will be to maintain contact with your buyer database. There is actually a great opportunity for buyers with the first home buyer incentives and historically low interest rates.

Something as simple as a brief survey can give you a great deal of information on the intentions of contacts in your database. ActivePipe clients use this intent data to deliver automated and intelligently matched properties to potential buyers in their database.

With detailed contact profiles, you can even see on a map where a contact has been interacting with properties, and identify hot spots of interest. ActivePipe's latest feature, Notifications, delivers contacts that are in property mode directly to your inbox, along with the property that best matches their needs. Agents can then use that information to set them up with private buyer appointments. Ultimately, technology should make it easier to deliver better value to your clients.
Managing Inspections & Open Houses
Private Buyer Appointments
For many people interested in buying property, seeing it in person is a necessity. Currently, the only safe way to do a physical inspection is to hold private buyer appointments. Restricting the number of people entering a property significantly limits the potential spread of COVID-19. However, it is also less time effective than an open inspection.

As a result, it's critical to qualify buyers early to make the best use of your time and the vendor's time. Before setting up appointments look to get an understanding of their intentions (occupy or invest), their requirements, and whether they have financing in place.

We recommend using a template email with qualification questions, important property information and answers to frequently asked questions. You may also want to utilise a tool that will allow buyers to easily book available time in your calendar. With something like Calendly all you need to do is paste a link in your follow up email.

Virtual Tours & Auctions
We are seeing more and more real estate offices take advantage of the vast array of innovative solutions available. Virtual tours are a great example of that, and are ideal for enabling inspections without the risk of spreading COVID-19.

Virtual tours have typically been used for pricier homes and properties that might be appealing to overseas buyers, however they are now seeing a rise in popularity across the market. They are unlikely to permanently replace in-person viewings but they do give potential buyers a better feel of the property than standard portal ads alone.

Agents and vendors looking to host live or recorded virtual tours have a few options. There are purpose built solutions such as Scann3d or HomeLive, or they can use general video communication tools such as FaceTime, Hangouts or Skype to get the job done quickly.

There are also online auction streaming services and apps, such as Gavl, that allow buyers and vendors to watch and bid on homes without the need to be there in person. COVID-19 is altering the way businesses see remote working arrangements and generating a positive shift in the way businesses adapt to flexible workforces using the benefits of rapidly emerging technologies.

Listing Visibility
There are a number of things that agents can do to increase their listing visibility. Simple things include moving sign placements to main roads, taking more videos and photos of homes, and using digital tools to get more eyeballs on your properties.

ActivePipe users often see around a 30% increase in web traffic in the first 3 months after subscribing. One of the driving factors for this is the ability to send automated emails highlighting your just listed properties. Users can send these properties to their entire buyer database, or they can take a more targeted approach using location data from their CRM to deliver a really personalised offering.

We're now seeing many of our clients using an intelligent off-market strategy. Users automatically pull in their off-market properties from their CRM and send a 'featured property' email to their contact database. Whether agents sell the property off-market or later go on to advertise on property portals, their properties typically spend significantly less time racking up expensive advertising costs. For more information on getting the best ROI from digital marketing download our free whitepaper.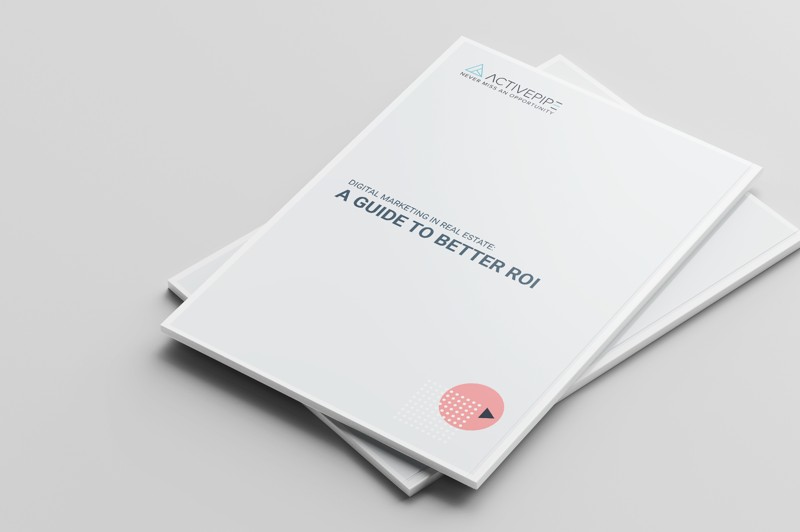 There are also innovative tools on the market that use automated content creation that agents can use to boost listing visibility. Tools like HomePrezzo use your latest photos and listing information from your CRM to automatically create property listing videos you can share on social media, via email or on your website. ActivePipe customers have access to a 30 day free trial with HomePrezzo.

Conclusion
Inconclusive. We have seen first hand how quickly things are shifting due to the coronavirus and the resulting restrictions being implemented to slow it down. For that reason, we are going to continue adding to this post as the market changes and new strategies are required.

A good response plan must evolve with the conditions. Bookmark this page so you can revisit and stay across any changes as they happen.


How Coronavirus is Impacting Real Estate Businesses
We surveyed over 560 real estate professionals on how coronavirus was impacting their business. Responses to our survey came from real estate professionals including agents, principals and marketing staff.

The results demonstrated an attitude of resilience and a recognition of the importance of digital outreach to their clients.
We are now looking to expand the survey even further. How has COVID-19 impacted your business? Take the survey here.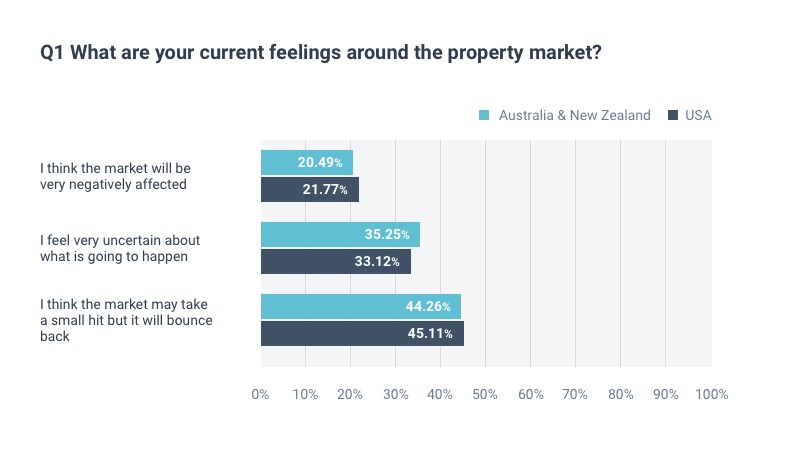 Despite the US being reported as two weeks ahead of ANZ regarding the spread of coronavirus, agents in both regions share an almost identical sentiment towards the state of their respective markets. Though there is a substantial amount of uncertainty, the majority of agents, approximately 45% across both geographies, feel as though the market will take a small hit but bounce back.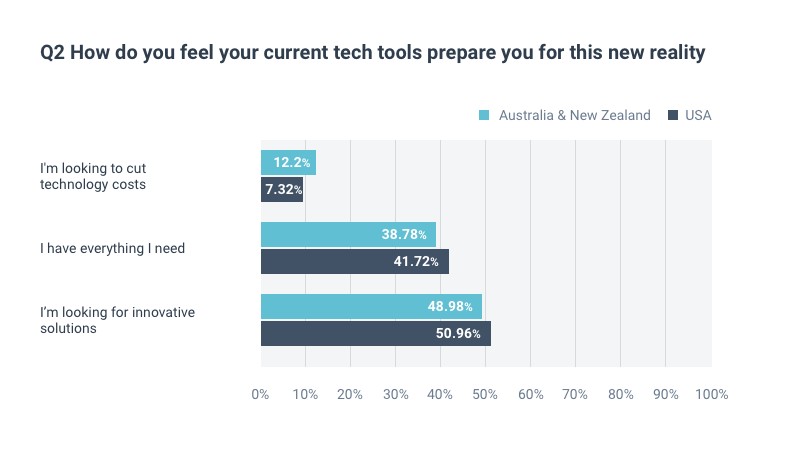 The majority (49.97%) of agents are looking for innovative tech solutions to best serve their clients in this remote working environment. A well-prepared 40.23% of agents believe they have the right systems in place already. US agents are less likely to cut technology spending compared to ANZ agents with a 5% variance.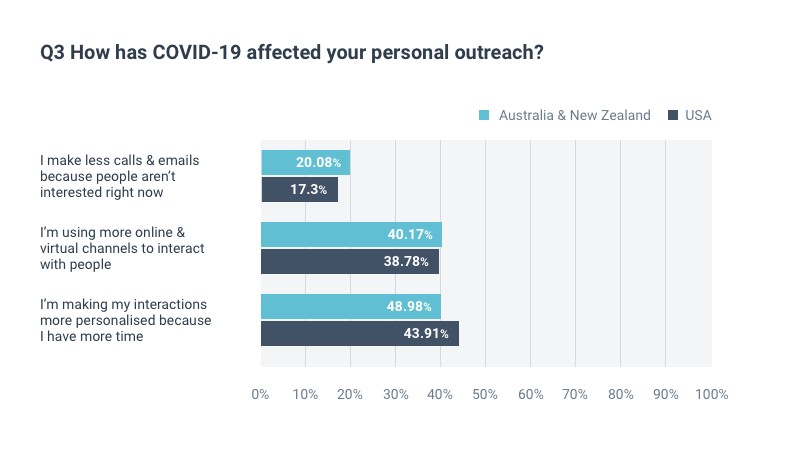 By far, the majority of agents are taking this opportunity to personally reach out to their contacts during this time. 81.33% of respondents are adapting to the new circumstances with either a shift to more online & virtual channels to interact with clients (39.32%) or by making their interactions more personalised (42.01%). The minority (18.75%) across both regions are making less calls and emails.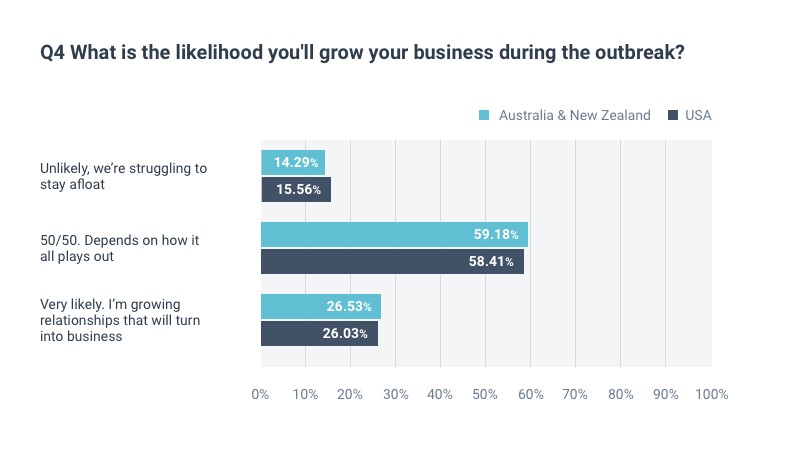 Unsurprisingly we see that there is significant uncertainty around how businesses will perform throughout the pandemic. Given we are at the beginning of a difficult period that looks like it will extend for several months, it is heartening to see that over 26% of agents from both regions are positive and continuing to grow their business.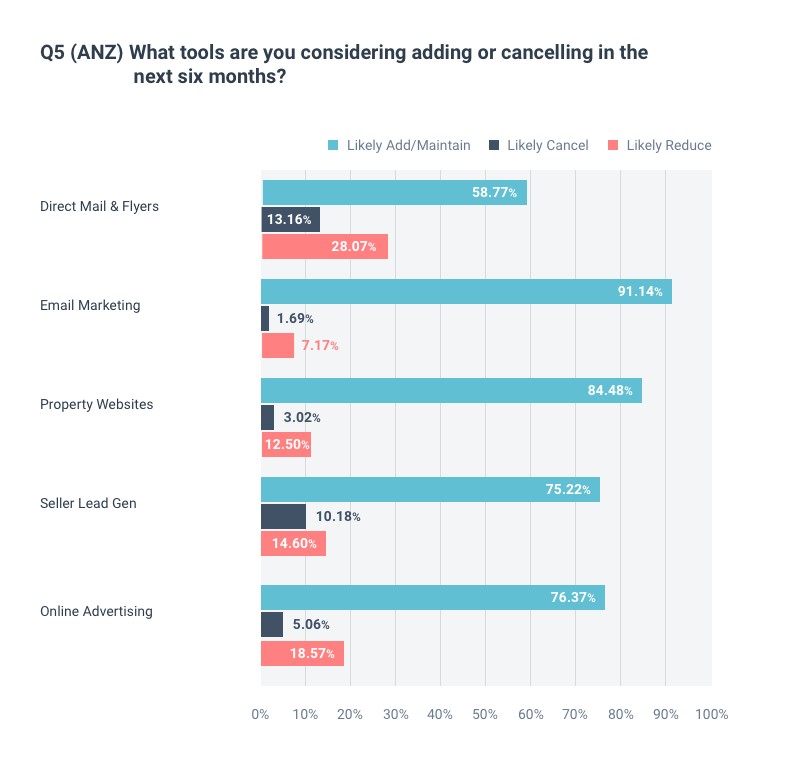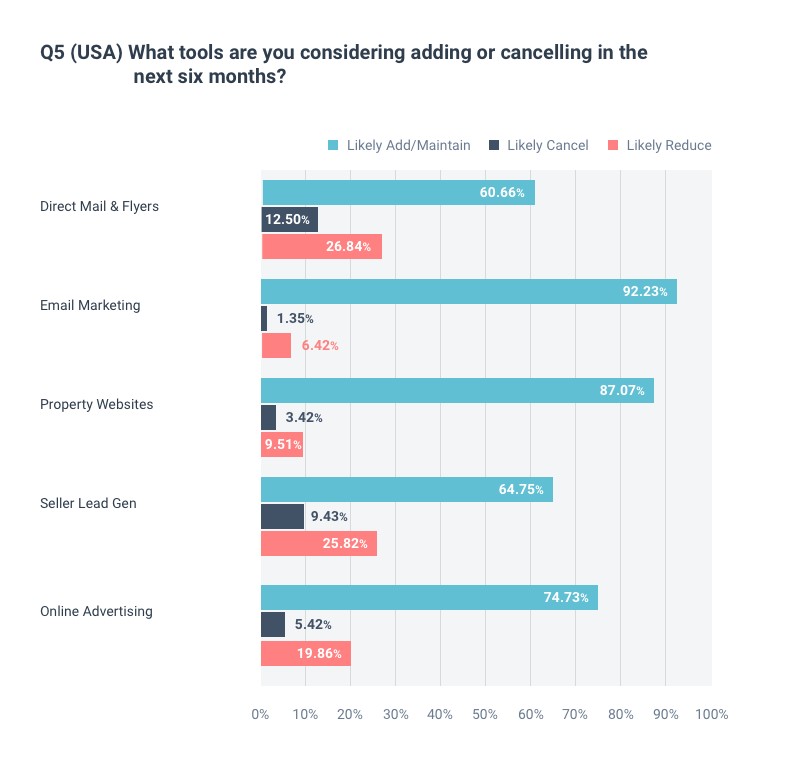 Email marketing remains the most popular option with an average of 91.68% of agents voting that they will likely maintain or add this to their toolkits in the next six months. The whitepaper Digital Marketing in Real Estate: A guide to better ROI highlights why this might be the case, with email generating $42 per $1 spent.

Direct mail & flyers are at the highest risk of being reduced or cancelled, with an average of 40.25% of respondents indicating they will be looking to do so.

There is little variance in the results between ANZ & USA (between 1-3%) regarding direct mail, email & property website results. However, the US agents are approximately 10% more likely to reduce seller lead generation compared to that of the ANZ agents.

Mentions: In Crisis Mode: Real Estate Pros Seek Tech And Are Using Email During COVID-19 Outbreak, Mediapost.com
White Paper: Digital Marketing in Real Estate
Real Estate shifts to digital
As the real estate industry grapples with the need to rely less on face-to-face interactions to limit the spread of COVID-19, the shift towards digital channels has been accelerated.
Digital marketing will be essential for agents to drive revenue and value for clients, even while maintaining social distancing. To this end, we're excited to publish our new white paper Digital Marketing in Real Estate: A guide to better ROI.
The industry-first paper showcases how digital marketing is playing a pivotal role in transforming the real estate industry, and guides real estate offices on how to optimise their digital strategies to achieve a better ROI and an improved customer experience.
Clarifying digital marketing in real estate
We created this white paper to analyse and compare the pros and cons of different digital marketing channels, but more than that, we wanted to put into context how marketing strategies align with the behaviours of the top-performing agents. What are the best agents doing to win more listings? By capturing those insights in a single report, we hope to simplify what can be a very complex topic for real estate decision makers.
There are a lot of options for agents in regards to building their brand and winning more business, but we believe there's a level of confusion as to what delivers the best outcome. I spoke at List, Sell, Negotiate last year where we polled the audience, asking what they think delivers a greater ROI, social or email? Staggeringly, 81% answered social. The truth is, email has an ROI of 42x that of social.

With this report we offer real estate agents a proven approach to generating more revenue, including how to unlock the hidden value in an agents most powerful asset — their database.
Real estate offices looking to drive revenue and better value for clients can download the whitepaper here.
In the news
Pros and cons of digital marketing channels revealed
A new white paper has offered insight into how agents can reap the benefits of digital marketing channels — and what they should be wary of.
Study Tells Real Estate Agents: Use Email, It Works
Email produces the best ROI — $42 for every dollar spent, according to Digital Marketing In Real Estate—A Guide to Better ROI.
Digital marketing will prove essential for real estate agents
As the real estate industry grapples with the need to rely less on face-to-face interactions due to the spread of COVID-19, the shift towards digital marketing has accelerated.
Why Unsubscribes Are an Agent's Best Friend
Those who manage an email list will be all too aware that email unsubscribes are an unavoidable part of having said list. People change their mind, they may not like your content, or their situation may simply change. All are fair reasons to opt-out. But all is not lost.

Email unsubscribes are a fantastic opportunity to check-in with prospects. If something has changed, you want to know what. Every person moving away from your business is an opportunity to learn how to keep people close to your business.

You should call your unsubscribes.

The specific motivations of unsubscribers are many, but they usually fit into one of these three categories: 
They are no longer looking to do something in real estate (great, clean the database)
What you're sending isn't meeting their requirements (excellent opportunity to learn what is relevant)
They've just bought a property (meaning that they're probably ready to sell!). 
Let's dive deeper into each of these motivations to explore what can be learnt to improve your business, as well as where they may be potential to bring them back for other services. 

They're No Longer Looking to Do Something in Real Estate
A typical agent database has thousands of contacts. When you aren't engaging them, you have no way to tell who is a good target and who is not. Finding out that someone is not actually worth marketing to is hugely valuable. This cleanses your database so that you focus on warmer prospects with a real opportunity to convert.

There's no point having an unwieldy database with thousands of contacts if half of those people are not relevant targets for your engagement. Goodbye, unresponsive contacts. Hello, clean, quality database. 

What You're Sending Isn't Meeting Their Requirements
If what you're sending isn't meeting the requirements of your contacts, you need to know about it. After all, your content is meant to add value to your contacts and to make sure it achieves this goal, you need to know what it is that they require from you.

Speaking to one of these customers is extremely valuable. This opportunity allows you to ask for feedback, which can build a relationship and may get them interested to re-subscribe.

ActivePipe's Data Discovery Survey also helps you to learn from your database what their requirements are and what information is relevant to them.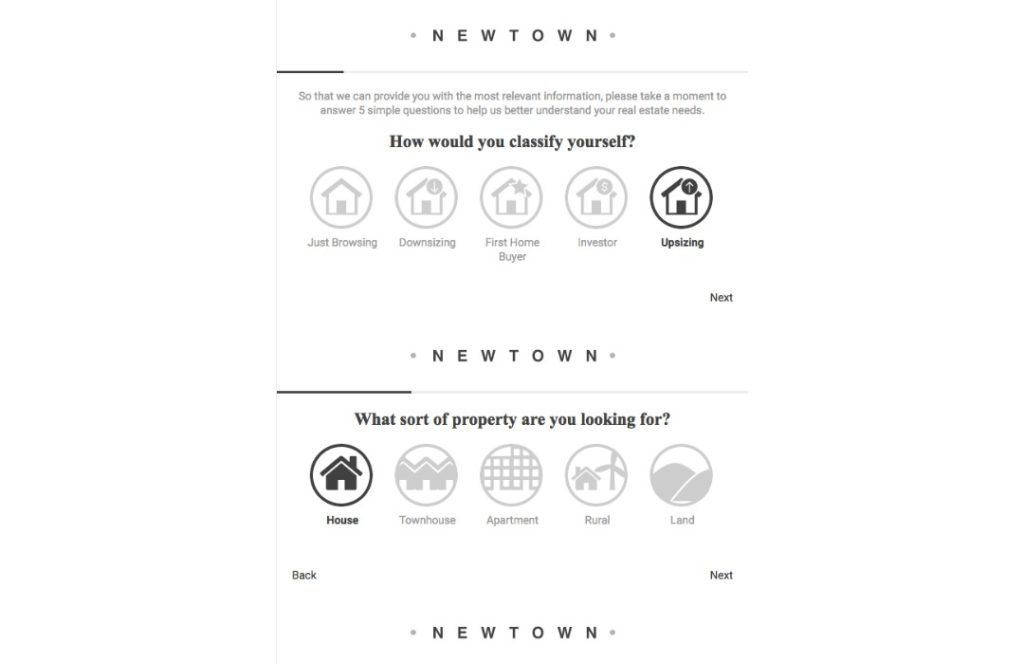 Email marketing needs to be personalised to the goals of those it is reaching, and it needs to be based on accurate data.

They've Just Bought a Property
This one is absolute dynamite. If they've just bought, chances are they are a future seller or may even be looking to sell immediately. If you had previously been marketing to them about buying, they might not realise you can also help them sell.

Don't miss your opportunity to pick up the phone and offer a human touch. Our techniques for an effective warm call covers all you need to consider when calling newly unsubscribed contacts. 

Unsubscribes Are Your Friend
Unsubscribes are unavoidable, but training your team to recognise their value is a smart strategy to boost results; keeping the database high-quality and relevant, gathering insight to improve your marketing, and snapping up opportunities to lock down sellers.

Book an ActivePipe demo to see how you can start engaging with your database in a smarter way.

How to Capitalise on Strong Selling Conditions
In just one year the overall net happiness of Australian sellers has doubled, up from 20% in December 2018 to 41% in December 2019 according to RateMyAgent.

This is likely due to the resurgence of the property market in late 2019 and consistent price growth across the nation since.

How long will it last though? Price growth is already starting to taper off in some capital cities and pundits expect the market to plateau around-mid year.

As we leave the festive season lull there's likely to be an increase in seller activity given the current positive selling conditions, are you ready to act?

Although this specific situation is related to Australia, how to get the most out of these conditions can be translated across all geographical markets.
Here's how to capitalise:

1. Is your database segmented by buying and selling intentions?

Yes – move to the next step

No – get in touch with us today to find out how we can help you segment your database

2. Put together email content aimed at sellers, for example:
Property price growth in your area
How to prepare your home to be sold
Local market trends or forecasts
Send this to your list of potential sellers encouraging them to enquire about a free appraisal.

3. If you haven't already, make sure you're sending monthly automated sold property reports tailored to a contact's local area. This encourages self-appraisal which you can track through ActivePipe interactions.

4. 'Just Sold' campaigns are a great way to keep all of your contacts informed about current market activity, whilst also encouraging them to request an appraisal through interactive CTAs. Automate this so that anytime a listing is sold your contacts know.

Don't have these campaigns running? Speak to your account manager today and get them set up.

Segmenting your audience and sending targeted campaigns is a great way to promote yourself, your agency and generate leads… but it won't secure you the listing.

Getting on the phones and using the information found within ActivePipe to drive your conversations will be what does.
Who to call, when to call and why?
In the real estate industry, for most agents, the greatest daily challenge is knowing who to call, when to call and why. In most cases, having people to call is not a problem. The majority of agents these days have large databases, plenty of people available to contact.

But how can you know, out of all of those contacts, who will be ready to talk to you and what you should call them about?

Every person is different, their situation will be different and what they expect from you will be ever-changing, depending on when you talk to them.

You can't call a contact and talk to them about selling when they are currently in the market for a rental.

So, how on Earth do you know?

Use the power of data
We pose this question, of course, with an answer in mind. While the database may seem to be a cause of all the calamity, it is the best tool agents have on hand to learn the intent of their prospects.

"One of your most important skills as an agent is to know how to use data in a powerful way."
Josh Phegan, Real Estate Sales Trainer

Josh Phegan is an internationally renowned speaker, trainer and coach for high-performance real estate agents and agencies. He has made a career out of guiding agents toward better performance, and his message is consistent: You need to become skilled at using your data.

So what does this mean?

Essentially, every agent has in their possession an insight gathering machine, which, when connected with the right tools and techniques can tell you who to call, when to call and why.

This is done through learning behavioural intent.

Learning Behavioural Intent
With tools like ActivePipe's behavioural intent engine, agents can use their database to learn about their prospects, segment them into categories and gather insights as to where they may be in the buying or selling journey.

This is done either through an online survey or by identifying trends in their behaviour (how they interact with your brand online). With ActivePipe, this insight is then captured and analysed against typical behaviours in the real estate industry, to give us an indication of where your prospect may be in their journey, based on predictive analytics. Thus giving you:

Who to Call
When your database is optimised with ActivePipe, your team can start their day with a clear view of who is ready to talk to you. These contacts will be those that are seriously engaging with your information, whether it be a property or an article about how to prepare your home for a sale. Segment your contacts into buyers, potential sellers, landlords and past clients each with their own communication strategy. See how we segment your contacts for you based on their interaction with your content.

When to Call
Segmentation can now be so advanced that contacts can be ranked as a matter of priority. Those who are most likely to convert, and those who look like they will soon be ready. This allows your team to focus on the immediate opportunities while tailoring communication to the others that may help to nudge them closer to the warmest leads.
For example, you can make your potential buyers' life easy by tailoring alerts just to them about relevant properties listed in the areas they have shown interest in. Once you've seen they've opened your email, that's the perfect time to pick up the phone and add a human touch.
Why
Analysing the content that your prospect interacts with, you can learn a lot about what their current interests may be. For example, if they're opening that property page numerous times, that's a good indicator that they're interested in that property. If they're reading about how to sell a property, you can assume that they may be considering selling.

Imagine stepping into your office, opening your computer and having a clear view of who wants you to call and what to talk to them about. Other prospects can move through the funnel via email communications and you, and your sales team can get to work closing those who are ready to close.