How Agents Can Overcome Work-Related Stress
Every two years the Property Council of Australia and EY publishes a study on women in real estate. These studies take the pulse on women's status in real estate and are an opportunity for women's voices to be heard.
Stress can be a normal and healthy part of life, but it's not good to remain stressed for long periods of time. This is known as chronic stress and it can lead to serious problems.
Occupational stress (or, work-related stress) is a common type of chronic stress that, if left unaddressed, can cause serious health issues.
How Serious is Stress?
A 2015 study from Harvard and Stanford showed that chronic stress can be as bad for your health as second-hand smoke.
People who suffer from chronic stress can experience:
Weight gain
Sleep problems
Headaches
Poor memory and concentration
Anxiety and depression
Heart disease
Stress can even lead to death. In Japan, heart attacks and strokes that result from stress cause a number of deaths each year. This "overwork death" is common enough that they have even come up with a special word (karoshi) to describe it!
Why Work is a Major Cause of Stress
One quarter of people say that work is their main reason for stress. This is not surprising, considering we spend over a third of our waking lives working.

Work-related stress generally occurs when an agent feels like they have low control and have to meet high demands.
This means that techniques for overcoming work-related stress should empower you to feel more in control and condition you to withstand the high demands of real estate.
Sleep More To Manage Stress
Experts say that, "people are getting less sleep than they need due to longer work hours"
You might feel like you are getting ahead by sacrificing sleep to work, but a lack of sleep actually affects your ability to concentrate and deal with stress.

If you take time to rest, the hours you work will be more effective and you will accomplish more in a shorter amount of time.

There is no 'perfect' amount of sleep, but for most people seven to nine hours is recommended.

The conundrum is, if you're already stressed, work-related stress might actually cause insomnia. If your sleep is suffering from work-related stress, then try these other methods to help get your stress levels under control.
Meditate Like a Wall Street Stock Broker
Meditation isn't exclusively for tree-hugging hippies anymore.

In his 2018 book, author Robert Wright looked at many businesses, from Silicon Valley to Wall Street, who are using meditation to manage the stress of highly demanding jobs.

Don't have time to meditate?

According to Wright, you don't need a lot of time to meditate. Even just ten minutes of mindfulness per day can go a long way to help you feel less stressed.
Exercise, but Not Too Much
It's recommended that you do two-and-a-half to five hours of exercise per week.
However!
Do not over exercise as this can increase the amount of cortisol in your blood. Cortisol is 'the stress hormone', so be wary of overdoing it.
Instead, undertake exercise that you enjoy and makes you feel good to get your stress under control.
Communicate with Your Coworkers
So far we've talked about ways you can prepare yourself to meet the high demands of real estate work. It's also important, however, to address feelings of low control.

This is where it's important to try and improve your work environment, as having a more positive environment can help reduce work-related stress for you and your colleagues. There are things you can't change about your work environment, such as market disruptions, but if you create a more supportive network, you and the team around you will find that you are able to cope with stressors more easily.

Communication is key.

There are a lot of different strategies you can implement in your workplace to eradicate work-related stress.

Some of the things that experts recommend are:
Clearly defined and understood roles and responsibilities
Make sure workloads aren't overly demanding
Social interaction between workers
Remember, establishing a good work environmentisn't the sole responsibility of your office principal. Your principal has a business to run, they could be suffering from work stressed as well!

By taking the initiative you will show that you're a team player who cares about you work, your colleagues and the business. This reflects well on you, and helps you overcome work-related stress, so that you can focus and succeed.
Cold Calls Got You Stressed?
Everyone hates making cold calls. They're a massive contributor to workplace stress for agents.
Thankfully, you can uncover buyers and sellers from your database without having to ever make a cold call again …
Get in touch so we can show you how you can eliminate cold calling from your business.
Simple Email Tips for Realtors
Email is well and truly established as the premium marketing tool for top realtors across the country.

It boasts a 66% lead conversion rate, is 40 times more effective than Facebook and Twitter at acquiring new customers and is considered the preferred method of communication by 61% of American consumers.

These are impressive figures, which aren't all that surprising when you consider that 95% of us have an email account we check multiple times per day.

So, if you've been thinking about taking your marketing efforts to the next level but don't know where to begin, we've put together some simple tips to help you get started.

Begin with a Strong Subject Line
There's no point sending an email if it's not going to be opened. That's why it's important that you capture attention with the right subject line. Short and sweet (5-9 words is optimal) is the name of the game and personalizing with neighborhood information such as local listings or attractions will set you apart from your competitors. Research tells us that subject line personalization leads to a 26% higher chance of your email being engaged with!

Finish with a Call to Action that inspires… Action!
Just as there's no point sending an email that won't be opened, there's no point sending one that doesn't drive the reader to take action.

As the realtor, it's your job to direct your audience with a clear and concise CTA so they know exactly what to do.

Include action verbs that persuade:

"Get more information on this home now", "Call me to discuss your next home" and "View listings in [your community] now!" are a great place to start.
Engage and Send
Keep emails relevant and engaging. Rather than spraying your contacts with content that may or may not apply to them, keep your advertised listings local and neighborhood news recent. Look to Google for inspiration. There are plenty of examples of great real estate emails you can draw inspiration from. Just make sure you add your own personal touch to convey authenticity.

Once you're happy with the body of your email, think about the timing and volume of your sends. Once to twice a week is desirable but everyone is different and it may take a bit of trial and error to find what works best for you. Whatever you decide, consistency is key to staying front of mind.
Don't Stop Learning
This is just the basics to start you on your journey. Explore the ActivePipe blog to discover more in-depth and expert advice on creating a successful email marketing strategy or speak to one of our client success specialists today.

How Every Agent Can Squeeze the Most Out of the Christmas Period
Love it or hate it, there's no escaping the mad rush of Christmas each year. One minute it's October and you're waist deep in the property selling frenzy, the next you're at the supermarket wondering why on earth Deck the Halls is playing on the radio and everything's covered in tinsel.

It's easy to write the holidays off as "sales slump season" but smart agents know to use this time wisely. Yuletide is the perfect opportunity to get all those life admin jobs you haven't had time for during the busy months sorted and prepare yourself to step into the new year with your best foot forward.

Not sure where to start? Here's the ActivePipe list of naughty and nice ways to squeeze the most out of this Christmas season.

Prepare your content for the year ahead
When the year is in full swing, your calendar's overflowing with appointments and your phone feels like it's been duct-taped to the side of your face, finding time to create or even curate content can feel like the last priority on your to-do list.

In this day and age you'd be a fool to leave content out of your overall marketing mix, so why not make the most of the downtime by planning out your social calendar for the year ahead? Snap any great photos of properties or happy sellers lately? Get them off your phone and onto your social media pages. Why not share some of your valuable expertise with the world and write some blogs? Don't fancy yourself a creative? Look up some inspirational quotes or images that you can share.

The beauty of Facebook is that you can set-and-forget content so that your campaigns are scheduled and you have plenty of great stuff going out as the year ticks along, minus the headache!

Send Out an Xmas Email from ActivePipe
Let your contacts know you're thinking of them with a fun holiday email. Take a photo of your office wearing Santa hats or include a group shot from your end of year party. Your contacts will love seeing your personality shine through and will be more likely to open your emails in the future.

At ActivePipe, we decided to make a Year in Review video, in which we showcase some of our big achievements of 2018. You could do the same with some of your more impressive listings and any events or awards you've been involved in over the year.

Get active in the community
As corny as it sounds, Christmas is about giving back. Show how involved you are by getting out and involved in your community. Fundraisers, Christmas concerts, school fetes, they're all great ways to get out there, make new connections and even find fresh content for your social channels.

Clean up your database
This is another one of those "I don't have time" jobs that can make a world of difference to your business if you bite the bullet and get it done. Make sure all your contacts are assigned, duplicates are deleted and all the names you've got saved in your phone are entered into your database. ActivePipe works best when you've got squeaky clean data to work with, so it'll be worth your while. Who knows what hidden listings are waiting to be discovered?

Take a Break
Working in real estate is stressful, there's no two ways about it. The energy that it takes to be "on" for your boss, your clients and your income is relentless and taxing, so whilst you might feel frustrated that the market slows down for Christmas, really it's a blessing in disguise. Take the chance to recharge and nurture your mental and physical wellbeing, so that you can go into the new year fresh-faced and excited to kick some goals.

Have a happy and safe holiday period everyone, I look forward to seeing the amazing results you achieve with ActivePipe in 2019.
Want to have the right programs in place in time for the new year? Get in touch with the ActivePipe team here.
Like what you see? Never miss a post by joining the thousands of real estate professionals who follow us on Facebook and LinkedIn
Ebany's Top 5 Tips for Getting Started with ActivePipe
"You've just got to jump in and have a swim around."
That was the advice from one of our happy clients, Reece Prewett, when asked what he'd tell other agents and principals thinking about giving ActivePipe a go.
I completely agree with Reece, but I also believe that to make the best of your time in the water you need a few lane ropes around to help keep you on track.
No matter what, if you're willing to try something new, ActivePipe will revolutionise your business; start your journey right  and you'll ensure that your results are supercharged and that you see them quick stat.
Here are my top five tips for getting off on the right foot as you begin your new life landing infinite leads, saving hours in your week and creating customers that will come back to you time and time again.
Gotta Start Somewhere
Login! This is where Reece's advice really rings true. ActivePipe is designed to be easy and fun, so the first thing you should do is have a poke around. Try building an email. You can drag and drop images, text, and even content from other people's websites. Practice your skills without the worry of breaking anything. If you build something fun, send it to yourself or a friend to see the finished result!
Get Your CRM in Check
This is a great excuse to consolidate. Do you have a notebook somewhere with a list of contacts you never got round to entering into your database? Or perhaps your phone is full of names you've collected out in the field that never made it to the desktop? Well, this is the time to sort it out. Get every name you can into the system so that ActivePipe can start discovering their buying and selling intentions.
Play the Name Game
Don't settle for Mr and Mrs. As much as possible, try and get hold of first names too. This is important for the open rate of your emails. It's accepted across the board that people will notice and respond best to emails that are personalised with their first name. The beauty of ActivePipe is that as long as that name is entered, the platform will do the hard work and personalise your emails for you.
Assign(ment)
Clean up your data by making sure all your contacts have been assigned. You know that amazing feeling you get after a big spring tidy up? That's how good you're going to feel once you've organised your database. Make sure duplicates are deleted for that extra squeaky clean goodness.
Get Creative
If a contact is receiving emails from you, chances are they're receiving material from other agents too. When you think about how many emails, messages and newsfeeds pass in front of our eyes each day, it's no surprise that even the most well-intentioned send can slip through the cracks, never to be seen again. Give yourself the best chance of standing out from the crowd by getting your head into 'creative mode'. Start thinking of interesting and original ways to get your message to your audience. Google trending topics, .gifs, upcoming entertainment in your area and anything else you can think of that might catch and hold attention. Have fun with it!
What Next?
Now that you're getting comfortable and have sent a few campaigns out, why not log into our training centre and watch our short tips and tricks videos which will help you become an ActivePipe pro with a pile of listings you're colleagues will be envious of.
Personal vs Personalised: Why the Difference Matters for Agents
The word "personalised" gets thrown around a lot these days. Saying that something is personalised isn't just a fancy way to say personal. It has its own meaning. Read on to find out what those meanings are and why the difference between what's personal and the personalised is relevant to agents.
What's the Difference, Technically?
As an agent, you've probably used a "personal touch" and "personalisation" in your customer journeys, even if you haven't realised it.
"Personal" is a describing word. It means that something is private or unique to a particular person.
"Personalised" is a doing word. It's all about action and means that something has been made for a particular person.
These may just be words, but the ideas behind them carry weight.
What matters is how you understand the relationship between these two ideas and how you can use that understanding to improve your customer relationships.
Why Agents Should Care
As an agent, for example, you might sometimes add a personal touch. This could mean giving out pens with your name on it, or property profiles with your face on it. Some of the big-figure agents even take it as far as rolling out champagne for an open house!
You don't have to spend a lot of money to add a personal touch. A personal touch just means doing something to make people recognise and remember the agent they're dealing with.
This tactic is as old as the real estate game itself.
Making something personalised, on the other hand, is more new-school.
To personalise something is to make it unique to the customer.
More and more businesses are starting to do this. It's easier than ever to order a t-shirt with a personal message or photo on it. Facebook creates personal videos about peoples' online friendships and lets their users share them on their wall.
Technology has dawned a revolution in personalisation.
These companies are only making one product, but they change them so that each item is completely unique to the customer.
This takes the guesswork out of marketing and product creation.
In the past, companies had to try and create one product or marketing campaign that worked for the majority of their target market. The genius of modern personalisation is that it lets the customer create the product that's perfect for themselves!
For the Last Time: How Does this Help Agents!?
To be fair, personalisation isn't completely new to real estate.
Think of the classic: the agent Christmas card campaign, where an agent handwrites personal messages to everyone in their database. Some of the top agents even do this for all their contacts' birthdays as well.
At least, it used to be just the top agents.
These days any agent can easily personalise in two steps.
First, you need to know about your contacts to be able to cater to their unique personalities. The obvious details to find out are name, phone, address. On top of that, go the extra mile.
What are your contact's interests? Do you know what food they like? Do they have a pet?
This level of detail might seem like overkill, but people are doing it. It's how you get ahead. Knowing these things about a person helps you build stronger relationships with your database.
Getting this information can be easy, if you're a good listener. You'll be surprised what kinds of information people reveal about themselves in casual conversations.
To keep track of all your contacts' details, add an extra column in your database. The great thing about digital contact lists is that you can add heaps of custom fields without your data getting completely out of control.
Once you've got an idea about who your contacts are as people, the second step is easy.
There are heaps of digital platforms that let you integrate with you database and send personalised messages to your contacts.
Google Calendar is great example. Just plug your contacts' birthdays into your calendar and send people a text when you get a notification. If you're really clever, you can even use a third party app to send the texts for you automatically.
Technology has improved personalisation so that, like Facebook, any agent can deliver digital messaging that is unique to individuals.
What is the difference in something that is personal versus personalisation?
Something that is personalised (made for a particular person) lets you have a personal conversation (unique to an individual).
The ideas don't compete with each other, rather the personal and personalisation compliment each other.
Things that are personal and personalised aren't the same thing, but when your sales pitch contains both, it helps you have the better conversations that make customers for life.
To learn more about how ActivePipe can help you automate personalised comms, speak to one of our automation experts.
How Real Estate can Learn from Sport to Improve Customer Experience
How learning from sport can help the real estate industry find simple solutions to make a customer's path to purchase effortless.
Introducing tablets to collect prospect data at OFIs was a crazy innovation.
We take them for granted now, but if you've been in the game for a while, you were probably pretty impressed the first time you used a tablet to collect prospect details.
And this is just the beginning.
Agents can look to the world of sport to see how the future of technology will improve customer experiences to make the life of your customers effortless and improve your sales.
Get Rid of Typing with NFC Chips
Some agents report that a tablet at an OFI can double the number of leads they go home with.
Those leads are often better quality. An added bonus is that contact details are added directly to your CRM, so you waste less time typing out all your contact details manually or trying to translate messy handwriting!`
By taking handwritten contact details out of the equation, you save yourself and your contacts a lot of time. Considering this, the next step is to remove typing details altogether.
Look at how Nike harnessed the potential of wearable technology with their NikeConnect jerseys.
The jerseys are the future of sports apparel, containing the NFC chips that allow some smartphones to tap and pay. This kind of jersey can do things like verify the authenticity of merch, or even replace half-time SMS competitions.
Instead of copying down a number into their phone, then texting that number to try and win a competition, sports fans in the future will be able to just tap their phone to their jersey to enter a comp.
In real estate, smarter apps that use NFC technology could make it so that neither you, nor your OFI attendees need to spend time manually entering details into a tablet. You will be able to capture contact data in the blink of an eye.
This will make it easy to follow up and nurture leads.
Use Beacons to Catch Leads and Map Customer Behaviour
The NFL in the US is a big fan of beacon technology and has been using beacons to pinpoint fans in a stadium. The beacons allow stadiums to improve the customer experience and provide patrons with personalised deals and even make it possible to share which bathroom has the shortest line.
This targeting feature makes beacons one of the most exciting technologies for real estate agents and is already starting to change the way agents capture and nurture prospects.
The benefits are twofold.
An agent can attach a beacon to the front of any house on the market. That beacon transmits a signal to people who pass through the area, giving them info about upcoming OFIs. Think of this like a for-sale sign that ends up right in a prospect's pocket!
The second benefit happens when people come to the OFI.
Beacons are increasingly accurate. When a beacon connects with a prospective buyer's phone, they can pinpoint its exact location. This means that in the future, agents will be able to get a map of everywhere a prospective buyer has been during an OFI.
This will give every agent a bird's eye view of their OFI. You will capture key insights into what aspects of a property you should feature in your listing ads.
This technology is already here and starting to take real estate by storm.
Create Videos Customised to Individual Contacts
When our friends at Visual Domain teamed up with the Melbourne Victory football team, they were given the task of creating personalised videos that address the experiences of Victory's high-value members. Creating thousands of personalised videos might sound like an impossible task, so it's a good thing this is Visual Domain's specialty.
A company like Visual Domain can capitalise on your CRM and use that data. A video that's made this way can contain a contact's name as well as cater to a viewer's personal experience and serve them only video clips that are relevant to them.
In this Melbourne Victory membership campaign, the Visual Domain team used data on which game members attended. When the member receives their video, they only see clips with highlights from the games they saw.
Using this kind of marketing harnesses powerful emotional memories for an effective call to action.
At the moment, this kind of video is taking off, as more and more brands are starting to see the value in highly personalised content. In real estate we see videos that contain the specific houses that contacts have shown interest in, allowing brands to effortlessly address specific contact needs.
Finding Inspiration for the Future
Sometimes, it helps us to look to other industries to see where technology will be heading next.
By looking at other industries, we can start to see how our own industry will change and get excited about the improved customer experience of the future. (more…)
Geo Updates: Locate Your Next Listing
Ring Ring
Who's there?
It's Andrew
Andrew who?
Andrew, I'm from Newtown Real Estate, I'm calling because I wanted to enquire and find out how long you've been in your current house and offer you my service as an agent.
…
Hello? Are you there … Hello?
Cold, Hard Calls
We can all sympathise with Andrew in this situation.
No one likes cold calling. Certainly not the person calling. Often, the person who is being called will switch off or hang up (or worse) before they take the time find out what the caller has to say.
Thankfully, technology in the the 21st Century offers new ways to reach the customers who need your services, while avoiding the customers who don't.
The Geo Updates
We have just improved the popular ActivePipe Geo Updates tool to make it easier for you to see when an address has been added to a contact's profile.
This adds oodles of value to your database by giving you:
Certainty that a contact is interested
Early insight into how your contact is going to act
A cleaner, healthier database
Easy access to updates
Geo Updates is the lightweight tool that makes it simple for you to reap all of these benefits with minimal effort.
Certified Interest
To avoid polluting your database with contacts who are not in the market, we employ a very simple technique.
Invite them in.
The trick is there are no tricks!
Geo Updates works with our Data Discovery, which is successful because it is upfront and updates the information of actual, high-value contacts.
The simple survey makes the process quick and simple for the person filling it out. They are encouraged to offer up their address in exchange for local property info that's tailored to their interests.
Early Bird Insights
An address is what we call rich info.
Rich info is a tiny piece of data that can tell you a big story.
Rich info like an address doesn't only let you know where a person is. It gives you an idea of where they want to go and how they want to get there.
We can plot your contact on a map and see when they're looking at sold properties in their local area, which would mean they're probably self-appraising. When a contact is looking at properties which are the magic distance from their house (about 7km) it means they're thinking of buying in that area.
Even better, you don't have to spend time looking at clusters of properties on a map (we have a feature that does that for you too). ActivePipe takes the guesswork out of your database and makes it easy to find the contacts you should be talking to right now.
Makes Your Job even Easier!
Any ActivePipe ENTERPRISE user can find out which contacts have recently updated their address by clicking the Geo Updates widget on their Dashboard.
ENTERPRISE users get to enjoy the spare time and stronger relationships that Geo Updates offers them. Use the rich info from Geo Updates to find the qualified leads and start meaningful conversations.
Ring Ring
Who's there?
Hi Bill, it's Andrew from Newtown.
You again!?
I know you're busy Bill, but I thought it might interest you to know that two properties in your street sold for $1.2 million this month.
Really? I didn't think they would be worth that much.
The market is strong at the moment. People in your area are very interested in valuation.
You know what Andrew, that is very interesting indeed …
---
This feature is a tool for users with the ActivePipe ENTERPRISE product. If you are unsure about which product you are using, please contact support and let us assist you.
Like this feature? See how the ActivePipe Contact Intent feature uses Geo Updates to help you build the database of the future!
Security Flaws and Why You Can't Fall Behind with Technology
Have you ever heard of "adversarial attacks"? A lot of people haven't, even though this kind of attack could leave you, your business or your family vulnerable to criminals. Learn why you need to be mindful of how security flaws can affect modern tech.

Home assistant devices are becoming part of the family. These smart pieces of technology, a part of the "Internet of Things" (IoT), are changing our homes and changing the way we do business.
For real estate agents, these improvements open up exciting ways to sell houses to promising leads. In fact, IoT devices are becoming commonly used as cherry-on-top sales pitches to push interested buyers over the line.
People are excited about having a home that can unlock itself, order the groceries and book the kids into the dentist, but with so much sensitive info going into these devices, we need to ask:
Who else is listening?
What Makes You Vulnerable?
Imagine if criminals could hack your phone or home assistant with nothing other than a simple mp3 recording.
This sounds out there, but it might be possible.
In recent years, researchers from a German university, Ruhr-Universitaet Bochum (RUB), have been looking into security flaws in these devices, specifically, ways smart machines can be hijacked or tricked.
To test this idea, the researchers play two sound bites at the same time. One of them is just a normal voice recording that any person can understand. The other recording is disguised in a way that makes it impossible for people to hear, but which the machine can understand perfectly well.
When played together, the recordings – which could be anything from a pop song to the sound of birds chirping – don't sound suspicious to a normal person's ear. The device, however, hears a command that it has to obey:
"Pay for shopping …"
"Transfer money …"
"Unlock the front door …"
How Can this be Happening!
You are smart. Like, one of the smartest things to ever set foot on planet earth smart.
You might not be able as good as a computer at maths, but you can learn from experiences, think creatively and understand emotions. All of these ways of thinking are way too difficult for a machine and probably will be for many decades.
Because computers don't have the power to think critically, they will just open a door when they're asked to. They don't have the common sense to consider if the person asking is a criminal or the imagination to recognise the possible consequences.
Should I Throw out My Devices?
Probably not yet.
These things can be scary, but don't let them turn you into a technophobe (someone who's afraid of technology).
In this instance, the researchers are publishing their findings so that the general public can be aware of the security flaws.
This forces the companies who design our software to take our security seriously. Public awareness of these issues holds large companies to account and forces them to look for solutions.
Unfortunately, this isn't always the case. Software exploits create a tempting incentive for hackers who can make a lot of money when they discover weak links in a security system and sell that information to criminals.
Why are we Telling you this?
If the lock on your front door was easy to break into, you would want to know about it.
And that's the thing.
Most digital technology is far more secure than the stuff that came before it. Although nothing can be 100 per cent resistant to attack, you can make sure you are safe by keeping yourself informed.
We are all very lucky to be alive in this day and age. Modern technology makes our lives efficient, convenient and exciting. By knowing what's out there and what's new, you can stay ahead of the curve. This gives you a massive advantage over the people around you.
Reject technology and you'll be left behind.
Embrace technology and shoot ahead. (more…)
The Art of Staying Front of Mind
Staying front of mind is one of the most important issues an agent must address in their quest to grow market share and nurture leads. It's also one of the most difficult things to keep on top of.
There is a lot of white noise coming from other agents in the marketplace and prospective sellers often have to go through letterboxes full of rubbish before they'll see any of your material. This is where being relevant comes into play. If you're delivering value; the right information, to the right people, at the right time, they're going to be more inclined to choose you to list their property.
LBDs, cold calls, door knocks – they are all useful for the average agent but unless your value proposition is relevant and cuts through the clutter, you risk getting lost.
Relevance is the currency of 2020.
To help you win the battle of delivering personable and meaningful communications, I've put together some simple tips on how to rise above the clutter and be the agent they can't wait to call.
Get the Conversation Flowing
If a contact is thinking about buying or selling, knowing what is happening in the market will always be relevant. Never shy away from sharing news on forthcoming auctions and recent record sales, they are fail safe topics that never go out of fashion. Bonus points if you're the first agent in your farm area to deliver that information –  well done, you've just made yourself the 'go to guy' for market insights!
Once you've identified which of your contacts are sellers, it's over to you to nurture them with the right content as they move towards putting their house on the market.
A great way to find out the intentions of your prospective clients is to survey them when they first make an enquiry. This is easier said than done, so leveraging the right technology to help you will go a long way in helping you serve your clients' needs (more on this later).
Time to Streamline
Now you know what your clients' intentions are, the challenge is in delivering them the right messages. The upsizers and downsizers will likely want to know everything they can about preparing to sell and getting the best price. The investors will be impressed by tips on sustainable and low effort investment information and of course, first home buyers will need to know absolutely everything.
How Do I Manage All These Messages?
How can an agent stay relevant in each one of their relationships and transaction opportunities when at the end of the day, they're only human and can't be everything, to everyone, at all times?
I've come up with a simple trick.
It's the art of the 'two main personas' and it's the easiest way to address the needs of your contacts and keep you front of mind.
Persona One: The Friendly Professional
The first persona is that of the personable and approachable professional that is always on hand to help.
Social media is your greatest asset here. It's the perfect tool for positioning your fun and friendly personality. Use it to organise an event such as a get-together where people from the community can join you in an informal setting and ask you all their questions on the market. This is a great way to build rapport and get to know people without pressure.
Persona Two: The Market Analyst
The second persona is that of the market analyst. Someone who is dependable and knows the facts and figures that will guide the selling experience. It's someone who can address the seller's needs specifically and who can provide intuitive market intelligence.

This is where ActivePipe can really play a role in remaining front of mind. Because it's monitoring your clients real-time intentions it will activate the right emails, at the right time, to give them the right information to make a decision. All of this can be done automatically on your behalf, building your brand image as the professional your clients need to know.
The Takeaway
At the end of the day, staying front of mind is a 'forever battle' for agents but it doesn't have to be the thorn in your side. So long that you always focus on being relevant and you keep the art of the 'two main personas' in mind, you'll always have something important to say, to the people who want to hear it. (more…)
5 Tips to Avoid Ruining Your Perfectly Good Marketing Plan
So, you've got some great properties on the books, unusually cooperative sellers and a flawless marketing strategy. You're ready to make an absolute killing.
Nice one! Having a solid plan is the cornerstone of any successful marketing campaign but unfortunately, it doesn't guarantee that when the theoretical becomes actionable, it's actually going to work for you.
Devastating, I know.
Throughout my career, I've seen (and experienced) some "fail safe" marketing plans fall spectacularly to pieces and it's had nothing to do with a lack of preparedness, or the smarts of its creators. Often it comes down to a handful of easy to overlook mishaps, which I'll share with you now.
Things Drag On
Sometimes (almost always) things take a little longer than expected. That one-bedder in the CBD with the fabulous verandah? It should have been the hottest property in town but instead, it's been sitting dormant in your listings folder collecting dust. Don't be the agent who shrugs and thinks "give it time," keep the momentum going by re-evaluating and shaking up your selling strategy before the property becomes stale and its owners lose faith in you. Hustle and proactiveness is key here.
Test, Test and Test Again
In saying that, don't try a tactic once and then throw in the towel because it doesn't yield immediate results. Messages can rely on repetition to break through. Test subject lines, Facebook posts and CTAs multiple times before you panic and change tact. Remember, it's ok if things aren't working for you, what's not ok is not learning from these issues or implementing the appropriate changes.
Say 'Ello to the SEO
It's 2018, so when we talk marketing we're primarily talking about having a multichannel digital presence. If you're not already, you need to get on top of SEO, which essentially refers to how the words you use affect a property's rank in a Google search. Using the same generic terms as your competitors are only going to see you lost in a sea of sameness, pushing you down into the wasteland that is Google page 2. The trick here is to look for features that make your property stand out and use those as keywords. Showcasing locality helps too.
Don't Hate, Automate
Save yourself time and dollars by investing in marketing automation software. It will do the hard work behind the screen, whilst you do the hard yards out in the field. We're all time poor, so let's make it easy for ourselves to get things done as efficiently as possible.
Get Up Close and Personal, Baby!
If you've gone through this checklist and you're still not seeing results, you need to go back and check your personas. You'll remember these guys from when you first created your marketing strategy; the fictional characters you developed to characterise different target groups of your customers. Now's the time to go back and say hello to them. Think deeply about what it is they want and which channels they would realistically use to find your properties.
Refresh your memory of personas here
This is the key takeaway. The best marketers don't necessarily have fancy degrees or years working in an exclusive agency. They're the people who can effectively put themselves in the shoes of others and really understand what makes them tick. Customer centricity 101.
So?
Keep making great marketing plans but don't blindly follow them if they're not gaining the traction you expected. Have the flexibility and wherewithal to change course if need be and if all else fails, do some research! There's so many great (free) blogs and courses on digital marketing out there, so read up, keep your finger on the pulse and you'll have plenty of fresh ideas to help turn your marketing plan into a sales result.
Let Your Personality Shine Through Content
If you've chosen a career in real estate, it's safe to say you've got a bit of pep to you.
Whether you've been gifted with an innately strong personality, or it's a learned bravado that makes you pick up that phone for the umpteenth time, as an agent, you can't afford to not let your flag fly and take the lead in a conversation.
So why are so many agents producing such bland content? In 2018, all the tools are so nicely laid out for the taking. Social media is free (and really easy), images, videos and .gifs can be easily assimilated across a range of platforms and best of all, you've got that winning personality and just the right splash of salesmanship, ripe for the picking.
If done right, content marketing is your best friend. It attracts contacts to your website, educates them and then convinces them that you're the agent for the job. It reminds previous clients that you've got your finger on the pulse and keeps you front-of-mind when it comes time to get back on the market. It gives your brand (YOU) a sense of authority and a leg up on the competition.
Too good to be true?
Research tells us that content generates three times as many leads as outbound marketing and costs 62% less. These are some pretty serious stats. But it doesn't mean you can just throw up any old thing and hope for the best.
Your content is a reflection of you and the experience people have with you. So make it easy for yourself and let you do the talking with these 5 tips that'll turn you into a content marketing genius with a personality that shines.
1. Write How You Talk
This is a really simple way to get started. Writing copy that will go out for the world to read can be daunting, so many agents fall into the trap of overthinking what they write or trying to emulate others out of fear of getting it 'wrong'. This only leads to dull, dull, dull.
Get started by getting started. Write down your copy exactly how it sounds in your head and go from there. You can always go back and do a tidy up when you're done. This will establish your own unique 'voice' which you won't struggle to replicate in the future.
2. Talk in Stories
Having a slow news week? Don't stress, it happens to everyone! One of the best things about online content is there are no set rules and including anecdotes from your everyday life is totally acceptable and a great way to give your contacts a glimpse into your life (a two-for-one deal because you're also building a relationship they can trust).
The trick here is to weave a business message into your stories. Did your favourite footy team make the grand final? Why not talk about how the competitiveness in your friendly tipping comp got you thinking about competitiveness in the real estate market.
Did your daughter just start at a new school? Write a Facebook post about how funny she was getting ready for the big day and wish all the families out there a great start to the new school year.
Stories allow you to connect to your community and seep into their subconscious. Marketing gold.
3. Know Your Audience (and don't be afraid to show it)
Unless you're specifically talking to a corporate crowd or other agents, no one cares if you know all the big fancy real estate terms.
Rather than setting out to impress with your shop talk, picture your audience sitting in your backyard enjoying a Sunday BBQ. How would you talk to them about real estate in this scenario?
Write it down.
4. Use the Tools
Writing not your thing? That's cool! Thank the tech gods above that in 2018 you don't have to be a poet laureate to let your inner self out into the world. Facebook Live and Instagram stories are fast becoming a staple for savvy agents with marketing know-how. Not only can you showcase your personality without having to write down a word but you're engaging in a practice which Forbes magazine says is now 'essential' for growing your brand.
Give your followers a live tour of one of your properties, or host a Q&A session that answers questions they send in.
Still too much for you? Share videos and articles that you like on your different channels! Chances are, if you like something, someone else will too.
5. Have Fun
Don't take it all so seriously. Have a laugh (at yourself if need be) and put yourself out there. There's nothing more engaging or authentic than someone who's having a go and being themselves.
That's the key takeaway everyone. There's a million different ways you can go about sharing your content but as corny as it sounds, there's only one you.
So, let yourself shine!
Finance Tips for Agents to Put a New Spring in your Step
When economist Richard Holden went to China recently, he saw homeless beggars who wouldn't take cash, they only accepted digital money. This is just one of the crazy stories about finance and the future of money from the recent Real Big Things event in Melbourne.
If you're an Aussie agent you better be well rested, because Spring has officially arrived, and things are about to get hectic. Spring's as much about OFIs and auctions as it is about blooming flowers and shedding winter weight.
At this time of year, the number properties coming to market can triple, meaning there are way more opportunities to drive extra listings. Spring is a commission piñata waiting to be smashed open.
As good as Spring can be for agents, this kind of seasonal variance can make managing the year's profits difficult. This means that agents need to be more aware of their finances so that they can plan for the mid-term and avoid financial stress down the track.
Thankfully, I was recently invited to Real Big Things, where experts in finance and economics talked about money and how people can take control of their finances.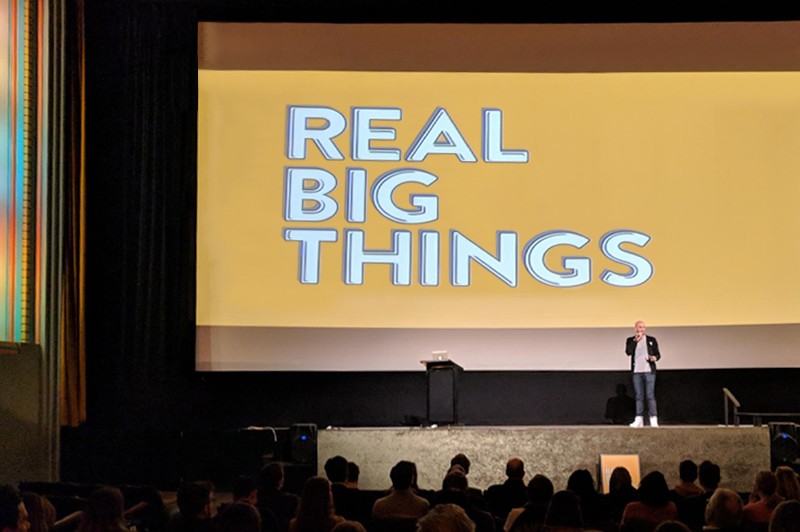 Discover Your Super Power
For many Australians, super is the largest asset that they will ever own. Aussies should always be thinking about our super, even if we're decades away from being able to spend it.
Too many of us lose track of super across a bunch of different accounts when we should consolidate our money and use it to invest. This is the best way to grow your super and ensure you have a long and happy retirement.
When it comes to investing super, speaker Adam Milgrom said that we should think carefully about which fund we choose to leave our super with. Shockingly, he showed us that some super funds invest your money to profit from stuff like slavery and corruption.
He says that investing in ethical super funds lets us create a better world and is great for business because ethical investment, surprisingly, offers higher returns than their profit-seeking counterparts!
Milgrom points out that in total, Australians control $2 trillion dollars of super in total, which is a lot of money that can be used to make a difference.
It truly is your very own super power!
Invest in Trade Secret
It was shocking to hear finance expert Grace Palos tell us that only 45 per cent of Australians are financially literate. This means that over half of us don't have the know-how to achieve financial freedom through things like investing.
Palos says that this isn't our fault and good designers need to improve financial platforms, which otherwise hold people back from investing and other activities that would help build a nest egg.
If you're one of those people who has always put off getting started with investments, she recommends learning about finances in social groups and setting realistic goals. People who learn with their peers are more likely to persevere and succeed in the long run.
Before you start investing you should set some goals and think about how long it will take you to achieve them.
Realistic is the key word.
You are more likely to do well when you aim for financial freedom than start with the idea of becoming a millionaire.
One step at a time (millions will come later).
Your Saving Grace
Some of us suck at saving. For people who survive off commission this can be especially challenging. But if you get it right you'll always have a backup nestegg to sustain you through the quieter months.
When George Lucas (no, not that George Lucas) spoke at Real Big Things he said that it's important for people to develop an emotional connection to their savings.
He says that a sense of pride in your own savings is the only thing that can help us stick to our financial goals and override the temptation to splurge on things like new clothes or fancy dinners.
Unfortunately, this kind of emotional attachment isn't something we're taught and is important when thinking about money. However, it's easy to change this. Train yourself by making small goals that make you happy and proud when you reach them.
By doing this, according to Lucas, an agent makes a choice that will make you happier and less stressed in the long-term.
Tis the Season
Spring is like Christmas time for agents. It is your busiest time of the year and by the time it finishes you will be exhausted. After any good Spring you will have a neat stack of nice, fat, commission cheques waiting for you at the end of it all.
When you take control of your finances and prepare for quieter seasons you make sure that you can enjoy the spoils of Spring all year round.
Gearing Up for the Busy Season
Agents, are you ready?!
Right about now, prospective vendors' letterboxes will be filled to the brim with "Spring Has Sprung" LBDs from agents desperate to catch up on the prospectives they should have got to months ago.
In the next few weeks, there will be a rush of houses that come to market with optimistic (read: 'unrealistic') prices and reserves that have been pumped up by the same agents in a bid to beat the competition to the listing agreement.
OFIs will undoubtedly be filled by fast moving, educated buyers and a lot of the new stock will quickly become old hat if the prices and marketing programs don't keep pace.
Spring is the season that makes or breaks agents. Put simply, if you don't get ahead, you're going to fall behind.
So, how do you avoid the mess and make sure that you get the best listing, at the best price to attract ferocious bidding from the best buyers?
The answer is to leverage your database.
This is where ActivePipe comes in. Log into your dash and have the phone handy. It's time to let your fingers do the walking.
Skip the LBDs and get in front of the right sellers, now
We know there's a bunch of potential incredible sellers you have not met yet, so you need to find the 'highly active buyers list' and show them some service.
We already know that these people are fixated on the property market, so you need to log into your 'highly active buyer' list and check out each of their favourite properties (that's easy, we have them listed right there on their profile). When you pick up the phone don't mince words, get straight to the point.
"We have sent you loads of properties over the past few month and I was wondering which ones might have caught your interest? Maybe the three bedder on Jones Circuit is something you would like to see this weekend before the rush?"
By drilling into the properties that they have been clicking on, you are jumping all the ice breakers and getting relevant, fast. This puts you at the top of their 'agents who know exactly what they need' list. In 2018 relevance is king.
Put them in front of the right homes that suit their preferences even if they are not your listings. Help them out with market info and put in the extra hours. This will bode well for you when it comes time to choose who will be listing their home.
Who you gonna call?
In 2018 we learnt that over 50% of your buyers are also sellers, so you need to get face-to-face and put your professionalism on display. The best way is by enticing as many of them as you can to visit your offices' listings.
Pick up the phone with your list of highly active clients and profile updates.
Target the different profiles, one at a time. Start with upsizers and downsizers. You already know exactly what their intentions are, so be the agent that cuts through the bull**** and asks the right questions. Remember, getting to the point fast saves them time and gives you greater capacity to spend more time with the right buyers.
"Hi James, it's Ben calling from Action Estate Agents. I'm just calling to say thanks for letting me know about your intentions to find a bigger/smaller home. We have a few available that are going to suit your needs. We also have a few off market opportunities –  let's discuss some addresses you should see this weekend before the crowds beat you to the best homes on the market."
Take aim, then fire. Don't let the market opportunities pass you by as you chase "would-be deals", go for the best targets first.
GOING ONCE, TWICE……THREE TIMES….. SOLD.
Let's talk about getting the right buyers and registered bidders to your next auction. 10/10 buyers say they would buy the right house, at the right price and most of them would consider even the slightly right house, at the right price. So how do you drum up buyers?
There is no time to waste. As soon as your new listing is blasted out to the best buyers, you need to pick the most engaged. Get on the phone and start generating actual foot traffic for this weekends OFI.
Sally for example, is in the top ten most engaged list for your auction listing in Summerset Place.
You could try this script:
"Hi Sally – glad I caught you before the weekend. Did you have a chance to check out my new listing on Summerset Place? It's 100% the style of property that should catch your attention. Would you like to have an early viewing before the crowds? The vendor is really keen to move this along and has asked me to invite all interested parties to an inspection. How about Saturday, 9am?"
This is of course, just an example. Every agent has a unique personality, so it's important to  create a script that feels natural and authentic to you.
What matters is that you are ready to show some clout and spring into the busy season.
Best of luck!
Get Your Weekends Back
There's nothing worse than getting to the end of the week and realising that many tasks on your to-do-list have been left unchecked. There's no charming real estate genie who's going to sneak past reception at 5pm and save you from them, so you better get cracking now, lest spend your precious weekend off with your nose buried in work.
We don't have to tell you how busy your life is, but we can give you tips on how to use your time effectively, so that you never have to work a weekend again. Here's how to wake the precious time management genie that's laying dormant inside you.
Start Early
The early bird catches the worm. The way you start your day will set the tone for the rest of it, so implement an effective morning routine that you'll actually stick to. This should always begin with a nutritious breakfast but can also include doing some stretches, going for a brisk walk or taking 10 minutes out of your morning to sit and savour your coffee rather than chugging it down on the run. Now that you're feeling centred and your mind is clear, it's time to transport this energy into the office, so aim to be the first one in there with a beaming smile on your face. Your mind is fresh, so the more you can pump out before 9am the better, you'll be hours ahead of your competitors and can walk in your front door at 5pm rather than 8:30pm.
Get Organised
While every property is different, the selling process is generally the same. Instead of starting from scratch every time you need to organise marketing collateral or write up a contract, be prepared. Have pre-filled templates ready in folders you can easily access from your desktop so you can whip up forms in minutes. You might even write up a checklist to help you navigate and streamline the entire process. This will ensure that nothing falls through the cracks. Set up a planner and define your goals for the week so you aren't mindlessly jumping around between tasks. Having this overview will make you feel more in control so you can focus on the job at hand.
Write a To-Do-List
Now that you're organised and know what needs to be done, get pen to paper and prioritise your tasks. It can be satisfying to physically tick off a job once it's complete and this will motivate you to continue ploughing through your list. We recommend starting off with the least enjoyable items and saving the best till last, just like you did as a kid when you were told to eat your veggies before you chow into your mac and cheese. This routine will decrease your stress levels and make you feel like you've got a handle on what needs to be done, and when.
Work During Time Snippets
Is your client running ten minutes late? Perhaps you've finished setting up for an OFI and viewers are yet to arrive. This is all idle time that you can capitalise on to get some of those menial tasks out of the way. This could include a follow up call or replying to an email you didn't get a chance to send this morning. If you have your phone on you, you have everything you need to tick some of those items off your to-do-list. What are you doing reading this blog for? Get cracking! 😜
Learn to Delegate
Don't run yourself ragged. You have a team for a reason and they are all there to support you as you work towards a greater goal. Don't be afraid to ask for help when you need it, it's better to put your ego on the line and get the job done quickly rather than wasting hours fluffing around for no good reason. Your morning meetings are a great place to assign tasks and establish deadlines, so plan your day and map out your priorities before it begins so that you can squeeze the most out of this time.
Time Out is Key
As counteractive as it sounds, don't forget to unplug and take time out for yourself. A good quality sleep each night is essential for your brain to function optimally. This means turning your phone to sleep mode and avoiding too much tech time in the bedroom. If stress starts to rear its ugly head during the day, take five minutes for some deep breathing and mindfulness exercises.
If you follow these tips and manage your time during the week wisely, you'll get your weekends back and your Sundays will feel exactly like they are meant to. You'll be relaxed and able to do all the things you love outside of your 9-5 grind.
Introducing, ActivePipe Webinars!
As an agent, it often feels like there aren't enough hours in your day to chase listings, so how on earth are you going to find time to do training; an exercise that doesn't provide any immediate returns?
Many ActivePipe employees were once agents themselves, so we know what it's like to be strapped for time. We want you to be in the field as much as possible whilst still getting training that will put money in your pocket and make you more efficient in the long run. As a result, we have developed the ActivePipe Webinar Series, a training program that's convenient for busy agents just like you.
All our webinars run between 10 and 30 minutes, so you can watch them when you have a spare moment later in the week!  
Here's what you'll gain just by tuning in.
Industry training
There are a number of different people in your office and each of them is at a very different stage in their career. As a result, their skillsets are as varied as their personalities, so you can't expect them to have the same level of knowledge and provide the same service across the business. Through our webinars, new agents will not only learn about the ActivePipe system, but will gain valuable real estate tips and tricks as well. They'll learn to use call lists to land their first listing, while your more experienced agents can scrub up on their prior training and find opportunities in their existing database.  
Start conversations
Discussing what everyone got out of the ActivePipe webinar at your morning sales meeting will motivate your team to be more innovative, proactive and creative in how they approach the day. Sure, they've been making sales in the past, but how can they start making more? Our webinars have lots of industry tips that show you how to target the right people, at the right time to generate more sales. It's a great morale booster.
Cost effective
Where else can you find personal development training from an award-winning company that doesn't cost a cent? You don't even have to leave the office, so what do you have to lose?
Branding
Many of your staff won't have a communications background so they won't fully understand the concept of marketing and brand consistency. If they watch a 10 minute webinar and complete their training, you'll find that touch points with your customers are more professional and better received.
Efficiency
Once your agents learn how to read their email reports, they will get a picture of what their contacts really want. We'll show them how to focus on people who are active in the market, which will help them turn buyers into life-long customers. You'll learn where the gold is, so all you have to do is dig.
At the end of the day, continuous learning is essential for real estate agents to thrive in their career. ActivePipe webinars are a free training tool that will help your staff find new ways to identify leads in their existing database making them far more efficient in the long term.
Check out our webinars  today, so that your agents have the best opportunity to succeed.
Mastering the Skill of Client Expectations
When you are vying for a new client's business and you are aware that there are several other agents whispering in their ear, it's hard not to make big statements about what you can achieve to get them over the line and secure their listing.
In a competitive market, it's human nature to assert your superiority with sweeping sales statements that you know may be a little far-fetched.  Unfortunately, this is why there is a low level of trust towards real estate agents and why many clients walk away from a transaction feeling misguided.
After speaking to thousands of agents and clients around the world, we've learnt that honesty is the best policy and those who promote complete transparency are those who triumph. Being honest with your prospective clients and managing their expectations will not only cement a positive relationship with them, but they will be the first to recommend you to their network.
Being known as the agent in town everyone trusts, will always work to your benefit, so here are some tricks for managing client expectations. Your business will thank you for it!
Be transparent about what you can deliver
No-one knows the market better than you do. Your finger is constantly on the pulse so you know exactly how a suburb is performing and what the demand is like. If you know a potential listing's value falls between $550,000 and $600,000, tell the sellers that. Don't say you are going to get them $600,000 + and hope for the best, because it will come back on you at the end. The vendor will think that you haven't put in the hard yards, which will lead to a poor review. Being honest about timelines is just as important. As the market slows down, remind sellers that their property might be sitting on the market for longer than expected because there is less demand out there. The key learning here is under promise, over deliver.
Establish outcomes
Every real estate agent operates in a slightly different way. This means that vendors can come to you with service and deliverable expectations that deviate from what you provide. For example, they may expect you to answer the phone at every hour of the day whether it's 10am or 10pm. Perhaps they've seen those ads for agents who work for a set free rather than commission and are questioning why you don't do the same. To avoid complications, the best thing you can do is establish your outcomes from the get go. This can include a timeline, advertising budget and commission rate.
Write it down
Once you establish your outcomes, write them down, have your client look over them and once you are both happy, get the contract signed off. Having physical proof of the terms and conditions keeps you both accountable and is a great reference if either of you think you are going off track. If things go wrong, as they inevitably do sometimes, you know you have something to fall back on. Be specific. The clearer you are, the better.
Overcommunicate
One of the biggest problems in the real estate industry is a perceived lack of communication. We understand that agents are busy, but at the end of the day, they are managing the sale of their client's largest financial investment. This is a big step for many vendors, who are often emotionally invested because they've spent years under that roof and may have even raised a family there.
Some of the little details in the selling process that you wouldn't think much about mean a lot to them, so keep your clients in the loop as much as possible. No-one who's in the process of selling their home is going to be bothered by an additional email or phone update. They'll more than appreciate your thorough service, proactivity and enthusiasm.
Stay in touch
Just because the sale is complete, doesn't mean you should stop communicating. In five years time, your vendor might sell again and when they do, you want to be the first person that comes to mind. Staying in touch doesn't have to be laborious as systems such as ActivePipe exist. These automate your customer touch points, so that emails are being sent out on your behalf with minimal effort. If your contacts are seeing your face over these years, you'll be the first person they call when they come to market.
Remember…
If you're honest from the get-go, establish the conditions of sale and communicate with your contacts throughout their entire journey, they'll be happy with the outcome no matter what. Doing these things show that you've tried your best.
Don't underestimate the value of managing your clients expectations. For their happiness and yours.
Why Every Agent Needs to Understand ROI
If you've been playing in the real estate game for awhile, there's no doubt you've dropped the term ROI from time to time.
Let's face it… It's a great way to nudge Mr-and-Mrs-Investor over the line when they're sitting on the fence over that great two-bedder you know is perfect for their portfolio.
But did you know that ROI is as integral to your business as an agent as it is to the investors you are dealing with on a weekly basis? The type of ROI I speak of has nothing to do with bricks and mortar and everything to do with getting the best bang for your buck and turning your business into a profit machine.
It all comes down to marketing.
What is ROI in marketing?
Just as investors weigh up the probability of a profitable return on an apartment, you can use the same calculations to judge the investments you make in your marketing strategies. Whether it's the money you spend printing brochures or the cost of designing banners to display out the front of your open home, every effort you make should result in dollars. There's a number of strategies that can work for you, you've just got to decide which one is going to generate the most profit with the least amount of effort.
How do I maximise profits?
Email marketing is an absolute must. According to recent studies, the median email marketing ROI is 122%, which is four times higher than any other digital marketing channel. If you're not making the most of the opportunities it presents, your competitors will be and you'll be missing out on potential listings. It's that simple.
Let's take a look at this real world example. Agent Sam recently invested $500 a month on an email marketing software program for his office. He's had a pretty good start and the software has landed him 5 appraisal requests that he wouldn't have received without its help. As we know, approximately 25% of appraisal requests result in listings and Agent Sam has easily hit that mark. He's now got two listings under his belt. Both properties are set to sell for around  $600,000, which means Agent Sam is about to make a profit of $24,000! He's over the moon but how did his ROI fair? Let's crunch the numbers.
Agent Sam invested $500 into his software resulting in $24,000 commission. To work out his ROI you simply divide the profit he made by the investment he put in. Agent Sam scored a ROI of 480%.
The lesson here is don't fall into the trap of thinking of software as an overhead or an 'expense'.
At the end of the day, good ROI practice comes down to smart spending. Allocate your budget correctly to ensure that you squeeze the most out of each dollar.
Your Customer is Numero Uno
What you want and what your customers wants aren't always going to line up. Design your email communications around content that adds value. This means staying relevant and keeping things as personalised as possible. Software like ActivePipe tailors your emails automatically so that your customers never feel like they're part of a spray campaign. As top ranking agent Glen Coutinho puts it:
"ActivePipe puts my face in front of 5000 people and most of them think that I've written the emails individually, so it really works in my favour."
Know Your Metrics
Data is everything. Use it to dig deep and discover what is and isn't working for your digital marketing campaigns. The beauty of digital is that you can track your leads from origin to sale, which means you can directly see how your campaigns have translated into listings. Once again, investing in software that does the hard work for you is the simplest and most effective way of documenting these metrics. ActivePipe will not only tell you who's interacting with your emails but will foster every stage of your relationship with these prospects.
Experiment
The likelihood that you'll stumble across the perfect marketing strategy straight off the bat is slim. Perfection takes practice and this means engaging AB testing and always being on the lookout for something new that will excite your contacts. They're probably getting emails from a few different agents, so it's worth trying to do something that stands out such as a competition or a personalised OFI invitation that makes them feel special.
Automation is key
To keep the labour costs low and save yourself from a mountain of screen time, it's time to think about email automation. ActivePipe makes the process simple by allowing you to build emails that deploy regularly at a predetermined time or with a trigger such as a clicked link. Companies that use marketing automation technologies report a 53% increase in their lead generation and sales conversions. Why wouldn't you want to give that a go?
The verdict?
The marketing software you choose can have a colossal impact on your operational efficiency and ability to reach your contacts in a meaningful way. ActivePipe not only nurtures your database but also generates leads by identifying your high value contacts, so you can get the ultimate return on your investment.
It's a no-brainer really.
Gun Agents Know these Words
We all belong to clubs, and every club has a special set of words that they use to communicate. Being an agent makes you part of a club and, as a member of the agent club, you have a special language that helps you communicate effectively with other agents.
At ActivePipe, we sometimes use words that you aren't familiar with. These might be technical terms or marketing terms that help us express ideas that are unique to our industry.
These words are essential tools, but they can be difficult for people from outside the club to understand. That's why we've prepared this set of simple explanations to turn you from a pen and paper agent into a digital marketing machine.
Marketing Automation
Marketing automation is a broad term which refers to marketing campaigns that are enhanced with software. It's about finding ways to save a salesperson time, without sacrificing the quality of the content they produce. In ActivePipe's case this means an email campaign that can be scheduled and sent automatically.
In the past, a marketing campaign might have involved posting a brochure to every post box in a suburb.
Marketing automation is the same process, only supercharged.
Imagine your brochure is being delivered by a mail carrier who knows the name of every resident in the street. The carrier can personalise all mail, only send stuff to people who are interested and can deliver billions of brochures in a second.
This is the power of marketing automation.
Predictive Models and Intent
Predictive modelling is about using data to predict future events. In a number of industries, including marketing, predictive models are used to design effective campaigns.
Technology has made it possible to predict more accurately, so a lot of attention is now devoted to how data can determine customer intent. Automated tools, like the algorithms that generate ActivePipe's intent data, give agents accurate and timely information about customer behaviour so that you can affect contacts with your digital marketing.
You don't have to be Rain Man to decipher those numbers as these programs present easy-to-read pictures and graphs that show people how their past campaigns have performed.
Behaviour Triggered Communications
Spam is a common reason a contact will unsubscribe from your mail list.
Behaviour triggered marketing is a modern tool that lets agents serve a campaign to a portion of their contact list, and spare those who aren't interested.
Using triggers is the best way for agents to prevent these unsubs.
Software companies use "machine learning" to target contacts who show interest in certain products or services. People who are targeted by automated marketing stay happy because they are only being served the things they want and need. Agents then save time on their marketing campaigns which will produce better leads.
Customer Lifecycle
Customer lifecycle is a term used to explain the motions a customer goes through on their path to purchase. It can be broken down into a number of stages: reach, acquisition, conversion, retention, and loyalty.
These stages are:
Reach: make the contacts hear you
Acquisition: make contacts interested in what you have to say
Conversion: get contacts to invest by buying something
Retention: upsell products to make contacts commit
Loyalty: contacts are so confident with service that they will recommend you
Chances are, you're already doing some of these things. You have your contacts at the acquisition stage when they subscribe to your mailing list. You have contact loyalty when they pass your card on to their friends.
Being able to define the steps allows agents like you to identify a contact's needs and service those needs better.
What does it all mean!
These are all methods that will save you time and give you a supreme advantage over traditional pen and paper agents. Our users know that ActivePipe gives them the tools to generate real leads and turn contacts into customers for life.
By using predictive modelling, we can give you data about how your customers are likely to behave. This gives you the opportunity to target users with behaviour triggered communications that reach the right customers and prevent spam and unsubs.  This helps you nurture your contacts throughout the customer lifecycle and drive high sales and loyalty.
At ActivePipe, we do the hard work, so you don't have to.
How to Prepare for a Soft Market
Real estate agents are at the whim of a constantly fluctuating market. Seasons change, interest rates rise and fall and house prices respond to wider economic conditions. This means that as an agent, you need to take the good times with the bad and embrace the success a tough market can bring to those who are not afraid of a challenge.
Australia is a great example of a country where house prices have been steadily rising for the past ten years and have suddenly flatlined. Economists are predicting the same trend worldwide, which puts increasing pressure on agents who will now have to revert to survival mode to get by. They are no longer in the position to ask for higher prices and vendors may have to settle for less than they hoped for. At first, this can mean lower commissions, and harsh agent ratings which is a difficult situation for an industry which relies on referrals to build pipelines.
The good news is that a tough market poses opportunities for those who know how to find them and with a little perseverance you can thrive. This is because soft markets whittle out the weak. Agents who've only ridden the wave of a strong market are not used to having to fight it out and have not developed the skills to hustle when times are tight. In these situations, those with grit and determination will succeed.
Here are four things you can do while you're waiting out the storm.
Re-evaluate Your Marketing Budget
A tough market means you have to justify every dollar you spend. To do this you must evaluate the results of your current advertising campaigns and work out where your best leads are coming from. This will help you decide on how to get the best bang for buck so you aren't withdrawing funds from your most prosperous channels. Whether it's an ad in the local newspaper or the properties featured in your EDMs, each strategy is an investment that should result in hot leads.
Work on Your Service
It can be hard to find the time to check-in with your clients when the phone won't stop ringing. See the downtime as an opportunity to be proactive and work on improving your service offering. This might mean creating a listing presentation dec for your new clients or preparing a guide for budding investors with the key terms they need to know. While this may not seem immediately fruitful, these documents are great to have in your arsenal and will help you attract business in the long term.
Most importantly, YOU need to get on the phone.
Aim to double the number of outbound calls you would normally make in the busy season. Remind your community that you are active in the market and the best agent for the job.
Spend More Time with Sellers – They Need Extra Love & Attention
The people who need you most during a tough market are your sellers. They're just as impacted by the conditions as you and need reassurance that selling is the right decision. You've got more time on your hands, so really work on building that relationship and creating a customer for life. Go the extra mile to help them and that investment will pay off in the future. They will understand that you are doing everything in your power to help them, meaning they'll be more likely to settle on a price that isn't up to their original expectations. Remember trust is key and having an open dialogue backed by facts and statistics will get you far.
Nurture the Leads You Have
Now that your sellers are firmly front-of-mind and you're pumping out the phone calls each day, it's time to work on your email communications. Make sure you are using ActivePipe to send out beautiful weekly listings to your contacts. It not only keeps them up-to-date with the local market but it will cement your position as a local expert with plenty of business coming through the door.
Work on You
If all else fails and you're feeling a little disheartened, use this time to hone your skills through online training courses and personal development initiatives. Why not prepare yourself for upcoming real estate trends by cultivating your skill-set in a specialised niche such as eco homes, luxury living or off-the-plan developments. Having a specialty will ensure your value to your employer and you can potentially charge higher fees for your expertise in the future.
Remember
While many of your competitors take their foot off the peddle and accept defeat, this is the time for you to step on the accelerator and focus on your lane to get ahead of the pack. This is the perfect time to develop your long-game. Do this and you'll be full throttle when the market picks up.
How To Get The Most Out of Your ActivePipe Trial
So your office has signed up for a brand new program that they swear is going to change your life.
You've heard this all before and to be honest, you think that learning a new system will be more hassle than help. I get it. We've all been persuaded to sign up for a gym membership that we end up cursing a few months later when we realise we're spending $60 a month on a pass that we've used a small handful of times.
Starting a new system can be difficult – a hindrance. To get results you need to be prepared and make it a habit.
ActivePipe is an incredible system and I promise you it will change the game if you get involved, do your training and consistently login to get results.
Soon enough it will be second nature and you'll be wondering how you ever lived without it.
Here's how to make the most of your ActivePipe trial:
Understand what ActivePipe is before your training session
This is so important. How can you best utilise the system if you do not fully understand its capabilities? When we send you your login details, the email contains a short video. Watch it more than once. It is jam packed full of goodness, short and sweet and a great overview of the system. If you do this, you will understand the context which will make your participation in the training session far more effective. You'll be able to ask more meaningful questions so that your time is not wasted.
Understand what type of email communication you want and need
What is your ideal email marketing communication journey? Why are you sending your contacts emails at all? Is it to increase property clicks to your website or is it simply to stay in touch? Have a good, hard think about this because it will shape your entire customer journey. If you have a clear picture of your ultimate outcome, chances are we can make it happen.
Communicate the system to your team
Communication is key. ActivePipe is an office-wide platform and it works best if everyone is on the same page, so ensure that every team member attends the demo. Pump up your team and get them excited before training so that you all get the most out of your trial. As a rule of thumb, start discussing the training a week before your trial begins and make sure you have questions to ask your trainer prepared. Every one of them will be answered – there is no such thing as a silly question.
Let ActivePipe Revolutionise Your Sales Meetings
Once you've completed your training and your trial is underway, make sure you track results from your ActivePipe dashboard and catch up with fellow team members or management to discuss them and formulate a plan of attack. You'll start seeing results as soon as that first email is sent out.
Use meetings as an opportunity to practice sales scripts for your 'profile updates' and start incorporating the platform into your team trainings and personal development sessions.
The Verdict
Consistency is key.
You need to be prepared and regularly keep in communication with your interacting contacts, constantly have team meetings that incorporate your ActivePipe learnings and most importantly, be consistent with your logins and really dig deep into that data.
Read the results and start calling!  You have a warm call list handed to you on a silver platter and best of all, whilst you're in your trial stage, it's all for free!
Remember, we are here to help so if you have any questions, please get in contact with your dedicated ActivePipe Client Success Manager.
No question goes ignored. We love our product and want to give you every chance to succeed.
Why Should I Care?
Because ActivePipe will change the way you do business forever. Not only will we find you hot leads but we'll nurture them throughout the entire real estate journey, creating you a customer for life.
The best part? All you have to do is login.
Downsizer Data – Why it Pays to Dig Deep
Can you believe that the generation who brought you flower power, free love and The Beatles are on the verge of retirement? The baby boomers thought they would be forever young but the world's largest demographic are now well into middle-age and easing their way into their golden years.
This means that the large homes in established suburbs they bought for $100K in the 1970s are now approaching the million dollar mark. These are the perfect properties for young, enthusiastic and entrepreneurial families who have already sold their first home and are looking for somewhere to establish roots.
Just as a tree sheds its leaves to make way for new life, this is the natural lifecycle of real estate. Agents need to understand the requirements of upsizers and downsizers if they want to capitalise on the opportunities both parties present.   
The traditional downsizer is an empty-nester whose adult children have started families of their own and no longer require the back bedroom or basketball hoop hanging above the garage. With a seniors card in hand and some time to themselves, they dream of a simpler life full of travels, good friends and maybe even a new set of golf clubs. They are at a point in their lives where they've done the hard yards and just want to relax into something smaller and more manageable.
Let's take a look at Amy and Michael's story. Michael had a long career in IT spanning over forty years at a mid-size company in the CBD. He was earning good money and was a fastidious saver, always plugging away at the retirement fund and making good investment decisions. Amy was a full-time bookkeeper who took ten years out of her career to bring up their twins, Chris and Nathan. Once the boys were in high-school, she took up some part-time work but was never the household breadwinner and couldn't contribute much to the super fund.
Now that the boys have left the coop and started their own lives interstate, Amy and Micheal want to spend a few years travelling the country. It's time to sell the family home and buy a unit near the sea, which they can rent out whilst driving around in their newly purchased campervan. Even though they are established and have paid off their mortgage, the cost of bringing up kids, interstate getaways and part time work, means they're not obscenely wealthy.
They do have a long standing relationship with Agent Ash, who you might remember from our story about how to service divorcees in their time of need. He's been great at keeping in touch with Amy and Michael over the years, with his automated ActivePipe emails, and because they know his service is second to none, they give him a call and tell him about their plans.
Agent Ash is excited! He has the perfect buyers in mind. A young family with baby number three on the way looking to upsize. The great thing about downsizers is that their properties tend to be on large blocks close to schools and other amenities, so he knows he is potentially staring down the barrel of a healthy commission cheque.
That's the story you all know, right? Retirees certainly make up a large chunk of downsizers but you'd be foolish to disregard the growing number of young people who are turning their backs on the traditional 'bigger is better' dream in pursuit of a simpler life.
People are working longer hours and spending less time at home, so convenience is more important to them than size. To identify non traditional downsizers, you need to be a little tech savvy and have systems in place that tell you who is clicking on those smaller properties online.
Having this insight will direct your conversations and set you up for success. For example, if you find yourself on the phone to a retiree ready to make the big move, why not suggest the services of a local removalist company who can help them declutter and pack the belongings they've amassed over the last 30 years? Going this extra step will solidify your relationship.
You also need to understand the types of media older people engage with because that will shape your marketing strategy. You may want to invest in more traditional advertising such as a local newspaper rather than the online methods you rely on to reach first home buyers.
If it's a younger downsizer you might want to focus on the sustainability features of the new property and the possible savings they can gain from a smaller home.
Key Takeaway
Whilst Amy and Michael have happily parked their campervan at a beautiful beach down by the coast, they're not the only people who should come to mind when you're thinking about downsizers. They now come in all shapes and sizes and you should be equipped to service each of them according to their individual needs.

Take the time to learn their pain points and provide solutions to their concerns. Having as much advice and information as possible will put you front of mind and ahead of the competition so that you have a customer for life.
If you don't know where to start, jump on your ActivePipe dashboard and check out your profile updates so you can see who has been categorised as a downsizer. Don't just assume that you know who they are and what they are looking for, dig into the data and find out.
You might be surprised by the upper hand a bit of research can give you!
Simple Design Tips To Boost Email Engagement
When it comes to design, the old saying stands true. Less is more.
I've been a designer for close to 15 years now, and whilst the technology has changed, the basic principles are still the same.
At the core of everything I do, is a desire to improve a user's experience (UX) and minimise visual clutter so the call-to-action is clear and audiences know exactly what their next step is.
We all know what a bad email looks like. It's busy, content heavy and lacks cohesion, so it probably ends up in your trash folder before you get to the bottom. This can undermine your credibility and damage your reputation so here are some tips to save you from making rookie design mistakes.
What is UX?
UX refers to the emotions and attitudes a user feels when they are on your website or interacting with your email communications.
The words you choose, the colour scheme you implement and the images you upload all contribute to an overall vibe that subconsciously affects the person behind the screen's impression of you and your company.
Why is this so important?
An understanding of UX can greatly improve the interaction between you and your clients, as a harmonious and visually pleasing layout makes them more likely to take you seriously and click through to your listings. We all know that the more clicks your property gets, the more likely it is to sell faster and for a higher price, so it's worth making sure each property stands out and isn't lost amongst the digital mess.
How do I improve my UX?
Keep your designs clear, clean and simple. Cull irrelevant information and only display what your contacts need to see. Give them just enough to pique their interest and they will be on the phone to you in no time. This gives you a chance to cement the relationship rather than just being another agent in their inbox. People lose interest quickly, so put the most critical and engaging information up top and always keep in mind that visual hierarchy is important.
How do I put this into practice?
Space is everything. In the world of email design, this means plenty of white space, minimal imagery and an overall reduction of content.

Try and stick to three colours or less and a maximum of two fonts. This isn't a school project so stay off the Comic Sans and reign in the urge to distract your audience with flashing icons and over-the-top graphics.

Make sure your copy is succinct. The less words you use the better, as people tend to read emails on their phone whilst in transit. They scan communications looking for key words, so reel them in with a teaser and provide a link for more in-depth information.

In saying that, try to use some descriptive headings as they break up your content, making it easier to navigate and digest.

If all else fails, beautiful, high quality images are always a winner so jump on one of the many free image providers to be found on the internet  and find something eye-catching that visually represents your key message. As always, avoid overdoing it. Remember our mantra… Less is more.

Keep your call-to-action clear. Ask yourself what you want your contacts to do after reading your email. If you know 'why' you're doing it, creating a CTA should be simple.
The Verdict?
Simplicity is a key principal of good design and the reason why some companies thrive whilst others fail. Get inside your user's mind and try to imagine what experience you would like to have if you received this email yourself.  Would you want to be inundated with superfluous information? Or would you like clean lines, minimal copy and space for property listings to shine?
Go ahead; remove, organise and hide what isn't needed. If you keep it simple, you'll be on your way to being a top-notch email designer, no matter what your skill-set.
Ebany's Top 5 Tips To Win Agent Of The Year
The first time I felt the thrill of being in first place was in primary school when I won the 400m. Being first across the line felt great, and I was hooked.
I have been fortunate enough to experience the buzz and adulation of being first across the line a few times since then and each win has been a bigger milestone than the last.
As time goes by, these victories are further apart but more meaningful and challenging. The competitive nature of being an agent means we have some steep competition to endure, however that makes the recognition all the more satisfying. In 2015, I was recognised as the highest rated agent in the Australian Capital Territory.
What separated me from the rest of the pack wasn't as tangible as reaching a finish line. It was client testimonial.
In the digital age, nothing makes quite as much noise as a decent rating, and all consumers look for public endorsement before making a purchase decision. Shopping for a hotel? You go to TripAdvisor. Booking a restaurant? You check out Google Reviews before picking up the phone.
It's easy enough to get a pat on the back from a fellow staff member or the boss of a franchise but getting written recognition from your client is important validation for potential future sellers. It helps prove value for service, which means higher commissions and less contention around VPA and the selection of sale method or price.
Want to be in the running to win Agent of the Year 2019?
Here are my 5 top tips to get you there.
Start with the basics
It breaks my heart to be late for an appointment. It always has and it always will. Being on time means being organised and really, that is as basic as it gets. Kick off your new financial year with a resolution to be on time and prepared for your meetings. Prior preparation prevents poor performance, so get organised!
Focus on your clients intentions, not your own
Service is everything and being number one means knowing your client's genuine intentions before your competition. Identify your client's needs and have a robust program in place so you can deliver what is relevant. If you throw them all in the one bucket and treat them all like 'current buyers' or '90 day sellers' you will miss the mark, so take the time to ask the right questions and deliver the right service. If you tailor your communications, your pipeline will grow.
Be available, and have water tight processes when you can't be
People say that real estate isn't just a job, it's a lifestyle that requires being constantly available to meet your client's needs and provide support throughout the buying or selling process. Most people can't work 24/7 and those that try, burnout, so make a promise to yourself to have the systems and processes in place that enable work-life balance.
You need to leverage your time while still being able to walk away from the phone to recharge. The best way to do this is to let your vendors know when you are having down time and let your buyers know what your work hours are. This will give you the space you need without letting anyone down. As always, communication is key.
Look the part
"You should always aim to be the best presented agent in your area. It lets your clients know you are serious about doing the best you can for them and their home", says Haesley Cush, one of the best dressed people in the industry.
When you stand out the front of a new listing, you are not only representing yourself, your office and your team, you are also representing your clients and their interests so take pride in your presentation.
Transparency is the currency of 2020
The days of drip feeding your clients information, hiding the price and delaying communications are gone.The quickest path to the best results is built on trust and relies on complete and utter transparency. The more your clients know, the better decisions they can make and the less stress you will have holding it all in.
Got an offer? Tell the other buyers, let the competition feed the process. Offer fallen over? Call your vendors instantly and let them deal with it now rather than letting it hang over the weekend. Your vendors and buyers will love you all the more for being up front and forthcoming with the facts which will make you number one on the leaderboard.
Unsubscribes Aren't Always Bad News
"Awesome, I just got an unsubscribe!" said no one ever.
You spend years building up a database of contacts and weeks crafting a series of emails you think they will love. You activate the campaign and are wrapped with all the positive feedback you receive from your clients.
Then you check the reporting and realise someone unsubscribed. They no longer want to hear from you and that can feel like a real punch in the gut.
Instead of getting all worked up about it, I challenge you to see it as a natural part of the marketing process.
When ActivePipe starts communicating with your database after years of radio silence, it's common to experience a few unsubscribes. This simply means that your contact has no current interest in the property market so don't take it personally.
Here's what to do when an unsub has you feeling down in the dumps:
Revisit Your Dash
Go back to your ActivePipe dashboard and remind yourself of how many people are interacting with your emails. They're highly engaged with your content and are volunteering vital information about their property intentions. Who cares about a couple of unsubscribes when thousands of people are enjoying your content.
Call Your Unsubscribers
Call the people who unsubscribed and ask them for their feedback on the campaign. This conversation is a great opportunity to find out where they are positioned in their property journey so you can update their status in your database.
"Hi Madeleine, it's Joe from so and so real estate, how are you?
I noticed you unsubscribed from my email list so I thought it would be a good time to catch up and see what you've been up to since we last spoke at 123 Random Street."
Adopt a Quality over Quantity Mindset
Real estate agents often compare the size of their database, assuming the higher the number of contacts they have, the more leads they can generate. This is not true and having an interactive database is far more important than having a loaded one. Communicate with those who genuinely want to hear from you and deprioritise the rest.
Clean Your Database
Unsubscribes are a great way to clean up your database without doing any extra work. Having unengaged contacts can seriously affect your deliverability so see their unsubscribe as an opportunity to improve your customer data and reach those who want to hear from you.
Don't Be Disheartened
Remember that most people have an interest in the property market, even if they are not ready to transact. Don't let a few people stop you from keeping in contact with those who want to know about property trends in their area. It might be a year or two down the track but guess who they are going to call when they come to market? You!
At the end of the day, every sales person experiences the heartache of an unsubscribe from time to time. Be more productive by communicating to the people that want to hear from you and start cementing the foundations of a genuine relationship.
An unsub is a blessing in disguise.
How to Use ActivePipe to Enhance Your Marketing Mix
Twenty years ago, an agent would print out flyers, organise a mail drop and base their cold calls off surnames listed in the White Pages. The entire process relied on mass distribution and a little bit of luck meaning inbound leads were rarely qualified.
These days much of the guesswork has been eliminated from prospecting and every piece of advertising implemented can now be traced right down to a single 'click'. This visibility is one of the great advantages of real estate's digital revolution.
What hasn't changed since the early days is the importance of understanding a customer's journey down the path to purchase. What we see now is a growing trend for lead generation through digital channels and social media platforms such as Facebook and LinkedIn. These allow agents to get in front of contacts with targeted advertising. Once you've captured the attention of potential clients and these leads find their way into your database, ActivePipe kicks in.
As our platform is specifically designed for real estate, ActivePipe profiles new contacts and nurtures them with ongoing automated email communications relevant to their property intentions. This makes the platform just as important to an agent's marketing mix as a 'For Sale' sign with their smiling face on it.
The listings in these email communications drive customers to click through to the agent's website which can be tracked via a cookie, web hook or Facebook pixel.
So you're probably wondering what a choc-chip cookie has to do with your marketing efforts?
I'm not saying you need to spend your Saturday mornings whipping up a batch of the sweet stuff to hand out at your open homes (although it probably wouldn't hurt). What you need to do is get your office's resident tech-head to install a digital cookie or pixel. This is a small file with an ID tag that tracks visitor movements on your website so you can serve them Facebook ads and Google adwords.
If this sounds too complicated it's best to get a digital agency such as our friends at StewArt Media onboard who can take care of the technical stuff for you. It's a worthwhile investment that I encourage you to make.
So, let's talk about ActivePipe's role in digital marketing mix
As I said earlier, the platform is designed to nurture your contacts. The detailed reporting of their interactions will give you a bigger picture of what your most popular properties are and who they interest. You can use this data to select the listings you should prioritise in your sales efforts.
Let's say that 123 Smith St is barely getting any engagement. You look at the reporting and see that it's quite run down and in an up-and-coming suburb that is about to take off. You instantly know that this is the ideal property for an investor.
It's time to jump onto your ActivePipe account and look at the list of people who thanks to our behavioural driven algorithms are classified as 'investors'. You can extract this list and upload it into Facebook Ads Manager and it will automatically create a Facebook audience based on the data you've input. You can also set targeting parameters such as age, distance and interests. Once you've done all this, activate the campaign with a simple click and your ad will go straight onto the screens of your intended audience.
You may have noticed this working on your own newsfeed. Remember that time you were dreaming about a holiday in Thailand? After having a quick google for cheap flights, you spend the next three weeks inundated with Jetstar and luxury accommodation promotions. That's targeted remarketing advertising at work.
So, what can you take away from this article?
With the ability to target potential leads in minute detail, digital technologies have revolutionised the prospecting process for agents. Everything online is trackable and marketing strategies can be enhanced by the data intelligent platforms such as ours provide.
So stop just thinking of ActivePipe as an email builder and distribution tool and start using it to its full potential. Really dive into the data and use those insights to direct and develop a true multi-channel marketing strategy. While it might sound complex, the reality is It couldn't be easier. The best thing is everything you need is right there on your dashboard, it's up to you to make the most of it.