Leader of Leaders: The Rise of Leanne Pilkington
Leanne Pilkington has been in real estate for a long time. In that time, she has accumulated prestigious awards, setup organisations and established herself as a leader and role model. She is the president of REINSW, Managing Director of Laing+Simmons, and Founder of Real Women in Real Estate (RWIRE).

For someone so accomplished, Leanne Pilkington is down-to-earth and candid. As a woman I look up to, I was honoured to sit down with her to discuss how she got to where she is today, and the bright future she's continuing to forge for herself and all women in the real estate industry.

Origins of a Real Estate Icon
A twelve-year old Leanne started out answering the phones at her dad's real estate agency and would go on to become one of the most influential people in Australian real estate.

"It was never a burning passion," Leanne says, talking about how she fell into real estate after graduating.

"Honestly, I went to Schoolies like everybody does, and I ran out of money. Dad said, "Yeah, all right, I'll send you some money, so long as you work for me until you go to uni.'"

Leanne would work for her dad for eight years, learning her way around the industry.

"Working for dad wasn't really ideal for me because I would give him too much of a hard time. I wouldn't take directions from him. Typical teenage girl," she jokes. "I recognised that I needed to get out of that environment if I really wanted to grow and develop a career."

This knack for pushing herself out of her comfort zone is something that has defined Pilkington's career. For a period, she even made a move into other industries before returning to real estate in the 90s, when she would join Laing+Simmons.

Leanne has been there ever since. In 2015 when she was named Managing Director, she was the only female managing director in NSW, and one of the few across the country. From there, she has gone on to become the president of REINSW, where she wields tremendous influence in NSW residential property, an industry which turns over $107 billion annually.

Leanne Pilkington: Advocate for Technology
Pilkington says that in all her time as an agent, the biggest changes to real estate have come from technology.

"I think that in my first 25 years of real estate, nothing has really changed," she told us, "the only thing that would change would be the market conditions. But now there is so much money being poured into technology, and although I don't think we've really seen a disruption yet, it's coming."

Leanne is working to turn Laing+Simmons into the real estate brand of the future.
"We're working on a lot of really exciting technology at the moment. I'm really pumped to see how that makes a difference in helping agents better personalise their communication, better manage their databases, have better information about what's going on in their market."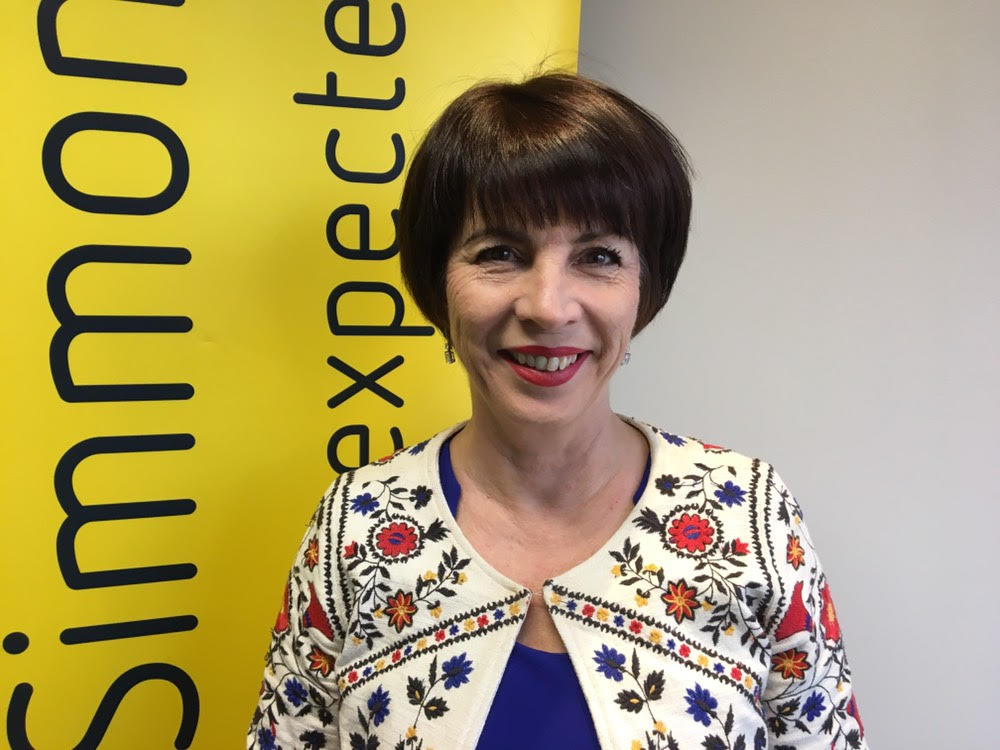 At the core of Laing+Simmons new platform is a CRM that is empowered with robust business intelligence, artificial intelligence, and virtual agents. Leanne says that this is a strategic move, with "much better information for our agents about what's going on in the market and just better consumer insights."

Already Laing+Simmons is seeing results. The virtual assistant alone has improved conversions off enquiries by 13 per cent.

"All of our marketing will be automated so that we can have a much better brand compliance," she said. She emphasised that this would make it "much easier for agents to roll out the campaigns that we develop for them, across all of their different platforms."

Far from being pessimistic about the disruption that technology will bring, Pilkington is eager to embrace it. She does not imagine a dystopian future where the robots take over. In fact, it's quite the opposite.

"I don't believe for a minute that it's going to be the end of real estate agents. I think that the relationships are still really important. But agents need to get smart about how they utilise the technology."

Leanne says that agents should get smart by thinking about how they can serve the customer.

"The reality is that consumers have changed as a result of technology. Their expectations have changed. The way they research things has changed. The way they want to buy things has changed. And so we're going to have to change with it."

Leader of Leaders
As the founder of Real Women in Real Estate (RWIRE) and nominee for three REB Women in Real Estate Awards, it might surprise you to learn that Leanne Pilkington was initially a reluctant hero for women in real estate.

It all started in 2015, when some of her colleagues were urging her to throw an event for women in the industry. Leanne resisted.

"I didn't personally need something like that, so I didn't understand that there was even a need."

Leanne eventually caved in and the event blew up.

She got triple the number of attendees she expected and women were flying in from out of state. Leanne realised that there was a need for this kind of event and threw herself into the project that would eventually become RWIRE. Now, RWIRE has spread to 11 locations across Australia, to New Zealand and even LA. In June it will host its 50th event.

"It's been much more successful than I ever expected. I didn't understand it to start with, but I do now."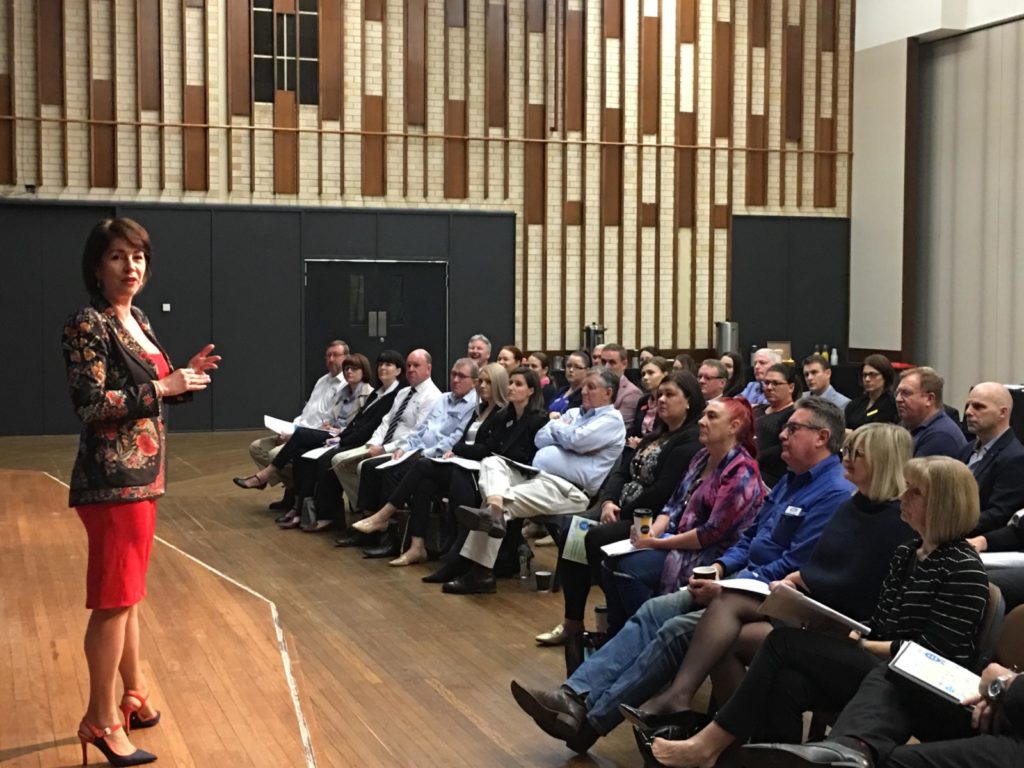 Part of the popularity, Leanne thinks, stems from an absence of women in leadership positions and on stages at conferences and events. To combat this, RWIRE has a focus on outreach and education, including a new podcast, Courageous Conversation, which launches on the first of June.

"It's about the conversations that we all have, not just women. But it's really to encourage women that don't like those difficult conversations around leadership, to be game enough to approach it and realise that good things happen on the other side.
When asked about all of the different advocacy projects she's working on, she stops for a moment.
"I sound really busy when I'm talking about it like this, don't I?" she remarks.
I acknowledge that she must get up early in the morning
"I do, yeah," she laughs. "You're quite right."

For a person to become a multi-award winning Managing Director of an acclaimed agency, President of powerful industry institution and founder of a global organisation, I imagine Leanne Pilkington must get up very early indeed.
How Agents Can Overcome Work-Related Stress
Every two years the Property Council of Australia and EY publishes a study on women in real estate. These studies take the pulse on women's status in real estate and are an opportunity for women's voices to be heard.
Stress can be a normal and healthy part of life, but it's not good to remain stressed for long periods of time. This is known as chronic stress and it can lead to serious problems.
Occupational stress (or, work-related stress) is a common type of chronic stress that, if left unaddressed, can cause serious health issues.
How Serious is Stress?
A 2015 study from Harvard and Stanford showed that chronic stress can be as bad for your health as second-hand smoke.
People who suffer from chronic stress can experience:
Weight gain
Sleep problems
Headaches
Poor memory and concentration
Anxiety and depression
Heart disease
Stress can even lead to death. In Japan, heart attacks and strokes that result from stress cause a number of deaths each year. This "overwork death" is common enough that they have even come up with a special word (karoshi) to describe it!
Why Work is a Major Cause of Stress
One quarter of people say that work is their main reason for stress. This is not surprising, considering we spend over a third of our waking lives working.

Work-related stress generally occurs when an agent feels like they have low control and have to meet high demands.
This means that techniques for overcoming work-related stress should empower you to feel more in control and condition you to withstand the high demands of real estate.
Sleep More To Manage Stress
Experts say that, "people are getting less sleep than they need due to longer work hours"
You might feel like you are getting ahead by sacrificing sleep to work, but a lack of sleep actually affects your ability to concentrate and deal with stress.

If you take time to rest, the hours you work will be more effective and you will accomplish more in a shorter amount of time.

There is no 'perfect' amount of sleep, but for most people seven to nine hours is recommended.

The conundrum is, if you're already stressed, work-related stress might actually cause insomnia. If your sleep is suffering from work-related stress, then try these other methods to help get your stress levels under control.
Meditate Like a Wall Street Stock Broker
Meditation isn't exclusively for tree-hugging hippies anymore.

In his 2018 book, author Robert Wright looked at many businesses, from Silicon Valley to Wall Street, who are using meditation to manage the stress of highly demanding jobs.

Don't have time to meditate?

According to Wright, you don't need a lot of time to meditate. Even just ten minutes of mindfulness per day can go a long way to help you feel less stressed.
Exercise, but Not Too Much
It's recommended that you do two-and-a-half to five hours of exercise per week.
However!
Do not over exercise as this can increase the amount of cortisol in your blood. Cortisol is 'the stress hormone', so be wary of overdoing it.
Instead, undertake exercise that you enjoy and makes you feel good to get your stress under control.
Communicate with Your Coworkers
So far we've talked about ways you can prepare yourself to meet the high demands of real estate work. It's also important, however, to address feelings of low control.

This is where it's important to try and improve your work environment, as having a more positive environment can help reduce work-related stress for you and your colleagues. There are things you can't change about your work environment, such as market disruptions, but if you create a more supportive network, you and the team around you will find that you are able to cope with stressors more easily.

Communication is key.

There are a lot of different strategies you can implement in your workplace to eradicate work-related stress.

Some of the things that experts recommend are:
Clearly defined and understood roles and responsibilities
Make sure workloads aren't overly demanding
Social interaction between workers
Remember, establishing a good work environmentisn't the sole responsibility of your office principal. Your principal has a business to run, they could be suffering from work stressed as well!

By taking the initiative you will show that you're a team player who cares about you work, your colleagues and the business. This reflects well on you, and helps you overcome work-related stress, so that you can focus and succeed.
Cold Calls Got You Stressed?
Everyone hates making cold calls. They're a massive contributor to workplace stress for agents.
Thankfully, you can uncover buyers and sellers from your database without having to ever make a cold call again …
Get in touch so we can show you how you can eliminate cold calling from your business.
It's Time for … ActivePipe Arithmetics!
I could harp on all day about the benefits of ActivePipe and everything it does to help agents, offices and brands to reach their full potential. There's just so much to say, but as the saying goes; talk is cheap. Why use superfluous words to tell you how incredible this platform is when I can use numbers, which speak so well for themselves?
So without further ado, channel your inner maths master, dust off your abacus and protract your protractor… It's time for ActivePipe Arithmetics!
Sixteen Million Website Visitors
ActivePipe has driven an astonishing 16,371,173 visitors to websites this year. Let that sink in for a second. That's the population of Cambodia, summoned to head online and actively view and interact with our agents' listings. That's more than 16 million hits directly attributed to the square power of ActivePipe.
Twelve Thousand Appraisal Requests
In 2018, our agents landed 12,308 appraisal requests (and counting)!
If we're conservative and estimate that 50% of those requests turned into listings and use the average Australian house price ($809,201) as our measure, we're looking at a whopping $4,979,822,954 worth of sales facilitated by ActivePipe. It's enough to make your calculator crack.
Twenty-Nine Thousand New Customers for Life
Agents using ActivePipe have been alerted to 29,129 first home buyers. That's a small city's worth of bright-eyed, bushy-tailed new customers, ready to begin their real estate journey with you. Just by logging onto the platform and reaching out to these new kids on the block, you're soliciting their undivided attention and setting yourself up for future earnings.
Equal to the Power of…
Whilst it's fun to take a step back and look at the big picture numbers that ActivePipe has achieved for our agents, what we really care about are the results that you can achieve. With our help, you can quantify your business, work smarter not harder and bring home the Pi(e) once your stock sells at market.
If only all arithmetics was that easy.
Seventeen Appraisal Requests in 24 Hours: The Story of Ray White Sandringham
Implementing new technology in an office, group or brand level is never an easy feat for the poor tech officer in charge of facilitating its rollout. Once they've convinced those up top that the product will return a solid ROI, they then face the mammoth task of persuading a bunch of notoriously time-poor agents to not only spend precious hours learning the system but to maintain momentum once the initial push has subsided.
Sammie Johnson, the Systems & Technology Trainer for City Realty in New Zealand, is all too aware of the difficulties.
"Being in the Tech Team, we sometimes find it hard to push technology that I know will improve their business. You have to pitch it to them in dollar format, and generally most won't get onboard…until they see someone else making money or progress from it."
After seeing the results ActivePipe was generating for other Ray White agents, Sammie insisted that her group of offices sign up too. Expecting inevitable pushback, she couldn't believe what happened next.
When her Sandringham office tentatively switched on the platform one Wednesday afternoon, something magical occurred. By the next day, they'd secured a whopping 17 appraisal requests and excitement was in the air as the team realised that this was just the beginning.
"It's just a huge game changer for us. These are crazy numbers! Plus, it's really simple and user friendly," says Sammie.
No one in the office was more excited than Susan Woods-Markwick. In the first 30 minutes of ActivePipe she'd landed 7 appraisal requests. The multi award-winning agent is already known as a powerhouse in Auckland but now she had access to a system that was only going to skyrocket her business further.
"It's exciting and liberating! Keep it coming!" she says.
Susan's principal, Phil Horrobin, knew that it was going to change the way he ran and trained the staff in his office.
"It's going to be a significant part of our business, you know. I mean data is so readily available now that we see agents growing their databases like it's a kind of obsession. Actually being able to manage and communicate with them though is a whole other level. So, now with ActivePipe you could have an agent with a database of 10,000 people but they'll actually be speaking to the right people, at the right time, as opposed to sitting down and making ten cold calls from that 10,000. So it's going to be a big change for us".
Do you remember Sammie's initial concern about getting agents onboard with the platform? Well, after seeing the results in Sandringham, the other offices under her technological gaze couldn't be more eager to follow suit.
"It's a big step forward and a big game changer for our growth. It's great, we're very happy about it. We love ActivePipe!"
So, success all round for Sammie Johnson and the team at Ray White Sandringham.
Congratulations!
In Conversation with David Young Choi
ActivePipe's catapulting global expansion of the last twelve months has allowed me to make some exceptional appointments to our executive team. The quality of these highly sought-after professionals is enviable, as is the wealth of experience and understanding of the sector that they bring with them.
When I first met David Young Choi three years ago, we quickly entered into a friendship driven by a mutual respect for what the other was 'about.' At the time, he was Chief Commercial Officer at Homepass, a proptech company moving in the same space as the recently launched ActivePipe; our paths were always destined to cross. I was instantly drawn to his astute intelligence and passion for the role and I was pleased to watch his career continue to shine as he moved into the position of Director of Corporate & Enterprise at Domain.
When ActivePipe reached the point of needing a CCO of our own, in my eyes, David was the only man for the job. He's dived head first into the role and is already feeling like such a member of the ActivePipe family that it's hard to believe he's only officially been on board for a few, (admittedly, action-packed) weeks.
I've finally found some time to sit down and decompress with him. Here's what he has to say about his ActivePipe appointment, insights into the company so far and the overall climate that's defining proptech in 2018.
Dave, you've known me and ActivePipe for years now. What is it that got you excited to come on board and take this role?
DC: I was sold the first time that I saw ActivePipe. It was so intuitive and simple, that I was immediately drawn to its potential. ActivePipe addresses every major pain-point that brands and agents face. This runs deeper than just personalised communications and discovery technology. You're talking about a platform that holistically revolutionises how an agent identifies and converts pipeline opportunities and then builds a lifelong relationship with them. From a corporate perspective, the power to create an automated email drip-campaign that seamlessly integrates properties which can be sent out on behalf of all their agents in minutes, is invaluable. How could I not be excited about this?
It's the numbers that get me going. It doesn't matter how many bells and whistles you build into a product if you're not getting results for the clients, what's the point?
DC: Well, from what I've seen, the proof is well and truly in the pudding. From the ground up we're now looking at servicing nearly 40,000 agents with the biggest brands across four countries, including the US. What are we at now? Over 16,000 appraisal requests for our clients. So yes, it's both the numbers and the technology that has me excited.
Thinking about how these numbers will grow as we continue to push into the US gets me excited.
Of course! Our international expansion and opportunity were major drawcards for me joining the team. At the end of the day, the fundamental problems we solve are universal, no matter whether you're in Australasia, the UK or US. ActivePipe's value proposition spans all geographies.
Based on your experience dealing with agents from across these geographies, what are they saying about the introduction of automation for their business?
Well, corporations are always blown away by the ability to maintain brand integrity across the network without losing the personal touch that individually crafted communications provide. This is huge for them. Agents talk about how easy it makes it for them to stay in contact with the thousands of agents in their database and facilitate relevant conversations.
Yeah, I completely agree. I love how it's not only positively enhancing the experience of the agent but also adding value and creating a pleasurable overall journey for their customers.
DC: Well, that's what it's all about. The reason ActivePipe agents are seeing such great results is that their contacts aren't feeling like the recipients of spam or monotonous cold-calls. With each and every touchpoint being tailored to their needs, trust and rapport are consistently being built. When it does come time for an agent to pick up the phone and make contact, they are more productive and can actually add value.
You've already been throwing some big ideas around with me. Where do you see this company heading in the next few years and how are you going to help get us there?
DC: The customer is the centre of our universe, so everything we do moving forward must focus on customer centricity. This is already a dynamic business but we must always remain diligent and on the front foot of the needs, pain-points and solving our customers business problems. All I can say right now is, watch this space because big things are coming.
So, talk to me about how you see our role in the industry now that you've seen us from the inside and out.
DC: This is an easy one! The role of ActivePipe is to help real estate agents and brands get the absolute most out of their business. It's like squeezing every last drop out of a lemon. ActivePipe takes the archaic lead generation and customer nurturing methods which real estate has relied on for so long and turns it on its head. Its role is to completely change the game.
Thanks, mate, as always it's all about company culture for me, so no matter how you want to shake things up, you know where I draw the line.
That's a great point to bring up actually. To return to your question about what excites me about ActivePipe, I'd have to say that its reputation as an organisation with extremely high staff satisfaction and retention rates was a huge drawcard for me. It's been inspiring to hear you speak on the driving force company culture plays in the pursuit of innovation. I couldn't be happier to be part of the team as it moves towards the next phase of its' global expansion.
Thanks, Dave.
Buxton: Hyper Relationships through Boutique Singularity
In my journey to understand the inner workings of Australasia's best real estate brands, I've been captivated by the concept of utilising technology to curate personalisation en masse. Successfully integrating automated systems into an industry that relies so heavily on interpersonal interaction isn't easy and many brands have suffered through the teething process of trying to perfect the balance between efficiency and providing a service that maintains real estate's integral personal touch.
One brand that has seamlessly mastered this domain is Buxton. Through smart database setups that allow each agent to build hyper relationships with their clients, Buxton is changing the way we think about email automation and its often misconceived perception as a vessel for impersonal spam.
I sat down with Buxton CEO, Nathan Jones and Operations Manager, Fiona White to find out how this boutique brand has positioned itself as one of Victoria's most personal real estate groups.
At ActivePipe, we are driven to personalise the email communication experience for real estate customers whilst giving agents the ease of intuitive automation. You have taken it to the next level at Buxton. Can you tell me about how you're achieving this?
Nathan: We've set up our database so that every contact in the system is only ever hearing from one agent. The difference between our database and other brands is they have all these siloed databases whilst we just have one. This means that no matter whether a contact has gone to different agent's OFIs or bought property off someone else, they are still the client of that original agent.
We just wanted to make sure that we never had a scenario where two Buxton agents were sending eDMs to the one person with the same properties or even different types of properties. Relationship singularity is extremely important to us.
We're trying to build the hyper relationship between the agent and the client through these eDMs and ultimately that came down to us making sure that we weren't competing with ourselves.
How did ActivePipe help you achieve this?
Nathan: In terms of building out the customer journey, we had been running with a couple of ideas for a few years but the system we were using was a bit like a dumbwaiter. There was no feedback and no intuitive AI behind it to tell us to send out another communication after someone had engaged. It was just, 'On Thursdays this email goes out' or 'On Fridays this email goes out'. We still had that one-on-one contact but there was nothing smart about it. So the ultimate leap for us was taking it to the next level with ActivePipe.
So in terms of your nurture program, imagine that I'm a dormant lead and haven't spoken to someone from Buxton for a significant period of time. How do you trigger off a journey?
Fiona:  We send out ActivePipe's Data Discovery Surveys once a quarter. That's just if they haven't interacted with any correspondence from us. They'll also receive monthly 'Sold' reports for their desired area. So, regardless of whether you're interacting or not, you'll always get an email from us once a month and then quarterly with the Data Discovery Survey.
This leads perfectly into my next question which is around clean data. The Data Discovery Surveys are so effective at keeping a well-maintained database, which Buxton agents are great at. What are some of the benefits you are leveraging through this information?
Fiona: It's so easy to forecast behaviour when you use the dashboard properly. You can see people's home address, where they've been searching and you can see that they've been self-appraising among other things. You've got that next level of data rather than just, 'Oh, I've got their address' or 'I know where they live'. Our agents are able to have a personalised conversation with their contacts.
Nathan: The piece of data that I've always found missing on real estate databases which I find slightly comical is a property address. We're in the business of building relationships and transacting on properties, so it would be handy to know where people lived. If you know where someone lives, what you can do is pretty limitless in terms of the information that you serve them. Without it, you're fighting with one arm tied behind your back. That is the importance of clean data, of quality data. If you don't have it, you're going to struggle.
I want to know more about how you're helping create better experiences for your customers. How receptive are they being to the automated comms being sent to them? Are they receptive it or are you getting pushback?
Nathan: We're not having pushback at all. People want customised marketing. They don't want generic, impersonal communication coming through. If people shop at Country Road, it asks them to put in their size, height, shape and all of a sudden they start sending comms featuring appropriate clothes. It's the same thing. People don't have to time to sift through hundreds of messages to find the two that make sense. They just want the two that make sense. That's the beauty of what I call the pre-framing process with ActivePipe.
I'm particularly interested around branding and how you maintain brand integrity. How can an agent maintain their individuality without jeopardising the Buxton brand?
Nathan: So for us, it's all about freedom within boundaries. We create the boundaries of the email templates, and some are tighter than others. With ActivePipe we've been able to lock down as much as we feel we need to in terms of branding and logos. In terms of content, we create an absolute truckload of it on a daily basis that we encourage people to use. We don't limit or cap how much or how little agents use but at least they don't have to go out there and try and create it themselves. We have a range of blog posts, social posts, local business interviews, photography and trends. Anything you can think of, our social and media team create. Then it's up to the agents to drag-and-drop what they want.
There's so much to talk about in terms of technology and training your agents around this technology that we will talk about in our next catch up. Is there anything more you'd like to finish off with today in regards to personalisation and the methods you're implementing to ensure it?
Nathan: Just that in all honesty the number of non-direct inquiries to our website has been significantly reduced post-ActivePipe, even though our traffic volume has drastically increased, thanks to clicks from the properties and content in our ActivePipe emails. The communication is so targeted that without knowing it, our agents are building a one-on-one relationship with clients and when these clients are clicking on emails they're just going straight to the agent.
We deliver both automated and customised content, so irrespective of individual agent time constraints, we know at a minimum that we control a certain level of communication with our clients and contacts. Every single email comes from the individual; i.e. John Smith at Buxton, not an impersonal 'no reply' at Buxton. It's as simple as that.
Keep an eye out in the next few weeks for part two of my interview with Nathan and Fiona.
If you'd like to speak to someone from ActivePipe about how you can personalise your communications and increase website traffic, get in touch here.
Like What You See?
Follow us on Facebook and LinkedIn for more expert insights from real estate's top brands, executives and agents.
Craig Leo: Acumen and Accolades on the Peninsula
When I stumbled across a Facebook video of Craig Leo, the renowned director of Barry Plant Rosebud speaking on the benefits of ActivePipe, I was stoked to see such a superstar sharing his excitement with the world.
Craig is a well-respected and sought after leader on the Mornington Peninsula. He's also the recipient of numerous accolades that celebrate his business acumen and his dedication to establishing and maintaining relationships that last a lifetime. I think that Craig makes the perfect spokesperson for our platform, so I couldn't wait to catch up with him to learn more about how he and his agents are harnessing the power of ActivePipe.
Hi Craig, thank you so much for sharing your video. We love nothing more than a happy client! I want to talk about the beginning of your ActivePipe journey. When were you first introduced to the platform and how receptive were your agents to the new system?
It was part of an initiative from our corporate group. We were given training on it and we certainly found it beneficial and the agents were really supportive of it. They recognise that it's something that's there to help them, so it's really been fine.
Can you tell me a bit about how you incorporate ActivePipe into your daily routine?
One really good example is a couple that we missed out on a listing for. They didn't sell with the current agent they were with and they ended up heading off for a holiday. Whilst they were away they were still searching for properties, so we knew they were a genuine buyer. Through ActivePipe we could see that as we alerted properties to them they were clicking on them multiple times. We always contact a buyer if we know that they're clicking multiple times, so I was on the phone to them everywhere they stopped at as they travelled up the coast of Queensland!
By the time they were back from their holiday, they were looking to relist. They invited us in unopposed because they liked the fact that we'd kept in contact with them and that was with the help of ActivePipe. We ended up selling at auction which was great and from there they bought from us. So, by keeping in contact we were able to facilitate a buy and a listing unopposed.
You've received an amazing 24 appraisal requests so far. How many of those have turned into listings?
When we have a prospective vendor or an appraisal request, 9 times out of 10 we've listed and sold that property.
Wow, that's incredible. Would you say that ActivePipe is allowing you to have better conversations with your prospects and that's why you've been so successful in turning them into listings?
Well, first of all, it's relevant conversations because we know, first of all, that their active in property. Secondly, we know the conversation is a relevant one because we can see what we're sending them which results in a far better conversation. Thirdly, I think it's the consistency of the conversation that ActivePipe is allowing for as well.
It's not just a typical database call where you're trawling through your prospective vendors. We're making as many warm calls as possible.
As a director, do you find that ActivePipe helps you in managing your agents?
Getting reports back from ActivePipe that we can sit down and talk to the agents about is great. More importantly though, it's giving them direction. Rather than coming in of the morning and making a series of cold calls or prospective vendor calls off a database, they're able to have a really relevant conversation.
So now when I talk to agents I find that the majority of the conversation is, "What has been happening on your ActivePipe. Who's clicking on what?" It's not just about the vendor referrals or request for appraisals or finance referrals.
Have you had any feedback from clients on your communications with them?
I make people aware when they come through our opens that we are going to provide them with a series of updates that are relevant to their needs. I also tell them that if they're not happy with it they can unsubscribe.
What's really cool about the system is that when we're doing an appraisal, we can generally do what we call a 'buyer match'. This is where I go into ActivePipe and determine how many people are looking for say a 4 bedroom, 2 bathroom, double-garage home. I can show the prospective seller the results and the search history of the buyer. Then I'll say, "Let's give them a call now" and I'll dial them up.
So, it's just one of those really neat systems where you can actually show the vendor that you've got relevant buyers who have a search criteria that's relevant to their property and that I can call them as easily at that. It's actually hilarious.
So, do you use ActivePipe as a marketing tool when you are meeting with prospective sellers?
So many agencies say to their vendors that they've got "this buyer" in their database and "this red alert system" and they print off a list of ad hoc buyers. To me that's just a number and anyone can do it. But when you actually show someone that a buyer has clicked on a property that's similar to theirs, in a price range that is similar to theirs, and in their area, that's really powerful.
Every agency says, "We've got the buyer", whereas we tell our clients, "Look, everybody has the same buyers." The difference between us and the other agencies is that we've got a much more accurate way of determining who the buyer is and we actually demonstrate that in a follow-up rather than just pulling up a list of names that may not even be real people.
What would you say to other directors who are thinking of giving ActivePipe a go?
I can sum that up in one sentence. It will change your business. Off the back of a really good market in the 2017/2018 financial year we made a 61% growth in our business. There was good training and marketing and all the things that we implemented in our business but ActivePipe was certainly a catalyst for that. So yes, do it.
That's an incredible achievement that we are so happy to be a part of. Thank you for taking the time to chat today. Before we finish, is there anything else you'd like to add?
I'd say, just try to be consistent with your training, and consistent in updating your database.
One more thing! We were alerted by one of your team members that we were sending out far too many emails and that feedback helped us to cut down on some of the unsubscribes that we were seeing.
So I have to say that the service we're receiving from ActivePipe is really good as well.
Check out Craig's original video:
Maintaining Culture Across Geographies
Earlier this year we were honoured to receive three nods from the Australian Business Awards for being leaders in the fields of technology, innovation and marketing. These accolades are always worth a celebration but this year they've really got me thinking about the true meaning of success and the role that company culture has played in ours. If you've been following us for a while you might even remember that I wrote a blog about it.
Since then, ActivePipe has continued its crazy growth spurt and we now have a small army representing us in cities across the US, UK, AUS, NZ and The Philippines. Whilst extremely exciting, I'm also ultra aware of the importance and potential hardships involved in maintaining our strong, inclusive culture across these geographies. As with anything in business, it all comes down to planning with a little bit of gut instinct thrown in for good measure, and so far we've been doing well at keeping the family vibes flowing across the globe.
I want to share with you what I've learnt this year about maintaining culture across geographies.
Have the Right Tech in Place
To maintain good communication and a sense of community amongst your team members, it's essential that you have the right tools in place to facilitate a seamless flow of conversation. For us, Google Hangouts is an everyday occurrence and it's not unusual to see our Melbourne HQ filled with the faces of comrades from far off lands shining down at us through TVs linked up to conference cams. Google Docs and cloud technology allow for easy sharing and editing of work and whether they like it or not, in-house messaging service Slack means that no matter where you're located, an instant message is only a few keystrokes away.
Virtual Gatherings
Monthly general meetings are important to me. It's a great way to bring everyone together to share news and company goals and even have a laugh together in an informal environment. Just because we can't magically apparate the entire team together doesn't mean that anyone needs to miss out on the fun. Turn your meetings into a virtual gathering with the same video conferencing software I mentioned above.
Get to Know Your Geos
Each region you penetrate will have unique characteristics, customs, laws and language nuances that if ignored could spell the end of you and your business prospects in that market. You need to do your research and engage the brand ambassadors and team leaders in each geography to educate you on these cultural distinctions. Making a point of recognising their holidays and other important dates will lead to an even more inclusive employee experience.
Communication is Key
You've heard it a thousand times before but it can't be stressed enough – good communication is the heartbeat of a business and the key to balancing the needs of your staff with the needs of your accounts department. Check in with people as much as you can. Showing an interest in how they're going, even if they're not physically in the room shows your team they are valuable and that you are experiencing this journey together.
It Comes from the Top
You and your leadership group need to be the type of people that inspire a sense of purpose. This runs deeper than just being involved in the everyday running of the business. This comes from the place inside you that is driven by a noble purpose and a desire to do something more than just 'make money'. Work out what your 'why' is and it will direct you in maintaining consistency in your global expansion. If you know why you're really doing this, your passion will trickle down to everyone in the business – no matter where they're located.
Let Them Grow
Your employees are just as interested in your global domination as you are. Give them the chance to feel that they are growing with you by encouraging development initiatives that the leadership teams are accountable for. Up-skilling opportunities don't just improve staff morale, they improve the productivity of your business.
Luck Has Nothing To Do with It
Whilst I feel incredibly lucky to have the team I do, luck really has nothing to do with it. It takes a hell of a lot of hard work and numerous sleepless nights to keep the cogs of an international business well oiled and turning smoothly.
At the end of the day it doesn't matter where your people are located or what ethnicity they belong to or system they associate with, they have families and lives and needs outside of your organisation. Just as you do – so never fail to take care of your wellbeing too.
Trust in your staff, invest in your culture and you'll be amazed at the magic that blossoms across geographies.
Reece Prewett: Recruitment, Retention and the Power of the Database
Reece Prewett is the proud business owner and principal of Ray White Papakura, New Zealand. A master of the corporate world, Reece's career has seen him in senior executive positions spanning four continents and nearly twenty exceptional years. His ability to drive global teams through significant growth and transformation makes his insights into the benefits of ActivePipe incredibly valuable.
We were lucky to catch up with Reece to chat about the improvements he's seen in his business and in his agents since joining the ActivePipe family.
AP: Hi Reece, thank you for taking the time to chat today. Even though your office is pretty new to ActivePipe you're already seeing some fantastic results. Can you tell me a little bit about how are you using the platform and how you are finding it so far?
RP: We've had the immediate benefits of appraisal requests and loan market requests coming through, which is fantastic! But the real juice is coming from those who mine the data in the 'Hot Leads' category. It's the people who are clicking on properties multiple times, revealing their intentions about buying and selling and putting their details in through the website. We are loving that.
AP: Do you find that the information that is coming through is allowing your agents to have better conversations with these leads?
RP: It's giving direction. You may have 1000 people in your database but when it comes to 10am Monday morning, who are you going to call? You want to start your day by making ten calls and what ActivePipe does is make those ten 'hot calls' as opposed to ten 'hit-or-miss' calls.
You're making the right calls, at the right time, to the right people.
AP: How does AP help you train and manage the agents in your office?
RP: We have 25 agents in our office and ActivePipe helps us to work out which of those need some support. In my experience, agents can be highly effective at their jobs but not run a good database. The truth is, they could make twice as much money and have twice as much leisure time if they utilise the platform to maximise their database. They might even get their weekends back for themselves.
I'll give you an example.
Our Number Two salesperson has 500 people in his database but it's not well constructed. ActivePipe has allowed us to see that this is a problem and we're now able to use it as an opportunity for him to improve his business. The guy's already getting really good numbers so we wouldn't necessarily have noticed his mismanaged database but he could be doing so much more and in half the time!
AP: How do your agents feel about using this new platform?
RP: I'm now using ActivePipe as my recruitment tool! This is because agents want leadership, support and something to help them deal with being so time poor. A lot of agents are time poor, so if you told them you'd organised a PA for them, they'd literally grab you with five arms, give you a hug and say, "Where do I start"?
That's not a particularly cost-effective thing to do. With ActivePipe, I'm effectively giving them half a PA for free and it does all that work for them in the background.
For example, I've just recruited one prospect who was sold by the platform. At first he was going to wait until next year to join us but he ended up saying, ''Yep – I'm done", and he literally joined us the next week.
AP: Let's talk about the technology side of things. Has there been any resistance to learning the new system?
RP: Absolutely. People just don't like change, right? People who say that they like change are bullshitting you.
I think the young, smart agents coming through know that they don't need to be tech-savvy but they do need to be using technology wisely and properly. The good thing about ActivePipe is that you don't need to be an IT savvy individual, you literally just have to walk up to it, turn it on and make the phone calls.
Once you're in and swimming around it's like 'Wow'.
AP: So you obviously think that technology is important for the future of the industry but do you think it is, specifically for your business?
RP: I think it's important for every business. I think other small to mid-sized businesses out there won't embrace it and that's good for me because I know those people will drop off over time.
You don't have to be that far ahead of your competition. It's just like running away from a cheetah – you just need to be that little bit faster. So whilst ActivePipe is a great recruitment tool, it's just as much a retention tool. Once they're in and setting up their stuff each week and checking their database it's almost like they can't leave. How could they?
AP: So it becomes a very sticky product?
RP: Yeah, but in a good way, right! If you can have steak at home why would you leave and have hamburgers next door.
AP: You've had some really good appraisal request numbers coming through your account. Has that helped in terms of numbers of listings?
RP: Has it improved our business? Yes, absolutely. For example, since we've started my Top Agent has received two listings through the platform which equates to  $30-40,000 NZD that's coming in the front door. It's probably paid for ten years worth of ActivePipe!
AP: So, it's actually giving you as a business owner the chance to not only help your agents but to improve your business as well?
RP: It's a total win-win. With ActivePipe, you've got recruitment, you've got retention and then you've got the ability to squeeze the juice out of a lemon. You're presented with another money spinner by being able to generate leads that are not being managed and because they've been presented the way ActivePipe does, it's very easy for the company to pick that up.
AP: Thanks Reece. Is there anything else that you'd like to add?
RP: I'd just like to say that we were a bit timid about turning it on but you've just got to jump in the cold water and have a swim. ActivePipe has made a real impact and it's a really positive one. I can't think of any downside.
The Digital Mind with Sean Birk
In my role as ActivePipe's Creative/Design Director, I've always got my antennae finely tuned to the going-ons of the creative world. As mediums and technologies continue to evolve at lightning speed, it means there's always something to talk about when my peers get together to bounce around ideas and muse on the future.
Through my work at ActivePipe, I've been lucky to cross paths with Sean Birk. Sean is the Creative Director: Digital and Integrated at award-winning creative agency, Fenton Stephens. His knack for producing innovative ideas that cut through the clutter have made him a much sought after leader in the industry and the recipient of many international awards including London International, New York Festival & Cannes. It's this ability to see around corners that makes Sean the perfect brain to pick in my quest to find out what's coming up in the world of creative technology.
We caught up to chat about how technology is changing the way we work and think.
Tech is everywhere
Unless you're reading this in an isolated log cabin high in the mountains, you're already aware of the importance of technology in your everyday life. Tech is now part of virtually every aspect of modern commerce, culture and communication. But it's so ubiquitous that you may not have considered the radical ways in which it is changing the way you work, create and even think.
Your memory is getting better … and worse.
Since the advent of Google and the smartphone, you've had a flawless memory for information, video and more – right at your fingertips.  Which means a good short-term memory is something you've needed less and less. And what you don't use, you lose.
This negative effect on the brain is a new and worrying trend. Young people who've been raised in the digital age are already showing signs of short-term memory dysfunction as a result of their addiction to technology.
It's known as digital dementia, and as we become more and more tied to our devices, it has the potential to become a real challenge to the way we think interact and take care of ourselves.
Your voice is becoming your fingerprint
It has been predicted that, in the next two years, 82% of devices will have native voice recognition capability. Which basically means you'll soon be controlling the majority of your digital interactions with your voice.
Your voice will also become your primary identifier for online security. Does this mean you'll be locked out of your email, social and banking apps when you have a cold? Time will tell. But voice control will also mean efficiencies in ways we might not expect – from automated customer service calls to new ways to complete everyday tasks.
You're turning into a cyborg
A further development of our ongoing connection to our digital devices and networked systems is high- bandwidth brain-machine interfaces. What? Basically, it's a way to connect your brain directly to a computer.
Yes, this brain implant technology isn't science-fiction. Neuralink, a company already working on a way to seamlessly combine your digital and biological self, says they will soon launch a product that will give us a shot at becoming "symbiotic" with artificial intelligence.
You're becoming more creative
You may not become an artist overnight, but at the very least, you're going to have more creative tools at your disposal.
Artificial Intelligence and deep machine learning have already resulted in computers that can edit films, write pop songs and create renaissance paintings autonomously. As we become more connected, we'll be able to harness that power and augment it with our own problem-solving skills. How? Well, that's yet to be fully understood.
But technology's ability to proactively handle mundane daily tasks will certainly leave us more time and headspace to think, create and do business.
That should be a change we all welcome.
Ray White: Customer Centricity through Innovation
As a marketer, I'm fascinated by how brands seek utopia; a technology led, customer-centric approach with a frictionless experience that leaves a customer saying quite simply, 'Wow'. In my pursuit of knowledge, I decided to start close to home, with Ray White, one of our biggest clients and a brand that is synonymous with the property and real estate industry throughout Australasia.
An industry leader and a force to be reckoned with, the Ray White group includes footprints across Australasia, Asia and the Middle East and is supported by an incredible 13,000 employees. I was lucky enough to sit down with two of Ray White's leaders; Mark McLeod – CEO of Growth and Jason Alford – National Technology Manager, to discuss how being at the forefront and embracing technology is enabling Ray White to create seamless customer experiences. It was an eye opening and thought provoking conversation, to say the least.
Guys, thank you both for taking the time. There's so much to talk about, I'd like to jump right in and start the conversation by looking at the current trends you are seeing in technology and across the industry.
MM: I guess the biggest thing we are seeing is the use of AI and machine learning (ML), which allows us to offer customers a much deeper and richer experience than what we were seeing in the past, as well as customer identification earlier in the process. This is what's going to enable us to get ahead of our customers' expectations.
Technology, for us, is designed to do one thing, and that's to put more of our Ray White people in touch with more prospects, at the right time. It's AI and ML that are going to allow us to do that in a way that's going to enhance the customer experience.
Mark, you often speak of the 80/20 split. 20 being the percentage of elite agents who make up the ecosystem. How does technology enhance those elite agents and help them to achieve peak performance?
MM: We've been on this journey for well over ten years now.
Many of our people are using this technology today without even realising that they're using technology. It's just a part of their life. Even the way we've integrated ActivePipe is 'business as usual' for many of our offices. They're not thinking about how it turned up and they're not thinking about it as this 'wonderful technology'. It's like our mobile phones. Nobody thinks about their mobile phones as great technology, they're just here now.
For example, when we first got ActivePipe, we couldn't believe what we were seeing but now we talk about it like it's an auction or a sole agent. It doesn't matter if you're an elite agent or not, it's just part of our DNA now.
That's an interesting point. I believe the smartest technology should always be working in the background for you and incorporating itself into your life in a seamless, almost unnoticeable way.
JA: We just keep slowly infiltrating technology into our agents' lives and they just keep on integrating it without any push back.
That's allowed us to get better analytics, which allows us to make better decisions, which allows us to get better optics on the path we want to take. That's because the data now shows us patterns, which allows us to keep going on the journey.
One of the strategic benefits of partnering with ActivePipe is the Profiles and the Intent features, along with the data that your system is capturing. It's moving our agents' behaviour towards what we call the 'full service offering'.
Ray White is one of the only franchisors which offers loan market and financial services, a concierge offering a full suite of services, as well as our Home Now service, which offers utility connections. ActivePipe has allowed us to have richer conversations that allow us to offer our full suite of services.
Changing direction, how do you train your agents for success and those richer conversations?
MM: A number of years ago we created a training program called Accelerate, which was the first program to fully integrate the art of selling real estate with our full technology suite. The moment that an agent actually enters our world, they are greeted with, "Here's the art of how you list and sell a home," as well as, "Here's how you list and sell a home under the umbrella of our technology suite."
It's fully integrated from the moment they enter our network.
JA: We also have 12 digital Business Development Executives (BDE), whose full time job is to go into our network and fully integrate our tech offerings into the daily lives and processes of our offices. They monitor the use of our technology suite, office by office, so that we can get a lens on any given stage of implementation and see which offices are falling behind, and with what tech application. Then the BDEs can be deployed to go out and support them.
Integrating new technologies within a business is always a challenge, particularly when there's an upheaval of change. How receptive are your principals and what lessons have you learned?
MM: How long is a piece of string? Of course, there's a wide range of responses but contextually I think that our network is very encouraged by our advancements and the direction of our company. Many of them feel very comfortable that there is a dedicated team and resources to steer our way through the technology future.
We've made some mistakes, which is part of it. We learned from these, but they trust us to work with them to focus a lot more on the future. By and large, that's worked fairly well. We are going to be faced with some enormous challenges in the next period of time, but our belief is that what we are creating is tech-enhanced agents. We believe that an agent should always be at the centre of a transaction and we believe that agents who use technology more will be at the centre of technology more often.
How do you keep Ray White on the cusp of the next big thing?
MM: For the last four years we've been taking a dedicated team over to America for Inman. While we're there, we make time to catch up with various parties that we identify with, such as analysis companies and AI and ML types. We benchmark core application platforms and keep a running product matrix of CRM providers. We also have a strong research team that makes sure that when we are making these bets and investing capital in that technology, that it's not without risk management and understanding.
From a customer centric viewpoint, what's in your pipeline?
MM: We're working towards fully frictionless workflows for our sales people and compressing transactions to make it easy for someone to list their home with Ray White, and to make it easy for someone to choose Ray White.
JA: This will allow us to provide a better customer experience. We are a very big believer that it is all about our vendor and creating competition. We believe we can create competition by leveraging the scale, size and reach of our group. You'll see that the amount of buyer inquiries that we receive on a monthly, daily and quarterly basis is second to none across the Australian real-estate landscape.
Are we leveraging that to its full potential? No, we're not. Is that the journey that we're on? Yes, it is. It comes down to ROI. Am I going to spend $200 a month on a bit of software if it is bringing me leads, listings or revenue, or saving me time, productivity or efficiency? Yes I am.
Final one, what role do you see ActivePipe playing?
MM: I think ActivePipe will play a significant role for us. It's really opened much our networks' eyes to the fact that targeted, customer centric comms get engagement. I think showing our network that they can provide a service for a customer, earlier in their real estate journey has been a really good thing.
As a group our whole focus is on connection. There's the digital connection that ActivePipe plays a role in, but it's how we use that digital connection to create a physical connection. We believe our core product is trust and we believe that trust is built from relationships. We have a saying in our company, "Make a list of all the people you have a relationship with that you've never spoken to."
The answer to that question is that you don't. So we use those tools to open up that relationship channel through to our core product.
Trust.
Amanda Stinton: The Queen of Green Real Estate
The pursuit of innovation drives everything we do at ActivePipe.
We take pride in always placing one foot firmly in front of the technology and real estate curve but we also believe that the protection of our environment must go hand-in-hand with this innovation. We believe that working with mother nature, rather than destroying what she so graciously gives us, is the key not only to our success as a business but the future of our global economy.
As such, it was with great excitement I was able to meet Amanda Stinton, the Director of Sustainability and Green Designation for the National Association of REALTORS® during one of the mentoring sessions I attended as part of the NAR Reach® Program, which ActivePipe has been honoured to be included in as part of the 2018 class.
Amanda is responsible for the growth and strategic direction of NAR's Sustainability Program and works tirelessly to position NAR as a leading voice on sustainability in the built environment. She helps realtors across America feel confident in guiding their clients through the benefits of sustainability, green homes and communities.
Put simply, she is the Queen of Green Real Estate.
I was lucky to reconnect and catch a moment in Amanda's schedule to discuss why it's so imperative that real estate and business work together and why it doesn't have to cost us the earth, or our profit margins.
"Research tells us that real estate consumers are requesting more information about the sustainability aspects of their purchase," she tells me.
"Homebuyers are looking for lower maintenance homes that cost less to run and operate and this is driven largely by millennials who are after sustainable lifestyles".
Through their network of over 1.3 million members, Amanda and her NAR colleagues are able to record and analyze an unprecedented amount of data on consumer wants and behaviour.
"61% of REALTORS® from our nationwide survey said their clients were interested in sustainability topics and the benefits that sustainability provides, such as comfortable living space, access to frequently visited places, and reasonable operating and utility costs."
She is adamant that green education needs to be offered from the corporate level, and says that executives need to be just as aware of the changing eco-expectations as the agents who are selling these homes out in the field.
"First and foremost, get educated. As the percentage of millennial homebuyers continues to grow, it's important that real estate professionals can answer the questions that are important to buyers. At NAR, we offer a Green Designation program as an added professional credential to help teach agents about new developments in sustainable building, as well as an in-depth understanding on how to value, list and market homes with green features".
This is where I get excited. I want to know exactly how the big industry players are reconciling ethics with economics and getting the right properties in front of the right prospects, to ultimately meet a consumer need.
Ironically, the answer lies in the ever-onward march of smart technology.
"We're now able to search for MLS listings based on their green features. A client might not even know that they're asking for a 'green' home but because they are searching for the trademark benefits, such as lower utility bills or connected technology, standardized datafields allow these features to be accessed by agents in the same "language" regardless of their market," she says.
"Appraisers can now assign value to green features or certifications on properties and once this data is entered, it "lives" with the property, allowing future buyers to better understand the home's operation and performance".
MLS systems are also incorporated with a 'green' category to make the process easier for agents.
Pretty cool hey?
It seems that the same "smart" upgrades that consumers are seeking for their homes, such as smart thermostats, renewable energy systems and wellness spaces are being used by the industry to better market these sustainable homes to the growing population of buyers that want them.
According to Amanda, the journey has only just begun. Business leaders have plenty to look out for, so can't afford to become complacent if they want to stay relevant and in tune with the needs of their customers.
"Well, our Centre for REALTOR Technology is keeping a close eye on trends related to smart homes, the internet of things, and healthy indoor environments, so stay tuned".
There's no doubt that we have a lot more to learn from Amanda and her team as we continue our progression through the NAR Accelerator Reach® Program. I very much look forward to sharing with you what we discover.
Green is good, for you and your business.
How Company Culture Helped Us Win 3 Australian Business Awards
If you follow the Australian Business Awards or are a friend of ActivePipe on social media, you may have heard that we took out their Software Innovation, Technology Innovation and Marketing Innovation awards for a second year running.
Being recognised amongst a pool of exceptional business talent is undeniably awesome and I couldn't be happier that we get to celebrate these wins twice in as many years. But for me, the beautifully framed set of certificates now hanging at the top of our Melbourne office stairwell signify something far more important than profit margins, market placement or software algorithms.
What wins like these really show me, is tangible evidence that our team is doing exactly what it has set out to do. We've worked together, as a collective, to achieve an incredible set of goals by utilising the different skill sets, strengths and even weaknesses of each individual.
Through an eagle-eyed approach to creating a strong and inclusive company culture, each member of the ActivePipe family has felt confident to express all the fresh ideas that led to our product being as successful as it is. By giving the team unequivocal freedom and trust, I've discovered that the proof is well and truly in the pudding; a well-nurtured team give back in spades, and then some.
In the age of the start-up and a worldwide decline in lifelong brand loyalty, it's a mistake for any leader to overlook the role of culture in strengthening their business. In droves, millennials are turning their backs on the traditional suit-and-tie job, unless it comes with a lifestyle balance and culture that aligns with their values. This means that if you want to attract top talent, you've got no choice but to get on board and rethink what you have to offer those that are offering forty-plus hours a week to you.
You don't have to drop everything, run out the door and buy a foosball table and bean bags (although it doesn't hurt, I'd be facing mutiny if I dared remove ours). What it does mean is stopping what you are doing, taking a step back and evaluating the happiness of your staff, and if you feel something is amiss, implementing a three point plan to address it. Get this part right and it won't just be awards you're winning, you'll see every facet of your business winning as well.
Start With Your Why
This first step is the most important. Why are you here? What is the purpose of this business? If your only answer is 'making money', then you're going to have trouble building an authentic connection with your team. Think deeply about your goals and make these plans known to all new interviewees.
If you haven't already, work with your current staff to come up with your purpose together. At ActivePipe, we did this by identifying three words that truly define us: hustle, inspired and easy. They drive every avenue of our business and we know that if they're being fulfilled, everything is chugging along just fine.
Live and Breathe It
Don't pay it lip-service and then fall back into old habits once the novelty has worn off. You need to work hard every day to maintain culture. Live and breathe it! Keep the momentum going with team-building days that get everyone out of the office, communal spaces that encourage mingling and interiors that inspire creativity. Constantly remind your team how important your ideal culture is and make sure you always lead by example.
Pay it Forward
Encourage innovation outside the confines of the office and give kudos to those who strive for it. If a team member achieves something cool, let them know it. Be present in your company, not just a faceless suit behind a computer screen and be the company that's known for giving back to the communities that support it. We see real estate brands doing this well, often promoting junior sporting teams and local events.
Remember, success is for sharing. Break bread with your staff and immerse yourself in your community.
The benefits of a strong, unified company culture
Maybe you think this all sounds a bit fluffy.
Perhaps you're right, but in my experience, building a company culture that you can be proud of is no exercise in kumbaya hand-holding. If you get it right, staff retention rates will soar and your flawless brand image will attract customers in the thousands.
At the end of the day, it all comes down to this: no matter what someone's job title is, whether they're your right-hand woman or a fresh-faced graduate, everyone deserves to be treated with respect and humility.
Live by this everyday and it won't just be your accountant that thanks you for it, you might even pick up an award or two along the way.
Shane Colquhoun: A Winning Principal
Shane Colquhoun is the principal of LJ Hooker Nerang, which was recently crowned 'Regional Sales Office of the Year' at the 2018 Real Estate Business (REB) Awards. He believes that cultivating team longevity through individual coaching and exceptional office culture are the principles behind a winning principal. At publication, his office has generated 122 appraisal requests through ActivePipe.
AP: Congratulations on your real estate success this year, what does it mean to you to see your office getting this type of recognition?
SC: It's a reflection and an appreciation for all the hard work that you do over the years and it's a big tick for the culture that we have here. It's nice to be recognised with awards but it really assists with the culture.
AP:  Is there a particular highlight from the last year that you'd like to share with us?
SC: Moving into the new office was definitely a massive highlight. After years of having the goal of giving the team a better working environment, having it come together was something very special.
AP: What are the qualities that you believe got your team to the top?
SC: I'd have to say that working as a team and having team longevity helps. Recruiting and training are a big part of a business but when you've had people here forever the business will improve every year. It's nice to bring people in who become part of the turning cog in a machine and working well, so it's easy for new people to start because there's a lot of long-termers here.
AP: Tell me about the everyday routine of your agents. What are the little things they do each day that sets them up for success?
SC: Everyone is coached individually. At the end of the day, everybody has a strength and a weakness and it's about highlighting the strengths rather than working on the weaknesses. If someone has been working in real estate for ten years and has a weakness, I think it's always going to be there, so we support in the weakness and grow the strength.
AP: Your office has generated 122 appraisal requests through ActivePipe, which is huge! How do you make sure that ActivePipe is incorporated into the daily routine of your agents?
SC: It's a non negotiable. We have it in the office and you have to use it, whether you've been here for one day or for twenty years. It's one of those automated tools that makes people's jobs easier.
AP: What advice do you have for agents who are just starting out in the business of buying and selling homes?
SC: God help them!
No, I'm joking. I was actually driving to work today thinking just how lucky all these new agents are with the technology on offer. They need to utilise the technology but also remember that it's all about talking to people. Too many agents rely only on the great technology and believe its going to be the answer to all of their wishes but at the end of the day, you still have to talk to people. You have to build relationships over the phone and touch base as regularly as possible. I look back at when I was a successful sales person and I didn't have any technology, I didn't even have an email address, it was all about knocking out 30-50 phone calls a day.
If you did that many phone calls today, with the backup of this fantastic technology there's no excuse for anyone joining the industry today to not make it work.
AP: What mistakes do you see other principals making that are inhibiting their business?
SC: At the end of the day, it's growth. It's not putting on enough sales staff or failing to grow your property management team.
AP: What would you say to agents who are thinking about giving ActivePipe a try?
YES! But, remember that you can't rely just on the technology. If a contact is in real estate mode, they'll open your emails but if they're not they'll probably click out of them, so for those times you have to have other things in place to stay front-of-mind.
Daniel Oliver's Secret to Success
Earlier this week, we had a chat to Daniel Oliver, Ray White SA/NT #1 Agent January 2018. We were so impressed with the results he's generating with ActivePipe that we had to know more about how he implements it in the office and his everyday routine. So far, Daniel has received 17 appraisal requests and 142 profile updates, a truly staggering effort.
Here's what he has to say about ActivePipe and how it's helped him reach out and truly engage with the homebuyers of Adelaide.
AP: First of all congratulations on being named Ray White SA/NT #1 Agent January 2018. We've been looking at your ActivePipe data and can see you've received 17 appraisals through the platform! Great work.
DO: Thank you! Its nice to have received them, hopefully many more to come.​
AP: How long have you been on ActivePipe for?
DO: We were one of the first offices to get on board when Ray White took on ActivePipe. Our training was back in April 2016.
AP: How do you incorporate ActivePipe into your everyday routine?
DO: My assistant or myself will log into it everyday. We'll look through and see which properties have open for inspections coming up and we'll call anyone that's clicked on that property and say, "we have this amazing property on offer that is similar to what you are looking for, have you seen it? Would you like to come to the next open home?"
That drags traffic to the property and it's all through ActivePipe. It saves us a whole lot of time because we know exactly who's clicking on what properties. They have no idea that we're calling them because of that click, we just say "I keep in touch with all my current buyers, would you like to come by?"
This really helps us with our attendance numbers and sells the property.
AP: What are your favourite features of the product?
DO: Getting people to the OFIs is the first big help but we also love 'Potential Sellers' and 'New Geo- Conversions'.
Our favourite is 'Profile Updates'. We know for instance, that if someone is an 'Investor' we can hand it straight over to our BDM, who's our investment specialist. He can take care of them straight away and hopefully turn it into a property management referral, which means more business coming in.
AP: In terms of efficiency and time management, how has AP changed how you operate in your daily business?
DO: It saves us hours. Literally, a lot of hours of calling everyone back. My aim at OFIs is to collect a minimum of 90% of emails from attendees but before ActivePipe, I didn't really care to be honest. Now that I'm aiming for that 90%, it's probably why I've received 17 appraisals. It's because I'm building my ActivePipe database.
AP: How Important Do You Think Embracing Technology Like ActivePipe is for the Future of Real Estate?
DO: 100%. We are at the forefront of doing that and I think it's been one of the biggest changes to my business. I can't imagine life without it.
AP: How would you describe ActivePipe to other agents who aren't with the system but who are considering giving it a go?
DO: I wouldn't tell them about it. It's a secret. (more…)
Everyday Things You Can Do To Inspire Your Team
With KPIs to hit, listings to win and commissions on the line, real estate is often considered a game of numbers and hard sells. It's a high stress environment and the pressure is almost always on. This means that agent burnout is a real problem in the industry and leaders need to take a stand. To create healthy work-life balance and increase job satisfaction, principals must look out for their staff and promote a positive work environment that inspires self care, self belief and self motivation.
Here are eight easy ways to inspire your team and get the good vibes flowing in your office.
Build Core Values
This is where you need to start. At the heart of every good business is a set of strong and well defined values. Why does your company exist and why do you do what you do everyday? Once you work out your purpose, jot it down and use it to keep yourself accountable. Remember, this is your moral compass, so if you stray, the first person you're letting down is yourself.
Set Clear Goals
You've established your values, so now it's time to set some short, medium and long term goals. Where do you want to be in one, five and ten years time? For a team-building exercise, get everyone in your office to share these objectives and then brainstorm ways to achieve them. Having clear direction and a team of colleagues rooting for you is incredibly motivating, so always embrace opportunities to collaborate.
Offer Up-skill and Personal Development Strategies
The benefits of encouraging your staff to seek extra training are two-fold. On one hand you will have a team of highly skilled professionals that love what they do and on the other, your staff will feel supported by you. Not only will they work harder to achieve your vision, but retention rates will be high because they feel like you've got their best interests at heart. Ask them what they want to learn about, you might be surprised by their answers!
Friendly Competition
There's nothing more motivating than a bit of friendly competition. Why not introduce a fun leaderboard that doesn't just focus on sales numbers but includes referrals, emails sent and any other interesting ideas you can come up with? Sales agents tend to be competitive by nature, so use what makes them tick to get some extra energy out of their 9-5 grind.
Public Recognition of Achievements and Show Appreciation
If they've done a good job, tell them. Public recognition isn't hard but it goes a hell of a long way.
Give Them the Tools They Need
You wouldn't tell a plumber to do their job without a spanner so why would you send your agent out in the field without the right tools to back them up. Prospecting technology such as ActivePipe is an essential component of an agent's daily routine. It takes the hard work out of nurturing their leads to sale, whilst streamlining efficiency and improving your brand's public recognition. If you're not on it, give it a go.
Update the Decor
An easy way to make people feel good is to create a nice atmosphere through simple interior design improvements. You don't need a $20,000 renovation, research shows that having just a few plants around an office space lightens spirits and even cleans the air for you. Take note of the culture in your office. If your team is ducking out for a caffeine hit every couple of hours, why not invest in a coffee machine that not only hits that sweet spot at 3pm but also encourages a space where people can chat.
Practice Transparency
At the end of the day, none of this matters if your team doesn't trust you. The only way to cultivate that trust is to be transparent in everything that you do. Talk about the business' progression regularly and encourage an open door policy where staff can ask any questions they may have without judgement.  Always be straight with your answers because people can smell bullshit from a mile away.
Humans respond to authenticity, so don't just be a boss be a role model they can rely on.
Rising To The Top With Glen Coutinho
When it comes time for REB to announce their 'Top 100 Agents in Australia' each year, the ActivePipe office is always abuzz. Our agents consistently place in top positions, so as you can imagine, we can't wait to get our little mitts on the prestigious list and congratulate these real estate superstars for their outstanding achievements.
2018 did not disappoint.
Of Australia's top five agents, three are ActivePipe users and we couldn't be more proud of them. Taking out the number five spot this year is our friend Glen Coutinho, the Director and Senior Auctioneer at RT Edgar, Boroondara. With 33 years experience and a whopping $340, 529, 700 worth of sales under his belt in the last twelve months alone, he's an undeniable powerhouse of the industry. ActivePipe was lucky to catch him for a quick chat and to pick his brain for the secrets to his success.
AP: Hi Glen, thank you so much for speaking to us today and a huge congratulations for being named the number five agent in Australia. You've had an incredible year, what's been the highlight for you?
GC: The highlight for me is that I've been able to achieve all this whilst still having three and a half to four months off for the year. I was able to travel to America with my family and manage my customers whilst I was away, which means that the system works well for me.
AP: So you managed to achieve that elusive work/life balance?
GC: Exactly
AP: What are the qualities that got you to the top of the real estate game?
GC: I believe my greatest quality is loving people. My biggest strength is spoiling my customers. From birthdays to wedding anniversaries, I just always make the effort to acknowledge the success of all my clients. I spend most of my time with people and I just want to spoil them.
AP: Tell us about your everyday routine. What are the little things you do that sets you up for success?
GC: I start my morning between 7:30am and 8am on social media. I wish all my clients happy birthday, acknowledge special dates and all those types of things. I do this by 8am and then send out some gifts to my clients and get on the phone. I make 30-40 calls a day to past clients and I've done that consistently for 33 years.
AP: How do you incorporate ActivePipe into your everyday routine?
GC: It's an important part of my routine because ActivePipe is the touchpoint for all my customers that are on email. I've got almost 30,000 customers and a lot of them get sent an ActivePipe email every week. It's especially important for the local and overseas contacts that I can't keep in touch with. It means they can get an email with my face on it and an update on the market.
AP: Do you think this has helped you in your pursuit to be one of the top agents in the country?
GC: It certainly has helped! I meet so many people that the sheer volume can be hard to keep up with. If I forget to ring someone, ActivePipe is like my backup. Say I've been chasing someone for twenty years and I forget to ring them for six months, they're still getting my face in front of them every week. Each Thursday, ActivePipe puts my face in front of 5000 people and most them think that I've written the emails individually, so it really works in my favour.
AP: How important is embracing technology like ActivePipe for the future of real estate?
GC: Look I think it's critical, especially if you've been in real estate for a long time. The younger guys are doing it but people in their 40s to 60s think they don't need to. Well, I've come to the conclusion that you do. It's a critical part of business in the 2000s and will continue to be moving into the future.
AP: What advice would you give to agents who are just starting out in the business?
If you're just starting out, you need to be in the office and at your desk by 8am. You need to consistently make 40 to 50 calls a day and you need to make ActivePipe a critical part of your business. If you want to make the best of ActivePipe, you need to get it in front of 1000 people very fast. If you've got 1000 people getting one of these emails every week, you're in the game. By the time you get to 10,000 contacts, it comes down to sheer numbers. You can't lose.
Ebany's Top 5 Tips To Win Agent Of The Year
The first time I felt the thrill of being in first place was in primary school when I won the 400m. Being first across the line felt great, and I was hooked.
I have been fortunate enough to experience the buzz and adulation of being first across the line a few times since then and each win has been a bigger milestone than the last.
As time goes by, these victories are further apart but more meaningful and challenging. The competitive nature of being an agent means we have some steep competition to endure, however that makes the recognition all the more satisfying. In 2015, I was recognised as the highest rated agent in the Australian Capital Territory.
What separated me from the rest of the pack wasn't as tangible as reaching a finish line. It was client testimonial.
In the digital age, nothing makes quite as much noise as a decent rating, and all consumers look for public endorsement before making a purchase decision. Shopping for a hotel? You go to TripAdvisor. Booking a restaurant? You check out Google Reviews before picking up the phone.
It's easy enough to get a pat on the back from a fellow staff member or the boss of a franchise but getting written recognition from your client is important validation for potential future sellers. It helps prove value for service, which means higher commissions and less contention around VPA and the selection of sale method or price.
Want to be in the running to win Agent of the Year 2019?
Here are my 5 top tips to get you there.
Start with the basics
It breaks my heart to be late for an appointment. It always has and it always will. Being on time means being organised and really, that is as basic as it gets. Kick off your new financial year with a resolution to be on time and prepared for your meetings. Prior preparation prevents poor performance, so get organised!
Focus on your clients intentions, not your own
Service is everything and being number one means knowing your client's genuine intentions before your competition. Identify your client's needs and have a robust program in place so you can deliver what is relevant. If you throw them all in the one bucket and treat them all like 'current buyers' or '90 day sellers' you will miss the mark, so take the time to ask the right questions and deliver the right service. If you tailor your communications, your pipeline will grow.
Be available, and have water tight processes when you can't be
People say that real estate isn't just a job, it's a lifestyle that requires being constantly available to meet your client's needs and provide support throughout the buying or selling process. Most people can't work 24/7 and those that try, burnout, so make a promise to yourself to have the systems and processes in place that enable work-life balance.
You need to leverage your time while still being able to walk away from the phone to recharge. The best way to do this is to let your vendors know when you are having down time and let your buyers know what your work hours are. This will give you the space you need without letting anyone down. As always, communication is key.
Look the part
"You should always aim to be the best presented agent in your area. It lets your clients know you are serious about doing the best you can for them and their home", says Haesley Cush, one of the best dressed people in the industry.
When you stand out the front of a new listing, you are not only representing yourself, your office and your team, you are also representing your clients and their interests so take pride in your presentation.
Transparency is the currency of 2020
The days of drip feeding your clients information, hiding the price and delaying communications are gone.The quickest path to the best results is built on trust and relies on complete and utter transparency. The more your clients know, the better decisions they can make and the less stress you will have holding it all in.
Got an offer? Tell the other buyers, let the competition feed the process. Offer fallen over? Call your vendors instantly and let them deal with it now rather than letting it hang over the weekend. Your vendors and buyers will love you all the more for being up front and forthcoming with the facts which will make you number one on the leaderboard.
Let's Talk About Competitiveness and Drive in Real Estate
Whether you call it football or soccer, there is no denying that FIFA World Cup is one of the biggest events in the sporting calendar. Fans around the globe huddle around the TV and get ready to watch their country battle it out on the world stage.
To celebrate this prestigious event we got in contact with our SVP North America, Mike Feller, who was lucky enough to play soccer for the US National team. Mike talks about the importance of self-motivation in real estate and how agents can channel their competitive spirit to drive more sales.
Mike, who are you going for in the World Cup?
Usually I'd be going for the USA but we didn't qualify for the World Cup in Russia this year. If I had to pick another team it would have to be England because I almost feel bad for them. They've had such a tough run lately!
How did you get into playing soccer?
I started playing soccer when I was five years old. I didn't really get serious about the sport until my sophomore year in high school but after that, things escalated quickly and by my senior year, I was playing on the US national team. I competed at this level for three years and was recognised as one of the top 20 soccer players in the country for my age group. I travelled a lot and had some great experiences, but was prone to injury. At one stage, I got hurt badly and that splintered my professional soccer career. After rehab, I decided it was time to hang up my boots. I went back to school, got my MBA and have been working with several startups ever since.
What parallels can you see between real estate and football?
Working in the industry for the past few months has made me realise that there are a lot of parallels between playing professional sport and selling real estate. Both professions are driven by a level of competitiveness, work ethic and an innate desire to succeed.
Tell me a little bit more about the importance of determination and drive for agents to succeed?
There are a large number of agents in the US, and the space is very competitive. In addition, the real estate industry is full of external influences, so agents need to adapt to a fluctuating market that they have no control over. Most of the time, the difference between those who succeed and those who fail is self belief, perseverance and drive. Just as athletes need to push through injuries and unforeseen circumstances, agents need to find new ways to overcome obstacles that they inevitably face.
How can agents train themselves to be better at their jobs and get an edge over their competitors?
To stay fighting fit, agents need to embrace the fact that they are running a business. They need to understand what drives their success, like the key conversions they need to pay attention to if they are going to turn a profit. If they adopt this mentality and truly dedicate themselves, they will be able to separate themselves from 90% of their competition. Another thing they need to do is ensure they are in tune with technological developments in the industry. Advancements are happening quickly, so agents need to understand what tools are out there and how they will help improve their business operations. The more relevant they are in that regard, the more likely they are to win listings and ultimately head a successful business.
Any other finals thoughts?
There are a lot of parallels between real estate and the sporting world. At the end of the day, self-belief, work ethic and competitive drive separate the winners from the losers. If you can simply harness those elements, you will succeed.
ActivePipe's 3 Most Popular Properties Might Surprise You
You're out on the field dealing with real estate everyday. You're meeting clients, inspecting homes and listing stock, so if anyone has a feel for the trends in your area, it's you.
But have you ever stopped to think about whether the conditions in your local market are the same as other parts of the country?
As a real estate agent, it's worth looking at the big picture. The beauty of being an ActivePipe customer is that we can give you insights based on the big data that we have access to everyday. We can see what people are clicking on to determine the most popular properties and configurations in Australia.
Today we are going to share the three most clicked on properties in our database. It's a bit of fun and makes for a great conversation starter.
In 2017 ActivePipe sent out a whopping 159,426,681 emails resulting in nearly ten million property clicks. That's half the population of Australia clicking on properties our clients advertise each day.
Victoria
ActivePipe HQ is located in the humble state of Victoria, so it's the perfect place to kick off. From our research it appears that Victoria's results are a bit of an anomaly, with the most popular property being smaller in configuration than the other states. The most clicked on property is a rural, Mornington Peninsula stunner of nearly 20 acres. It features two bedrooms, two bathrooms and views that will take your breath away. With an interior like this, it's no surprise that it caught the attention of 912,546 potential buyers in Kay & Burton's database. Pop online and check out 74 Shoreham Road, Red Hill for some tree change inspo.
New South Wales
Whilst Victoria's most clicked on property was built for the dreamers, it looks like the New South Wales shoppers are a little more realistic. 23 Southern Street, Oatley is a four bedroom, two bathroom home located in Sydney's south, 18 kms from the CBD. Just like its Victorian counterpart, our NSW winner boasts incredible panoramic views, with windows and a balcony overlooking the Georges River. This beauty was clicked on by 759,765 potential buyers through PRD Nationwide.
Queensland
If you've checked out the two properties above you'Il notice that large blocks and ample entertainment areas are a common theme. Our QLD winner is no exception. The four bedroom, 2 bathroom home sits on a massive 2400sqm block and is located close to some of the best beaches on the Sunshine Coast. Whilst staging has been minimal, it's easy to see why 650,133 people were so impressed by this gem. 
What can we learn from this data?
People want space as all the properties are on large blocks.

Buyers love the idea of getting close to nature as all three properties have a rural feel to them.

Across the board, staging was minimal. People like to imagine their own belongings in a home so it's best to keep things neutral.

Two of the three homes were candidates for renovation, meaning you don't need to have the fanciest house on the market to capture the attention of thousands.
The Surprising Benefits of Going Green
Does driving across town for client meetings, writing a million contracts and spending hours on the phone negotiating a selling price when you're meant to be on annual leave sound familiar?
Life as a real estate agent is indisputably hectic, so it's fair to assume that the last thing on your mind is worrying about the impact your job has on the environment.
Last week, we spoke about the growing popularity of eco-homes and how house hunters are looking towards a green future. Today we are going to talk about how real estate agents need to get on board, practice what they preach and start implementing sustainability practices into their everyday routine.
Going full rainbow-warrior is daunting and unrealistic, so we're going to talk about the small, daily changes you can make around the office. If everyone gets involved and implements these simple strategies, you'll be doing your part for the environment and saving some cash along the way.
Get your green thumbs ready, here are our top tips for an environmentally friendly workplace.
If you can't reuse it, refuse it
The key message of this year's World Environment Day was to ditch single use items such as plastic cutlery, straws, shopping bags and take-away coffee cups. These days there are thousands of affordable reusable options out there, so there is no excuse to keep buying a new water bottle every morning.
Your local discount store has plenty of stylish utensils so why not stock up the office kitchen with products everyone can use. As an added bonus, many local cafes offer discounts for those who bring reusable coffee cups, so have some fun, branded ones the whole team can use!
Change your printing habits
Gone are the days of flyers, mailouts and OFI pamphlets; the marketing world has gone digital and so should real estate. Invest in some office tablets. They are incredibly versatile as you can email on-the-go and even use it to register attendance at an OFI. If you absolutely have to print, make sure the default setting is 'double sided' and you only use recycled paper.
Greenify your office
Leafy ferns aren't just pretty, they filter pollutants from the office environment and clean up the air. Research tells us that work spaces which embrace plants and natural light boost morale and increase productivity. So take the team out to the local nursery and choose some gorgeous greenery to spruce the place up.
Be mindful of the way you transport
The reality is, agents need their cars to get around so we're not suggesting that you ditch the wheels five days a week. To offset your emissions, consider teaming up with a work buddy and car-pooling every couple of days. Sharing the vehicle will save on fuel and toll costs, and might even encourage you to dust off the old bike and peddle your way to work and optimal fitness.
Remember you are what you eat
Our idea of what qualifies as food has changed dramatically in the last 100 years. Sadly, it is one of the world's most wasteful industries but it's easy to make a stand by buying fresh produce that supports local farmers. Not only is organic food more nutritionally beneficial than that from the supermarket, it's far less likely to come wrapped in plastic and transported from the other side of the world. Don't buy your lunch each day, bring it from home in some funky tupperware and you'll save money and improve your health.
Embrace energy saving tech
Have you ever thought about how much electricity is running through your office? Lights are on, heaters are in full-force and everyone has their computer plugged into a wall. These are things that we never really take notice of but make a huge difference to the energy bill at the end of each month. Turning off your computer when you go home and installing some energy efficient light bulbs is a great place to start. As a rule, turn off any appliance when it's not needed.  
Remember
Take one step at a time and don't be disheartened if you slip into old habits occasionally. So long that your hearts in the right place and you can get a conversation around sustainability happening in your office, you're already on the way. You'll save money, improve your health and be surprised at how much fun being a greenie can be!
The Future of Real Estate is Green
Until a few years ago, owning a sustainable home was a pipe dream for the average buyer.
Whilst they loved to imagine themselves in a beautiful, open planned living space full of natural light and a veggie patch, the thought of shelling out for overheads such as solar panels and new eco-friendly appliances was unrealistic.
Making things even more unattainable was the reality that investing in eco technologies meant waiting eight or nine years for a return on investment. Even though you knew you'd save money in the long run, the benefits were too distant for the average homeowner to comprehend, especially under the weight of mortgage repayments and utility bills.
The good news is, being eco-friendly is becoming increasingly mainstream and we've now reached the tipping point where the benefits for both the environment and hip-pocket are well known and extensive enough to encourage environmental upgrades.
According to research by the National Association of REALTORS®, 11 percent of new homes are bought for energy efficient reasons which means being green is cool and no longer the exclusive domain of peace-loving hippies.
How can agents get on board with the movement and use their expertise to emphasise the planet saving features of the homes they sell?
Be able to sell the benefits to your clients
The first thing you need to do is get online and do some research. There are hundreds of industry experts who write about reduced emissions, utility bill savings and the resale value of eco homes, so why not make use of their hard work and write down statistics to use in a client presentation. Breakthroughs are happening quickly so it's worth staying on top of the latest developments by subscribing to industry newsletters and following dedicated pages on social media. Only by immersing yourself will you be able to communicate the true value of sustainability to your clients.
A simple list of ways you can make a home more "green"
Creating a green home is easier than you think. From installing leadlights to investing in low-flow showerheads, most initiatives are affordable and can be easily implemented. Here is a list of basic steps your vendors can undertake before putting their house on the market.
Install solar panels

Purchase energy efficient appliances

Insulate the home well – this means roof, ceiling and floor

Add a water-tank to collect rainwater

If extensions are planned, ensure building materials are non-toxic

Get back to nature by starting a compost pile and veggie patch that new owners can harvest

Plant natives

Aim for open plan living that improves temperature control
Have a list of contractors for your clients
To make it easy for your seller, align yourself with reputable contractors in your area. Keep a stack of their business cards in your car so they're always on hand. The added benefit of this is that the contractors will reciprocate referrals, bringing more eco-friendly business to your pipeline.  
Learn how to market "green" features
Now that you've done all the groundwork and have convinced your sellers to invest in some upgrades, it's time for you to do what you do best and start selling the home. This is when your marketing expertise come into play and you can get creative with how you demonstrate the brand new eco-friendly benefits. Use sustainability as a USP, which you can present through a variety of channels including your listing description, OFI flyers and online marketing.
Align your brand with "green" even if it's just basic social media
If you're going to talk the talk you should walk the walk and be holistic in your business's sustainability strategy. This means implementing energy saving initiatives in your office, supporting eco charities or writing a blog post that showcases the positive effects of environmentalism. You might even consider re-working your branding to suggest that you specialise in these fields. Before you know it they'll be seeking you out for your services!
The future of real estate is looking greener everyday. As people become more conscious of their footprint, agents need to keep up if they want to flourish. Harness your inner Captain Planet and think about how you can give back to the environment while making a living.
What GDPR Means For Australian Businesses
We've already spoken about what the implementation of new General Data Protection Regulations (GDPR) mean for our clients in the UK, so today we will turn our attention to its impact on Australian businesses.
"Privacy Acts" are data protection laws which regulate the collection, use and disclosure of personal information about individuals.
These acts promote transparent data handling practices and business accountability.
To give individuals confidence, the Government enforces the Australian Privacy Act of 1988 which requires business to:
Implement a 'privacy by design' approach to compliance

Demonstrate compliance with privacy principles and obligations

Adopt transparent information handling practices

GDPR is another layer of protection which you have to be aware of if your business operates in the EU.
Will GDPR apply to your business?
You should prepare for GDPR, if your business:
Has an office in the EU

Has a website targeting EU customers

Has a website mentioning customers or users in the EU

Tracks individuals in the EU on the internet and uses data processing techniques to profile individuals to analyse and predict personal preferences, behaviours and attitudes.

If needed, seek specialist legal advice to ensure you are prepared.
So what information applies?
The GDPR applies to 'personal data', meaning 'any information relating to an identified or identifiable natural person'. This can include data about your race, religion, beliefs, union memberships, sexual orientation etc.
Are you a Data Controller and what are the implications?
Your business is classed as a 'data controller,' if you determine the purposes and means of processing personal information. If you use email marketing software to communicate a product or service to a database you are a data controller. If this sounds like you, refer to the Act and its related articles, as outlined below.
Data controllers should:
Comply with GDPR Principles relating to how you process personal data (Article 5)

Implement data protection policies to ensure you comply with the GDPR (Article 24)

Implement technical and organisational measures to show you have integrated data protection by design and by default (Article 25)

Consider if you require a data protection officer to monitor and advise on compliance with the GDPR

Undertake a compulsory data protection impact assessment (DPIA) prior to processing data

Keeping records of processing activities under their responsibility

Are you a Data Processor and what are the implications?
Some GDPR requirements apply directly to data processors. Whilst these are less stringent then for data controllers, processors must still understand their responsibilities.
The relationship between controller and processor generally needs to be set out in a contract, which includes specific clauses such as:
The processor may only process data in accordance with documented instructions from the controller (Article 28)

The processor must ensure that persons authorised to process personal data have committed themselves to confidentiality or are under an appropriate statutory obligation of confidentiality

The processor cannot engage another processor without the authorisation of the data controller (Article 28)

The processor assists the controller to satisfy its responsibilities in terms of security obligations, data protection, impact assessments and DBN notifications.

Like data controllers, the processor must also implement appropriate technical and organisational measures to ensure a level of security appropriate to the risk (Article 32).
Mandatory data breach notification
As a rule, data controllers and processors must advise the relevant supervisory authority of a data breach within 72 hours.
Refer to Article 33 and 34 of the act for exceptions to this notification requirement.
Overseas transfers of personal data
Under GDPR, personal data may be transferred outside the EU to countries or international organisations that provide an adequate level of data protection.
GDPR sets out the details the EU Commission needs to consider when deciding whether these third parties ensure an adequate level of protection (Article 45).

The European Data Protection Board is required to provide the Commission with an opinion assessing the adequacy of a country or organisation's level of data protection (Article 70(1)(s)).
In the absence of an adequacy decision, overseas transfers are permitted in some limited circumstances, on the condition that individual's enforceable rights and effective remedies are available and where appropriate, safeguards are in place. These safeguards include:

The data controller has approved 'binding corporate rules' that enable transfers within a corporate group

The data controller has entered into an agreement that contains the 'standard data protection clauses' adopted by the EU Commission or a data protection authority

Approved codes of conduct are in place and the recipient controller or processor gives binding and enforceable commitment to apply appropriate safeguards

An approved certification has been made by an accredited body and the recipient controller or processor gives binding and enforceable commitment to apply appropriate safeguards (Article 46).

In the absence of an adequacy decision or appropriate safeguard, overseas transfers are permitted in very specific situations.
Sanctions
The new sanctions are severe.
GDPR gives supervisory authorities the power to impose administrative fines of up to €20 million or 4 percent of annual worldwide turnover. They'll go with whichever figure is higher, so you need to be vigilant.
Disclaimer
This article provides a commentary on GDPR for informational purposes only and should not be relied upon as legal advice or to determine how GDPR might apply to you and your organisation.
Not all aspects and interpretations of GDPR are fully defined yet. Therefore we encourage you to work with a legal professional to discuss how GDPR will specifically apply to your organisation, and how best to ensure your compliance.
Prioritising Authenticity In Your Business
In a world driven by fake news, social media and an unrelenting 24-hour internet cycle, it's not surprising that consumers have pushed back and demanded something more authentic from business.
The age-old saying, "the customer is always right", has led marketing teams around the world to search for a more personable story that resonates with heart.
Some get it right. Dove is a great example of a corporation that's replaced "corporate" with "human" and made millions of dollars telling women that they're beautiful, no matter what their perceived flaws are.
Adversely, we see those who get it really, really wrong. You might have heard about the recent Pepsi debacle where millionaire reality star Kendall Jenner fronted a tone-deaf campaign that tried to connect Pepsi with the longstanding racial equality movement. The ad was subsequently pulled and Pepsi had to apologise for their distaste.  
So how can those in real estate cultivate their authenticity and let their personality shine through in a way that isn't cringe-worthy or tired?
Identify your core values
The key is to work out your 'why'. Research shows that 'why' driven communications are the strongest and longest lasting. Your 'why' comes from working out your purpose and why you're driven to do what you do everyday. If you need some inspiration, check out our blog on why it's so important to build your brand story.
Engage with your customers
Once you've determined your core values, it's time to find a fresh way to communicate with your customers. In real estate this means not being afraid to show your flaws! Why not use the Facebook live stream feature as a means of publicising your latest OFI success. Leave the bloopers in! Have a laugh at yourself! Consumers really appreciate this and will feel like they can connect with you on an authentic level.
Show the moments that happen behind the scenes. Maybe it's a co-worker's birthday, so you get a cake and get the office to sing "Happy Birthday!" Don't miss out on this opportunity to show your softer side and let your local community into your little family.
Drop the jargon
Quit throwing around complex real estate terms that the everyday person won't understand. This will only alienate potential customers because they will feel intimidated and are therefore less likely to ask for your help. Instead, make an effort to explain things clearly and simplify the often daunting process for them. Using inclusive language is ideal for social media as it helps people feel like they're part of your family. For example, "Thank you to our friends in Smithville. We love being part of your community".
Explaining the problem you set out to solve
Every business exists to solve a problem. In real estate, you are working hard to help people find the right home at the right price. To discover the core of your business' authenticity, you need to very clearly define the problem you set out to solve and outline how you do it. Are you a high-end brand dealing with luxury properties or do you specialise in helping families on a tight budget find a nook to call their own. Case studies are a great way to demonstrate your success without tooting your own horn.
Get Excited
Show your passion for real estate in everything you do. Whether that's having a warm smile when you welcome someone into an open home, getting involved at the local footy club or sharing real estate tips and tricks with your followers, if you believe in what you do, people will want to work with you!
Understanding Milestones to Create Customers for Life
It's a total cliche to start a conversation with "we all know life is unpredictable" but some sayings are overused for a reason.
Life really knows how to throw a spanner in the works when you least expect it. One minute you've got your life perfectly mapped out, the next your hubby has been made redundant and you don't know if you can cover your mortgage repayments on one income. Or maybe after months of trying, your girlfriend finally falls pregnant and you realise you need to move out of that one-bedder in the city to something more roomy in the suburbs.
None of us know what is around the corner. You're an agent, not a clairvoyant so how can you predict when a client's situation is going change and it's time for them to make a move. The truth is you can't, but one thing you can do is recognise the key turning points in life that change a person's property needs.
If you have this, you will always be able to turn a conversation into a listing opportunity and a listing opportunity into a long term and prosperous relationship with your contact.
Here are some major milestones to look out for and why:
Having a Baby
A new bundle of joy means a new bundle of space is required in the household. For many young parents it signifies moving from the first home they've bought together or perhaps looking to buy in the suburbs after years in an inner-city apartment. For you as an agent, this means upsize, upsize, upsize!
Divorce
When a couple splits, there are two common scenarios that take place. One of them chooses to stay in the marital home whilst the other looks for something smaller or they decide to cut their losses, sell the property and start new lives, in new pads. As cold as it sounds, divorce offers a great opportunity for agents to capitalise on a two-for-one deal.
Retirement
After working for the man for the better part of forty years, it's no wonder that those on the cusp of retirement are dreaming about selling the family home and setting up somewhere to enjoy their golden years. Perhaps it's a wealthy investor wanting to sell off her property portfolio to take a river cruise through Europe, or maybe it's a grey nomad ready to trade it all in for a motorbike and a unit on the beach. Either way, retirees are the ultimate downsizers.
Bereavement
This can be the most difficult chapter in a person's life cycle and needs to be treated with utmost sensitivity. Needless to say, this isn't the time to get dollar signs in your eyes and swing into bull-in-a-china-shop commission mode but it does pay to know the general property habits of those going through loss. That way, you'll know what they're looking for and how to service them better. If it's the loss of a spouse, chances are your client is looking to downsize or relocate closer to family. If it's a parent or close relative, they may have come into an inheritance and are looking to invest in property for themselves or their kids. You can use your expertise as an agent to guide them in the right direction.
Graduates
Whether it's TAFE, uni, circus school or a tradie apprenticeship, there's nothing more exciting in a young person's life then finishing their studies and finally being able to make enough cashola to start putting away their pennies and planning for the future. Welcome, first home buyers! Don't overlook fresh-faced young graduates, if you nurture them through their first-home purchase you'll create a customer for life!
Remember…
Being front-of-mind when your contacts go through different stages of their life journey is paramount to your business. It's all about building relationships that inspire trust. Do this and your clients will want to share their personal moments with you. ActivePipe can help you nurture relationships by sending out intuitive communications that encourage meaningful conversations.
Stop seeing contacts as a listing opportunity and start seeing them as a customer for life.