Finance Tips for Agents to Put a New Spring in your Step
When economist Richard Holden went to China recently, he saw homeless beggars who wouldn't take cash, they only accepted digital money. This is just one of the crazy stories about finance and the future of money from the recent Real Big Things event in Melbourne.
If you're an Aussie agent you better be well rested, because Spring has officially arrived, and things are about to get hectic. Spring's as much about OFIs and auctions as it is about blooming flowers and shedding winter weight.
At this time of year, the number properties coming to market can triple, meaning there are way more opportunities to drive extra listings. Spring is a commission piñata waiting to be smashed open.
As good as Spring can be for agents, this kind of seasonal variance can make managing the year's profits difficult. This means that agents need to be more aware of their finances so that they can plan for the mid-term and avoid financial stress down the track.
Thankfully, I was recently invited to Real Big Things, where experts in finance and economics talked about money and how people can take control of their finances.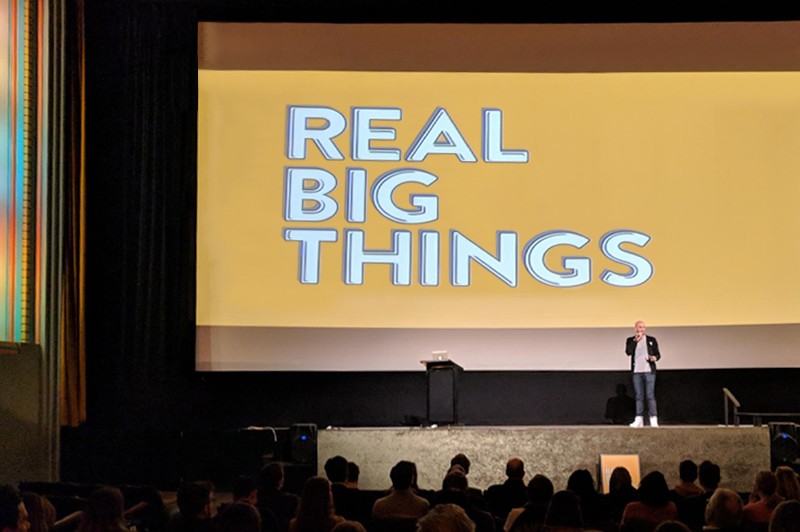 Discover Your Super Power
For many Australians, super is the largest asset that they will ever own. Aussies should always be thinking about our super, even if we're decades away from being able to spend it.
Too many of us lose track of super across a bunch of different accounts when we should consolidate our money and use it to invest. This is the best way to grow your super and ensure you have a long and happy retirement.
When it comes to investing super, speaker Adam Milgrom said that we should think carefully about which fund we choose to leave our super with. Shockingly, he showed us that some super funds invest your money to profit from stuff like slavery and corruption.
He says that investing in ethical super funds lets us create a better world and is great for business because ethical investment, surprisingly, offers higher returns than their profit-seeking counterparts!
Milgrom points out that in total, Australians control $2 trillion dollars of super in total, which is a lot of money that can be used to make a difference.
It truly is your very own super power!
Invest in Trade Secret
It was shocking to hear finance expert Grace Palos tell us that only 45 per cent of Australians are financially literate. This means that over half of us don't have the know-how to achieve financial freedom through things like investing.
Palos says that this isn't our fault and good designers need to improve financial platforms, which otherwise hold people back from investing and other activities that would help build a nest egg.
If you're one of those people who has always put off getting started with investments, she recommends learning about finances in social groups and setting realistic goals. People who learn with their peers are more likely to persevere and succeed in the long run.
Before you start investing you should set some goals and think about how long it will take you to achieve them.
Realistic is the key word.
You are more likely to do well when you aim for financial freedom than start with the idea of becoming a millionaire.
One step at a time (millions will come later).
Your Saving Grace
Some of us suck at saving. For people who survive off commission this can be especially challenging. But if you get it right you'll always have a backup nestegg to sustain you through the quieter months.
When George Lucas (no, not that George Lucas) spoke at Real Big Things he said that it's important for people to develop an emotional connection to their savings.
He says that a sense of pride in your own savings is the only thing that can help us stick to our financial goals and override the temptation to splurge on things like new clothes or fancy dinners.
Unfortunately, this kind of emotional attachment isn't something we're taught and is important when thinking about money. However, it's easy to change this. Train yourself by making small goals that make you happy and proud when you reach them.
By doing this, according to Lucas, an agent makes a choice that will make you happier and less stressed in the long-term.
Tis the Season
Spring is like Christmas time for agents. It is your busiest time of the year and by the time it finishes you will be exhausted. After any good Spring you will have a neat stack of nice, fat, commission cheques waiting for you at the end of it all.
When you take control of your finances and prepare for quieter seasons you make sure that you can enjoy the spoils of Spring all year round.
3 Ways MVP Will Help Your Business Thrive
I've spent the past 15 years working with startups.
There's nothing quite like the feeling of coming up with an incredible idea that no-one has thought of before.You have this huge roadmap with hundreds of intricate details and dozens of features mapped out, and you just can't wait to get it on the market.  
Then it comes time to turn that big idea into a reality.
This is when potholes appear in your perfectly tarmacked road. Team members leave, money is tight and the technology you need hasn't been developed yet. All of a sudden you realise there is no way you can have a perfectly polished product out in a couple of months.
As someone who has been down this path before, I know how discouraging it can be but I also know a way you can get past this. A way to get your product to market, in the shortest possible time.
This version might not be as advanced as you originally planned but it will help by giving you valuable insight into what your consumers really want.
If I've learnt anything over the years, it's that the final product never turns out quite like you expected it to. You assume you know what the marketplace wants but inevitably it's the person using the product that will shape it's evolution.
From marketing to development, that's why we live and breath MVP in this office.
So what is MVP?
MVP stands for Minimum Viable Product and involves releasing a version of an app or website with sufficient features to satisfy early adopters before it's final form. It will gauge audience reception and allow their feedback so you can develop a final product that satisfies all their needs.
How do you put MVP in place?
Begin by identifying the most important features of your product. To do this you need to understand your target audience so that you can define priorities and know which features to implement first.
These tend to be the simpler tasks that actively solve the consumer's core problem. The most important thing is that the MVP is compelling enough to convince your public to buy-in. If you've got money in the bank, you've got resources to allocate towards improvements.
As you begin adding in new features, you will find that you are solving your problems naturally and coming up with concepts and new angles you didn't think about when you started this journey.
That's the beauty of using your customers as active participants in your product's evolution. They'll add just as much value to your business as you do to theirs.
The basic principles of MVP permeate through every department at ActivePipe. We use Agile Methodologies and a lean start-up model to ensure we are flexible and have the ability to pivot when new opportunities arise.  
What benefits have we seen so far?
Product Goes to Market Quickly
There is no use sitting on an idea waiting for the next bozo to come along and pitch it before you do. It will completely ruin your plan before it even gets off the ground.
Going to market with an MVP product quickly establishes your authority in the space and will test if there is any demand before you put all your energy into a potential dud.
It also allows you to gather and enhance your user-base so you have paying customers helping to build your revenue stream and finance further development.
Implementation costs are reduced
Starting with a simple product reduces the cost of staff and will ease some of the financial pressure more traditional businesses face from monstrous upfront fees.
If you reduce the likelihood of making a mistake by taking your time to implement features, you'll save money from not having to backtrack and fix those misguided ideas later on.
Valuable insight is gained
This is arguably the most beneficial aspect of going to market with an MVP. You are able to create a feedback loop that helps foster development. You work directly with your clients and analyse their behaviour and preferences, allowing you to test key hypotheses and gather user information.
Remember
Just as you thought you wanted to be an astronaut when were a space obsessed eight-year-old, where you start your journey is not necessarily where you should finish it. Validating a product idea in the real world is crucial to its success and there's no use haphazardly wasting your resources building a product that hasn't been tested.