Leader of Leaders: The Rise of Leanne Pilkington
Leanne Pilkington has been in real estate for a long time. In that time, she has accumulated prestigious awards, setup organisations and established herself as a leader and role model. She is the president of REINSW, Managing Director of Laing+Simmons, and Founder of Real Women in Real Estate (RWIRE).

For someone so accomplished, Leanne Pilkington is down-to-earth and candid. As a woman I look up to, I was honoured to sit down with her to discuss how she got to where she is today, and the bright future she's continuing to forge for herself and all women in the real estate industry.

Origins of a Real Estate Icon
A twelve-year old Leanne started out answering the phones at her dad's real estate agency and would go on to become one of the most influential people in Australian real estate.

"It was never a burning passion," Leanne says, talking about how she fell into real estate after graduating.

"Honestly, I went to Schoolies like everybody does, and I ran out of money. Dad said, "Yeah, all right, I'll send you some money, so long as you work for me until you go to uni.'"

Leanne would work for her dad for eight years, learning her way around the industry.

"Working for dad wasn't really ideal for me because I would give him too much of a hard time. I wouldn't take directions from him. Typical teenage girl," she jokes. "I recognised that I needed to get out of that environment if I really wanted to grow and develop a career."

This knack for pushing herself out of her comfort zone is something that has defined Pilkington's career. For a period, she even made a move into other industries before returning to real estate in the 90s, when she would join Laing+Simmons.

Leanne has been there ever since. In 2015 when she was named Managing Director, she was the only female managing director in NSW, and one of the few across the country. From there, she has gone on to become the president of REINSW, where she wields tremendous influence in NSW residential property, an industry which turns over $107 billion annually.

Leanne Pilkington: Advocate for Technology
Pilkington says that in all her time as an agent, the biggest changes to real estate have come from technology.

"I think that in my first 25 years of real estate, nothing has really changed," she told us, "the only thing that would change would be the market conditions. But now there is so much money being poured into technology, and although I don't think we've really seen a disruption yet, it's coming."

Leanne is working to turn Laing+Simmons into the real estate brand of the future.
"We're working on a lot of really exciting technology at the moment. I'm really pumped to see how that makes a difference in helping agents better personalise their communication, better manage their databases, have better information about what's going on in their market."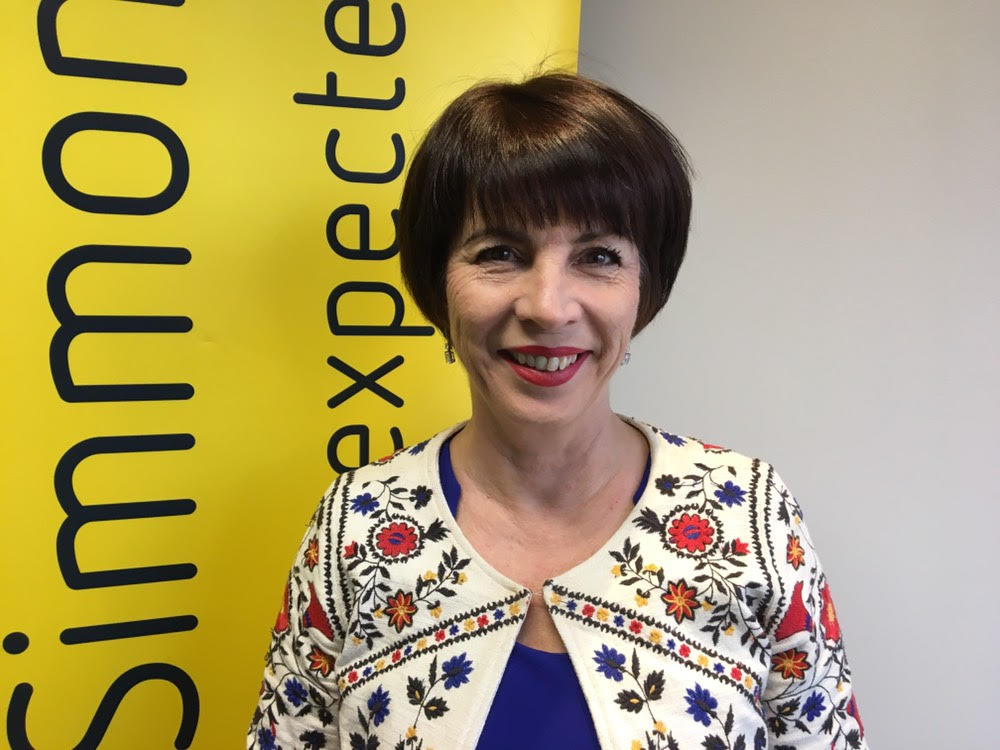 At the core of Laing+Simmons new platform is a CRM that is empowered with robust business intelligence, artificial intelligence, and virtual agents. Leanne says that this is a strategic move, with "much better information for our agents about what's going on in the market and just better consumer insights."

Already Laing+Simmons is seeing results. The virtual assistant alone has improved conversions off enquiries by 13 per cent.

"All of our marketing will be automated so that we can have a much better brand compliance," she said. She emphasised that this would make it "much easier for agents to roll out the campaigns that we develop for them, across all of their different platforms."

Far from being pessimistic about the disruption that technology will bring, Pilkington is eager to embrace it. She does not imagine a dystopian future where the robots take over. In fact, it's quite the opposite.

"I don't believe for a minute that it's going to be the end of real estate agents. I think that the relationships are still really important. But agents need to get smart about how they utilise the technology."

Leanne says that agents should get smart by thinking about how they can serve the customer.

"The reality is that consumers have changed as a result of technology. Their expectations have changed. The way they research things has changed. The way they want to buy things has changed. And so we're going to have to change with it."

Leader of Leaders
As the founder of Real Women in Real Estate (RWIRE) and nominee for three REB Women in Real Estate Awards, it might surprise you to learn that Leanne Pilkington was initially a reluctant hero for women in real estate.

It all started in 2015, when some of her colleagues were urging her to throw an event for women in the industry. Leanne resisted.

"I didn't personally need something like that, so I didn't understand that there was even a need."

Leanne eventually caved in and the event blew up.

She got triple the number of attendees she expected and women were flying in from out of state. Leanne realised that there was a need for this kind of event and threw herself into the project that would eventually become RWIRE. Now, RWIRE has spread to 11 locations across Australia, to New Zealand and even LA. In June it will host its 50th event.

"It's been much more successful than I ever expected. I didn't understand it to start with, but I do now."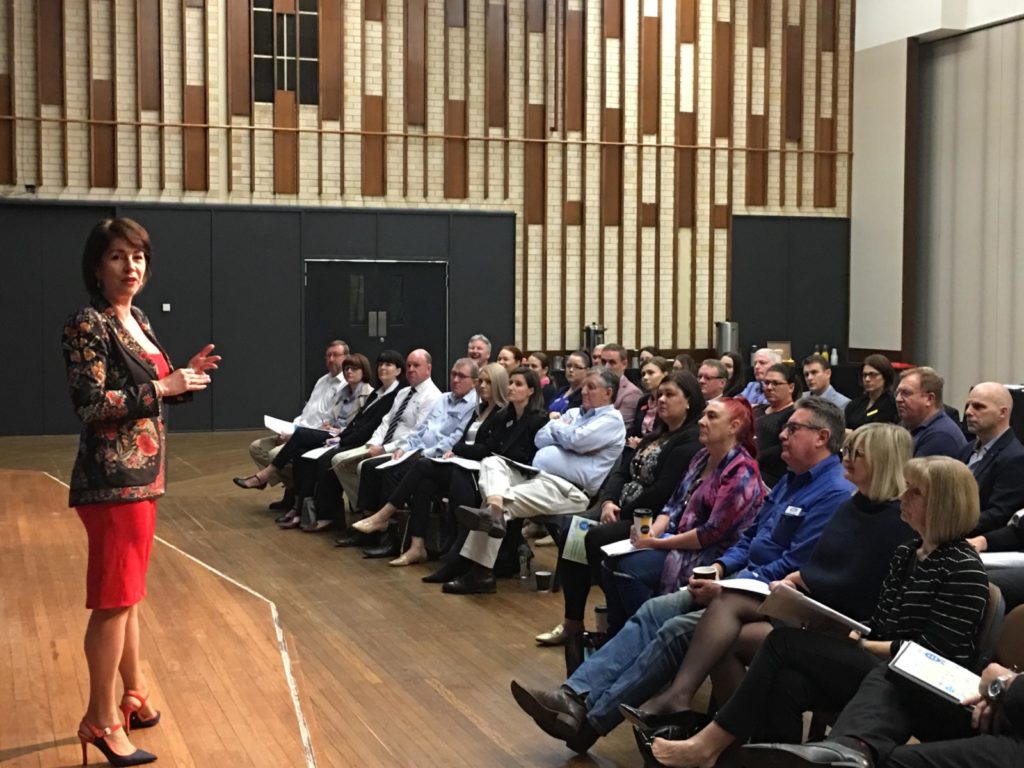 Part of the popularity, Leanne thinks, stems from an absence of women in leadership positions and on stages at conferences and events. To combat this, RWIRE has a focus on outreach and education, including a new podcast, Courageous Conversation, which launches on the first of June.

"It's about the conversations that we all have, not just women. But it's really to encourage women that don't like those difficult conversations around leadership, to be game enough to approach it and realise that good things happen on the other side.
When asked about all of the different advocacy projects she's working on, she stops for a moment.
"I sound really busy when I'm talking about it like this, don't I?" she remarks.
I acknowledge that she must get up early in the morning
"I do, yeah," she laughs. "You're quite right."

For a person to become a multi-award winning Managing Director of an acclaimed agency, President of powerful industry institution and founder of a global organisation, I imagine Leanne Pilkington must get up very early indeed.
Face it, You're Piling Leads into a Leaking Sales Funnel and That's Not Okay
Everyone knows how important it is to get leads, but all of the hard work and investment involved can be for nothing if you've got a leak in your sales funnel.

To fix this problem we need to understand what exactly your sales funnel is, how to spot a leak and then we can learn how to plug up that leak so that you can rescue leads and help them on their path to close.

Define Your Funnel
The most basic funnel breaks the customer journey into three segments:
Awareness: all the people who know about you
Consideration: the people who are thinking of using you as their realtor
Conversion: the people who buy or list with you
At this stage, it's important to understand that not all your leads will make it to the conversion stage.

What you want to identify are the lost leads you can prevent. These are the leaks.

Find the leak
You can't plug a hole if you don't know where the leak is coming from.

If you find you're spending money on marketing but people aren't calling to make inquiries, it means your leaking at the awareness stage. If a lot of people you know are signing with other realtors, that means you have a leak in the conversion stage
Identify the leak, then you can fix it.

Clean your Database
At the minimum, you should have a name and email address for every contact. You may have had a great conversation before, but without a way to get in touch with them, they will be stuck in the awareness stage. Remember, if you can't get in contact, that person is not a contact.

Thankfully, you can use software to go through your database and eliminate contacts with incorrect, absent or out-of-date information.

Use Smart Marketing
The shift from outdoor and print advertising to email and social gives realtors wider and more targeted reach and also gives them better insight into which ads are working.

Email marketing is particularly effective because it is cheap, everyone has an email address, and smart software lets agents see exactly who is engaging with their emails. By using AI driven analytics, this new breed of software lets realtors identify people at the consideration stage and act before any of their competition. The key to effective marketing is hitting the right person with the right messaging at the right time.

Make the Right Calls
Cold calling is going out of fashion, and for good reason.
The problem is, cold-calls target people at the awareness stage of the funnel, long before they're ready to convert. If you call people too early, you risk annoying them and putting them off.

Instead, you could look at technology like email marketing, search and social to generate leads nurture your contacts to the conversion stage, where you can use your metrics to make warm calls.
This article was originally written for and published in RISMedia.
How Thought-leaders Maintain Relationships to Improve Long-term Portfolio Strength
On average, any property will be bought and sold every ten years. ActivePipe SmartFeeds helps agents become thought-leaders to stay front-of-mind until contacts are re-active in the market. Find out how it works and how we're making it better!
Imagine you've just sold someone a house.
We know that a property will exchange hands every ten years on average, but your customers might sell more frequently. This makes it difficult to know exactly when contact interest in the market will peak.
One solution is thought-leadership, which many agents use to engage active and inactive contacts.
That's why we've put together this handy guide to show you how you can save time building your thought-leadership platform, and make customers for life.
How to Stay Front of Mind, Long Term
A property owner never stops caring about their property, so you can always guarantee they will have a level of interest in the market.
Most people aren't real estate experts (as you know, all too well) and can often feel intimidated or inundated without access to reliable information channels.
For this reason, people look to thought-leaders.
Thought-leaders can remain front of mind with contacts even when those contacts aren't actively looking at property.
It comes down to a value exchange.
Make it easy for people to get the information they want, so they don't have to look for it. People who aren't interested in your weekly listings can be engaged with broader updates and information that is relevant to real estate.
Content Ideas for New Thought-leaders
Becoming a thought-leader isn't as simple as it looks. The most successful thought-leaders in any industry can sometimes spend years trying to develop a following.
The first thing you need is an idea. New technology is great for sharing, but old technology (pen and paper) is sometimes best for coming up with ideas.
In the brainstorming process, think about your target audience (property owners), and what they need or want to know.
For agents, good topics to cover are:
Local community news and events
General commentary on the property market
Trends in interior design and renovation
These are just some basic ideas to get you started. Use these to inspire your own creativity. In this day and age, it's easier than ever to start your own blog.
If blogging isn't for you, there are heaps of websites online with sharable content that you can tap into. Even if you aren't necessarily creating all your own content, people will still come to you as a source of information if you're sharing the best content from around the web.
Again, developing a following takes time. Don't let yourself get discouraged if you don't immediately see the results you dream of.
Now that you've got the content, only one question remains:
How do you share it?
The Easiest Way to Reach Your Audience
SmartFeeds is the digital tool that makes thought-leadership easy.
Email marketing has high engagement in all industries, so it makes sense to use a tool that taps into email and is the reason we've developed the ActivePipe SmartFeeds feature.
When you use SmartFeeds in an email, the ActivePipe Feed Engine:
Goes to a website of your choice, such as a blog
Fetches information about that content
Automatically loads that information into an email
From there, it's easy to send emails to your database that help to improve contact engagement with your emails.
Follow these steps and you become the obvious first point of contact for any client when they re-enter the market, whether that's in 2 years time, or twenty.
Be the thought-leader that people follow.
Simple Email Tips for Realtors
Email is well and truly established as the premium marketing tool for top realtors across the country.

It boasts a 66% lead conversion rate, is 40 times more effective than Facebook and Twitter at acquiring new customers and is considered the preferred method of communication by 61% of American consumers.

These are impressive figures, which aren't all that surprising when you consider that 95% of us have an email account we check multiple times per day.

So, if you've been thinking about taking your marketing efforts to the next level but don't know where to begin, we've put together some simple tips to help you get started.

Begin with a Strong Subject Line
There's no point sending an email if it's not going to be opened. That's why it's important that you capture attention with the right subject line. Short and sweet (5-9 words is optimal) is the name of the game and personalizing with neighborhood information such as local listings or attractions will set you apart from your competitors. Research tells us that subject line personalization leads to a 26% higher chance of your email being engaged with!

Finish with a Call to Action that inspires… Action!
Just as there's no point sending an email that won't be opened, there's no point sending one that doesn't drive the reader to take action.

As the realtor, it's your job to direct your audience with a clear and concise CTA so they know exactly what to do.

Include action verbs that persuade:

"Get more information on this home now", "Call me to discuss your next home" and "View listings in [your community] now!" are a great place to start.
Engage and Send
Keep emails relevant and engaging. Rather than spraying your contacts with content that may or may not apply to them, keep your advertised listings local and neighborhood news recent. Look to Google for inspiration. There are plenty of examples of great real estate emails you can draw inspiration from. Just make sure you add your own personal touch to convey authenticity.

Once you're happy with the body of your email, think about the timing and volume of your sends. Once to twice a week is desirable but everyone is different and it may take a bit of trial and error to find what works best for you. Whatever you decide, consistency is key to staying front of mind.
Don't Stop Learning
This is just the basics to start you on your journey. Explore the ActivePipe blog to discover more in-depth and expert advice on creating a successful email marketing strategy or speak to one of our client success specialists today.

Ebany's Top 5 Tips for Getting Started with ActivePipe
"You've just got to jump in and have a swim around."
That was the advice from one of our happy clients, Reece Prewett, when asked what he'd tell other agents and principals thinking about giving ActivePipe a go.
I completely agree with Reece, but I also believe that to make the best of your time in the water you need a few lane ropes around to help keep you on track.
No matter what, if you're willing to try something new, ActivePipe will revolutionise your business; start your journey right  and you'll ensure that your results are supercharged and that you see them quick stat.
Here are my top five tips for getting off on the right foot as you begin your new life landing infinite leads, saving hours in your week and creating customers that will come back to you time and time again.
Gotta Start Somewhere
Login! This is where Reece's advice really rings true. ActivePipe is designed to be easy and fun, so the first thing you should do is have a poke around. Try building an email. You can drag and drop images, text, and even content from other people's websites. Practice your skills without the worry of breaking anything. If you build something fun, send it to yourself or a friend to see the finished result!
Get Your CRM in Check
This is a great excuse to consolidate. Do you have a notebook somewhere with a list of contacts you never got round to entering into your database? Or perhaps your phone is full of names you've collected out in the field that never made it to the desktop? Well, this is the time to sort it out. Get every name you can into the system so that ActivePipe can start discovering their buying and selling intentions.
Play the Name Game
Don't settle for Mr and Mrs. As much as possible, try and get hold of first names too. This is important for the open rate of your emails. It's accepted across the board that people will notice and respond best to emails that are personalised with their first name. The beauty of ActivePipe is that as long as that name is entered, the platform will do the hard work and personalise your emails for you.
Assign(ment)
Clean up your data by making sure all your contacts have been assigned. You know that amazing feeling you get after a big spring tidy up? That's how good you're going to feel once you've organised your database. Make sure duplicates are deleted for that extra squeaky clean goodness.
Get Creative
If a contact is receiving emails from you, chances are they're receiving material from other agents too. When you think about how many emails, messages and newsfeeds pass in front of our eyes each day, it's no surprise that even the most well-intentioned send can slip through the cracks, never to be seen again. Give yourself the best chance of standing out from the crowd by getting your head into 'creative mode'. Start thinking of interesting and original ways to get your message to your audience. Google trending topics, .gifs, upcoming entertainment in your area and anything else you can think of that might catch and hold attention. Have fun with it!
What Next?
Now that you're getting comfortable and have sent a few campaigns out, why not log into our training centre and watch our short tips and tricks videos which will help you become an ActivePipe pro with a pile of listings you're colleagues will be envious of.
Personal vs Personalised: Why the Difference Matters for Agents
The word "personalised" gets thrown around a lot these days. Saying that something is personalised isn't just a fancy way to say personal. It has its own meaning. Read on to find out what those meanings are and why the difference between what's personal and the personalised is relevant to agents.
What's the Difference, Technically?
As an agent, you've probably used a "personal touch" and "personalisation" in your customer journeys, even if you haven't realised it.
"Personal" is a describing word. It means that something is private or unique to a particular person.
"Personalised" is a doing word. It's all about action and means that something has been made for a particular person.
These may just be words, but the ideas behind them carry weight.
What matters is how you understand the relationship between these two ideas and how you can use that understanding to improve your customer relationships.
Why Agents Should Care
As an agent, for example, you might sometimes add a personal touch. This could mean giving out pens with your name on it, or property profiles with your face on it. Some of the big-figure agents even take it as far as rolling out champagne for an open house!
You don't have to spend a lot of money to add a personal touch. A personal touch just means doing something to make people recognise and remember the agent they're dealing with.
This tactic is as old as the real estate game itself.
Making something personalised, on the other hand, is more new-school.
To personalise something is to make it unique to the customer.
More and more businesses are starting to do this. It's easier than ever to order a t-shirt with a personal message or photo on it. Facebook creates personal videos about peoples' online friendships and lets their users share them on their wall.
Technology has dawned a revolution in personalisation.
These companies are only making one product, but they change them so that each item is completely unique to the customer.
This takes the guesswork out of marketing and product creation.
In the past, companies had to try and create one product or marketing campaign that worked for the majority of their target market. The genius of modern personalisation is that it lets the customer create the product that's perfect for themselves!
For the Last Time: How Does this Help Agents!?
To be fair, personalisation isn't completely new to real estate.
Think of the classic: the agent Christmas card campaign, where an agent handwrites personal messages to everyone in their database. Some of the top agents even do this for all their contacts' birthdays as well.
At least, it used to be just the top agents.
These days any agent can easily personalise in two steps.
First, you need to know about your contacts to be able to cater to their unique personalities. The obvious details to find out are name, phone, address. On top of that, go the extra mile.
What are your contact's interests? Do you know what food they like? Do they have a pet?
This level of detail might seem like overkill, but people are doing it. It's how you get ahead. Knowing these things about a person helps you build stronger relationships with your database.
Getting this information can be easy, if you're a good listener. You'll be surprised what kinds of information people reveal about themselves in casual conversations.
To keep track of all your contacts' details, add an extra column in your database. The great thing about digital contact lists is that you can add heaps of custom fields without your data getting completely out of control.
Once you've got an idea about who your contacts are as people, the second step is easy.
There are heaps of digital platforms that let you integrate with you database and send personalised messages to your contacts.
Google Calendar is great example. Just plug your contacts' birthdays into your calendar and send people a text when you get a notification. If you're really clever, you can even use a third party app to send the texts for you automatically.
Technology has improved personalisation so that, like Facebook, any agent can deliver digital messaging that is unique to individuals.
What is the difference in something that is personal versus personalisation?
Something that is personalised (made for a particular person) lets you have a personal conversation (unique to an individual).
The ideas don't compete with each other, rather the personal and personalisation compliment each other.
Things that are personal and personalised aren't the same thing, but when your sales pitch contains both, it helps you have the better conversations that make customers for life.
To learn more about how ActivePipe can help you automate personalised comms, speak to one of our automation experts.
How Many Emails are Too Many Emails?
I love training new ActivePipe users.
I get a real kick out of how excited they get as we work through the platform together. It's like skipping straight to the tearjerker at the end of the movie, when the lead character realises that after all these years and all these hardships, their life is about to make a drastic change for the better.
It might sound extreme, but in my experience, that's the power of this platform.
As I've finessed my skills as a trainer, I've found that the number of questions I'm asked during a session is diminishing. There is one regular though that consistently rears its head and is deserving of some explanation.
How Many Emails are Too Many Emails?
I hear this all the time.
No one wants to be a 'spray and pray' marketer and BSOs are rightfully wary of the term 'automation'. They know that how often you send affects engagement rates and as a result, how many listings you land.
So how many are too many? How many are not enough? Should an agent put on the brakes or step on the throttle?
At the end of the day, there is no 'magic email number.' You're better off focusing on a few simple rules which will guarantee that your emails are well-received and bursting with value.
Here's what I recommend.
Content, Content, Content
Before you send anything out, you need to ask yourself, "What value will my audience gain from receiving this message?"
Many email automation providers simply send the same email to everyone on a list. Naturally, this means that for many receivers, the emails are going to be 'low-value' and you'll notice open and click-through rates drop whilst unsubscribes soar.
This is where intuitive software like ActivePipe can help. Because the content of your emails tailors to the requirements of each individual in your database, you know that they're only receiving information relative to their needs. Voila! High-value information equals high-value engagement.
An Out of Control Database
The cleaner your database, the better your emails will perform. It's as simple as that. Database maintenance may feel like the last priority on your to-do list but the truth is, an agent is only as good as their contacts. If your list is clean and you're only sending properties to interested parties, 9 times out of 10, they'll be salivating for your next move.
U.G.L.Y
The presentation of your email is paramount. If it's poorly arranged, the images aren't crisp or your fonts are dated and tasteless you're in big trouble. If an email is unpleasant to look at, it doesn't matter how great your listings are, you're going to look unprofessional and ultimately end up in the dreaded trash can.
No CTAs
Are your emails not producing many inquiries? Make sure that your CTAs are in check. By making it as simple as possible to get in touch, you'll encourage anyone who's sitting on the fence to get in contact with you regardless. Capitalise on people's laziness.
So That's the Secret!
At the end of the day, it all comes down to value. If your emails contain relevant information, are easy to read and include a clear call-to-action, the number of emails you send out isn't that important. With a little trial and error, you'll naturally find your own 'magic email number' and there's no better number for you than that. 
If you'd like to speak to someone about how you can create and automate emails bursting with value, get in touch with Ebany and the team here.
Like What You See?
For more expert tips, tricks and musings, join the thousands of real estate professionals following us on Facebook and LinkedIn.
Let's Talk About Genuine Automation
Not very many agents or administrators, if any, are aware of the full potential in marketing automation available to them in the real estate space.
When the term "email automation" is mentioned in conversation, most administrators point out that they have access to software that enables them to send out an email next week that will repeat the week after.
"…We create the one email and that goes out week after week. It's set and forget."
That isn't really automation though, is it? That's repetition at best, and the sole cause of all the spam that we see in our industry. Whose clients are yearning to see the same email spammed to them week after week? Certainly not our clients.
Worldwide, email is still considered to be one of the best means of connection — if it's done right. If though, you are sending the same benign list of "fresh stock" each week, do so at your own risk — and pay the price. You'll end up with a diminishing email database full of buyers, sellers and investors who are disconnected from you and uninterested in your content.
Let's Talk About Genuine Automation

Did you know that ActivePipe listens to your clients preferences and can subsequently refine the information being sent to them, based on their needs?
Each week, we are sending millions of emails that are completely tailored to the individual receiving them, based on price, configuration, location and property type: For Sale or Sold, based on the client's intentions. This means the relevance score is up, and the likelihood of unsubscription is down.
We can also tag and re-tag clients based on their behaviours and needs, which can, in fact, pivot and continue to tailor the content and journey those clients are on. This means that they are getting the right information, based entirely on their genuine needs.
Genuine automation means intuitive, thoughtful and targeted communications. The polar opposite of spam.
When working with some of the worlds biggest brands and boutique agencies we have taken notes on what is available and what is missing and we developed ActivePipe ENTERPRISE as the solution.
Enterprise enables you to set and forget certain journeys, based on your client's behaviours that align them with the journey that suits their needs. For instance, an investor could quite comfortably and happily be contacted ten or twelve times a year, as long as the information is relevant to their investment needs.
Likewise, first home buyers are absolutely busting for the right information that enables them to buy the property they're looking for, as well as guidance around finance and the real estate market. All of which can be catered for automatically, as long as that's the journey they're on.
Many agents address the investor in this scenario with the first home buyer, in the same email. As this continues, week after week, it's no wonder that the industry has ended up where it is. Week after week of repetition. Inboxes full of spam.
If you want to learn how genuine automation can transform the way you communicate with your customers, book in for a chat here.
Like What You See?
Follow us on Facebook and LinkedIn for more expert advice on how to improve your business, straight to your newsfeed.
Is Home Still Where the House Is?
The 2018 Life at Home Report from Ikea shows that people all over the world don't think about home the way they used to. Find out what's changed for modern buyers and how you can use this knowledge to sell homes.
This year, for their fifth annual Life at Home report, Ikea looked at how and why peoples' idea of home has changed and what effect these changes are having.
We reached out to Ikea and asked why they would invest in this kind of report. They said, plainly, "Creating a better life for people starts with a better life at home. That's why it's essential we know what life at home is really about."
For an agent, who is an expert on what a home is, this information is invaluable, as it gives agents direct insight into how their database will feel.
From this report, you can learn how to empathise with prospective buyers so that they look to you as an expert, who will guide them to their next home.
Why People Care about the Home
Ikea has identified the five core emotional needs connected to a sense of home:
Comfort

Security

Ownership

Privacy

Belonging
These five emotions apply to pretty much everyone, although different people place different importance on each of them. How a person reflects on these needs will change through the course of their life.
As an agent, you need to understand that when someone is looking at a property, they are thinking about their life at home and making an effort to meet these emotional needs.
What happens when these needs aren't met? Will a prospect be turned off a house that doesn't offer optimal privacy? What if their ideal house or flat is out of their price range?
Ikea's research has shown that home doesn't end at the front door. If a person can't get what they need at their "residential home" they won't settle for unhappiness.
Instead, they turn to the "extended home".
A Home Outside of Home
"Home doesn't give me mental privacy, so I like to escape onto my balcony to be alone or go and sit in my car on 'my street' in winter," said Alessandro, one of the respondents in the study.
This is reflective of broader Life at Home findings, which showed that 29 per cent of people feel more at home outside their residence.
This might sound astounding, and a little grim.
"[People] have shifted their behaviour towards living their lives both inside and beyond the four walls," Maria Jonsson, an insights analyst from Ikea, told ActivePipe.
"They see the opportunities in the extended home, they don't expect [the residential home] to cater to all emotional needs."
This means, for modern agents, it is more crucial than ever to be embedded in the local community. When people come to an OFI, they are probably inspecting the area as well as the house.
Know your area.
Local sporting clubs, entertainment districts, school catchments and the neighbours are as important to people as the house itself. The backyard might not be as big as your prospective buyer would like, but if you can sell them on the area, they might think it's as big as they need.
Future of the Home
"The world's population is becoming more urban … technology and climate change is fundamentally affecting our way of life," says Katie McCrory, communications specialist at Ikea.
People understand that these changes are happening and are adjusting to new modes of living.
The data supports this.
Life at Home found that 64 per cent of people globally were prepared to build a home that was different to the one they grew up in. People are opting out of the traditional home ownership dream and are more likely to live in smaller spaces that are closer to central hubs.
In Australia, for example, 70 per cent of people favour, "a smaller residence with a great location over a larger home in a less ideal place."
When we look at trends in technology and shifting cultural values, we can form an idea of what the future will look like.
This, combined with Ikea's ongoing Life at Home research, helps people in the industry build a holistic understanding of what a home is.
This is about more than adding value to your sale.
By understanding the needs of home and how life at home is changing, you can reflect on your own home to ensure you're building more fulfilling spaces and communities, which addresses your emotional needs and leads to a happier, healthier life. (more…)
Why Email is Still the King of Real Estate
There's so much noise around social media and its lead generation capabilities that you'd be forgiven for thinking the medium has overtaken email as the ultimate online marketing channel for real estate agents.
From Facebook to LinkedIn and beyond, there's an expectation to pimp your product across all platforms, at all times, leaving the more traditional efforts of email marketing billowing in the dust behind you like a rogue tumbleweed.
For those of us in the industry, following these trends and analysing the data is essential for our development, and my marketing team have spent hours trawling the numbers in an attempt to discover which marketing channel reigns supreme.
What we've discovered is that despite the hype around social media, when it comes to converting and nurturing leads, email comes out on top time and time again. This could really throw a spanner in the works for the agents who are progressively looking to social as the backbone of their marketing plans.
Do Your (Number) Crunches
The data coming out of leading technology market research firm Radicati speaks of the superior organic reach that email provides compared to social. They've discovered that an email is 5x more likely to be seen than an advertising message delivered via Facebook and that 98% of top rating agents in the US (earners over USD $100,000) tout email as the best real estate marketing channel for converting leads.
These are some mind-blowing figures which are backed up by research coming out of The Digital Marketing Association, who've found that email has a whopping 66% conversion rate – far higher than social and direct marketing.
In the Mix
One should never disregard social media as part of a holistic marketing mix. It's an excellent and well documented way to showcase your personality and create an environment of trust with your contacts. What I'm saying is that it might be time to start refocusing your efforts back into email – a medium which transcends the mere realm of ROI and truly engages the more than 4.5 billion email accounts out there patiently waiting for your delivery.
Let's Convert
So how can a pragmatic agent use this information to their advantage? It might sound like a corny analogy but you should think of email as the engine of your car, fuelling the rest of the mechanics along your road to success. Let email power the rest of your channels and not only will your lead conversion rates increase but you'll be engaging the existing leads in your database who don't necessarily have visibility of your social presence.
Use It or Lose It
Speak to a professional about how to make email work for you. Just because the data tells us that it's is a winner doesn't mean you can bang out any old thing and expect to be crowned Agent of the Year.
From punchy subject lines and CTAs to whether or not your emails are intuitively automated or audience segmented, there are plenty of variables that will affect the success of your campaign.
Get it right though and you'll be left with no doubt that email is still the king of real estate. (more…)
How Real Estate can Learn from Sport to Improve Customer Experience
How learning from sport can help the real estate industry find simple solutions to make a customer's path to purchase effortless.
Introducing tablets to collect prospect data at OFIs was a crazy innovation.
We take them for granted now, but if you've been in the game for a while, you were probably pretty impressed the first time you used a tablet to collect prospect details.
And this is just the beginning.
Agents can look to the world of sport to see how the future of technology will improve customer experiences to make the life of your customers effortless and improve your sales.
Get Rid of Typing with NFC Chips
Some agents report that a tablet at an OFI can double the number of leads they go home with.
Those leads are often better quality. An added bonus is that contact details are added directly to your CRM, so you waste less time typing out all your contact details manually or trying to translate messy handwriting!`
By taking handwritten contact details out of the equation, you save yourself and your contacts a lot of time. Considering this, the next step is to remove typing details altogether.
Look at how Nike harnessed the potential of wearable technology with their NikeConnect jerseys.
The jerseys are the future of sports apparel, containing the NFC chips that allow some smartphones to tap and pay. This kind of jersey can do things like verify the authenticity of merch, or even replace half-time SMS competitions.
Instead of copying down a number into their phone, then texting that number to try and win a competition, sports fans in the future will be able to just tap their phone to their jersey to enter a comp.
In real estate, smarter apps that use NFC technology could make it so that neither you, nor your OFI attendees need to spend time manually entering details into a tablet. You will be able to capture contact data in the blink of an eye.
This will make it easy to follow up and nurture leads.
Use Beacons to Catch Leads and Map Customer Behaviour
The NFL in the US is a big fan of beacon technology and has been using beacons to pinpoint fans in a stadium. The beacons allow stadiums to improve the customer experience and provide patrons with personalised deals and even make it possible to share which bathroom has the shortest line.
This targeting feature makes beacons one of the most exciting technologies for real estate agents and is already starting to change the way agents capture and nurture prospects.
The benefits are twofold.
An agent can attach a beacon to the front of any house on the market. That beacon transmits a signal to people who pass through the area, giving them info about upcoming OFIs. Think of this like a for-sale sign that ends up right in a prospect's pocket!
The second benefit happens when people come to the OFI.
Beacons are increasingly accurate. When a beacon connects with a prospective buyer's phone, they can pinpoint its exact location. This means that in the future, agents will be able to get a map of everywhere a prospective buyer has been during an OFI.
This will give every agent a bird's eye view of their OFI. You will capture key insights into what aspects of a property you should feature in your listing ads.
This technology is already here and starting to take real estate by storm.
Create Videos Customised to Individual Contacts
When our friends at Visual Domain teamed up with the Melbourne Victory football team, they were given the task of creating personalised videos that address the experiences of Victory's high-value members. Creating thousands of personalised videos might sound like an impossible task, so it's a good thing this is Visual Domain's specialty.
A company like Visual Domain can capitalise on your CRM and use that data. A video that's made this way can contain a contact's name as well as cater to a viewer's personal experience and serve them only video clips that are relevant to them.
In this Melbourne Victory membership campaign, the Visual Domain team used data on which game members attended. When the member receives their video, they only see clips with highlights from the games they saw.
Using this kind of marketing harnesses powerful emotional memories for an effective call to action.
At the moment, this kind of video is taking off, as more and more brands are starting to see the value in highly personalised content. In real estate we see videos that contain the specific houses that contacts have shown interest in, allowing brands to effortlessly address specific contact needs.
Finding Inspiration for the Future
Sometimes, it helps us to look to other industries to see where technology will be heading next.
By looking at other industries, we can start to see how our own industry will change and get excited about the improved customer experience of the future. (more…)
The Social Channels Every Agent Needs to Leverage (and how)
The idea of an agent using social media to boost their profile is hardly groundbreaking.
I don't need to tell you that it's an essential element of modern business. That said, for a time-poor agent, working out which social networks to invest time and energy into can be an overwhelming experience.
To help navigate this wild west, I've enlisted the help of an expert. Talia Wachtel is the VP of Marketing at Tiger Pistol – a Facebook Marketing Partner specialising in helping brands generate meaningful local results via social.
We had so much to talk about that I'll be releasing our interview in an exclusive, three-part series that will cover everything you need to know about building a superstar online persona.
To get started we're getting back to basics as Talia tells me the channels every agent should be using and how on earth they can use them well.
Thanks for taking the time Talia! I want to start by asking you about Instagram. There's so much hype around using this platform for business but many agents, especially the older generation, aren't sure how to get started.
Selling real estate is a visual affair. We've all seen vendors happily spend thousands of dollars getting the perfect portfolio of images together, so it's no surprise that Instagram is increasingly being touted as the perfect social media platform for agents.
The key to success is a clean, professional aesthetic that represents you as an agent. Every photo you post should be beautiful, clean, clear and natural. It may surprise you to know that overworked photos with heavy filters aren't necessarily the key to success!
Posting short videos is another great way to add a personal touch and showcase a property's best features. Don't be afraid to be the star of the show! Videos that feature an agent talking about what's happening in the market do well and will position you as a thought leader.
One of the most successful strategies that we are implementing for our clients is advertising through Instagram Stories. It's no surprise that we're seeing success with this – Stories are growing 15x faster than feeds. Even Facebook exec Chris Cox says "the Stories format is on a path to surpass feeds as the primary way people share things with their friends sometime next year". Similar to advertising on Instagram Feed, prospective vendors can click on your story and land on your website without having to remember your name or look you up.
This leads into my question about Facebook. This has been the powerhouse platform for a while now and you'd be hard-pressed to find an agent who's not using it to some extent. What advice do you have for those wanting to take it to the next level?
If you haven't made yourself a Facebook Business Page yet, hop to it. It's imperative to separate your private and business lives online, but more importantly, you need a Business Page in order to leverage Facebook's robust advertising capabilities.
There are three key elements in driving success on Facebook: Posts, Ads and replying to your community. Posting regularly will keep your Page relevant. If you're strapped for ideas on what to post, there's not harm in getting inspiration from other agents you follow. Share local market updates, lifestyle articles, neighbourhood events that you find online, and of course, leverage your listings. While you may not be trying to do the hard sell, your listings can provide unique content and are a great way to get your Page Fans to click through to your website.
To really get the most out of Facebook, you need to be running ads. And I'm not talking about simply Boosting Posts. I'm talking about leveraging the plethora of Facebook ads that are purpose-built to drive meaningful business outcomes. Run a Lead Ad to generate leads directly on Facebook, or drive traffic and conversion on your website with a Conversion Ad. If you're looking to be seen by as many people as possible in your local area, Reach Ads are perfect for you. Don't shy away from using some of the more refined targeting options as well, such as uploading your client database for retargeting purposes, or creating a Lookalike Audience to ensure you're being seen by people who are most like your existing clients. Add the Facebook Pixel to your website, and retarget people who have visited your listings online with specially targeted messages.
Lastly, with all the engagement you'll be getting on your posts and ads, you'll need to make sure that you're checking any comments or messages sent via Messenger. It's important to get back to leads in a timely manner, and Facebook makes it easy for you to do that.
I've been working on growing my LinkedIn profile and it's been great for connecting with other marketers and players in the real estate space. How can it work for agents trying to connect with prospects?
Whilst Facebook is a bit more casual, LinkedIn should really be treated like your public CV. This is where you can really establish yourself as an expert in the space, and network with real estate's biggest players.
Make sure you fill in the 'bio' section with plenty of information to let prospects and other agents know who you are and what you're about. Add in your accomplishments and finish it off with a jazzy photo that will capture attention amongst the noise.
Now it's time to optimise. You should update your profile with a proper URL that lets Google pull you up when someone searches your name. Begin to build your network by adding connections through your current email database.
Play around with LinkedIn's "Advanced Search" feature. Here, you can type in specific keywords and locations to find the perfect connections to build your dream network.
I've noticed lately that a number of agents are using Twitter to advertise properties. What are your thoughts on this?
Twitter is all about the hashtag, so have a look around and see what other agents are using to get ideas. Staying up-to-date with the most popular hashtags in your farm area will help people find your posts.
Tweeting is like attending a networking event. It's not necessarily about making rushed deals but putting in the groundwork for later business. Start by sharing a photo of a great listing in your local area and use strategic hashtags to get it in front of the right people.
If someone replies to your content, you must engage with them. These are your clients in the making, so treat every one of your followers like they are a prospect talking to you at an OFI.
Any final advice Talia?
No matter what social media strategy you decide to go with, you need to actively concentrate on growing your network. Real Estate truly is all about connections – so make sure to put some time aside each week to send friend requests to former and current clients, other agents and leaders in your community. The referrals you can generate from a solid network are exponential.
Want to reach out to the experts? Hit up Talia and the Tiger Pistol team here.
And don't forget to keep an eye out for Part Two in the coming weeks! (more…)
How to Turn Your Online Leads into Contacts, Quickly!
We all know the first place a buyer goes to check out real estate is the internet. On many levels, this is a win-win situation for you and your prospects, as you both enjoy the ease and affordability of showcasing listings online.
The downside to our tech-led world and the source of many an agent's frustrations is the curse of the dreaded 'missed lead'. You know the one. A prospective buyer or seller has browsed your website, clicked on a few of your properties and if you're in luck they might have even sent you a quick email. No phone number and certainly no essay on their intentions to purchase or sell. You've been busy the last few days but finally, you've got a spare moment and are ready to reach out out with a return email but 'Bam!', they've disappeared faster than a toupee in a hurricane. No reply, no first date.
There's nothing you can do to eradicate lost leads forever but there are steps you can take to minimise churn and turn your online leads into customers for life.
The secret? Think quick.
That's Stat-tastic!
86% of potential buyers use online as their main tool to search for property. If you can reach out to them on the same day they visit your website, you're in good stead to capture their attention and garner a response. If you can get in quick with an email, over 30% of those inquirers will get back to you on the same day. Considering the real estate industry has an average email open rate of 27% these are damn good numbers.
I Don't Have Time For That, Do I?
Well, it's time to get organised. Yeah, the stats sound impressive but how can a time-poor agent honestly spare the man hours to contact every single online lead immediately? It doesn't sound like a realistic expectation. The hard truth is that speed to lead is a huge indicator of whether a successful conversion will take place, so you have no choice but to put the time aside every day to follow them up. Make it your new rule. I'd recommend making it a 'first thing in the morning' habit as most people scroll real estate sites at night. This way you'll give yourself the best chance of being the first agent in their ear.
Make Tech Your Mate
Implementing smart technology like intelligent CRMs or software like ActivePipe will take the hard work out of nurturing your online leads. Once you've captured a lead in your database, you can start sending out content tailored to their preferences. Not only does this give buyers and sellers the personal touch they crave but you're far more likely to stop them in their search for an agent (or dream property). ActivePipe kicks things off by sending any new contact in your database a 'Welcome' email. Too easy!
Stopping the Search
Your primary goal in all this is to stop your leads in their search for… well, you! You want leads to stop in their tracks, send you an inquiry and bang down your door, insisting that you're the one for the job! You don't want them window shopping then disappearing into thin air. Attract, capture – convert.
Sounds good, how do I do that?
Keep driving traffic back to your website. Consumers today are looking for a personalised online experience – which means you need to consider their trigger behaviours. Look at what properties they have interacted with, how often they are visiting your site and where they're located. If you can send them content that matches these behaviours, they're going to keep coming back for more. You'll have them in the bag.
Summary: The 3 Step Plan
To improve the ROI on your lead generation strategy and start turning those online inquiries into customers for life, you just need to follow these 3 simple steps.
Make Online Lead Nurturing Your New Morning Ritual

Be Proactive in Getting into Contact

Use ActivePipe to Send Tailored Emails That Send Traffic to Your Website
Get in quick and the conversation will be flowing in no time.
Geo Updates: Locate Your Next Listing
Ring Ring
Who's there?
It's Andrew
Andrew who?
Andrew, I'm from Newtown Real Estate, I'm calling because I wanted to enquire and find out how long you've been in your current house and offer you my service as an agent.
…
Hello? Are you there … Hello?
Cold, Hard Calls
We can all sympathise with Andrew in this situation.
No one likes cold calling. Certainly not the person calling. Often, the person who is being called will switch off or hang up (or worse) before they take the time find out what the caller has to say.
Thankfully, technology in the the 21st Century offers new ways to reach the customers who need your services, while avoiding the customers who don't.
The Geo Updates
We have just improved the popular ActivePipe Geo Updates tool to make it easier for you to see when an address has been added to a contact's profile.
This adds oodles of value to your database by giving you:
Certainty that a contact is interested
Early insight into how your contact is going to act
A cleaner, healthier database
Easy access to updates
Geo Updates is the lightweight tool that makes it simple for you to reap all of these benefits with minimal effort.
Certified Interest
To avoid polluting your database with contacts who are not in the market, we employ a very simple technique.
Invite them in.
The trick is there are no tricks!
Geo Updates works with our Data Discovery, which is successful because it is upfront and updates the information of actual, high-value contacts.
The simple survey makes the process quick and simple for the person filling it out. They are encouraged to offer up their address in exchange for local property info that's tailored to their interests.
Early Bird Insights
An address is what we call rich info.
Rich info is a tiny piece of data that can tell you a big story.
Rich info like an address doesn't only let you know where a person is. It gives you an idea of where they want to go and how they want to get there.
We can plot your contact on a map and see when they're looking at sold properties in their local area, which would mean they're probably self-appraising. When a contact is looking at properties which are the magic distance from their house (about 7km) it means they're thinking of buying in that area.
Even better, you don't have to spend time looking at clusters of properties on a map (we have a feature that does that for you too). ActivePipe takes the guesswork out of your database and makes it easy to find the contacts you should be talking to right now.
Makes Your Job even Easier!
Any ActivePipe ENTERPRISE user can find out which contacts have recently updated their address by clicking the Geo Updates widget on their Dashboard.
ENTERPRISE users get to enjoy the spare time and stronger relationships that Geo Updates offers them. Use the rich info from Geo Updates to find the qualified leads and start meaningful conversations.
Ring Ring
Who's there?
Hi Bill, it's Andrew from Newtown.
You again!?
I know you're busy Bill, but I thought it might interest you to know that two properties in your street sold for $1.2 million this month.
Really? I didn't think they would be worth that much.
The market is strong at the moment. People in your area are very interested in valuation.
You know what Andrew, that is very interesting indeed …
---
This feature is a tool for users with the ActivePipe ENTERPRISE product. If you are unsure about which product you are using, please contact support and let us assist you.
Like this feature? See how the ActivePipe Contact Intent feature uses Geo Updates to help you build the database of the future!
The Digital Mind with Sean Birk
In my role as ActivePipe's Creative/Design Director, I've always got my antennae finely tuned to the going-ons of the creative world. As mediums and technologies continue to evolve at lightning speed, it means there's always something to talk about when my peers get together to bounce around ideas and muse on the future.
Through my work at ActivePipe, I've been lucky to cross paths with Sean Birk. Sean is the Creative Director: Digital and Integrated at award-winning creative agency, Fenton Stephens. His knack for producing innovative ideas that cut through the clutter have made him a much sought after leader in the industry and the recipient of many international awards including London International, New York Festival & Cannes. It's this ability to see around corners that makes Sean the perfect brain to pick in my quest to find out what's coming up in the world of creative technology.
We caught up to chat about how technology is changing the way we work and think.
Tech is everywhere
Unless you're reading this in an isolated log cabin high in the mountains, you're already aware of the importance of technology in your everyday life. Tech is now part of virtually every aspect of modern commerce, culture and communication. But it's so ubiquitous that you may not have considered the radical ways in which it is changing the way you work, create and even think.
Your memory is getting better … and worse.
Since the advent of Google and the smartphone, you've had a flawless memory for information, video and more – right at your fingertips.  Which means a good short-term memory is something you've needed less and less. And what you don't use, you lose.
This negative effect on the brain is a new and worrying trend. Young people who've been raised in the digital age are already showing signs of short-term memory dysfunction as a result of their addiction to technology.
It's known as digital dementia, and as we become more and more tied to our devices, it has the potential to become a real challenge to the way we think interact and take care of ourselves.
Your voice is becoming your fingerprint
It has been predicted that, in the next two years, 82% of devices will have native voice recognition capability. Which basically means you'll soon be controlling the majority of your digital interactions with your voice.
Your voice will also become your primary identifier for online security. Does this mean you'll be locked out of your email, social and banking apps when you have a cold? Time will tell. But voice control will also mean efficiencies in ways we might not expect – from automated customer service calls to new ways to complete everyday tasks.
You're turning into a cyborg
A further development of our ongoing connection to our digital devices and networked systems is high- bandwidth brain-machine interfaces. What? Basically, it's a way to connect your brain directly to a computer.
Yes, this brain implant technology isn't science-fiction. Neuralink, a company already working on a way to seamlessly combine your digital and biological self, says they will soon launch a product that will give us a shot at becoming "symbiotic" with artificial intelligence.
You're becoming more creative
You may not become an artist overnight, but at the very least, you're going to have more creative tools at your disposal.
Artificial Intelligence and deep machine learning have already resulted in computers that can edit films, write pop songs and create renaissance paintings autonomously. As we become more connected, we'll be able to harness that power and augment it with our own problem-solving skills. How? Well, that's yet to be fully understood.
But technology's ability to proactively handle mundane daily tasks will certainly leave us more time and headspace to think, create and do business.
That should be a change we all welcome.
Security Flaws and Why You Can't Fall Behind with Technology
Have you ever heard of "adversarial attacks"? A lot of people haven't, even though this kind of attack could leave you, your business or your family vulnerable to criminals. Learn why you need to be mindful of how security flaws can affect modern tech.

Home assistant devices are becoming part of the family. These smart pieces of technology, a part of the "Internet of Things" (IoT), are changing our homes and changing the way we do business.
For real estate agents, these improvements open up exciting ways to sell houses to promising leads. In fact, IoT devices are becoming commonly used as cherry-on-top sales pitches to push interested buyers over the line.
People are excited about having a home that can unlock itself, order the groceries and book the kids into the dentist, but with so much sensitive info going into these devices, we need to ask:
Who else is listening?
What Makes You Vulnerable?
Imagine if criminals could hack your phone or home assistant with nothing other than a simple mp3 recording.
This sounds out there, but it might be possible.
In recent years, researchers from a German university, Ruhr-Universitaet Bochum (RUB), have been looking into security flaws in these devices, specifically, ways smart machines can be hijacked or tricked.
To test this idea, the researchers play two sound bites at the same time. One of them is just a normal voice recording that any person can understand. The other recording is disguised in a way that makes it impossible for people to hear, but which the machine can understand perfectly well.
When played together, the recordings – which could be anything from a pop song to the sound of birds chirping – don't sound suspicious to a normal person's ear. The device, however, hears a command that it has to obey:
"Pay for shopping …"
"Transfer money …"
"Unlock the front door …"
How Can this be Happening!
You are smart. Like, one of the smartest things to ever set foot on planet earth smart.
You might not be able as good as a computer at maths, but you can learn from experiences, think creatively and understand emotions. All of these ways of thinking are way too difficult for a machine and probably will be for many decades.
Because computers don't have the power to think critically, they will just open a door when they're asked to. They don't have the common sense to consider if the person asking is a criminal or the imagination to recognise the possible consequences.
Should I Throw out My Devices?
Probably not yet.
These things can be scary, but don't let them turn you into a technophobe (someone who's afraid of technology).
In this instance, the researchers are publishing their findings so that the general public can be aware of the security flaws.
This forces the companies who design our software to take our security seriously. Public awareness of these issues holds large companies to account and forces them to look for solutions.
Unfortunately, this isn't always the case. Software exploits create a tempting incentive for hackers who can make a lot of money when they discover weak links in a security system and sell that information to criminals.
Why are we Telling you this?
If the lock on your front door was easy to break into, you would want to know about it.
And that's the thing.
Most digital technology is far more secure than the stuff that came before it. Although nothing can be 100 per cent resistant to attack, you can make sure you are safe by keeping yourself informed.
We are all very lucky to be alive in this day and age. Modern technology makes our lives efficient, convenient and exciting. By knowing what's out there and what's new, you can stay ahead of the curve. This gives you a massive advantage over the people around you.
Reject technology and you'll be left behind.
Embrace technology and shoot ahead. (more…)
5 Tips to Avoid Ruining Your Perfectly Good Marketing Plan
So, you've got some great properties on the books, unusually cooperative sellers and a flawless marketing strategy. You're ready to make an absolute killing.
Nice one! Having a solid plan is the cornerstone of any successful marketing campaign but unfortunately, it doesn't guarantee that when the theoretical becomes actionable, it's actually going to work for you.
Devastating, I know.
Throughout my career, I've seen (and experienced) some "fail safe" marketing plans fall spectacularly to pieces and it's had nothing to do with a lack of preparedness, or the smarts of its creators. Often it comes down to a handful of easy to overlook mishaps, which I'll share with you now.
Things Drag On
Sometimes (almost always) things take a little longer than expected. That one-bedder in the CBD with the fabulous verandah? It should have been the hottest property in town but instead, it's been sitting dormant in your listings folder collecting dust. Don't be the agent who shrugs and thinks "give it time," keep the momentum going by re-evaluating and shaking up your selling strategy before the property becomes stale and its owners lose faith in you. Hustle and proactiveness is key here.
Test, Test and Test Again
In saying that, don't try a tactic once and then throw in the towel because it doesn't yield immediate results. Messages can rely on repetition to break through. Test subject lines, Facebook posts and CTAs multiple times before you panic and change tact. Remember, it's ok if things aren't working for you, what's not ok is not learning from these issues or implementing the appropriate changes.
Say 'Ello to the SEO
It's 2018, so when we talk marketing we're primarily talking about having a multichannel digital presence. If you're not already, you need to get on top of SEO, which essentially refers to how the words you use affect a property's rank in a Google search. Using the same generic terms as your competitors are only going to see you lost in a sea of sameness, pushing you down into the wasteland that is Google page 2. The trick here is to look for features that make your property stand out and use those as keywords. Showcasing locality helps too.
Don't Hate, Automate
Save yourself time and dollars by investing in marketing automation software. It will do the hard work behind the screen, whilst you do the hard yards out in the field. We're all time poor, so let's make it easy for ourselves to get things done as efficiently as possible.
Get Up Close and Personal, Baby!
If you've gone through this checklist and you're still not seeing results, you need to go back and check your personas. You'll remember these guys from when you first created your marketing strategy; the fictional characters you developed to characterise different target groups of your customers. Now's the time to go back and say hello to them. Think deeply about what it is they want and which channels they would realistically use to find your properties.
Refresh your memory of personas here
This is the key takeaway. The best marketers don't necessarily have fancy degrees or years working in an exclusive agency. They're the people who can effectively put themselves in the shoes of others and really understand what makes them tick. Customer centricity 101.
So?
Keep making great marketing plans but don't blindly follow them if they're not gaining the traction you expected. Have the flexibility and wherewithal to change course if need be and if all else fails, do some research! There's so many great (free) blogs and courses on digital marketing out there, so read up, keep your finger on the pulse and you'll have plenty of fresh ideas to help turn your marketing plan into a sales result.
Why Quality Relationships are More Valuable than Contact Quantity
The lessons real estate taught me about how prospecting for "rich info" builds quality relationships and leads to real results!
At the age of 18, I was a fresh faced young agent who was trying to make a name for myself. I had stepped into a world filled with people who were sometimes twice my age and mostly a million times more experienced than me.
In those days, I spent a lot of time prospecting, and prospecting meant going from door to door, trying to build my database. By the time I was 20, after two years in the game, I had 70 contacts in my list.
I know what you're thinking: Only 70 contacts?
Even though some would consider that number low, there is one thing my database had which made it a highly valuable asset.
It all has something to do with what we call rich info.
How to Prospect for Quality Relationships
I was lucky to have a mentor who valued quality relationships over contact quantity, and who drilled that message into me.
In our office, you weren't allowed to put a contact into your database unless:
You had an address for that contact

That contact was the homeowner

That person had agreed to be on the office mailing list
Furthermore, you couldn't claim a contact if anyone else in the office already had that contact in their database.
This might seem a bit extreme (it certainly seemed extreme to me at the time) but these restrictions were in place for a very good reason and ended up teaching me a very important lesson about the value of good relationships.
What is "Rich Info"?
Rich info is a small piece of information that tells you a big story.
Before I could understand why my boss was so particular about keeping data clean, he got me to start thinking about why I wanted contacts in the first place.
Contacts are called contacts for a reason (it's because you stay in contact with them).
While it might look good on paper to have a large database, large databases are cumbersome and difficult to manage. If a database gets messy and out of control, it's a very big job getting it back in to shape.
How do you avoid this problem?
Don't add a contact to your list unless you have rich info!
A name and a phone number only tells you how to get in touch with someone and what to call them. One piece of data, no story.
On the other hand, a contact's address lets you find out how long someone's been in a place, how large their family is and gives you a rough idea of their budget. This is all information you can find out before you have a full conversation.
Your mailing list becomes pure gold if, in addition to having a lot of data on each contact, all of your contacts have agreed to be on your mailing list. When you are upfront about inviting people to join your mailing list you give an impression of trustworthiness.
This leads to quality relationships.
Then How do I Get the Data?
There's a lot of merit to farming your area the old-fashioned way and it will always be super important for agents to be in the field and among the community.
In addition, proptech is giving modern agents more tools to automate the farming process. This doesn't mean list buying, it's more about value exchange.
Most people are chasing suburb specific news and listings. Instead of just using an email to ask for someone's details, use marketing automation tools to offer specific information suited to your contacts' needs.
More and more people are starting to use tools which let you do this, which is why we are starting to see a sharp decline in outdated practices like list buying.
Seems like a Lot of Effort?
It is.
But the bonus is, when you put in the leg work, your customers will be loyal to you.
Part of the reason I had such a tough time as a young agent was that the more experienced agents in the office had lifelong relationships with so many people from the neighbourhood.
It is hard to build those quality relationships at first, but the flipside is that, once you do, it's very hard for anyone to come between you and your high-value contacts.
Nurture Your Database
My old boss taught me that it's important to get over the excitement of having a large database, and to realise that it's much better to have quality relationships with the contacts who know you.
Getting started was hard at first but building a solid database meant that I built momentum. Eventually I was making one to three appraisal requests per week.
It's this philosophy that spills over into all areas of my life.
Quality not quantity.
It's the relationships for life that count.
Let Your Personality Shine Through Content
If you've chosen a career in real estate, it's safe to say you've got a bit of pep to you.
Whether you've been gifted with an innately strong personality, or it's a learned bravado that makes you pick up that phone for the umpteenth time, as an agent, you can't afford to not let your flag fly and take the lead in a conversation.
So why are so many agents producing such bland content? In 2018, all the tools are so nicely laid out for the taking. Social media is free (and really easy), images, videos and .gifs can be easily assimilated across a range of platforms and best of all, you've got that winning personality and just the right splash of salesmanship, ripe for the picking.
If done right, content marketing is your best friend. It attracts contacts to your website, educates them and then convinces them that you're the agent for the job. It reminds previous clients that you've got your finger on the pulse and keeps you front-of-mind when it comes time to get back on the market. It gives your brand (YOU) a sense of authority and a leg up on the competition.
Too good to be true?
Research tells us that content generates three times as many leads as outbound marketing and costs 62% less. These are some pretty serious stats. But it doesn't mean you can just throw up any old thing and hope for the best.
Your content is a reflection of you and the experience people have with you. So make it easy for yourself and let you do the talking with these 5 tips that'll turn you into a content marketing genius with a personality that shines.
1. Write How You Talk
This is a really simple way to get started. Writing copy that will go out for the world to read can be daunting, so many agents fall into the trap of overthinking what they write or trying to emulate others out of fear of getting it 'wrong'. This only leads to dull, dull, dull.
Get started by getting started. Write down your copy exactly how it sounds in your head and go from there. You can always go back and do a tidy up when you're done. This will establish your own unique 'voice' which you won't struggle to replicate in the future.
2. Talk in Stories
Having a slow news week? Don't stress, it happens to everyone! One of the best things about online content is there are no set rules and including anecdotes from your everyday life is totally acceptable and a great way to give your contacts a glimpse into your life (a two-for-one deal because you're also building a relationship they can trust).
The trick here is to weave a business message into your stories. Did your favourite footy team make the grand final? Why not talk about how the competitiveness in your friendly tipping comp got you thinking about competitiveness in the real estate market.
Did your daughter just start at a new school? Write a Facebook post about how funny she was getting ready for the big day and wish all the families out there a great start to the new school year.
Stories allow you to connect to your community and seep into their subconscious. Marketing gold.
3. Know Your Audience (and don't be afraid to show it)
Unless you're specifically talking to a corporate crowd or other agents, no one cares if you know all the big fancy real estate terms.
Rather than setting out to impress with your shop talk, picture your audience sitting in your backyard enjoying a Sunday BBQ. How would you talk to them about real estate in this scenario?
Write it down.
4. Use the Tools
Writing not your thing? That's cool! Thank the tech gods above that in 2018 you don't have to be a poet laureate to let your inner self out into the world. Facebook Live and Instagram stories are fast becoming a staple for savvy agents with marketing know-how. Not only can you showcase your personality without having to write down a word but you're engaging in a practice which Forbes magazine says is now 'essential' for growing your brand.
Give your followers a live tour of one of your properties, or host a Q&A session that answers questions they send in.
Still too much for you? Share videos and articles that you like on your different channels! Chances are, if you like something, someone else will too.
5. Have Fun
Don't take it all so seriously. Have a laugh (at yourself if need be) and put yourself out there. There's nothing more engaging or authentic than someone who's having a go and being themselves.
That's the key takeaway everyone. There's a million different ways you can go about sharing your content but as corny as it sounds, there's only one you.
So, let yourself shine!
Finance Tips for Agents to Put a New Spring in your Step
When economist Richard Holden went to China recently, he saw homeless beggars who wouldn't take cash, they only accepted digital money. This is just one of the crazy stories about finance and the future of money from the recent Real Big Things event in Melbourne.
If you're an Aussie agent you better be well rested, because Spring has officially arrived, and things are about to get hectic. Spring's as much about OFIs and auctions as it is about blooming flowers and shedding winter weight.
At this time of year, the number properties coming to market can triple, meaning there are way more opportunities to drive extra listings. Spring is a commission piñata waiting to be smashed open.
As good as Spring can be for agents, this kind of seasonal variance can make managing the year's profits difficult. This means that agents need to be more aware of their finances so that they can plan for the mid-term and avoid financial stress down the track.
Thankfully, I was recently invited to Real Big Things, where experts in finance and economics talked about money and how people can take control of their finances.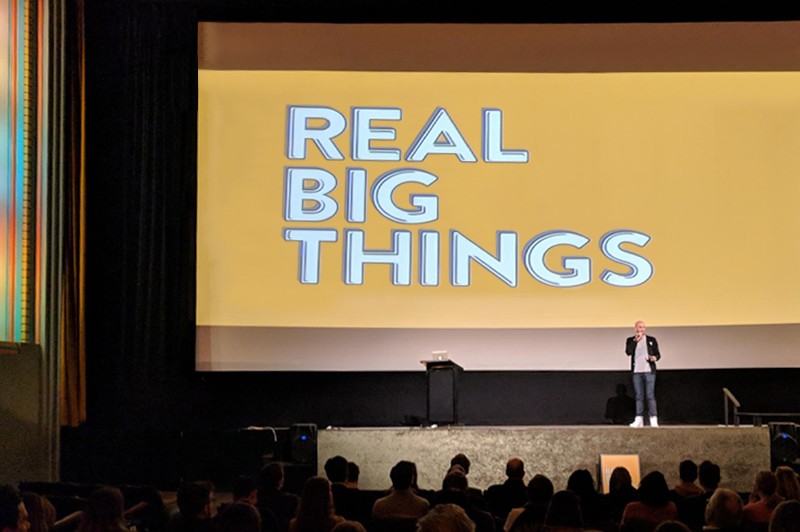 Discover Your Super Power
For many Australians, super is the largest asset that they will ever own. Aussies should always be thinking about our super, even if we're decades away from being able to spend it.
Too many of us lose track of super across a bunch of different accounts when we should consolidate our money and use it to invest. This is the best way to grow your super and ensure you have a long and happy retirement.
When it comes to investing super, speaker Adam Milgrom said that we should think carefully about which fund we choose to leave our super with. Shockingly, he showed us that some super funds invest your money to profit from stuff like slavery and corruption.
He says that investing in ethical super funds lets us create a better world and is great for business because ethical investment, surprisingly, offers higher returns than their profit-seeking counterparts!
Milgrom points out that in total, Australians control $2 trillion dollars of super in total, which is a lot of money that can be used to make a difference.
It truly is your very own super power!
Invest in Trade Secret
It was shocking to hear finance expert Grace Palos tell us that only 45 per cent of Australians are financially literate. This means that over half of us don't have the know-how to achieve financial freedom through things like investing.
Palos says that this isn't our fault and good designers need to improve financial platforms, which otherwise hold people back from investing and other activities that would help build a nest egg.
If you're one of those people who has always put off getting started with investments, she recommends learning about finances in social groups and setting realistic goals. People who learn with their peers are more likely to persevere and succeed in the long run.
Before you start investing you should set some goals and think about how long it will take you to achieve them.
Realistic is the key word.
You are more likely to do well when you aim for financial freedom than start with the idea of becoming a millionaire.
One step at a time (millions will come later).
Your Saving Grace
Some of us suck at saving. For people who survive off commission this can be especially challenging. But if you get it right you'll always have a backup nestegg to sustain you through the quieter months.
When George Lucas (no, not that George Lucas) spoke at Real Big Things he said that it's important for people to develop an emotional connection to their savings.
He says that a sense of pride in your own savings is the only thing that can help us stick to our financial goals and override the temptation to splurge on things like new clothes or fancy dinners.
Unfortunately, this kind of emotional attachment isn't something we're taught and is important when thinking about money. However, it's easy to change this. Train yourself by making small goals that make you happy and proud when you reach them.
By doing this, according to Lucas, an agent makes a choice that will make you happier and less stressed in the long-term.
Tis the Season
Spring is like Christmas time for agents. It is your busiest time of the year and by the time it finishes you will be exhausted. After any good Spring you will have a neat stack of nice, fat, commission cheques waiting for you at the end of it all.
When you take control of your finances and prepare for quieter seasons you make sure that you can enjoy the spoils of Spring all year round.
Contact Intent: Building the Database of the Future
Why do agents go through the effort of surveys, cold calls and chasing people down for face-to-face conversations?
It's not for fun.
Back in the old pen and paper days this was the only way to grab essential information about your contacts. While these methods are still important, they need to be enhanced with something extra if you're going to be Agent #1 in the modern market.
Our new and improved Contact Intent feature is the powerful solution that gives you up-to-date insight into what your contacts are going to do next.
Contact Intent predicts your contact's behaviour and displays easy-to-read tags so that you know exactly what to do next.
The different Contact Intent tags are:
Upsizer

Downsizer

First Home Buyer

Investor

Loan Lead

Potential Seller
Easy to Use
The tags are super straightforward and easy to use.
For example, if a contact has an Investor tag, you know they are worth chasing for the property management side of your business, while the Potential Seller tag helps you beat other agents to new properties before they go on the market.
Eventually you're going to wonder how you ever lived without this information. That's why Intent tag summaries appear on the Dashboard as soon as you log in.
From there, you can view a list of contacts who belong to each category.
It's simple: Just click on any tag.
From there, you can click on any Contact Intent tag to see which contacts belong in each group.
This gives you a foothold for the type of relevant and personal conversations that add value to your database.
How do we do it?
These tags are our secret herbs and spices, so we can't exactly tell you the recipe.
What we can tell you is that ActivePipe has recorded over a billion contact interactions. By using machine learning to identify your contacts behaviour, we prioritise the leads that put you in touch with the right contacts at the right time. This way you have more room in your busy schedule to have quality conversations that are so important for developing your personal brand.
The information from Contact Intent updates every 12 hours, so that you know you can act in confidence when it comes to your buyers, sellers and investors.
You always have the final say and full control over how your database is labeled and used with ActivePipe. In the end of the day, you're the expert, so our software listens to you above all else.
The Takeaway
Modern technology gives agents the ability to understand their database like never before. It's an exciting time, where agents have access to all sorts of tools that people could never have dreamed of in the past.
Jobs that once took hours now take mere seconds.
It's no wonder more and more modern agents are using the modern tools to turn contacts into customers for life.
---
"How can I make myself an influencer to my staff, my peers and my database?"
Learn how you can turn yourself into an industry voice who people listen to!
"Is this feels like a glimpse into how my grandkids will be connecting with customers …"
Find out what has forward thinking agents buzzing!

How ActivePipe Drives Traffic to Your OFIs and Auctions
We all know that the market fluctuates, as do people's buying intentions.
If you have a database of 4,000 people, how can you possibly know where they are all at in their real estate journey unless you are using intuitive software like ActivePipe? Here are some simple tips to help you get the right people to your opens and auctions, please your vendors and turn impressed buyers into future sellers.
Refresh Your Skills
Brush up quickly by watching the new 'Dashboard Tips and Tricks' webinar. The best part is you can view it whenever and wherever you want and it will only take up ten minutes of your time. We tell you where the gold is, all you have to do is dig! It covers hot properties, profile updates, interactions, self appraisers and more. It's all based on customer intent and our insightful algorithms. You would be crazy not to use this information!
Collaborate
Are there properties that you, other agents or other offices in your brand are selling with similar features? Why not reach out to them and start working together? Use the information sitting in your ActivePipe dash and CRM to find and call people that have visited properties similar to the one you are currently marketing, or have the same buying criteria. Don't forget to ask for permission though, or you might receive some phone calls yourself.
Market Yourself
It's not just the property you need to promote. Let your customers know about the great results you've been achieving by sending them an email through ActivePipe. As in the tip above, you can collaborate with your co-workers to find the perfect candidates to reach out to as well. For most agencies, buyers are buyers and not 'owned' by a single agent, so why not share the love around?
Stay Connected
Has the market changed? Is there relevant information you could be sharing with your contacts?  Put yourself in the mindset of a potential buyer or seller and send them a monthly newsletter with ActivePipe.  We now have RSS feed, so you can include blogs and other multimedia. It's so easy to use and could include topics like, 'how to prepare your home for an OFI', 'selling in winter' or 'community news'.
Handy hint: Emails detailing the latest market trends will always receive a high interaction rate.
Watch Your Attendance Soar
Using ActivePipe to attract the perfect candidates to your OFI's and auctions is quick and easy. Follow the tips above and your attendees will not only be serious customers, but the conversations you have with them are meaningful and relevant.
You may never have to make a cold call again.
What Does your Contact Want?
Case Study:
Imagine you're a parent, who's growing their family. You've just had a new kid, which means you're up all night with a baby and up all day with your older children. As a busy parent, you can never find somewhere for a moment alone.
This house just isn't big enough!
You've started thinking about moving into a bigger home, but agents keep sending you emails about houses that are too small for you.
These guys are meant to make upsizing easier but all they do is fill your inbox with spam. Maybe you shouldn't even bother. If only there was someone who knew what you actually want!

Often your contacts are busy. Sometimes they might even be as busy as you are. That's why it's so important for an agent to be sending effective communications that add value by really connecting with the needs of individuals in your database.
Otherwise you can end up wasting your time and frustrating your contacts.
ActivePipe understands that your database is important as it's the essential asset which you use to maintain and strengthen your relationships. That's why we've been working hard to modernise and improve one of our best tools for creating custom audiences.
Introducing the Improved Buyer Preferences Filter
The Buyer Preferences filter is the supercharged version of the ActivePipe filter you already know and love. This feature allows you to tap the hidden potential of your CRM, and gives you access to important insights into what is most important to your contacts.
Buyer preferences sorts your contacts into distinct categories, which you can use to send emails that speak directly to each group's specialised needs.
These include the:
Number of bedrooms, bath, and car parks

Price range

Desired area
Every contact on your mailing list will believe they are receiving personalised communications from you and your interaction rates will soar!
How-to get started:
To build an Audience off buyer preferences:
Log on to live.activepipe.com.
Click Contacts on the left-hand navigation menu.
Open the Audiences tab.
Click the Create New Audience button. This will open the Audience builder.
To add a customer's buyer preferences, click on the select menu and scroll down to the Preference option group.
Select the buyer requirement you want to target, and how you want to target it. This will give you a list of all the contacts who fit these buyer preferences.
From there you can either choose to add more filters, or make your audience more specific. If you're finished building your custom audience, simply click the blue Save button. You can now send an email to this audience from the Campaign Section, as you normally would.
It's that easy!
Case Study:
Remember our parent from before? Well they remember you.
You've been using their buyer preferences to send them emails about houses with the exact number of beds and baths they're after. You've given this contact confidence that you will find them a home and that makes them get in touch.
This is the start of a strong relationship, the first step in turning a contact into a customer for life.
4 Ways You Are Killing Your Business (without realising it)
Like many aspects of life, if you want to get clarity on something the best view will always be retrospective. Nothing beats 20/20 hindsight.
The seventeen years I spent selling and auctioning homes wasn't always perfect. Since then I have had many nights to contemplate how I might have approached some situations differently based on these practical years of experience and learning.
I now travel the world talking with thousands of agents a year, meaning I am privy to the operations of brands big and small. This allows me to get out the magnifying glass and have a good look into what makes an agent successful and also identify their challenges at an office or enterprise level.
The similarities across the globe are endless. Agents in the UK face the same struggles as they do in Australia and the US. While some details vary, there really isn't a great difference between a Monday here and a Monday there.
Here are four things I've learnt about what separates a good agent from a great one. Wherever you are in the world, the same rules apply.
You are overlooking your clients concerns for your own
If your motivation when you wake up is to line your pockets, you will only ever get so far. People, more specifically prospects will see you coming a mile away.
'Commission breath' is a thing and it's obvious. While you might make some progress in your career, greedy won't get you all the way and eventually you will turn away more clients than you attract.
If you want to make big money, you are going to need to flex your empathy muscle and head into every situation thinking "how can I help" or "what is the best outcome for my client". This will speak volumes and establish confidence in your professionalism.
You are holding onto the process and hampering the progress
The old saying "you have to let go, to grow" is the hottest tip of 2018. With all the new agency models creeping in and taking the market share up inch by inch, the best agents know it's time to focus on the important tasks.
You can't grow in this market as a jack of all trades and a master of none. You need to let go of all the distractions and complications, and distill your process to focus on very specific activities that leverage your time effectively.
You are not building a pipeline or worse, ignoring the pipeline
Fortune 500 companies consider a well organised pipeline to be fundamental to their success. Meanwhile, all I hear from agents and brokers around the world is "30 day sellers". At best they might consider them "60 day sellers" but even the latter only gives them leeway of a month or two.
I hate to burst anyone's bubble, but you can't build trust in 30 or 60 days. I'll bet all these "VIP" contacts have no idea who you are or what list you have them in. I'll also put money on the fact that every one of them is in another three agent's 30 day sellers lists.
A genuine pipeline sees years into the future and those sales are the basis of your growing income. If you already know four families that will be downsizing after their kids leave the nest in two years from now, thats 40k of commission coming to you in the near future.
The most brilliant agents around the world are thinking far more than 30 days forward and they are using that time advantage to build trust. Trust will be the currency of 2020.
You are holding onto to much junk data
If you are in the 30% of agents worldwide that take their database seriously, there is still a problem. There's too much crap in there. Striving for success with an uncategorised and incomplete database is like swimming in jeans, you think you're making progress but really you are just weighing yourself down.
I met an agent last week who boasted that he has 13,000 contacts in his database and then told me how he needed two dedicated workers to keep on-top of it.
"It's endless, like painting the harbour bridge. Once you have gone through and called everyone on it and updated the details as you can, it's time to go back and start from the other side. Even then a tonne of opportunities fall through the cracks."
A smaller, faster, fitter database with complete contact and property data is the way of the future. ActivePipe has tools that will enable you to build, clean, nurture and identify your prospects intentions before your competition ever sees them coming.
It's all about quality over quantity.
The verdict:
Put your clients first, leverage your time wisely, nurture your pipeline and clear out the junk. Follow these simple rules and you'll avoid these common mistakes and the loss of opportunities that come with them.
Programs like ActivePipe help you to organise and clean your database and automate your customer touch points. Click here to organise a demo.
Introducing, ActivePipe Webinars!
As an agent, it often feels like there aren't enough hours in your day to chase listings, so how on earth are you going to find time to do training; an exercise that doesn't provide any immediate returns?
Many ActivePipe employees were once agents themselves, so we know what it's like to be strapped for time. We want you to be in the field as much as possible whilst still getting training that will put money in your pocket and make you more efficient in the long run. As a result, we have developed the ActivePipe Webinar Series, a training program that's convenient for busy agents just like you.
All our webinars run between 10 and 30 minutes, so you can watch them when you have a spare moment later in the week!  
Here's what you'll gain just by tuning in.
Industry training
There are a number of different people in your office and each of them is at a very different stage in their career. As a result, their skillsets are as varied as their personalities, so you can't expect them to have the same level of knowledge and provide the same service across the business. Through our webinars, new agents will not only learn about the ActivePipe system, but will gain valuable real estate tips and tricks as well. They'll learn to use call lists to land their first listing, while your more experienced agents can scrub up on their prior training and find opportunities in their existing database.  
Start conversations
Discussing what everyone got out of the ActivePipe webinar at your morning sales meeting will motivate your team to be more innovative, proactive and creative in how they approach the day. Sure, they've been making sales in the past, but how can they start making more? Our webinars have lots of industry tips that show you how to target the right people, at the right time to generate more sales. It's a great morale booster.
Cost effective
Where else can you find personal development training from an award-winning company that doesn't cost a cent? You don't even have to leave the office, so what do you have to lose?
Branding
Many of your staff won't have a communications background so they won't fully understand the concept of marketing and brand consistency. If they watch a 10 minute webinar and complete their training, you'll find that touch points with your customers are more professional and better received.
Efficiency
Once your agents learn how to read their email reports, they will get a picture of what their contacts really want. We'll show them how to focus on people who are active in the market, which will help them turn buyers into life-long customers. You'll learn where the gold is, so all you have to do is dig.
At the end of the day, continuous learning is essential for real estate agents to thrive in their career. ActivePipe webinars are a free training tool that will help your staff find new ways to identify leads in their existing database making them far more efficient in the long term.
Check out our webinars  today, so that your agents have the best opportunity to succeed.